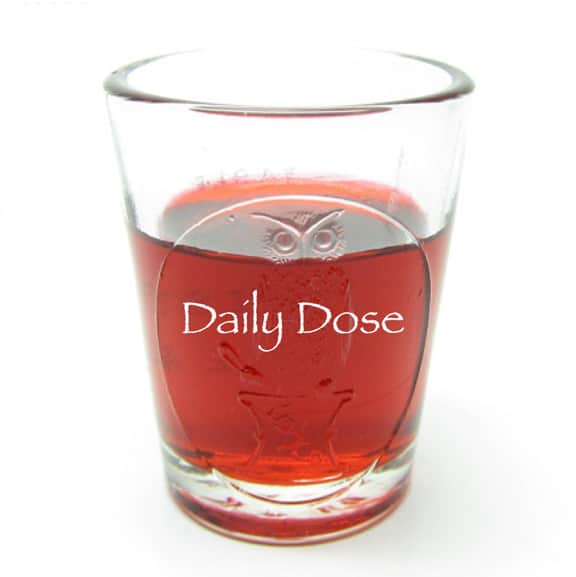 MAY 

|

 

2 0 1 4
Saturday, 31 May 2014
Odd picture of the day. According to Marianne Dow, Charles B. Tripp, the armless man and Eli Bowen, the legless man, riding a tandem. ca. 1890s.

Thursday, 29 May 2014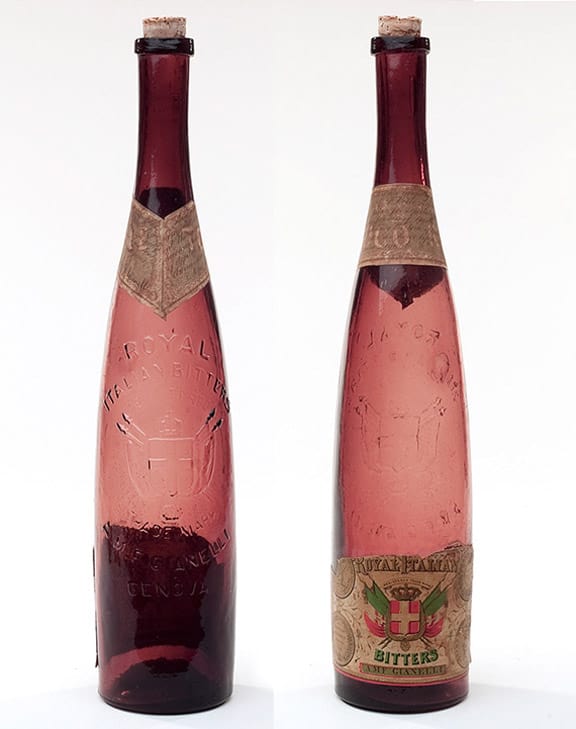 Royal Italian Bitters by A.M.F. Gianelli – Montreal post updated with pics of that great, labeled example that sold last night in AGG #12 Auction.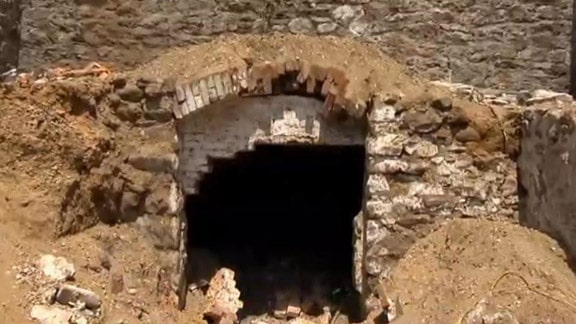 Very interesting… Demolition crew accidentally unearths possible Underground Railroad tunnel in Pennsylvania Thanks to Mike Stephano for lead.

Tuesday, 27 May 2014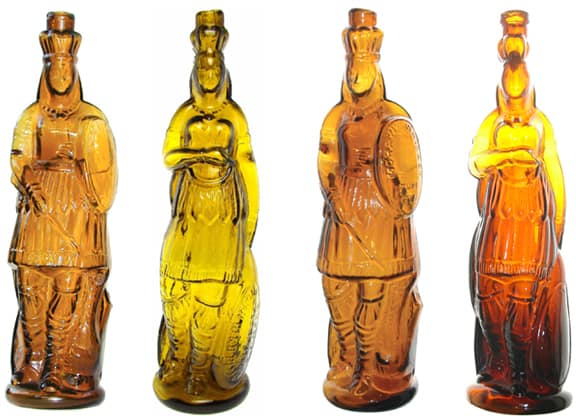 5″ of rain at Peach Ridge last 24 hours. Bit of a surprise at 20% rain. Cleaned up a few posts with new pictures including E. Longs Indian Herb Bitters, Kelly's Old Cabin Bitters and Dr. Lovegood's Family Bitters.
Sunday, 25 May 2014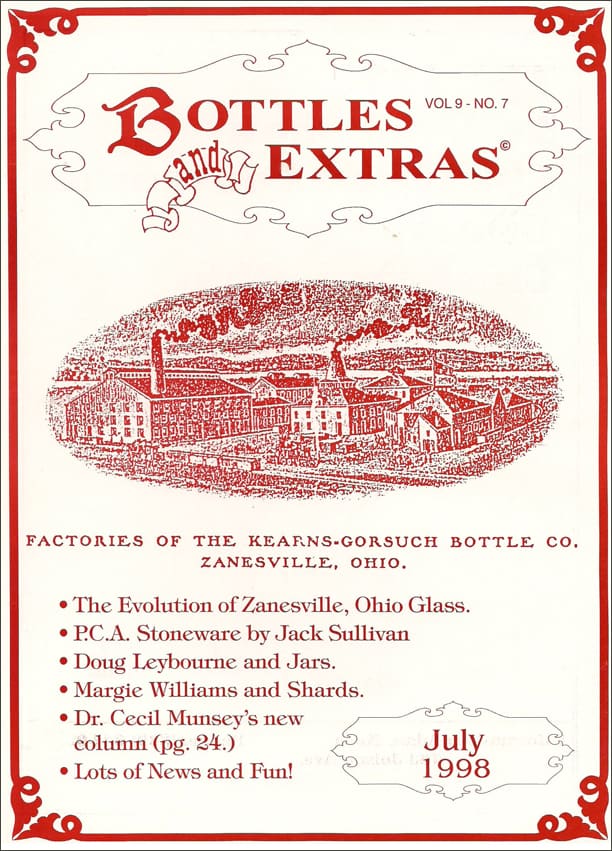 Sorry, been completing the FOHBC Member Portal with back issues of Bottles and Extras. Indexed 7 or 8 years of articles so far. It is kind of fun looking back at old issues.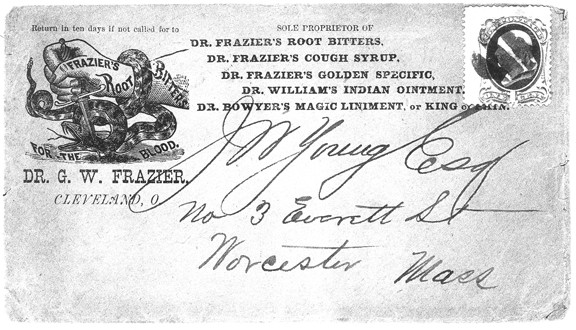 Updated the The California Herb Bitters post with the above envelope. Wish I had it in color or better yes, in my hand.
Thursday, 22 May 2014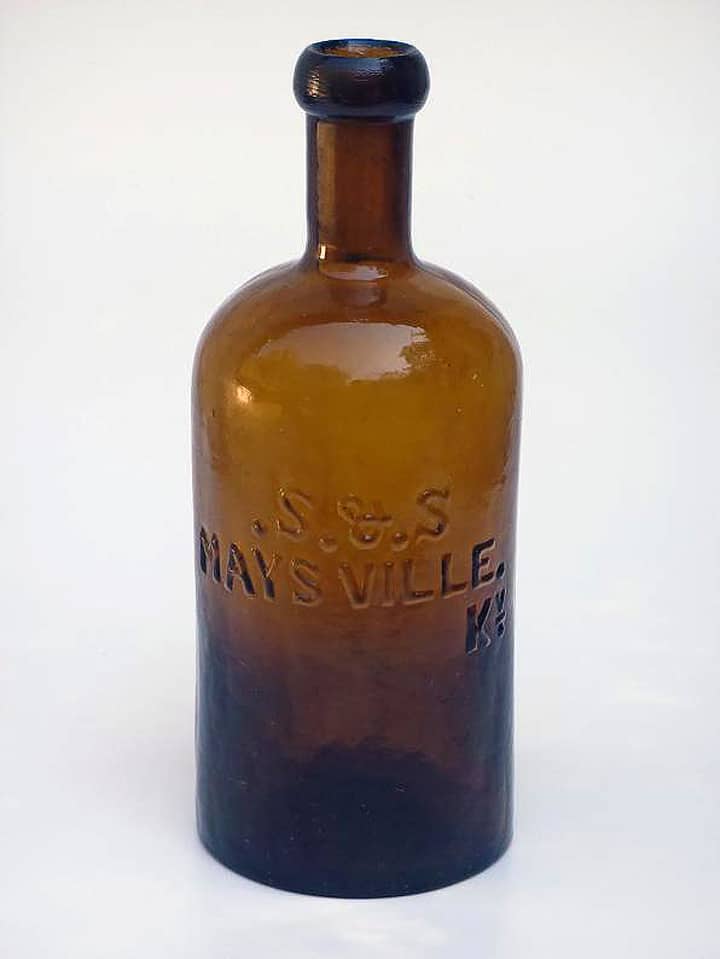 Hey Ferd,
That Top 25 is exhausting! Stuff I've never heard of. Thanks for putting it together, and maybe folks will send you photos of the ones not pictured. Here's another S & S, my only Kentucky bottle. Periods on the wrong side, even one for the ampersand, which looks like it's about to fall over backwards, but you gotta love it. Later on, Jimmy (Bray)
Read: Kentucky's Top 25 Rarest Bottles
Read: Top 25 Kentucky's Rarest Bitters Bottles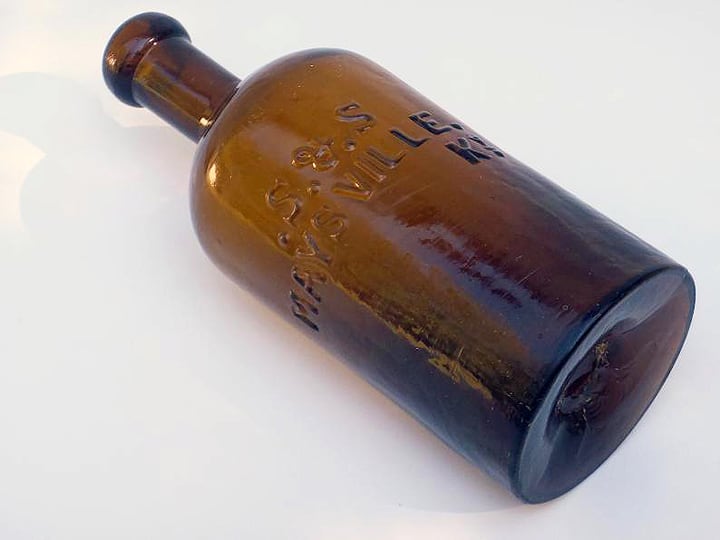 Unusual Dewey's Manilla Bitters Mug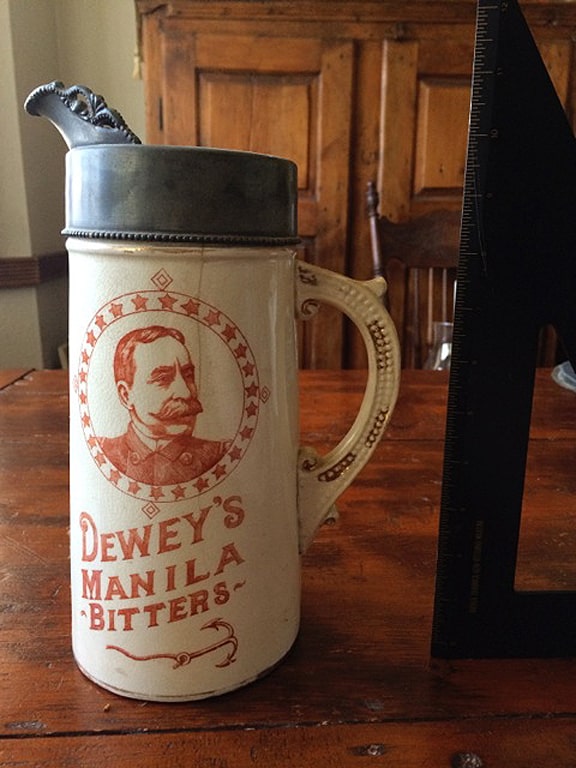 This piece is from the private collection of Judy Milner, wife of Martin Milner. From the administrator of their "downsizing" sale. See another one at 2012 Houston Bottle Show.
Wednesday, 21 May 2014
Sorry to hear about Jim Rogers passing. Did not really know Jim & Joyce but certainly know of them. Picture above of Jim and Joyce Rogers receiving their special Life Achievement award at the FOHBC 2013 National Antique Bottle Show in Manchester, New Hampshire. Need someone to write a piece on this couple and Jim.
Top 25 Kentucky Rarest Bottles post updated with more images last night.
Someone on Facebook said they love the cobalt blue Duffy's pic (see below) much more than say an Anna Pottery pic. It is all in the photography. Read: A Stunning Pen of Pigs from Glass Works Auctions and Elsewhere
Post Updates:
Barrel Series – Crow's Celebrated Tonic Bitters
Crescent Bitters from Crescent City
Barrel Series – Favorite Bitters & Peoples Favorite Bitters
Log Cabin Series – American Life Bitters
Dr. Atherton's Dew Drop Bitters
Is the Best Bitters in America the Best Bitters in America?
Tuesday, 20 May 2014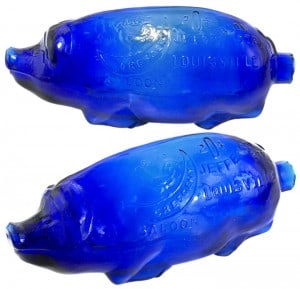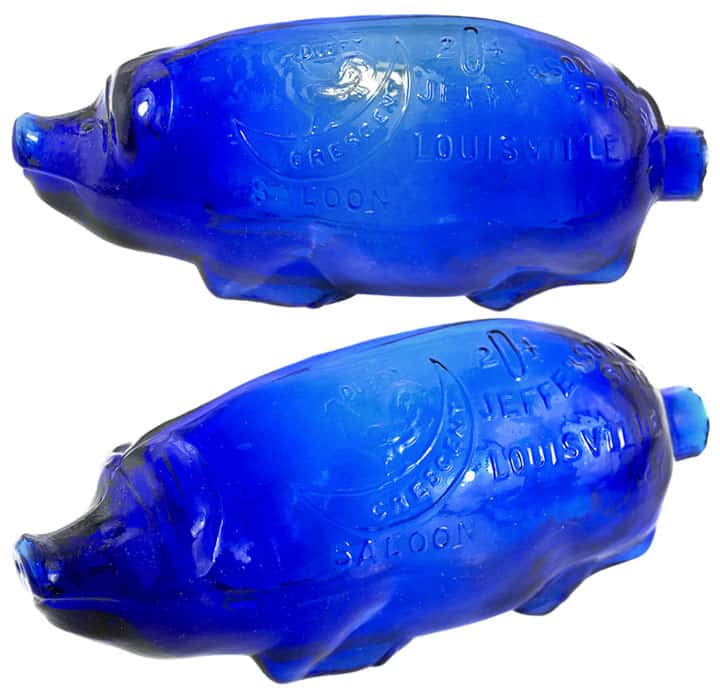 Putting up two (2) different lists on the Top 25 Kentucky Bottles and Top 25 Kentucky Bitters (In Progress).
Updated Poor Man's Bitters post. Think I won those two framed bitters signs last night. I have like 25 or so to hang at Peachridge.
Monday, 19 May 2014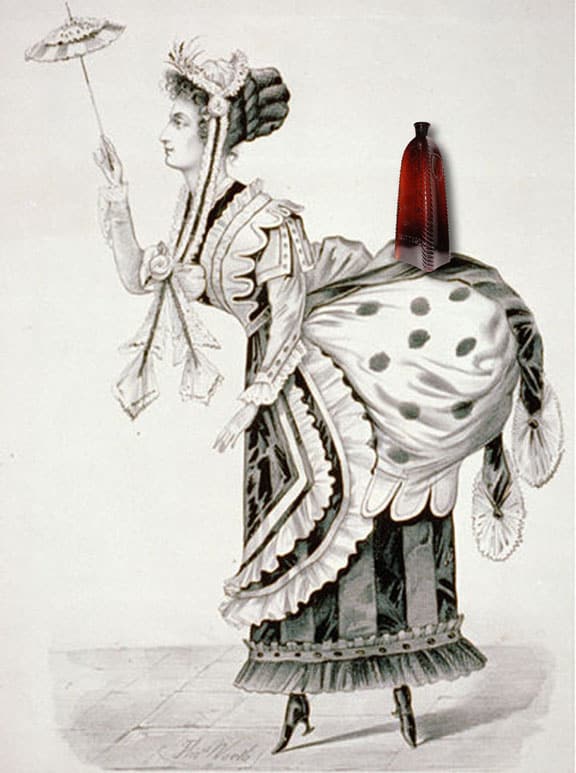 Updated quite a few posts yesterday with original bottle imagery from Bitters Bottles Supplement as I now have files from Bill Ham. This includes:
The Grecian Bend and Carey's Grecian Bend Bitters (see both examples)
Lady's Leg Series – Zingari Bitters (gasoline puce example)
Two Sexy Ladies – Cassin's Grape Brandy Bitters (amber example)
The old but sexy, Brown & Drake Catawba Bitters lady's leg (Ham Example)
Log Cabin Series – Drake's Plantation Bitters (Pregnant Drakes)
John Panella and his special Dr. DeGurley's Herb Bitters (green example)
Saturday Evening, 17 May 2014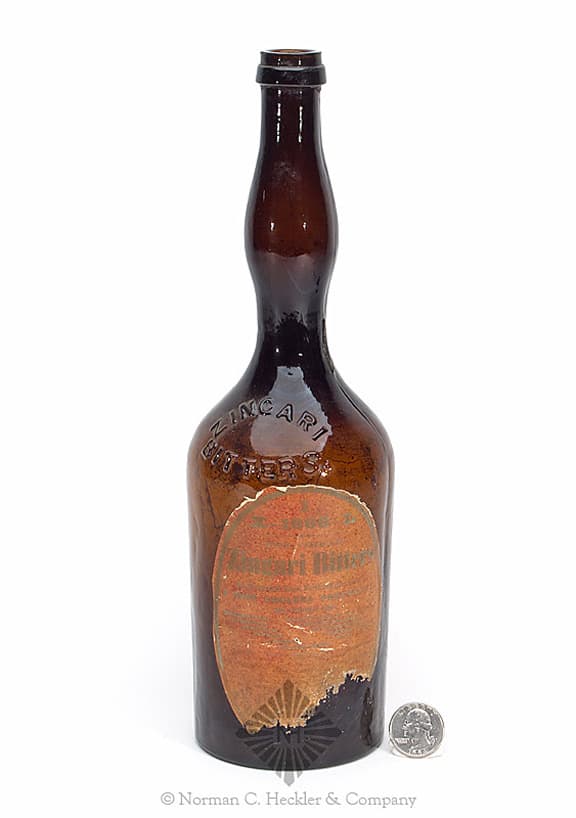 Zingari Bitters post updated with labeled example from Heckler Auction 110.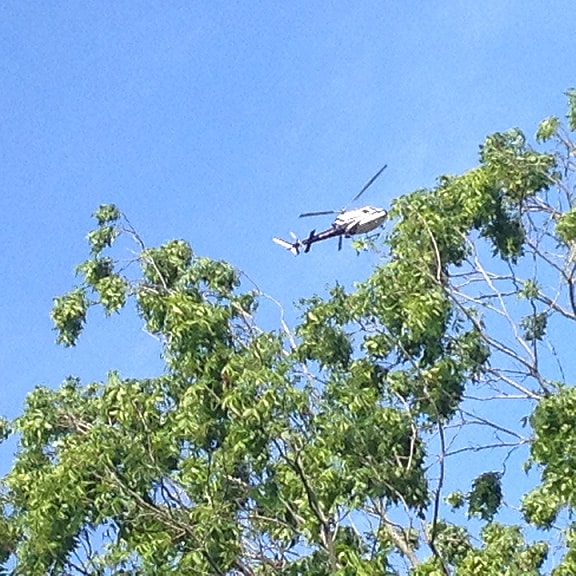 [Saturday 6:06 pm] You know, sometimes here at Peach Ridge, when I do my work at the computer, it is quiet, the dogs are sleeping at my feet and the wife and grandkids are off doing their thing. For the past five or so hours I have been dealing with low flying, house hovering and circling helicopters, gun shots, K-9 teams and squads of camouflaged, fully vested, assault rifle toting, Sherriff and State Trooper teams staging, combing the property and going through the woods that surround our property. My six dogs are on full alert as we hunker down and guard Peach Ridge against the setting sun. Their tactical team freaked me out when me and my dog team (including Buster my Weiner dog) took to the woods to look for this boogie man that they are looking for. We crossed paths. That was a surprise. They told me to go back to the house as they held back their dogs which were as quiet and menacing as possible. Seemed like a good idea. Stay tuned. I sit here with binoculars watching the tree line.
At approximately 12:51 hours, the Waller County Sheriff's Office received a call in reference to a burglary in progress. Officer arrived on location and observed 2 individuals inside the residence. A black female was apprehended and a black male, Charl

es Williams, Jr. (pictured below), 38 years old, approximately 5'10", 216 pounds, fled the scene. Subject was last seen in the area of Peachridge Rd. and FM 1489 south of the City of Brookshire, wearing a white shirt, blue jeans, and should be considered armed and dangerous. Do not attempt to make contact with the individual if located. Contact the Waller County Sheriff's Office at (979) 826-8282 or 911. CodeRed was launched for the affected area.
Saturday, 17 May 2014
Will the person who sent me the e-mail on Dewey's Manilla Bitters please resend. I accidentally purged email in Spam clean maneuver.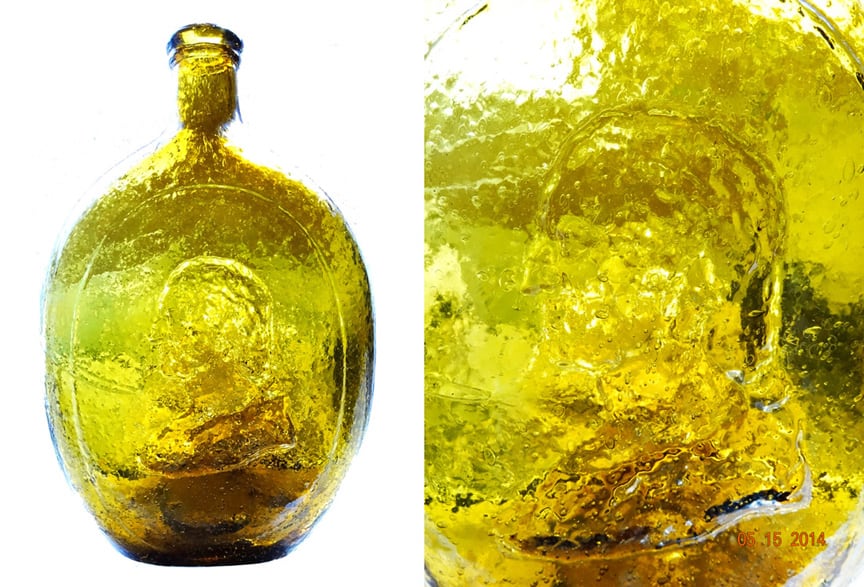 Ferd – Wanted to share this GI-51 flask with you. We just picked it up along with some others. Jeff (Wichmann) Visit American Bottle Auctions 
Friday, 16 May 2014
We need a person to fill the FOHBC Public Relations position. Pam Selenak will be vacating as she fills the Convention Director position. LMK!

I love this picture of probably the only known example of an aqua Fish Bitters. From Ed Gray.
Thursday, 15 May 2014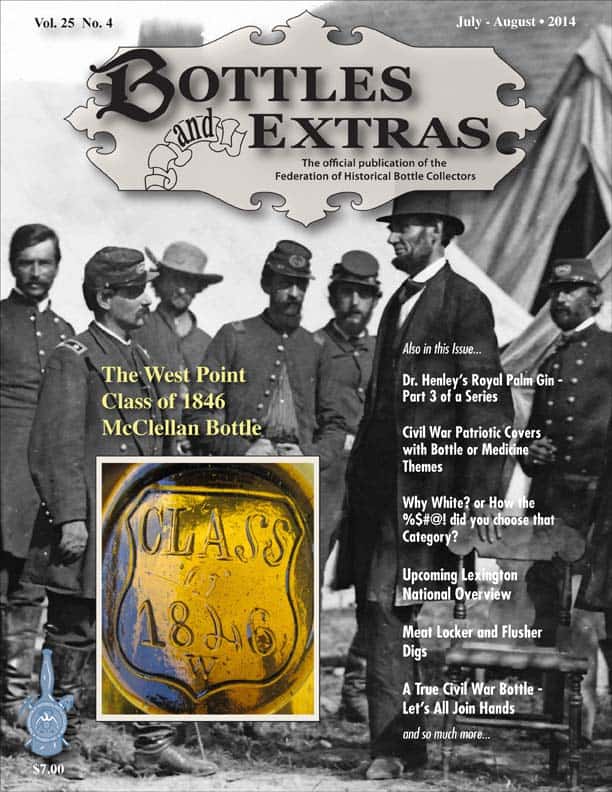 Sorry, been knee deep in alligators. Extraordinarily busy with work, the FOHBC, the Lexington National and all the side stuff. Completed the cover design for the July August issue of Bottles and Extras. This is young to be a great issue with three bottle and ephemera related Civil War articles.
Congratulations are in order for Dave Lambert who won the Doctor John Russ Wormwood Bitters on ebay. I talked with Dave. Great guy who is passionate about his bitters. See pictures of bottle below.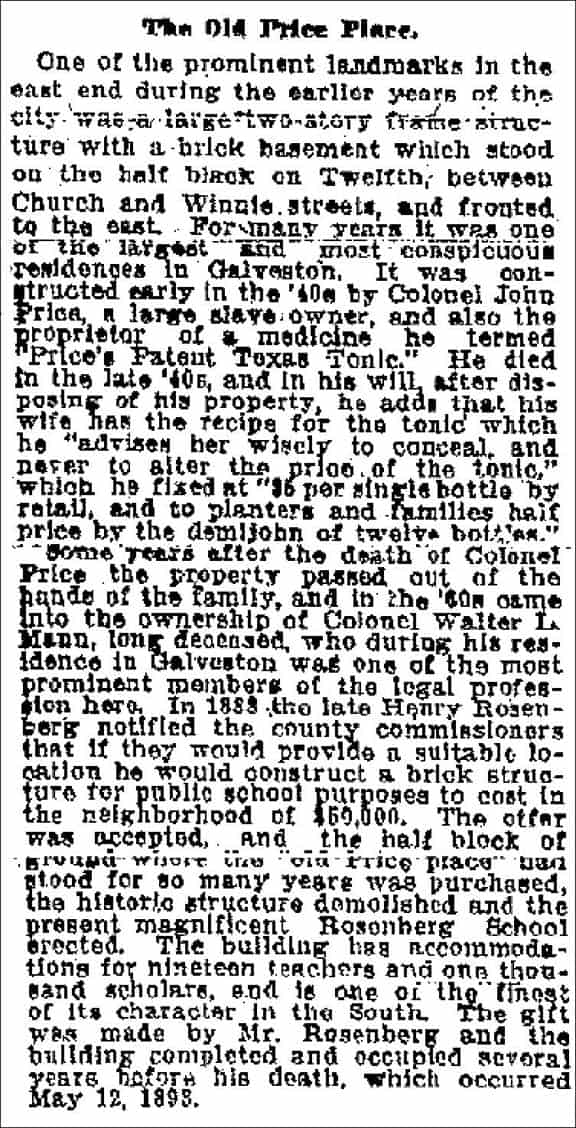 Price's Patent Texas Tonic post update with new material from Brandon DeWolfe.
Price's Patent Texas Tonic, Republic of Texas Bottle
This bottle makes a return visit to Lexington at the FOHBC National! This fantastic pontilled medicine was discovered in a privy in Lexington in 1987. This extremely rare bottle has traveled thousands of miles though multiple owners since it was found 27 years ago. Get a look at this gem on display at the show.
Friday, 09 May 2014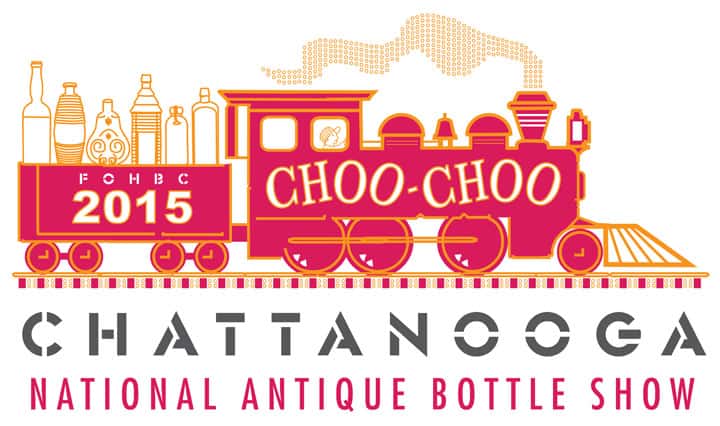 Sorry, been traveling all week. Back at Peachridge today swamped with things to do for FMG, the FOHBC and PRG. Thought I would give you a sneak preview of the art for the 2015 National Antique Bottle Show. Contracts will be handed out at Lexington.
Post Update: Why can't we find any information on Burnham's Jaundice Bitters?
Tuesday, 06 May 2014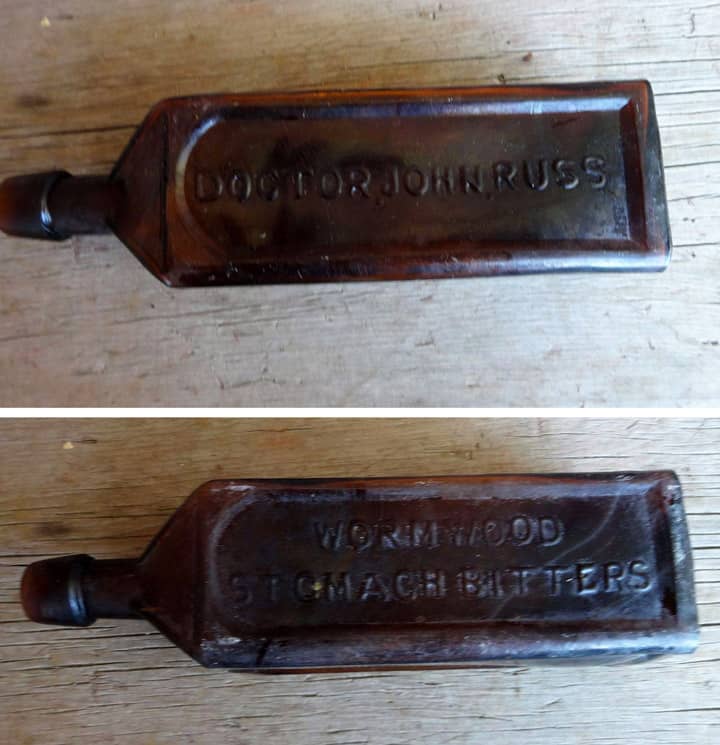 W.C., what do you think about that Doctor John Russ Wormwood Stomach Bitters on ebay? One bad mofo. Bil has given it the following listing:
W 162.7 DOCTOR JOHN RUSS // sp // WORMWOOD / STOMACH BITTERS // sp //
10 ¼ x 2 3/4
Square semi-cabin, Amber. LTC, Applied mouth, Extremely rare
Found in Iowa
Sunday, 04 May 2014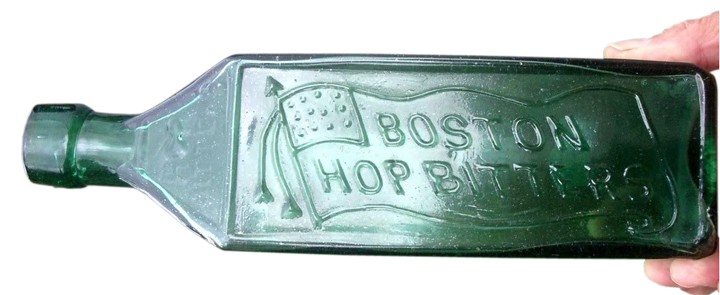 Really pleased with my new red amber Boston Hops Bitters. No hesitation with it being an Australian bitters. With the name "Boston' and the American flag, it fits right in. Now I just need to watch the Australian auctions for more examples.
Saturday, 03 May 2014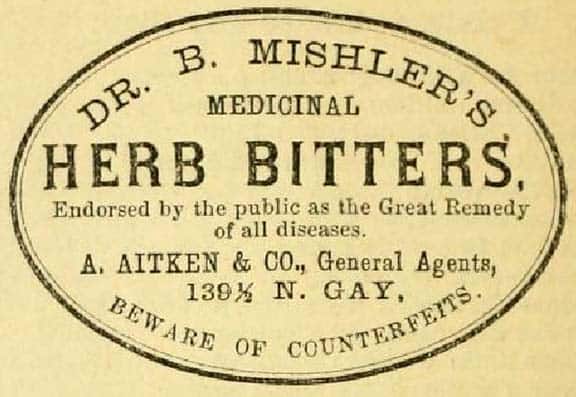 Small advertisement for Dr. Benjamin Mishler's Medicinal Herb Bitters found in 1867 Baltimore City Directory. 
Read More: Mishler's Herb Bitters Advertising Wall Clock *Post updated with more bottle examples and advertising trade cards from Joe Gourd.
Read More: Mishler's Keystone Bitters – Stencil and Bottle *Post updated with two rare advertising trade cards from Joe Gourd.
Read More: Mishler's Herb Bitters & Prof. Parker's Pleasant Worm Syrup
Friday, 02 May 2014
Holy moses. Amazing the Lou Holis find of the green Smiths Druid Bitters. Wish I could find an example of the Gouley's Vegetable Bitters! Had fun visiting early Baltimore.
Mailbox updated.
Thursday, 01 May 2014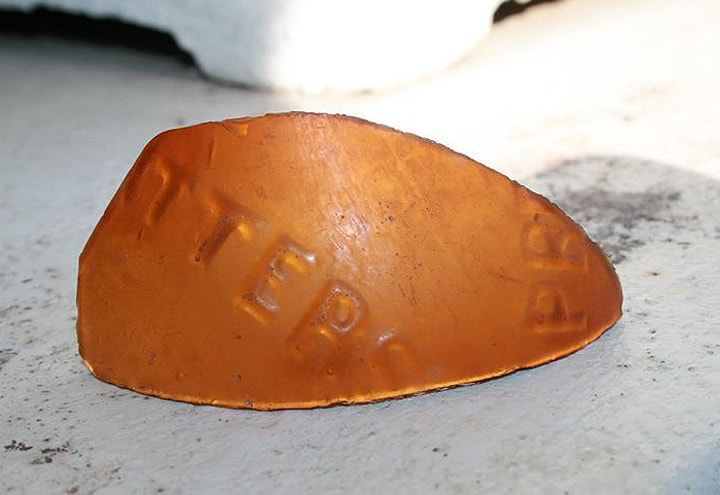 Here is one to stump you…. it has been my magical mystery shard for 25 years. – James Viguerie

[Jack Stecher] "You never know what shows up at the Rochester show. Fortunately, I had "first look". Unfortunately, it has a long crack extending down one seam from the shoulder. But, what a color! Yes, it made my day. Don't believe it was dug; probably from a barn? as it had some sticky inside residue and dirt. I just carefully washed it out and this is result. S-182 Niagara Star Bitters."