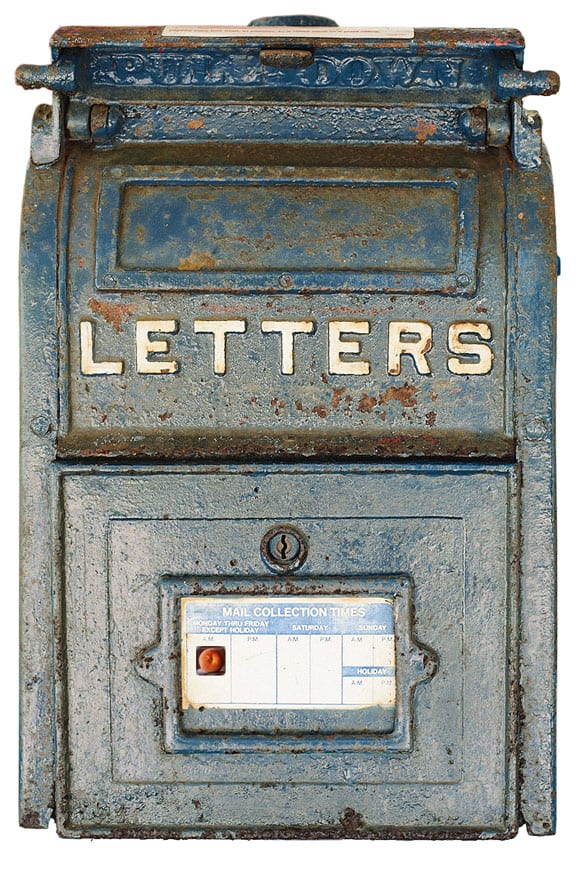 Please feel free to send any antique bottle or glass questions to ferdinand@peachridgeglass.com. The information will be posted if relevant or of interest to the readers. I will try to answer or wait for another reader to respond. Quality images are very important. Thanks! If you want to see previous questions,go to "Mailbox Letters" in "Categories" on the right column of each page.
Mailbox Letters
April – June 2014
---
Tom and his Goofus Jar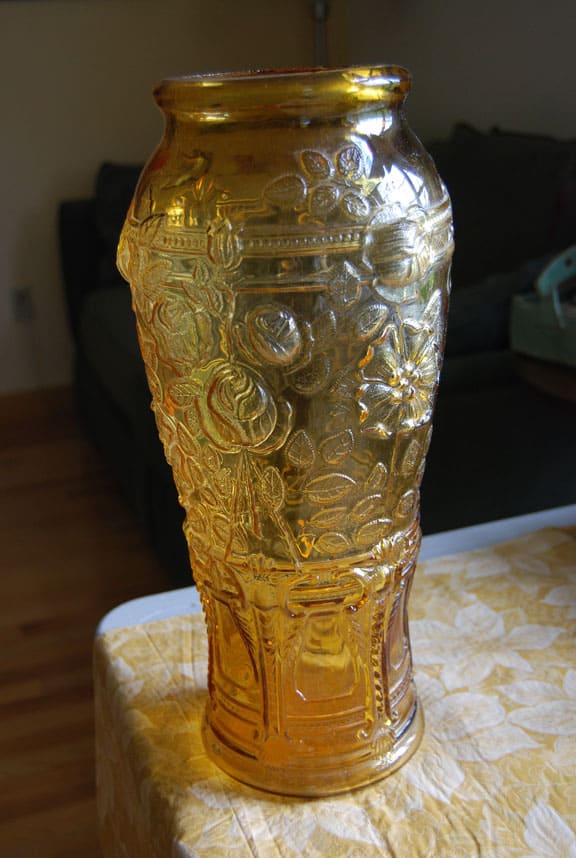 Hello Ferd, I just stumbled across the Peachridge website for the first time and can't get enough.. I've been collecting bottles, off and on, for years. My interest actually began when my father would take me bottle digging in New Hampshire. Anyway, I would like to be on the Peachridge mailing list. How do I register? Also . . . I came across this glass jar (or vase) recently in Vermont. I've had clear examples, but never an amber. I'd like to know more about it. I believe it was used to sell pickles or some such thing. Regards, Tom, Uxbridge, MA
PRG: Tom, that sure looks like a Goofus Jar. Very collectable and they come in a wide range of colors. Just Google for more info.
---
Dr. Cloud from Atlanta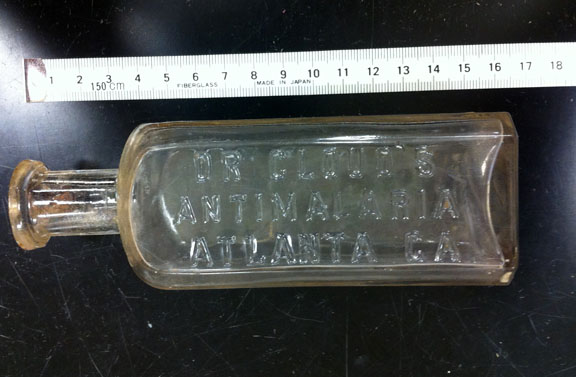 Hi Ferdinand, I love your site, I have been visiting it for quite some time. I am currently wrapping up my MA thesis on medicinal bottles from a series of sites in Atlanta, Georgia. (I will be referencing your site/sources!) In our collection we have a Dr Cloud's Antimalaria bottle, clear, square base, measuring approximately 14×4.75×4.75cm. The embossing is "DR. CLOUD'S/ANTIMALARIA/ATLANTA GA." (I have attached a photo, although it isn't the best quality) I was hoping that perhaps you have seen/heard of it before. I have been unable to locate any references to an Atlanta based Dr Cloud or his "antimalaria" medicine. Any ideas or leads you might have would be greatly appreciated.
Sincerely, David
---
Eddison's Fire Grenade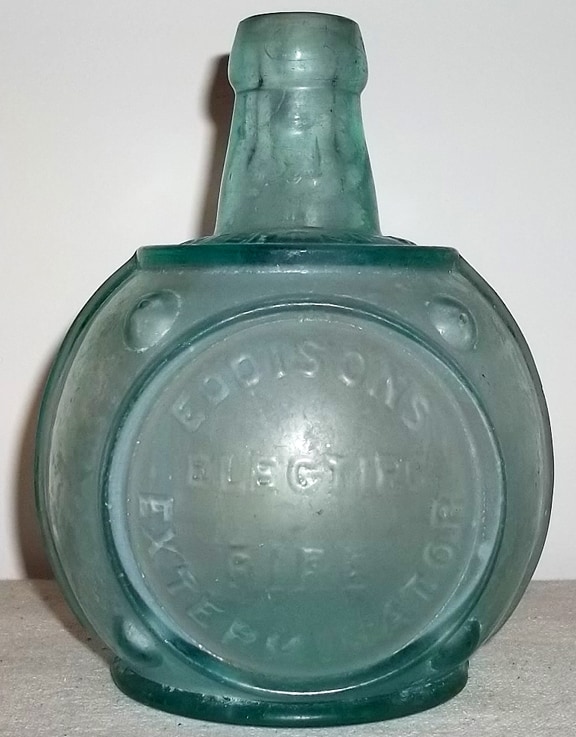 Hello, I have one of these bottles. I have been trying to learn about this bottle. The only reference I can find to it is on your website where I see a picture of it. Just wondering what kind of information, if any that you might be willing to share about this bottle. I am interested in how old it might be and the value.
Thank you – John
---
Possible early American mallet bottles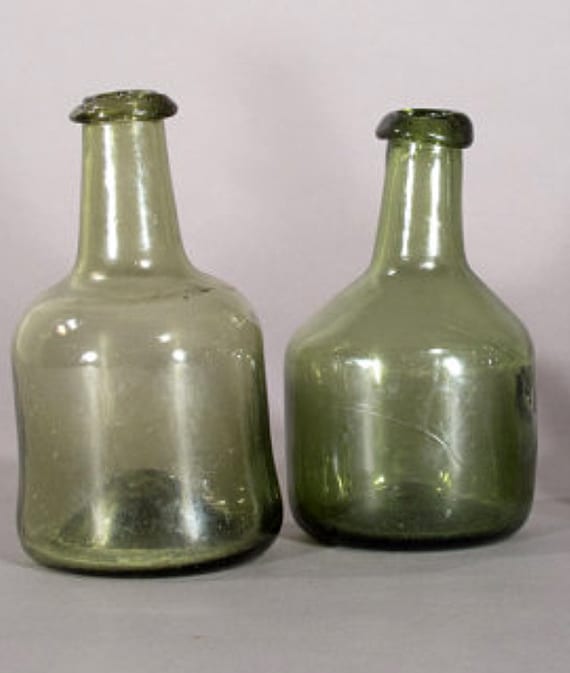 Hi Ferdinand, I recently purchased, although I don't even have them in my possession yet, these two mallet bottles. I hope/believe they are early American. Once I have them in my possession I can photograph the pontils etc. but for now I only have these photos. I was hoping to reach out to Stephen Atkinson, as I found husband website, but I couldn't find any contact info for him. Any advice you could give would be greatly appreciated!
Thanks, Chris P.
PRG: Chris, I sent the requested e-mail address to you.
---
Tippecanoe/Harrison bottle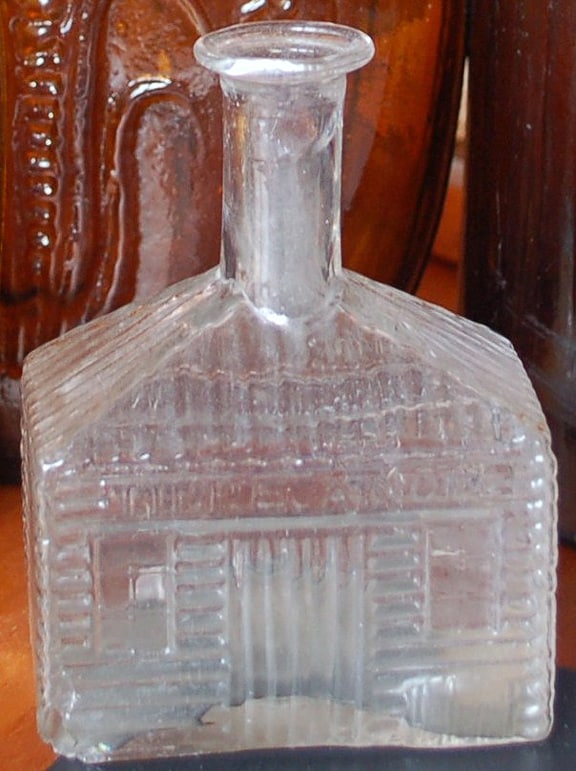 Hi, I am in the process of doing appraisal research of some old bottles and came across your post about the Tippecanoe/Harrison clear glass log cabin bottle. Unfortunately, I cannot find any other information on this bottle other than what you have. Do you know the best websites for this kind of information? We have 10 other early American bottles we are researching. Would you have any idea what this bottle would be worth today? It is in very good condition. I am attaching a picture. Thank you for your time and in getting back to me. I look forward to hearing from you. Have a wonderful day! – Barbie
PRG: Very desirable and important bottle. This is auction house material.
---
Buffalo Brewing Company Question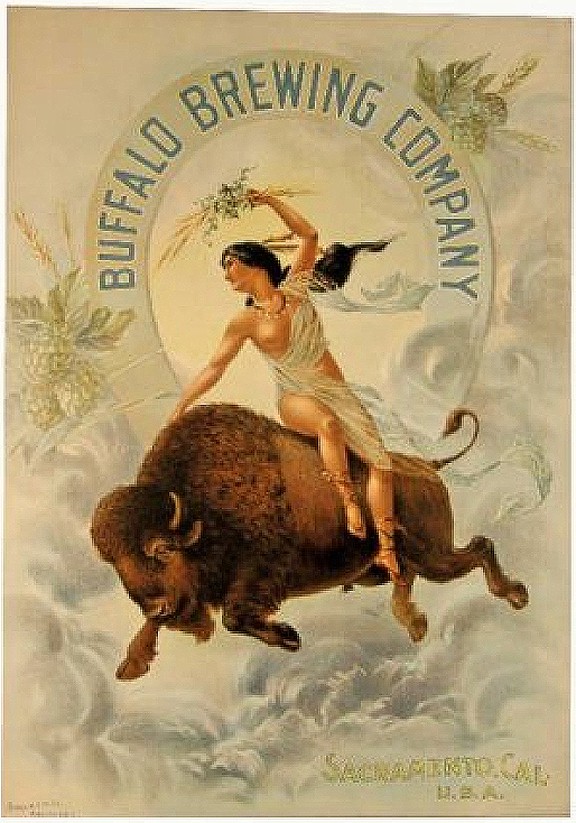 I have been doing research for a friend. Came across this link to you. Wondering if you might suggest a place to sell this or someone that wants this for their collection. It appears to be the top of a wooden beer case with the Buffalo Beer logo including the maiden riding the buffalo printed on the wood. I should have a picture soon. Any help would be appreciated. – Rick
PRG: Would need to see pics Ric.
Read: Buffalo Bayou, Buffalo Beer Tour & Buffalo Brewing Company
---
Blackish Charleston Eagle Shield Superior soda bottle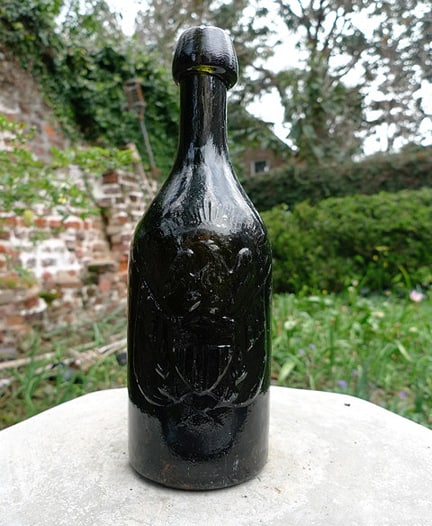 Hi Ferdinand – I have this exact bottle, however with a minor chip in the lip. We had some digging done in the back yard and they must have come across another trash heap or privy. We were told the privy was dug out in the 1960s (as were most in the Charleston peninsula) when we bought our house in 1999. Do you think it's worth auctioning or just selling to an antique auction house? I got an offer (and shipping materials) from Jeff at American Bottle Auction out in CA. I saw your blog post on the eBay price in 2012. Thanks! – Nancy
PRG: Great bottle. Would need to see actual pictures. Update: The bottle will be in the American Glass Gallery September auction.
---
While Hunting a Home Site here in Virginia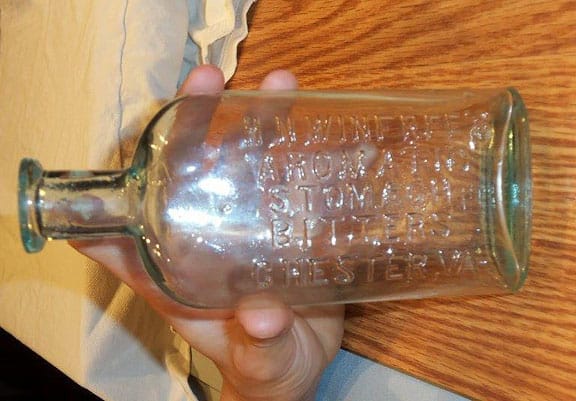 Hello Mr. Ferdinand
I, just this past weekend, while hunting a home site here in Virginia, came across a bottle that I haven't seen before. So I did a google search of the name of this bottle and of course there isn't much info except for the link that you had and 2 others. Glad you had put this info out there!! Well it has to do with the H. N. Winfree's Aromatic Stomach Bitters from Chester, Va. I live in Virginia and grew up in Chesterfield Co. Va. the next County over from Chester and have never heard of this company, till now! Love the info that you have on your page. I was wondering if you would be able to tell me the dates on the W – 135 and to date how many of these bottle have you heard of? I can tell from your post that they are very rare for sure. I'm sending a pic for you to see. This bottle is in GREAT shape too. Also how do I get signed up to your web site ?
Thank you for any more info you may provide.
David
Read: The Winfree's Bitters Family
---
Original Label Antique WARNER'S BITTER'S BOTTLE from Charles Gardner collection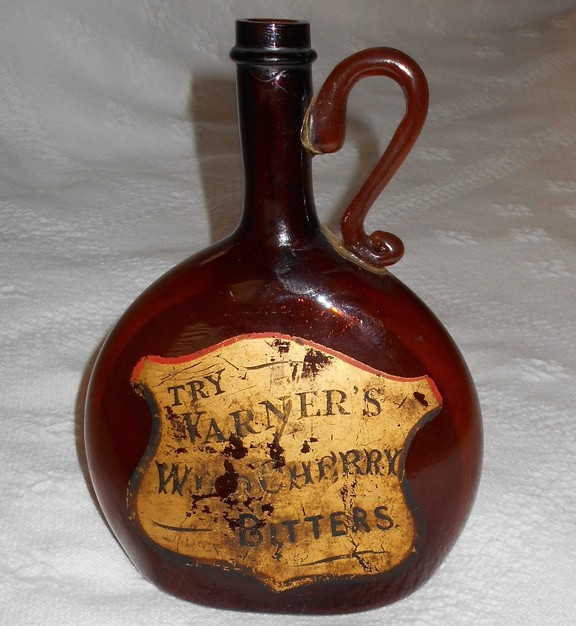 Hello Ferdinand,
This is not one that I've ever seen before. Looks real. maybe not? See ebay listing
Abel
---
I have a Reeds Bitters Bottle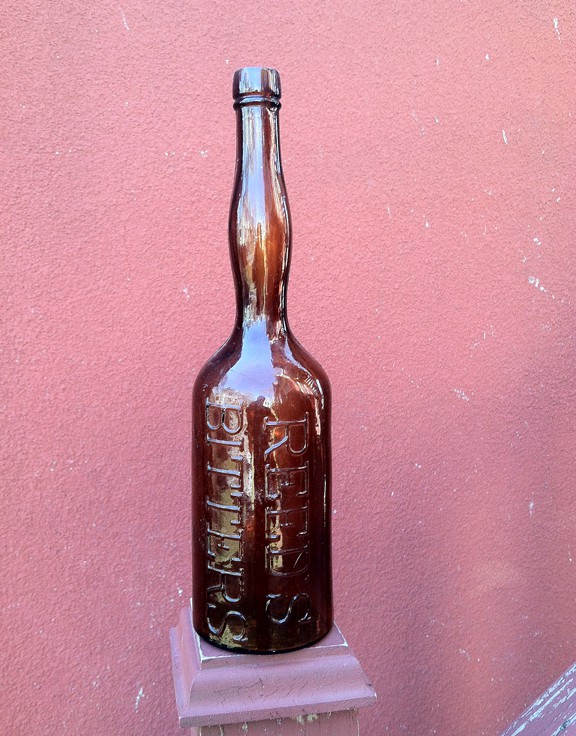 Hello Ferdinand,
I have a Reeds Bitters Bottle along with many other types of old bottles that were left to myself and my brother when our mom died.She had stated that quite a few of them were worth some money the Reeds Bitters was one of them. Can you steer me in the right direction so I can hopefully find what they're worth so we can then sell them to people who will value them for what they are?
Thank you for your time,
Dave S.
Read: Reeds Gilt Edge Tonic Clocks
---
My Favorite Research Site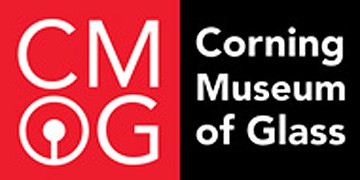 Ferd,
Have noticed lots of people have been asking for help, on various bottle sites, researching and looking for data on particular items, glassworks, etc… Thought I would share my favorite site with you. The Corning Museum….Their research library is absolutely incedible.
Mike in Maine
---
Late Abbott's Bitters Mini – safe to drink?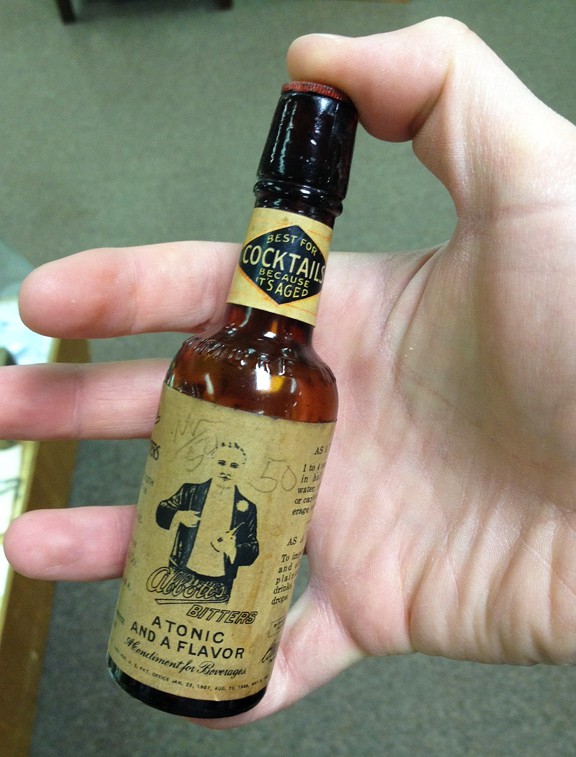 Mr. Meyer,
I came across a small 2 oz bottle of Abbott's bitters in an antique store in State College, PA over the weekend. It had been opened but still retains maybe 1/2 oz of liquid, along with a decent amount of sediment. For $10, I would have purchased an empty label-less bottle, but as you can see from the attached picture, I did a bit better than that. I know a little about Abbott's bitters in terms of its importance in early cocktails and found your website and article about Abbott's while doing some research.
I am looking for guidance on estimating the bottle's age. I haven't been able to find another bottle to compare it to online. I'm certain that it is a later bottle, with the latest year on the bottle listed as COPR (copyright?) 1931. I'm specifically wondering if this bottle might have been after the reformulation or before.
I'm also wondering if its generally inadvisable to try and use some of the remaining contents in a drink. However, I have a feeling my curiosity and love for cocktails will have me sampling it regardless.
I look forward to your response,
Chris
PRG: A later bottle for sure. Not sure I would drink it though. Not sure about the reformulation Read: Abbott's Aromatic Bitters – A Later Bitters with Class