Author Fiedler and my Boston Hops Bitters
03 May 2014

Two of my grandkids are with their father this weekend, the third is competing with her horses in some nearby town, my wife is out doing her thing, the weather is perfect, our six dogs are nearby playing and napping and I'm back in the saddle (in town) at Peach Ridge playing with my bottles. Life is good in Texas.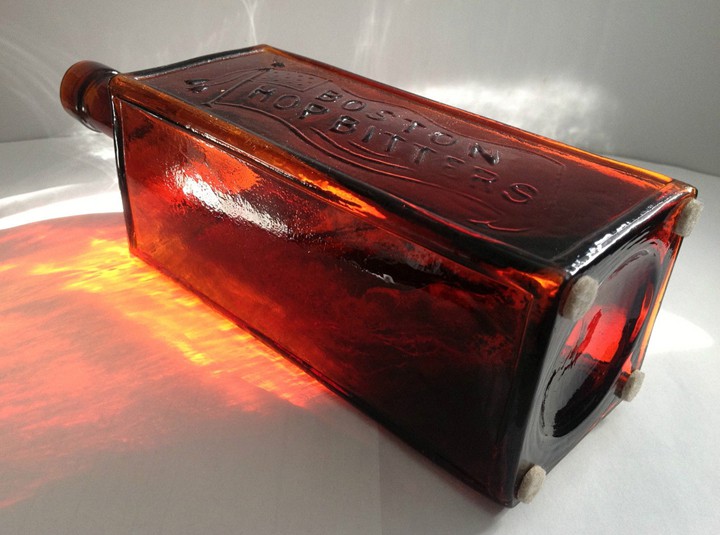 I have a couple of bottle boxes that I have not opened simply because I have been away and it is a ritual for me to receive, review and place a new specimen on my shelves. It's a "moon and stars gotta be in alignment thing". Feng Shui plays into it too and I even think my old Chinese geomancer compass is pointing in the right direction. A geomancer's compass was used in China to determine the most auspicious positioning for burial sites or buildings of different sorts. It was also used to select the best times and locations for important events like looking at new bottles. Everything has to be perfect. As I said, no distractions, sunlight has to be great, good music and a glass of vino helps. Even color plays in to my mood, hence the typography color in this post.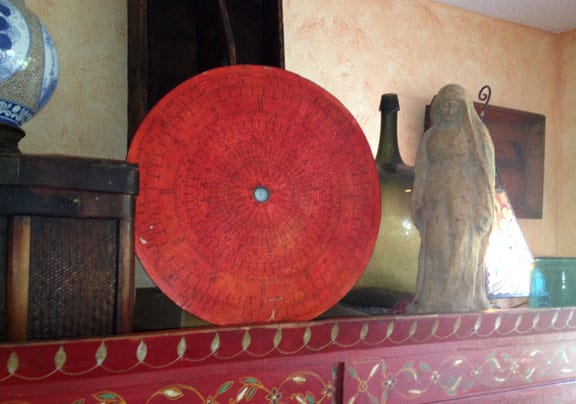 In this case I was just listening to Arthur Fiedler and his Boston Pops while admiring my new and extremely rare, Boston Hops Bitters. Hey, I can still be goofy whether I am alone or not. Anyway here is the bottle description and pictures from Glass Works Auctions.
143. "BOSTON / BOSTON / HOP BITTERS" (inside an American Flag) – "HOP – BITTERS – BITTERS", (Ring/Ham, B-163.5), Australian, ca. 1870 – 1880, reddish amber semi-cabin, 9 5/8"h, smooth base, applied tapered collar mouth. Cleaned to its original luster but retains some minor ground imperfections. A very rare bottle in an unlisted color!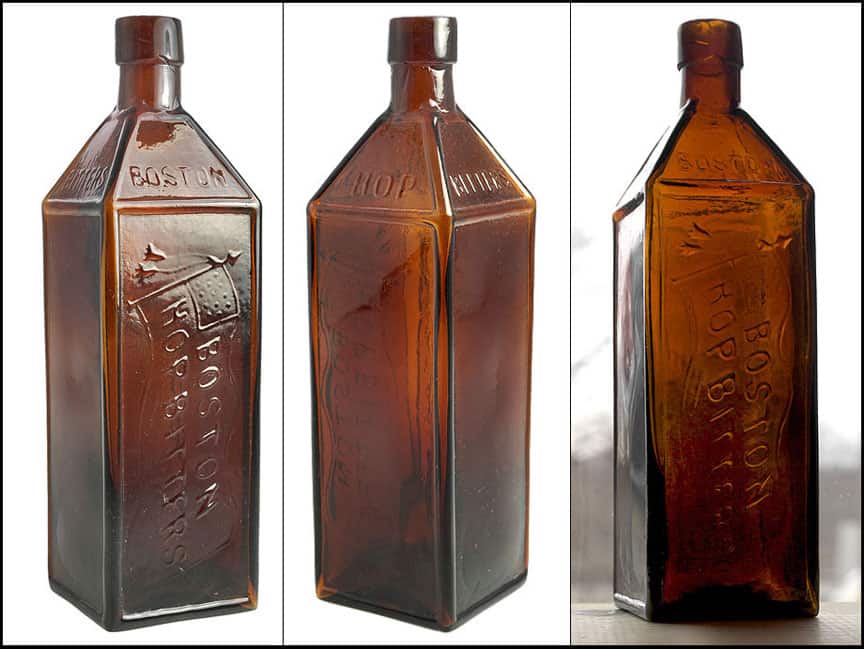 The Carlyn Ring and Bill Ham listing in the Bitters Bottle Supplement is as follows:
B 163.5  Boston Hop Bitters
BOSTON / HOP BITTERS (in American Flag) // sp // sp // sp // // s // BOSTON // HOP // BITTERS // BITTERS // 9 3/4 x 2 3/4 (6) Square semi cabin, LTC, Applied mouth; Cobalt Blue and Olive green, Extremely rare; Amber, Very rare An Australian bitters.
Looking more closely at bottles is so important as I did not realize or had forgotten that this bottle also came in cobalt blue, olive green and many other colors. Don't you need three to say you have a color run. Right up my alley. The hunt is on.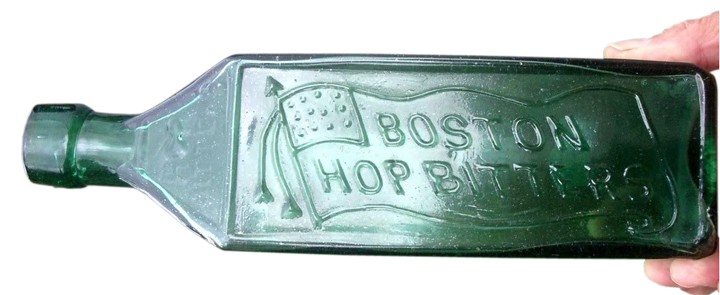 Please visit this wonderful link for more information on Boston Hop Bitters and more information on the blue and green examples.