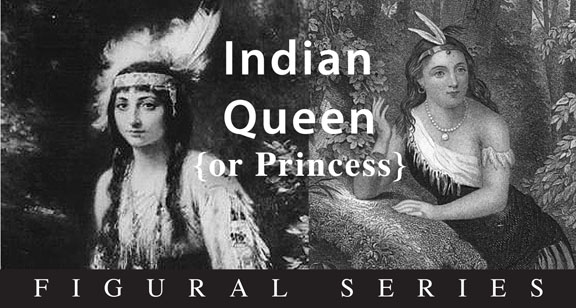 E. LONGS INDIAN HERB BITTERS
---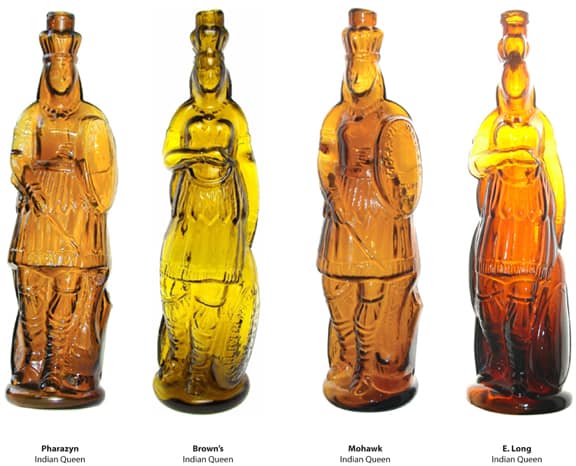 E. Longs Indian Herb Bitters
26 September 2012 (R•052714)

So far in this rather limited figural 'Queen' series, we have looked the Brown's Celebrated Indian Herb Bitters, H. Pharazyn 'Queen', and the Mohawk Queen.
Today we will look at the E. Longs Indian Herb Bitters 'Queen' which is found (assuming you can find) in shades of amber. Specimens of all four Queens are pictured above. You would have to suspect that these bottles were all made in the Northeast and that the proprietors all knew of the other brands as the molds are so similar. Even the names are similar in that the word 'Herb' is used in the Brown's and Longs name and related possibly to the maker of the Pharazyn Queen.
You will also notice that the E. Long 'Queen' has a mold similar to the other 'Queens' but is actually different upon closer inspection. The arm is crossed and the shield is low with the product embossing on the face of the shield. This makes this mold unique. There is also an applied mouth on both of the examples I have seen. Additionally, the body is 1/2 inch shorter than the Brown's Indian Queen with a small variation in the fringe. Yes, I said both. There are two examples that I am aware of and I have pictured both in this post. I suspect there may be a few more specimens squirreled away deep in collections but they have not surfaced. You hardly ever get to see this great bottle.
The Carlyn Ring and W.C. Ham listing in Bitters Bottles is as follows:
L 119  E. LONGS INDIAN HERB BITTERS
E. LONG'S / INDIAN HERB BITTERS // c //
12 x 3 1/4
Indian Queen, Amber, NSC, Applied mouth, Very rare (should be extremely rare)
Body 1/2 inch shorter than Brown's Indian Queen. Also small variation in the fringe.
Read More: Looking closer at the Brown's Celebrated Indian Herb Bitters
Read more: Amethyst Indian Queen Found in Seattle
Read More: H. Pharazyn Indian Queen – Philadelphia
Read More: Mohawk Whiskey Pure Rye Indian Queen
Read More: The Indian Herb Bitters Prepared by Drs Dickerson & Stark
Read More: Why do we call the bottles the 'Indian Queen?'
Read More: The Rubenesque Queens
Read More: Barrel series – Original Pocahontas Bitters