Diamond in the Rough
Smith's Druid Bitters
02 May 2014
Hello Ferdinand:
You are not going to believe this story, as lady luck has been on my side. I love to dig for bottles as much as the next digger but sometimes you are not in the right part of the country. You see, I live in Florida so I can't dig too much and know of no other local diggers, so I found another way to dig. What I do is sit behind the computer and dig through all the web pages to try to find the rare GEM just sitting there embedded in the world wide web! Plus all I have to do is lift a finger and I keep my nails clean.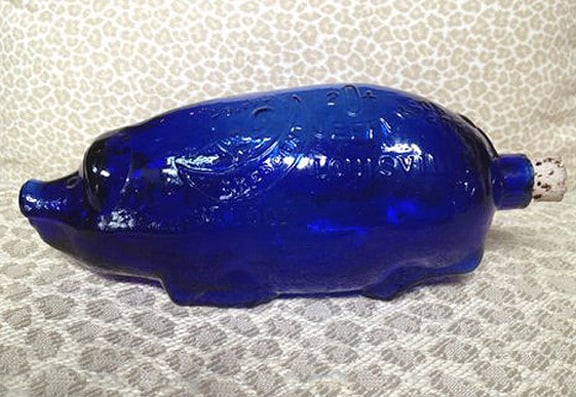 I did have a chance to get the cobalt blue Duffy's Crescent Saloon pig (see picture above) last year on eBay when it was still up for 'Buy it Now' but I was at work and thought it was a reproduction for sure, even with the close-up pictures. Oh well, live & learn.
Read: Figural Pig Series | Duffy Crescent Saloon Figural Pig Bottle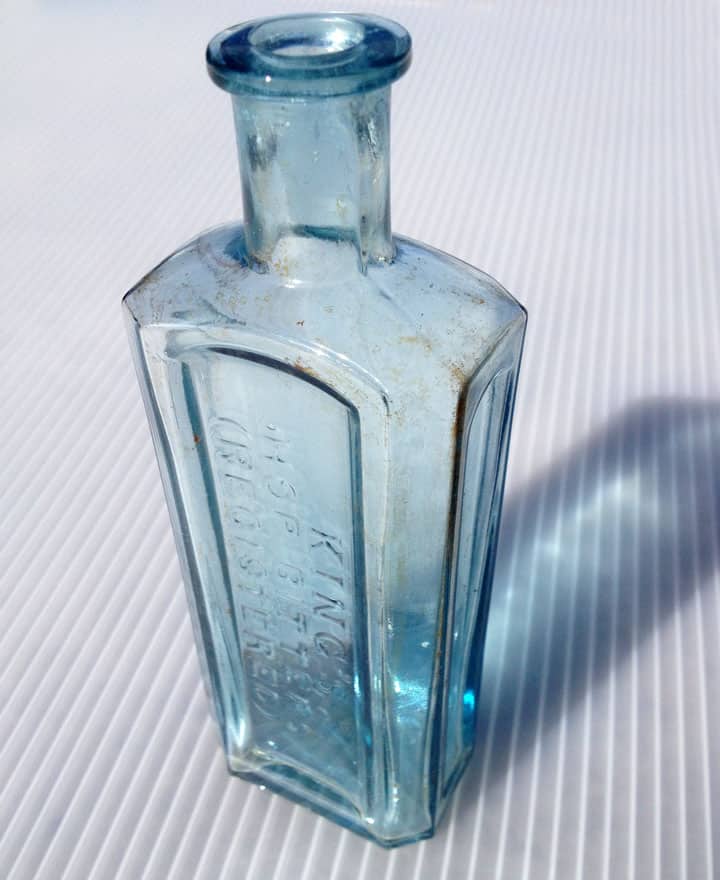 Next it was a rare Kings Hop Bitters (see picture above) from the UK for 'Buy it Now' for $13 bucks on eBay. I think there are three known examples in this size. It is rare but did not command a lot of greenbacks. I am glad I now have it.
Read: King's Hop Bitters added to Florida Collection
I recently found another great gem at an online estate auction in Pennsylvania mixed and hidden with seven other bottles including some reproductions and some fiftys screwtop whiskies. I could not believe what I was looking at, a barrel with a small narrow collar! I knew right away what I was lookong at a B.T. 1865 S.C. Smith's Druid Bitters! OK, great bottle, so I gave them a call and got transfered three times. They then said they would have to call me back later that evening. So the phone rang, I answered, and it was them! I asked more about the barrel and they confirmed my thoughts as to what it was. I then asked what color it was and she says "green"!! I almost lost my compsure on the phone. I had to ask her the color again to make sure my ears were not playing tricks on me. Same thing, "GREEN"!! Next question, "any chip or cracks?" "No none" was the response!
The was a current $16 bid with a next bid of $18 with five bidders and 11 hours to go! There was no way it could go for that low of a price while sitting only 188 miles from Gore, Virginia and 90 miles from Baltimore, Maryland. Here this famous barrel was sitting in an auction house in Greencastle, Pennsylvania. From the pictures, with the shelf, it looked to be a residence.
Price 1 hour to go current, current bid $50, next bid $55. Final closing price? Well let's just say I got it for less than a price of an amber one.
I heard nothing until Monday and it was longest weekend of my life. I was getting worried. What if UPS got it and broke it? Thoughts like that. My mind was going all over the place. Why no calls from them? As it turns out, they did not know which bottle to send! So they sent a picture with all eight of the numbered lots (see picture below).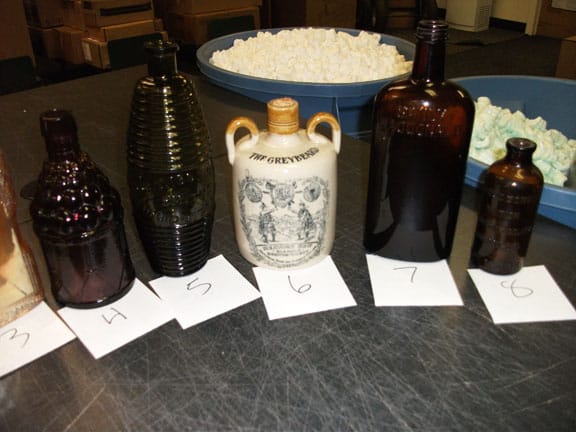 Well, I got the bottle in the mail today, heart pounding like a 4-year old on Christmas day while opening presents. It looks to be green with no amber at all. It also came from the right part of the country where most of the green ones have been found. The condition is near mint and the only thing I see is a 1″ flash on the side of the bottle. I am very happy none-the-less.
Well, it just goes to show you that you can dig for bottles and not even get dirty, wet or tired. I can't wait for the next treasure to turn up on my screen.
PS… I will be bringing this bottle to the FOHBC National Antique Bottle Show in Lexingtion, Kentucky in August.
Happy Hunting
Lou Holis