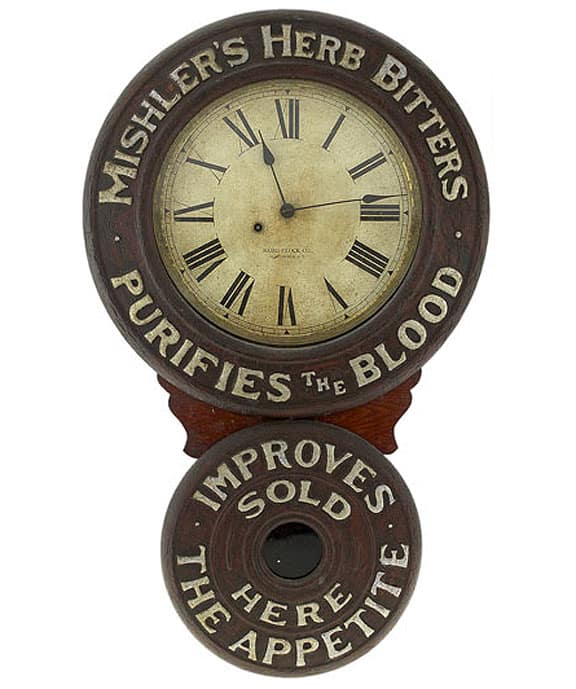 Mishler's Herb Bitters Advertising Wall Clock
Benjamin Mishler & Samuel Brubaker Hartman
13 June 2013 (R•050314)
Glass

Works Auctions has a really cool advertising clock in their current Auction 98. I wish I had more wall space. We already have a old ticking and gonging Ansonia wall clock, Cuckoo Clock, and two mantle top clocks. Lot of work when you have to keep the time right and rewind. Sounds cool when they all go off. Every once in a blue moon, they all gong at once. The Glass Works description:
'Mishler's Herb Bitters / Purifies The Blood / Improves The Appetite / Sold Here', (Maltz fig. 47), Baird Clock Co. Plattsburgh, New York, ca. 1890 – 1895, wood construction with hard paper mache faces and lettering, 30"h, original clock face, glass window, pendulum and key. Excellent overall condition and in perfect working order.
Benjamin Mishler & Samuel Brubaker Hartman
Mishler's Herb Bitters – Lancaster, PA
Benjamin Mishler was born on 12 August 1814 and died on 08 June 1876. His wife was Elizabeth Lesher, born 07 November 1817 and died 12 June 1890. Children, Lyman, graduate of West Point Military Acadamy. First lieutenant, Fifth Infantry, United States Regulars. Killed at the battle of Valverde, New Mexico, February twenty-first, 1862; Henry L., Hannah (Mrs. Strachan), Miss Elizabeth Strachen, a daughter, resides in Lancaster, Secretary and Treasurer of the Standard Caramel Company. Mary Lola Strachen lives in New York.
Benjamin Mishler (father John Mishler) and his brother Isaac had a liquor business around 1855 and a distillery in East Cocalico Township, three miles northeast of Reamstown (Old Lion Brewery & Distillery). It was during this time that Mishler's Herb Bitters first made an appearance. The bitters were apparently the invention of Benjamin, for in 1859 he sold his interest in the liquor business to his brother and devoted himself to making the nostrum. The manufacturing was carried out in a building on the southeast angle of Center Square, now called Penn Square, in the very heart of Lancaster, Pennsylvania.
Benjamin had many original ideas, was an enterprising man and accomplished things which other men would not have had the courage to attempt. One of his successful undertakings, which at the time created quite a sensation, was the erection August first, 1873, of a two-story brick building with eight rooms in Lancaster, completed in ten hours. The foundation had been laid before the erection of the building. More than one hundred mechanics were working on the building at one time.
Samuel Brubaker Hartman, M.D. would purchase the firm from Benjamin Mishler around 1867. He would become the sole proprietor of this bitters and he took over the manufacturing. The firm included Junius Kauman and Henry Lehman who was the manager. Dr. S. B. Hartman would also trade mark Mishler's Herb Bitters in April of 1871. By 1879 the company reorganized as Mishler's Herb Bitters Company. The company had two locations, one in Pittsburgh and the other in Lancaster.. By then, Dr. Hartman engaged in private practice in Pittsburgh for several years after he retired from active participation in the manufacture of Mushler's Herb Bitters. In 1888 he moved to Columbus, Ohio and soon thereafter established the Peruna Medicine Company.
Benjamin Mishler would eventually join his son Henry Mishler in Producing H. L. Mishler's Keystone Bitters. This product was trademarked in April 1871. This firm was located at 17 W. King Street Lancaster, Pennsylvania.
Read More: Mishler's Keystone Bitters – Stencil and Bottle
[reference Bottle Pickers and An Annotated Catalogue of the Edward C. Atwater Collection of American Popular Medicine and Health Reform and Patent Medicine Tax Stamps by Henry W. Holcombe]
Mishler's Herb Bitters: 
A Certain Remedy for Dyspepsia, Liver Complaint, Loss of Appetite, Nervous Affections, Intermittent Fever, Fever and Ague, General Debility Or Weakness Caused by Exposure, Imprudence Or Excess, Coughs and Colds, Diarrhoea, Headache, Cholera Morbus, Rheumatism Or Pains in the Limbs, Cramp in the Stomach, Neuralgia, Diseases of the Skin, Such as Scrofula, Ulcers, Etc., and All Other Diseases Arising from a Disorganized Or Diseased Stomach Or Impurity of the Blood. As a Blood Purifier and Tonic, Or General Appetizer, These Bitters are Also Without a Rival and Should be Kept in Every Family. 
Read More: Mishler's Keystone Bitters – Stencil and Bottle
Read More: Mishler's Herb Bitters & Prof. Parker's Pleasant Worm Syrup
Read More: Reeds Gilt Edge Tonic Clocks