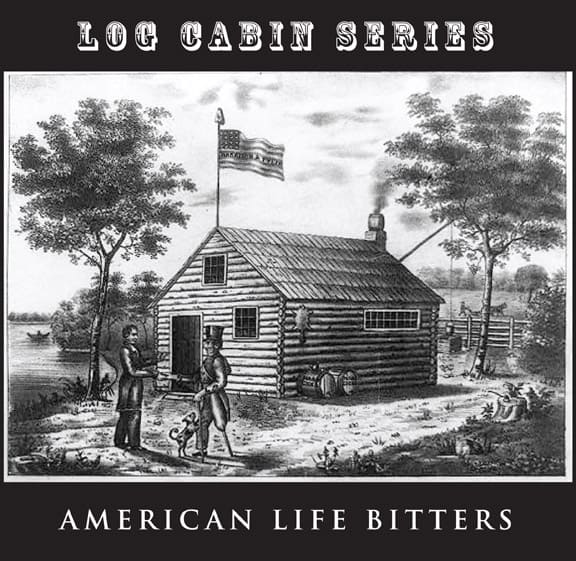 AMERICAN LIFE BITTERS
Tiffin, Ohio & Omaha, Nebraska Variants
01 December 2012 (R•120112) (R•052914) (R•030715) (R•090516)
---
While operating as a wagon peddler, he discovered the magic of bitters, which he advertised "as a cure for dyspepsia and all diseases of the stomach and bowels" at a dollar a bottle.

In this figural log cabin series we have written about and discussed the Old Homestead Wild Cherry Bitters, Drake's Plantation Bitters and Holtzermann's Patent Stomach Bitters so far. These bottles essentially have pitched, angular roofs either in a  2-roof or 4-roof design. All great and essential bottles for the bitters and figural collector.
Today we will look at the much tougher to obtain American Life Bitters. The American Life is still a rectangular log cabin but has curved roofs instead of angular. For the most part this bottle story is about the inventor Peter E. Iler who was born in Wooster, Ohio, in 1840. He eventually ended up in Omaha, Nebraska. His famous bitters have either the Tiffin, Ohio or Omaha, Nebraska embossing.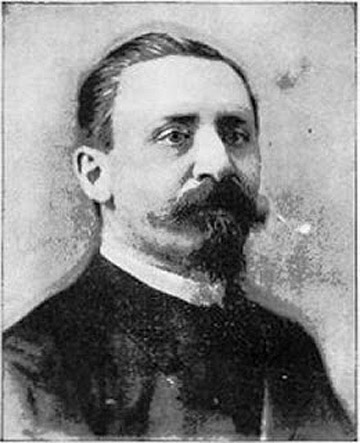 Peter Iler (pictured) was born in Wooster, Ohio, in 1840. At a youth he and his brother, Joseph, moved to Tiffin, Ohio. At the age of sixteen he left school to go to work. A that point accounts differ. One version has him leaving Tiffin in the employ of an Indianapolis banker and soon being given management of several farms and a princely salary of $75 a month. After becoming ill, he quit and returned to Tiffin to recuperate. The other account has him never leaving Tiffin, employed in a bank, working with a cigar manufacturer and as a warehouse operator.
The stories converge about 1860 in Tiffin when Iler became a wagon peddler selling a bitters nostrum that he advertised..
"as a cure for dyspepsia and all diseases of the stomach and bowels." It cost a pricey one dollar a bottle. With the success of his bitters, Iler was on his way to being a capitalist and entrepreneur. As one account says: "Peter met with success and soon drove a splendid four-in-hand team and a beautiful wagon. He also took orders for all the wholesale merchants in Tiffin, doing in this way a large commission business. Mr. Iler branched out and established a general supply store, engaged in the manufacture of cigars, and ran a distillery and a general liquor store, all of these enterprises proving successful."
"Someday, they hope to come across an Omaha American Life Bitters bottle. Amber in color with "Omaha" embossed in the glass of the log-cabin shaped bottle, Clements said the collectible can be worth as much as $20,000."
"Mr. P. E. Iler, has erected a very handsome four-story brick block, sixty-six feet front and 182 feet, on the north side of Harney street, nearly opposite the Millard Block, between Eleventh and Twelfth streets. The front is of cut stone and pressed brick, the architectural appearance of which is very handsome. The building has water connections throughout, and is supplied with hydraulic elevators. It was built especially for wholesale business, the west twenty-two feet being occupied as a wholesale liquor establishment, and the east forty-four feet being occupied by a wholesale hardware firm. Each is provided with commodious and elegant business offices. The cost of the building was $40,000. The firm of Iler & Co. is now composed of Peter E. Iler and Joseph D. Iler."
The Carlyn Ring and W.C. Ham listing in Bitters Bottles is as follows:
A 48

  AMERICAN LIFE BITTERS, Circa
AMERICAN LIFE ( au ) / BITTERS ( ad ) // P.E. ILER ( au ) / MANUFACTURER / 
OMAHA, NEB.

 // AMERICAN LIFE / BITTERS // f // 8 7/8 x 3 1/8 x 2 1/2 (5 3/4) Rectangular cabin, LTC, Applied mouth, Amber, Extremely rare
A 49

  AMERICAN LIFE BITTERS, Circa 1865 – 1875
AMERICAN LIFE ( au ) / BITTERS ( ad ) // P.E. ILER ( au ) / MANUFACTURER / 
TIFFIN, OHIO

 // AMERICAN LIFE / BITTERS // f // 8 7/8 x 3 1/8 x 2 1/2 (5 3/4) Rectangular cabin, LTC, Applied mouth, Amber and Gold Rare, Yellow olive – Extremely rare