Gouley's Vegetable Bitters –

Baltimore
Louis Gouley's Vegetable Medicinal Store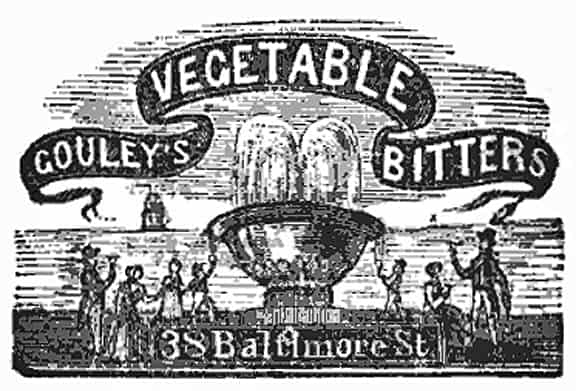 02 May 2014 (R•121814) (R•041815)

Yep, had to be a Frenchman with that name. I was looking thru some older Baltimore City Directories and was reminded of an advertisement for Louis Gouley's Vegetable Medicinal Store. It says he made a Gouley's Vegetable Bitters as you can see in the yellow advertisement below from an 1842 Directory! I also remember a super, Gouley's Fountain of Health bottle from a past Heckler action. That is also pictured further below.
Louis Henry Gouley was born on 25 August 1790 in Sangvilleux, France. Sangvilleux is today known as Saigneville and is located in the Department of Somme, in the region of Picardy, in northern France. He immigrated to America on 12 November 1817, when he arrived at the port of Philadelphia, Pennsylvania. His "Declaration of Intent" to become a U.S. Citizen was dated 20 Sep 1823. There is documentation of his subsequent oath in open court, dated 8 Oct 1827, finalizing his citizenship. While in Philadelphia, Gouley ran a restaurant as evidenced by this newspaper advertisement below for Louis Gouley's "Exchange Oyster House", that appeared in the Philadelphia Inquirer on 15 May 1833 (see below). Many of his customers were medical students based on other advertisements so I wonder if this interaction led him to his career in selling medicine?
I guess making turtle soup was not his destiny and Louis came to Baltimore in 1834 and opened his medicine store at 21 1/2 Balimore street around 1835 and continued until his death on 16 October 1849. The advertisement further below shows that in 1837, he had not started making and marketing his bitters yet as Gouley's Vegetable Bitters is not mentioned until 1839. The direct picture below represents the time period in discussion.
Here is a clipping from the Baltimore Sun on 10 April 1839 that reads:
COMMUNICATED. – I was much pleased in passing along Baltimore street a few days since, to see the great improvements made by Mr. L. Gouley, in the enlargement of his store, No. 21 1/2. It will be remembered by many upon what small scale he commenced operations in this city, some three or four years since, and it is no doubt a source of gratification to his numerous friends, to know that he has been enabled by perseverance and industry, to open one of the handsomest stores in the city. It at the same time goes far to prove that his medicine must be in great demand, and generally used, to authorize him to increase his business to such an extent. The citizens of Baltimore should continue to patronize Mr. G., (especially the ladies) for, in addition to the articles of his own manufacture, he keeps a great many fancy articles, particularly adapted to the ladies' use. He has also fitted up a private office, where any one willing to consult him in regard to the use of his medicines, can do so with convenience. I would also take this opportunity of calling the attention of the public to a beautiful sign, painted by Mr. Polly, for Mr. Gouley, as an excellent specimen of the beautiful workmanship of our Baltimore artists. – A FRIEND TO MERIT.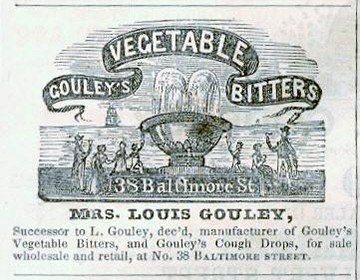 Another clipping from the 27 March 1839 Baltimore Sun dates the bitters to at least 1839:
MR. GOULEY, the well known inventor of the celebrated bitters which are called by his name, has enlarged his establishment by taking the store adjoining his old stand, No. 21 1/2 Baltimore street near Harrison. The establishment is fitted up in a superior manner, and persons wishing a private consultation, will find the accommodation of a handsomely furnished drawing-room.
Louis Gouley was married first to Mary Ann Washington on 23 December 1824 at the Trinity Episcopal Church in Wilmington, Deleware and they had four children, John L., Elizabeth Washington, George Frank and Mary S. Gouley. They were divorced in 1840. His second marriage was to Charlotte Elizabeth Lynch on 8 July 1841 and they also had four children, Louis Edward Napolean, Charles Lafayette, Charlotte Elizabeth Julie and Adelaide Louise Gouley. His second wife Charlotte, and their son, Louis, Jr. (1842-1870) would later carry the torch for a short time for the Gouley medicines after Louis's death.
What interests me also, is wondering if Louis Gouley knew Ferdinand Meyer? You see, I believe this is the first Meyer in my string and they both had businesses on the same street (Baltimore street) during the same time period. As noted above, Gouley first started at 21 1/2 Baltimore street (see advertisement at top of post) and next moves to 38 Baltimore street (1849-1860). Somewhere in the moves they were also located at 42 Baltimore street and 60 Baltimore street which is apparently embossed on some of his bottles. Ferdinand Meyer was at 57 Baltimore street! Wow, maybe they were friends or drinking buddies! Maybe Ferdinand took some of the Gouley medicines or tried his turtle soup?
The Carlyn Ring and W.C. Ham listing in Bitters Bottles is as follows:
G 83

 GOULEY'S VEGETABLE BITTERS
Baltimore City Directory 1842: L. Gouley's Vegetable Medicine Store
Newspaper advertisement, 1848
Drug Catalog: 1883 Schieffelin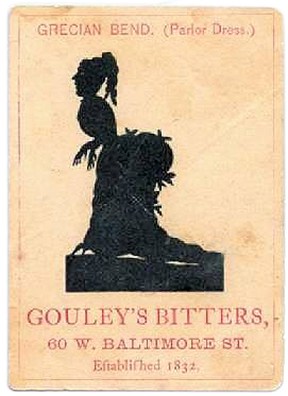 I am aware of no examples of the Gouley's Vegetable Bitters but here is that great example of the Gouley's Fountain of Health below.