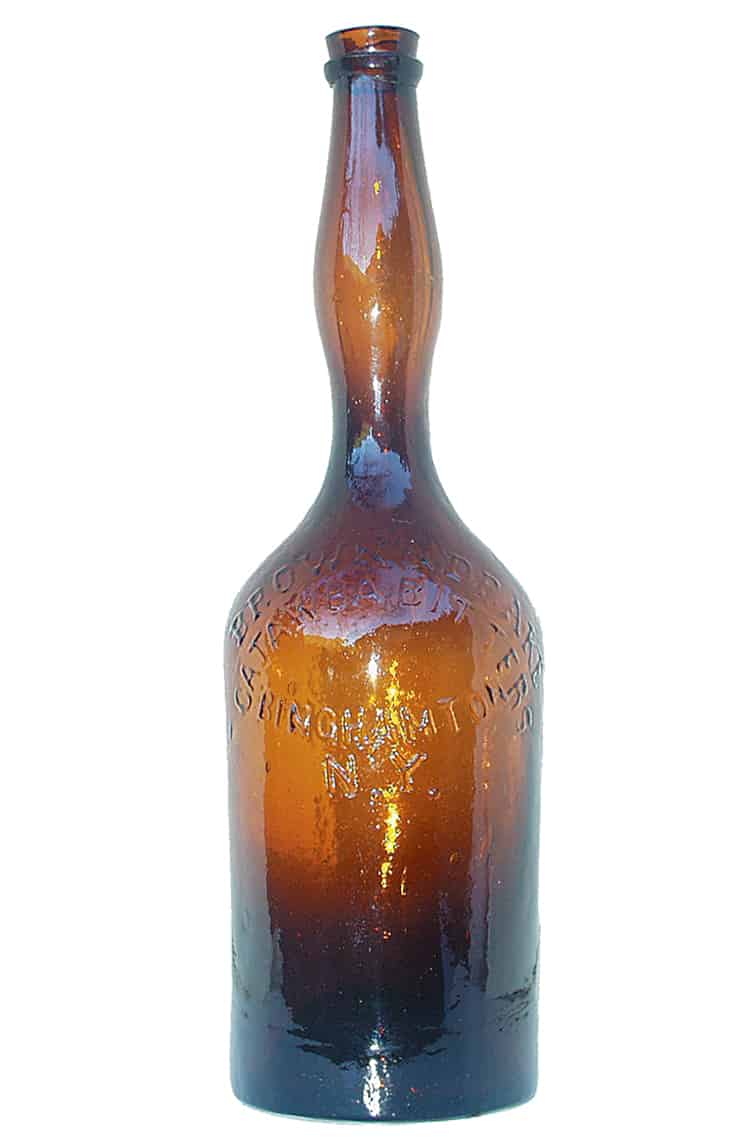 BROWN & DRAKE CATAWBA BITTERS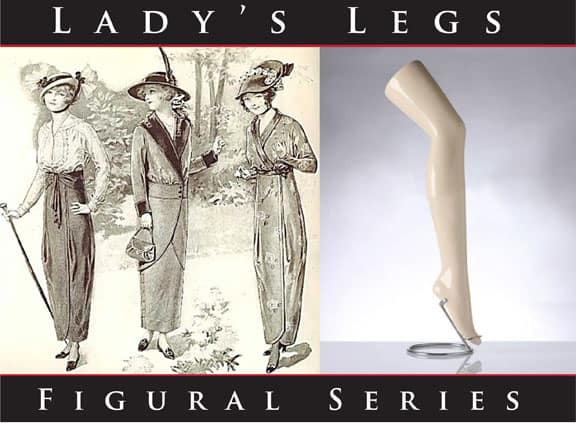 ---
The old but sexy, Brown & Drake Catawba Bitters lady's leg
25 January 2013 (R•030319)

The first in the series of Lady's Leg figural bottles is a 'doozie' as it is the predecessor brand to the famous Drake's Plantation Bitters. It is even confused with the Catawba Wine Bitters embossed grapes square from Cincinnati.
The Brown & Drake Catawba Bitters, from Binghamton, New York, is one of the most desirable bitters bottles for most of us hard core collectors. I believe there are only three known examples. With history, form and character, these are great bottles. I am fortunate to have seen two personally and will not forget the experience.
We will include below, an email from Jeff Burkhardt (Cedarburg, Wisconsin) talking about his example and the story behind how it became part of his special collection. I am hoping that Jeff and another advanced figural collector Bill Taylor (Oregon) will be sharing more of their great lady's leg bottles pictures in the future for this series.
The Carlyn Ring and W.C. listing in Bitters Bottles is as follows:
C 81  Brown & Drake Catawba Bitters
BROWN & DRAKE ( cu ) / CATAWBA BITTERS ( cu ) / BINGHAMTON ( cd ) / N.Y.  // c //
P.H. Drake and Company   New York
11 1/2 x 3 3/8 (5)
Round Lady's Leg, Puce and Amber, ARM, Applied mouth, Metallic pontil mark
The Corning (New York) Journal May 19, 1859
*Listing required for J.B. Brown & Co.'s Catawba Wine Bitters, Binghamton, N.Y. (see. further below)
---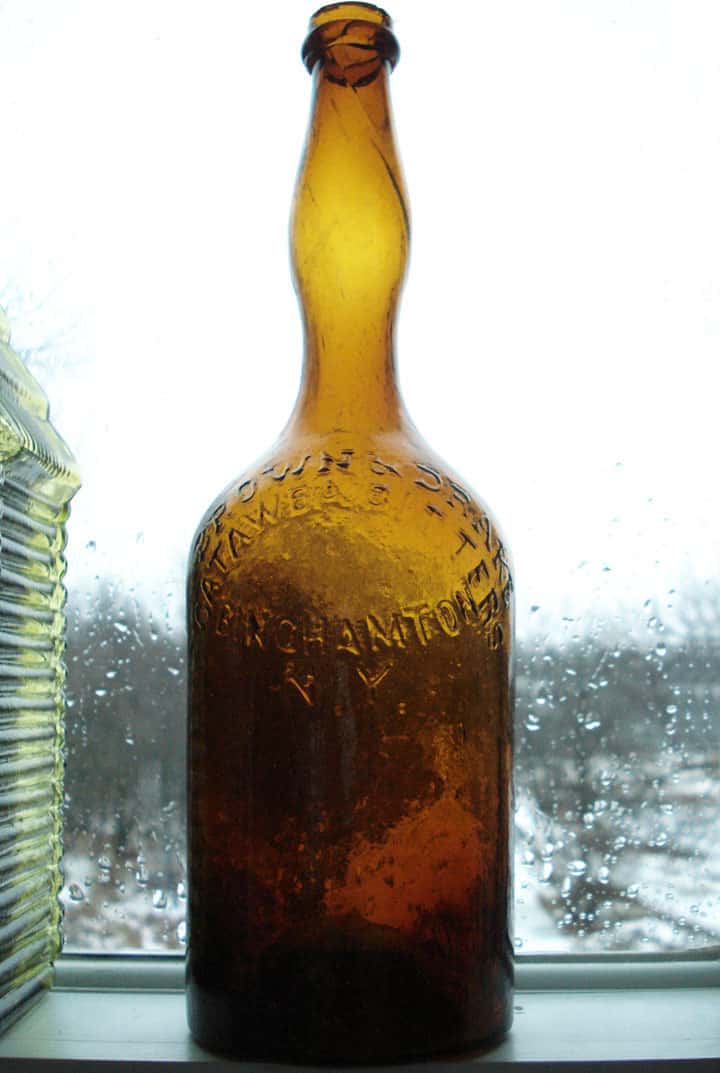 Greetings Ferdinand – Tough photographing on a dreary, snowy day.
Attached you will find two pictures of my BROWN & DRAKE CATAWBA BITTERS ladies leg. It is golden-amber in the top half and a puce-red amber in the lower half.
The bottle was purchased from the late Alan Spear of Lockport, New York shortly after its "brother" was sold in the 1989 Glass Works sale of Roger Sweetland's legendary collection of Western New York bottles. Every bottle has a story, and this pair of legs has a great one. Here's the earlier part.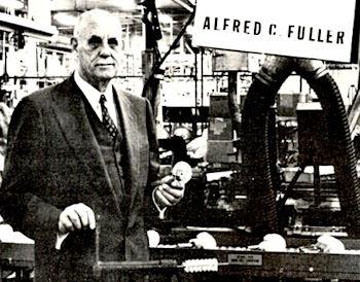 Alan delighted in telling me the story of buying a PAIR of these great rarities when he was a door-to-door FULLER BRUSH salesman (if you're old enough to remember those products, it's time to sell the collection!).
As Alan approached a prospective home, there they were in the window. Obviously he acquired the bottles, but I don't know if he made a brush sale! The first and arguably best example (deep puce), went to Roger Sweetland; the second example (mine), Alan kept.
When the Sweetland collection was subsequently sold in the aforementioned Glass Works auction, Jimmy Chebalo purchased it. The hammer price was $13,000 + 10% BP = $14,300. I was the underbidder, my maximum bid of $13,000 having tied Chebalo's. I declined going any further (by far and away the MOST I'd ever offered for any bottle), so he won the bottle. The sale price obviously convinced Spear to sell the second bottle, as I received a call from him shortly after the auction, wherein we struck a deal on it. I never did find out how Alan knew I was the underbidder.
Currently there are three examples extant. The Sweetland example now resides in a Connecticut Bitters collection. I do not know where the third example is. An extreme rarity, the bottles are very desirable for their form, iron pontils and good early character and color.
Historic significance perhaps overshadowing the glass itself, this bottle precedes the Drake's cabin, thus it is the FIRST of a long line of the coveted and highly collectible Drake's Plantation Bitters figural cabins. Thus it could be seen as the cornerstone of a Drakes collection; at least that's how I view mine!
Feel free to post and use this information as you wish to further bottle and bitters collecting!
Regards,
Jeff (froggy) Burkhardt
Jeff, please read the post below (link to Bill Ham visit) to see where the third example resides.
Bill Ham Visit – Some Extraordinary Pontiled Bottles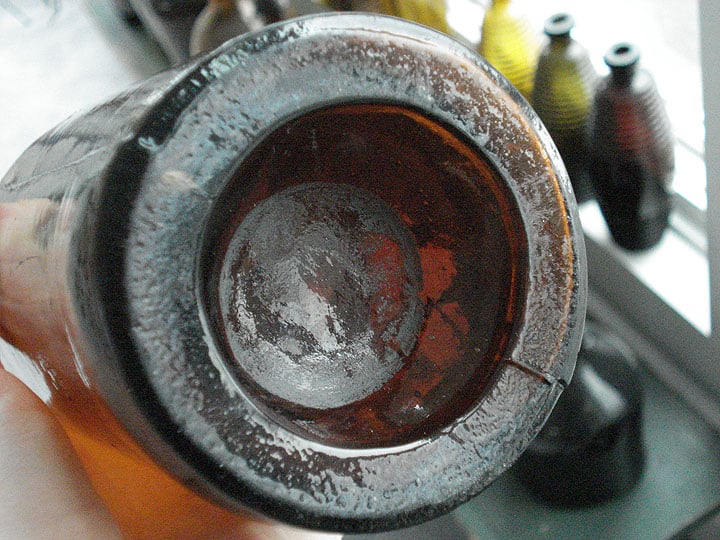 ---
Brown & Drake's Catawba Bitters – Patrick Henry Drake – Binghamton, N.Y.

Looking at newspaper advertising, we can see that Brown & Drake's Catawba Bitters was sold from 1858 to 1860. That's a pretty short run. Patrick Henry Drake was the proprietor when he lived in Binghamton, New York. He was born in Ithaca, New York in 1827. This of course, is the same P.H. Drake who put out Drake's Plantation Bitters and Sazearac Aromatic Bitters.
Drake would sell his first bitters through various agents and merchants in the region. Advertising said that the bitters was "From the juice of the Grape; designed for hotels and restaurants. The best Bar Bitters in the world."
Interesting that the ads I found say "Prepared exclusively by Drake & Co., Binghamton, N.Y." There is no mention of a "Brown."
Here is an advertisement below for J.B. Brown & Co.'s Catawba Wine Bitters, Binghamton, N.Y., in April 1859. This would most likely be the Brown in the name. Looking in the Binghamton directory in 1860, you see two other possible candidates. The first being Charles Brown who was a liquor dealer. The second possibility is T. L. Brown who was listed as a homeopathic physician.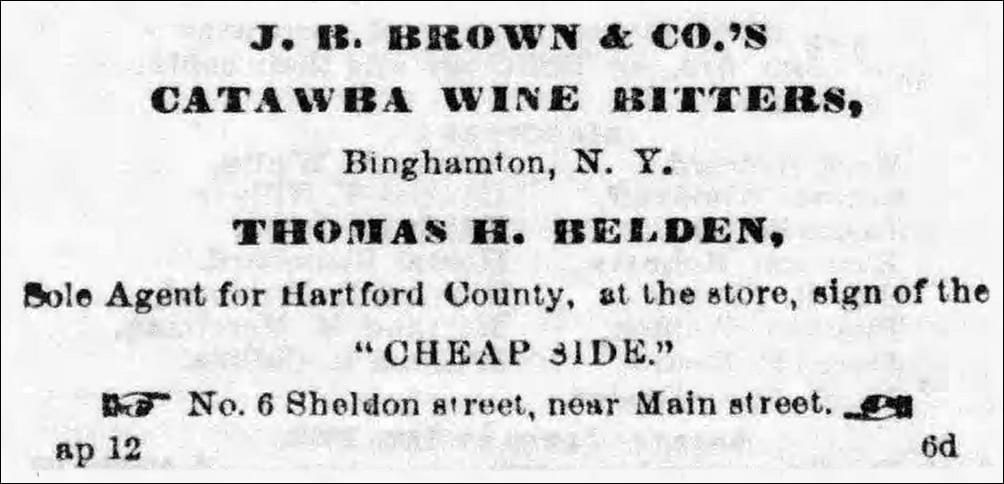 In the mid 1800s, wine-making was in its infancy in America and there were many pioneers in grape-growing in New York, Ohio, Missouri and other States leading in a line to California. The Catawba Grape and Isabella Grapes in particular were being found to make wine that rivaled the best wines of Europe. Putting their wine or brandy in bitters was just the next step.
Read: Nicholas Longworth – Catawba Wine Bitters, Cincinnati, Ohio
Read: Missouri IXL Bitters – Isidor Bush
Read: Could this bottle be for the Celebrated Tobias's Wine Bitters?
Read: Use Dr. Henley's Celebrated California IXL Bitters
---
More on Drake's Plantation Bitters:
Read More: Log Cabin Series – Drake's Plantation Bitters
Read More: Information on the Drake's Plantation Bitters Variants
More on Lady's Leg Bitters:
Read More: Sazerac Aromatic Bitters Lady's Leg, P.H. Drake & Co.
Read More: Lady's Leg Series – Weis Bros Knickerbocker Stomach Bitters
Read More: Russ' Stomach Bitters – A New York Lady's Leg
Read More: The old but sexy, Brown & Drake Catawba Bitters lady's leg
Read More: Lady's Leg Series – Zingari Bitters
Read More: Holloway's Bitters from Syracuse
Read More: The best Lady's Leg in the Galaxy – Universe Bitters
Select Listings:
1827:

 Patrick Henry Drake, Birth Date: 22 Feb 1827, Birth Place: Ithaca, Tompkins County, New York – U.S. Find a Grave Index
1849:

Patrick Henry Drake, First Marriage Date: 10 June 1849, Father: Benjamin Drake, Spouse: Jane Eldridge Lewis, Child: Virginia Maria Drake, Julia Randall Drake – North American Family Histories
1850:

 P H Drake, [

Patrick Henry Drake

] Age:23, Birth Year: abt 1827, Birthplace: New York, Home in 1850: Ithaca, Tompkins, New York, Family Number: 556, Household Members: Maria Drake 53, P H Drake 23, Jane Drake 23, Mary Drake 24 – 1850 United States Federal Census
1854:

Benjamin Drake [father], Physician, 151 E. Broadway – New York City Directory
1858:

 Newspaper advertisement (below) George Gilbert, New Wine and Liquor Store selling Brown & Drake's Catawba Bitters, in cases or bottles – The Buffalo Daily Republic, Tuesday, June 15, 1858

1859:

 Newspaper advertisement (below) J.B. Brown & Co.'s Catawba Wine Bitters, Binghamton, N.Y., sold by Thomas H. Belden, Sole Agentfor Hartford County. – Hartford Courant, Wednesday, April 13, 1859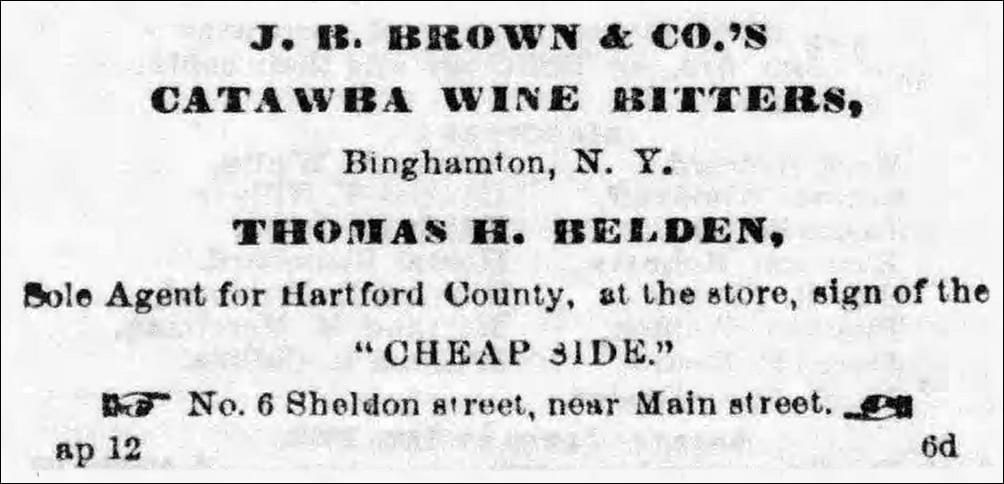 1859: 

Newspaper advertisement (below) George Gilbert selling Drake & Co's Catawba Bitters "Brown & Drake Catawba Bitters" – The Daily Empire (Dayton, Ohio), Friday, December 2, 1859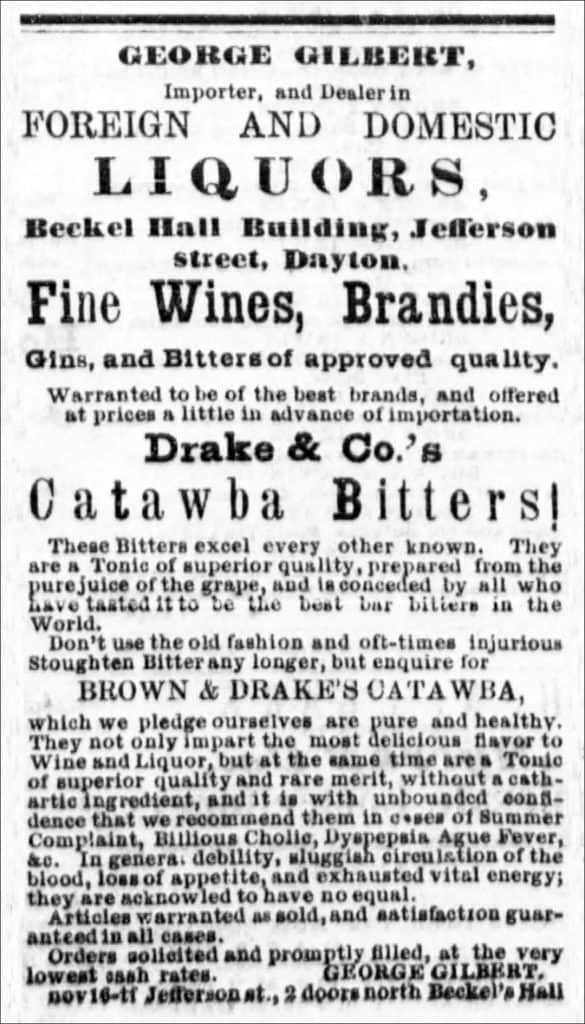 1860:

Newspaper advertisement (below) Brown & Drake's Celebrated Catawba Bitters, From there juice of the Grape; designed for hotels and restaurants. The best Bar Bitters in the world. Prepared exclusively by Drake  & Co., Binghampton, N.Y. For sale by D.A. Enyart, Sole Agent and Wholesale Liquor Merchant, 48 Public Landing, Cincinnati – The Cincinnati Enquirer, Wednesday, February 15, 1860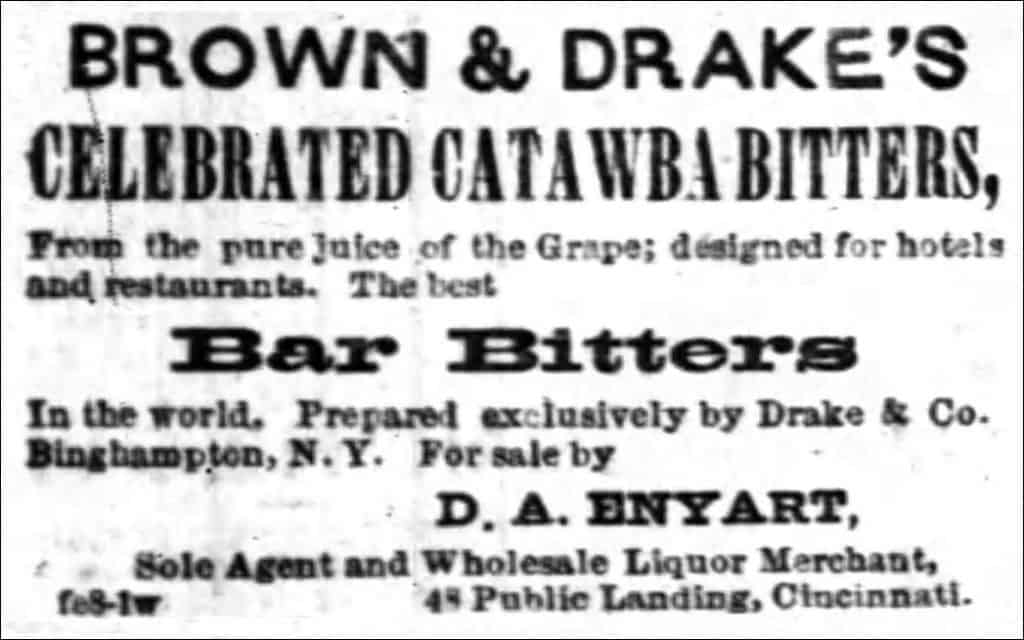 186o:

Patrick H Drake, Manufacturer, Age: 31, Birth Year: abt 1829, Birth Place: New York, Home in 1860: Binghampton Ward 3, Broome, New York, Post Office: Binghamton, Dwelling Number: 456, Family Number: 487, Real Estate Value: 5,000, Personal Estate Value: 1,500, Household Members: Patrick H Drake 31, Jane E Drake 31, Virginia N Drake 10, Julia R Drake 3 – 1860 United States Federal Census
1861: 

Patrick Henry Drake and Demas S. Barnes formed a partnership in 1860 in New York City to manufacture and market Drake's Plantation Bitters, initially called Plantation Toddy – History of Drug Containers and Their Labels 

By George B. Griffenhagen, Mary Bogard
1862:

 Bottle Patent – P. H. Drake of Binghamton, New York. Design for a Bottle (Drake's Plantation Bitters) – Specification forming part of a design No. 1538 dated February 18, 1862 – United States Patent Office
1862:

P H Drake and Co., Manufacturer, 47 Dey, Tax Year: 1862, State: New York – U.S. IRS Tax Assessment Lists, 1862-1918
1863:

P H Drake and Co., Manufacturer, 105 Liberty, Tax Year: 1863, State: New York – U.S. IRS Tax Assessment Lists, 1862-1918
1867:

Demas Barnes and Patrick Henry Drake dissolved their partnership and Plantation Bitters was transferred to P.H. Drake & Company
1867:

 P. H. Drake, Plantation Bitters, 21 Park Row, N.Y. – Brooklyn New York City Directory
1868:

P. H. Drake & Co. [Patrick Henry Drake], Bitters, 21 Park Row, 105 Liberty – New York City Directory
1869:

January 1st, 1869, P.H. Drake & Co., New York, sole right to manufacture and sell "Sazerac" Aromatic Bitters – Bitters Bottles
1870:

P H Drake [Patrick Henry Drake], Age in 1870: 43, Manufacturer Of Bitters, Birth Year: abt 1827, Birthplace: New York, Dwelling Number: 117, Home in 1870: New York, Ward 21, District 16 (2nd Enum), New York, New York, Inferred Spouse: J E Drake [Jane Eldridge Lewis], Inferred Children: Mary E Drake , Virginia Drake, J E Drake, Household Members: Mary E Drake 25, Virginia Drake 19, J E Drake 14, P H Drake 43, J E Drake 42 – 1870 United States Federal Census
1870:

P. H. Drake & Co. [Patrick Henry Drake], Bitters, 55 Park Place – New York City Directory
1872:

 P. H. Drake & Co., Bitters, 53 Park Place – Goulding's Business Directory of New York
1877:

 P. H. Drake & Co. [Patrick Henry Drake], Patent Medicines, 53 Park Place – New York City Directory
1878:

P. H. Drake & Co. [Patrick Henry Drake], Bitters, 53 Park Place – New York City Directory
1880:

Patrick H. Drake, Chemist, Age: 57, Birth Date: Abt 1823, Birthplace: New York, Home in 1880: New York City, New York, New York, USA, Street: West 56th St, House Number: 38, Dwelling Number: 122, Relation to Head of House: Self (Head), Marital Status: Married, Spouse's Name: Jane E. Drake, Father's Birthplace: New York, Mother's Birthplace: New York, Household Members: Patrick H. Drake 57, Jane E. Drake 51, Virginia Drake 28, Julia Drake 22 – 1880 United States Federal Census
1882:

 Patrick Henry Drake, Death 4 Nov 1882, Death Place: Boston, Suffolk County, Massachusetts, Cemetery: Spring Forest Cemetery, Burial or Cremation Place: Binghamton, Broome County, New York – U.S. Find a Grave Index
1882:

Patrick H Drake, Merchant, Age: 55, Birth Date: abt 1827, Birth Place: Ithaca, New York, Death Date: 4 Nov 1882, Death Place: Boston, Massachusetts, Hotel Brunswick, Cause: Acute Pericarditis, Father: Benjamin Drake, Mother: Maud Drake – Massachusetts Death Records
1883:

After Drakes death business operated by William P. Ward, Proprietor
1884:

 P. H. Drake & Co., Patent Medicines, 81 Beekman – New York City Directory