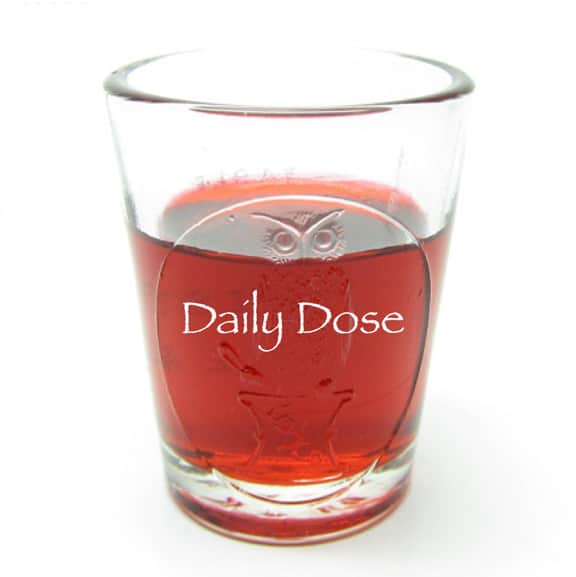 September   2 0 1 3
Some ramblings and thoughts…
Monday, 30 September 2013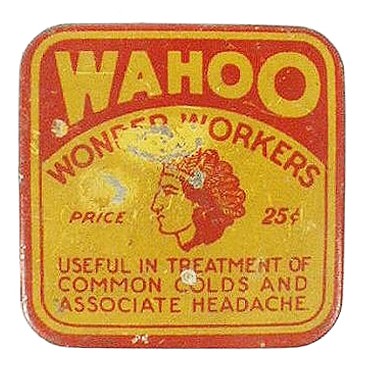 On this last day of September, I am going down the road and trying to figure out why a number of proprietors and medicine businesses in United States, in the latter part of the 1800s, chose 'Wahoo' to be part of their products name. You know like E. Dexter Loveridge Wahoo Bitters, C. K. Wilson's Original Compound Wa-Hoo Bitters and Dr. Shepard's Compound Wahoo Bitters. Wahoo seems to be some type of 'catch-all' name to capture the Indian influence in America at that time. When you google Indians and Wahoo you get the obvious from Wikipedia: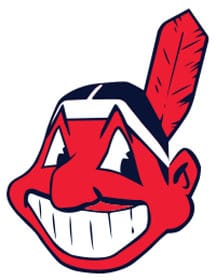 Chief Wahoo is the logo of the Cleveland Indians, a Major League Baseball team. The logo is a cartoon caricature of a Native American face. It has drawn criticism from some sportswriters, religious groups, and Native Americans, but remains popular among fans of the Cleveland Indians. The team considered replacing the logo in 1993, but it was ultimately retained. Although Chief Wahoo is most properly described as a logo, he is sometimes called a mascot.

Sunday, 29 September 2013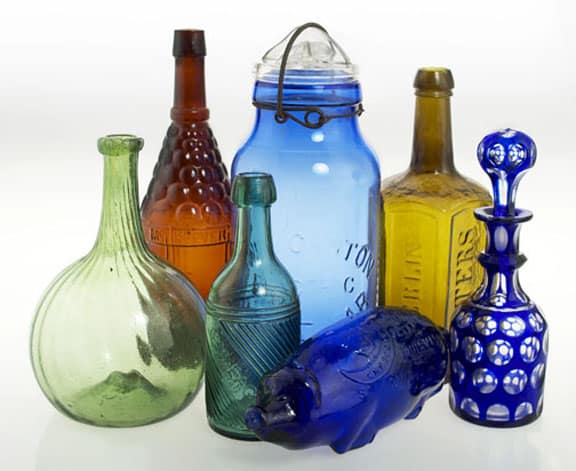 Received the image above in an email blast from Glass Works Auctions to cosign with them for upcoming auctions. Notice the Duffy Crescent Saloon pig. Must be the Hewitt example bought on ebay using 'But it Now'. The Baltimore, Wheeler's Berlin Bitters looks like a nice example too. One of my favorite bottles.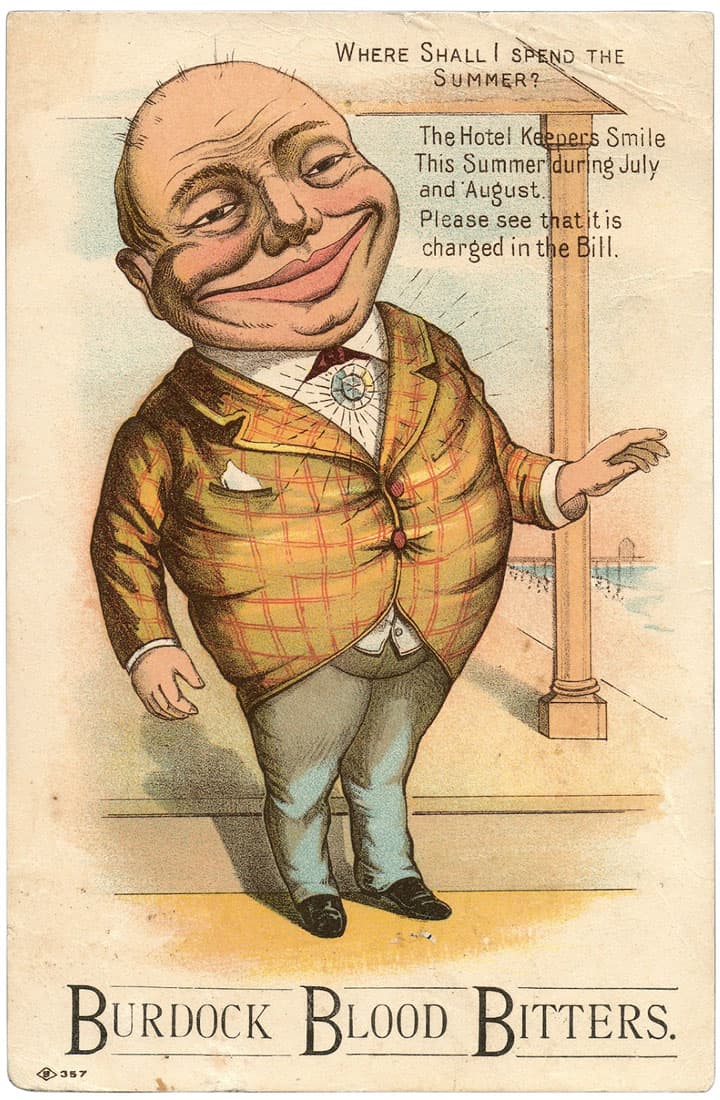 I havent't seen this example of a Burdock Blood Bitters trade card before. Interesting and a bit humerous with the illustrators attempt to depict a Jewish Hotel Keeper.
Seymour: A Variety of Burdock Blood Bitters Trade Cards
Friday, 27 September 2013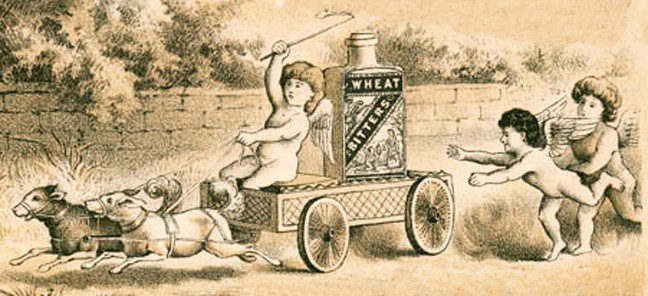 Just love old trade cards and the illustrations such as this art for Wheat Bitters. Then you read them and laugh out loud with the silly testimonials and outlandish claims made for the products.
Received a note from Bill Baab that said, "Yes, just wanted you to know that I gave the FOHBC a plug on this weekly radio show promoted by the publisher of American Digger magazine. We talked bottles for 45 minutes."
Here is an updated grid for the latest issues of Bottles and Extras. If you look at the bottom right corner, you can see the art for the November | December 2013 cover which is in development. The issue will go to the printer in about 10 days.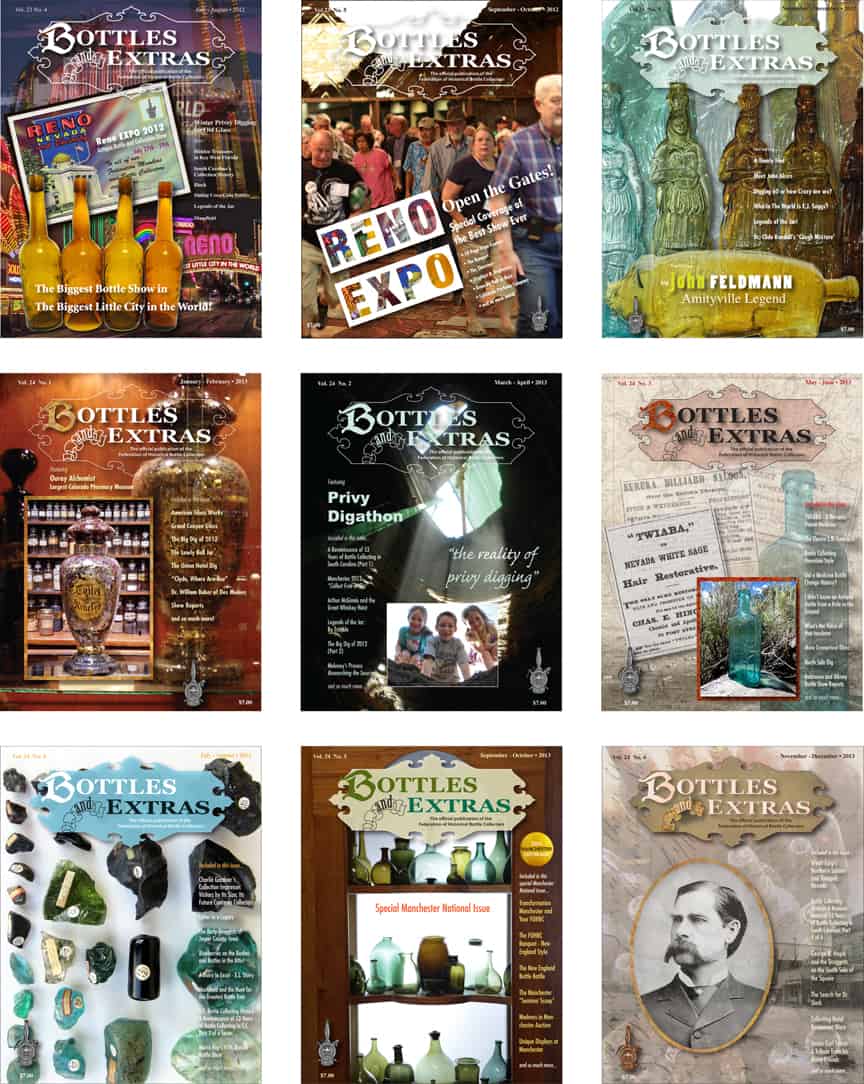 Tuesday, 24 September 2013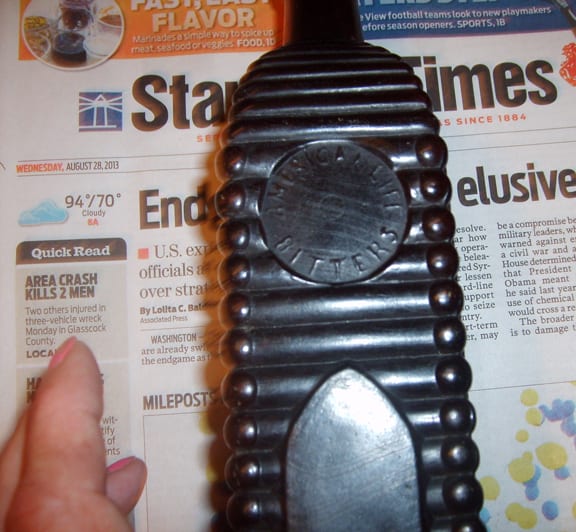 OK, I have been keeping this on the low for the past few months, though I did mention in a previous Daily Dose about the tough-to-find American Life Bitters (Omaha variant) showing up in a obscure location. I have new pictures with the bottle against a newspaper to confirm date as there have been so many scams. This is real. Through communications with the owner, I believe she is considering auctioning the bottle. When I was in Sacramento two weeks ago, I confirmed that Jeff has been contacted. According to the lady, she has been told that the last one sold for $25k or so. A bit more than my offer.
Read More: Log Cabin Series – American Life Bitters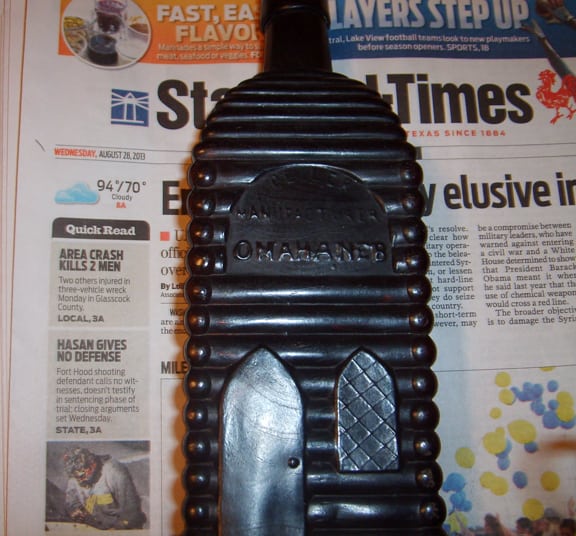 Monday, 23 September 2013
A clear, cool morning here in Louisville, Kentucky as this monster front moves west to east. In Houston, we has 5 1/4″ inches of rain at Peach Ridge. Good after a dry summer.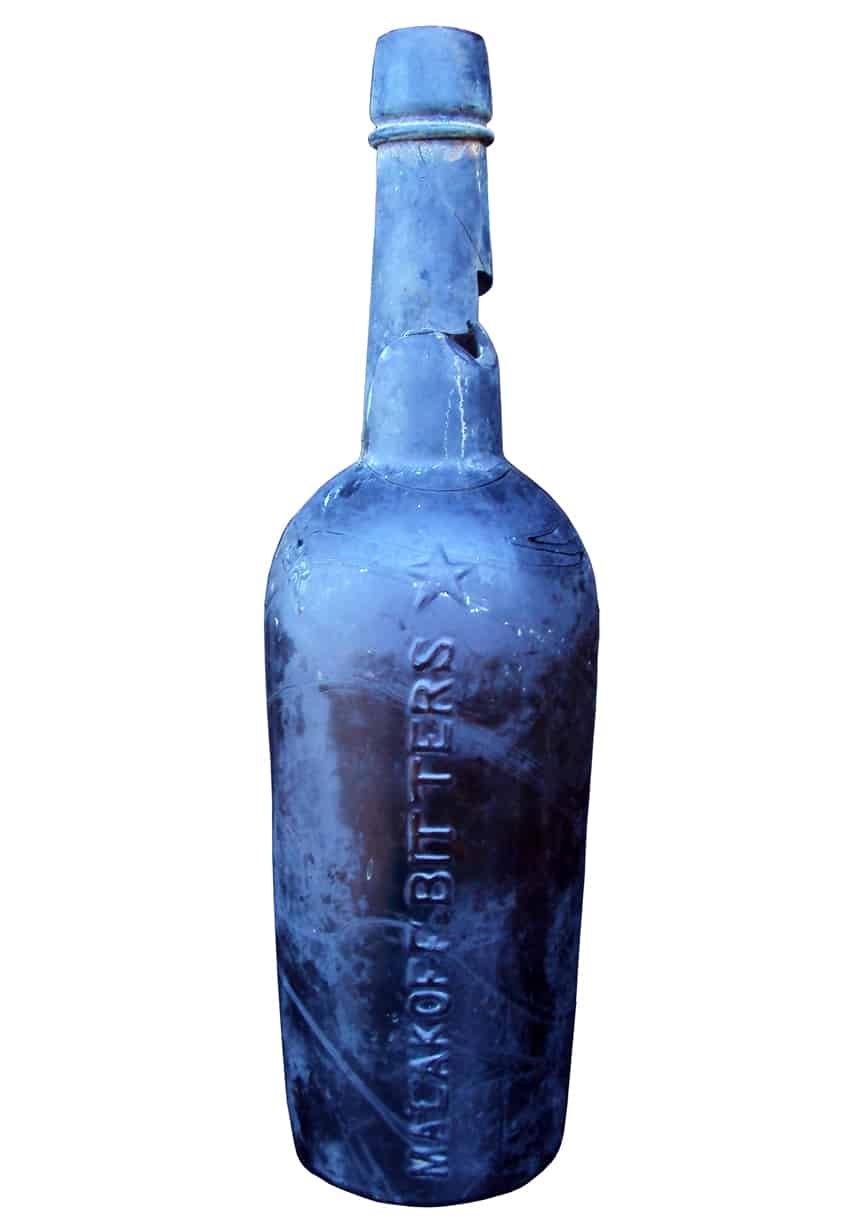 Sure, a lot of us like the 'pretty' colored bottles but the real beauty sometimes lies in the rawness and honesty of a crudely made American piece of glass. Just look at this example of a Malakoff Bitters from Wayne Loschen who says, "Just saw your article about the Malakoff Bitters and thought you might like to see one dug by my sons and me in Shreveport, Louisiana. It was uncovered at the site of the new Millenium movie studios during the early construction stages. Unfortunately the excavator separated the top from the bottom of the bottle. We managed to find the top a few days later and glued it back on."
Another, striking my fancy today, following the same train of thought, is this #305 CD 701.6 Unmarked Deep opaque green insulator pictured below in the Pole Top Discoveries Auction #69 that closes tonight. Known as the "Confederate Egg." Discovered at a Richmond, Virginia construction site in 1990. The site reportedly was the location of a Confederate warehouse during the Civil War. As a result of the burning of Richmond in April, 1865, most examples located within a crumbled brick building were melted or destroyed. Luckily, a sizable number survived and were recovered by eager diggers. Historical significance makes these crude relics one of the most desirable insulators in the hobby today. Crudely made with an extremely textured and pebbly surface! (text by Ray Klingensmith)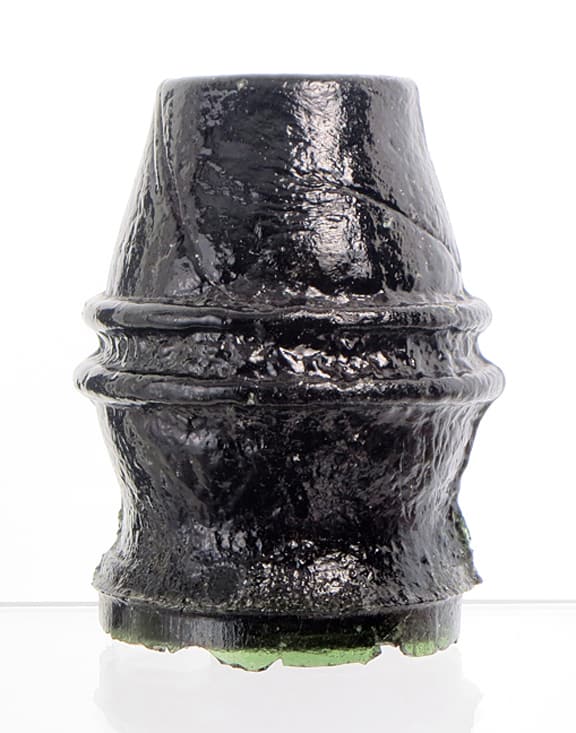 Sunday, 22 September 2013
Off to Louisville later this morning. Hope I can catch some of the NFL games later. Was finally able to link all of the New York Russ products (Russ' Stomach Bitters, Russ' St. Domingo Bitters, Russ's Aromatic Schnapps) together with two pieces of information linking John A. Russ to Russ & Hinman in NYC in 1857. Read Updated Post: Russ' St. Domingo Bitters – New York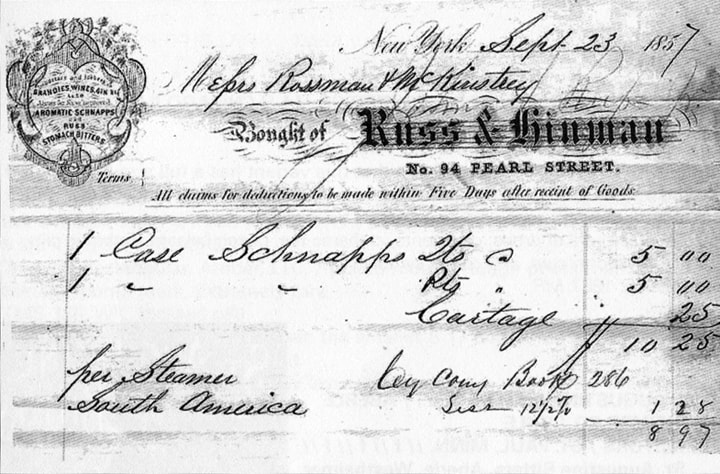 Saturday, 21 September 2013
"A Nip Against the Cold" by Erskine Nicol – 1869 (Thanks to Toby Dean for picture)
Friday, 20 September 2013
Sorry, been chillin' out in Downieville. Flew back last night to Houston. Major rain event in Houston today and tomorrow after our drought. Already had about 1 1/2 inches of rain.
Scott Selenak's Downieville pics are in. Have not looked yet. Look for a post.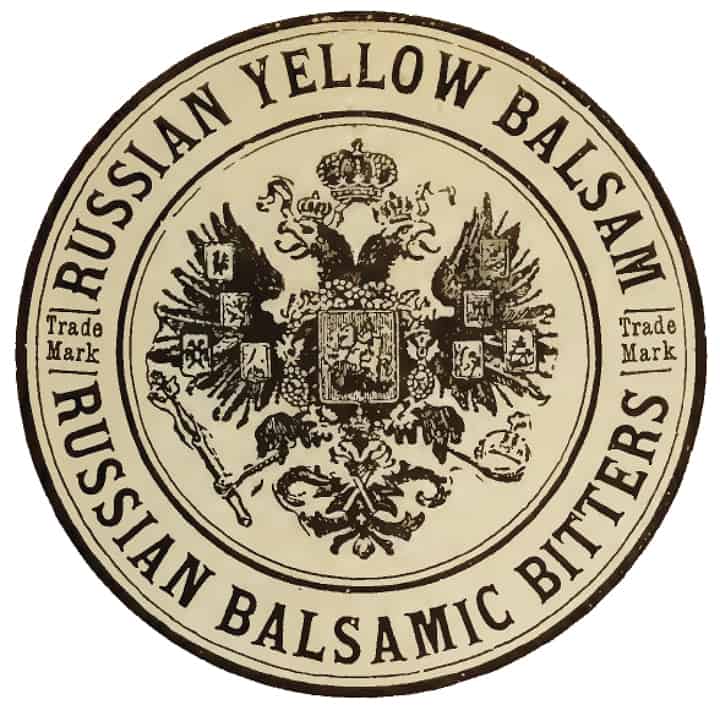 Just put up a post on the Celebrated Russian Balsamic Bitters from Dr. Leon Hershberg of Moscow, Russia. Haven't thought of a Russian bitters since the classy, roped Russian Imperial Tonic Bitters. Maybe I will do a post on the Russian Malakov Russian Stomach Bitters. It has one of the most outrageous trade cards out there.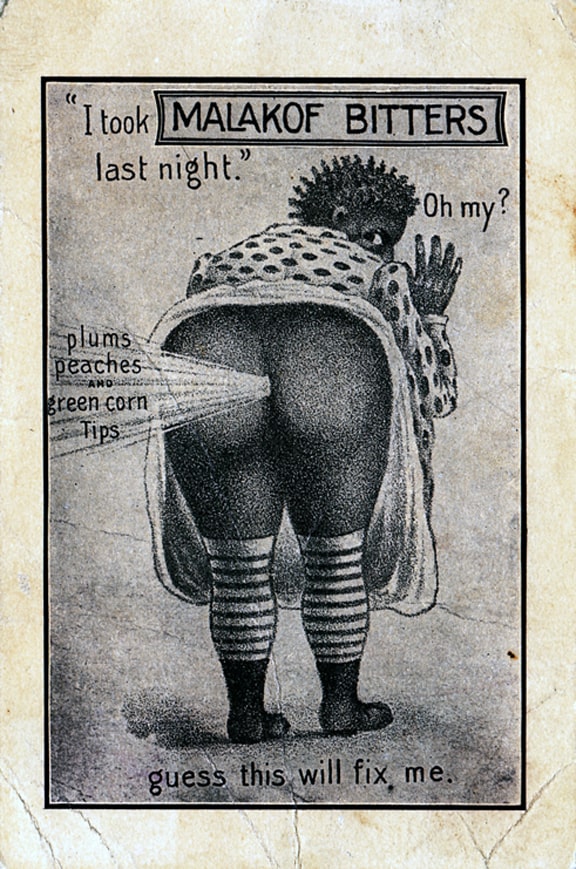 Tuesday, 17 September 2013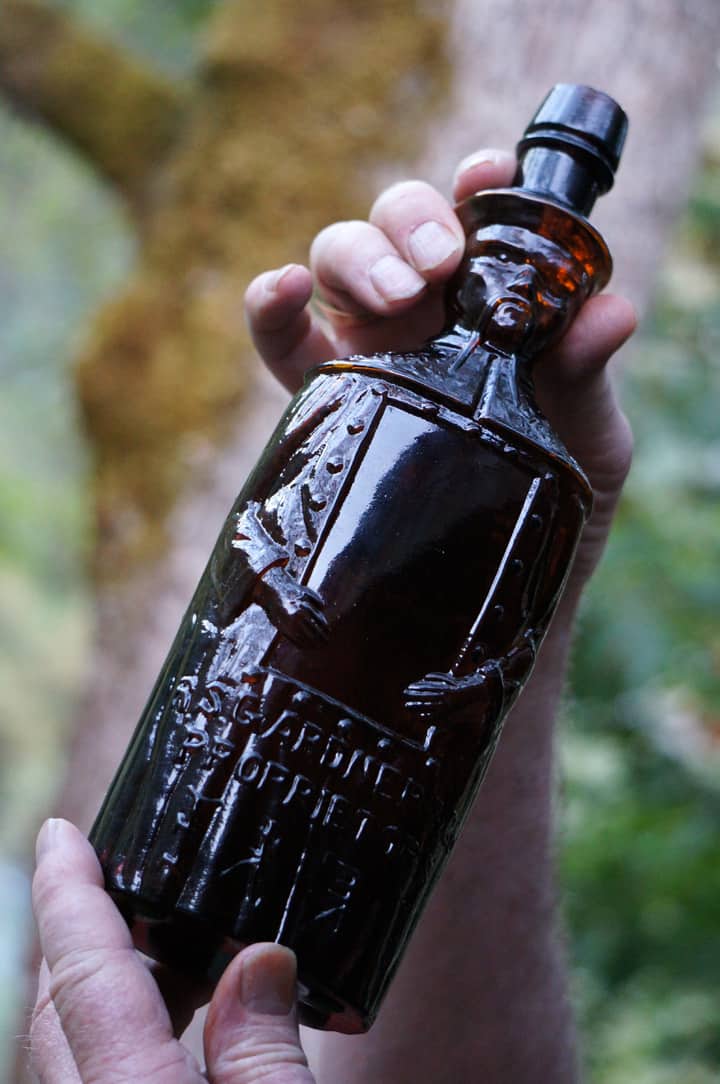 Reporting from Downieville. Sun just coming up over the mountains. Working on the November | December issue of Bottles and Extras, Virtual Museum and some office projects. Just love this picture of a Ta Tsing Bitters. I obtained this bottle from Ed Herrold at the Reno National in 2006. Jerry Forbes has it now. Took this pic on our porch the other night.
Waiting for Scott Selenak pictures for a Downieville Show post and possible B&E article. Look for a post on my first dig (or at least witnessing one 🙂
Sunday, 15 September 2013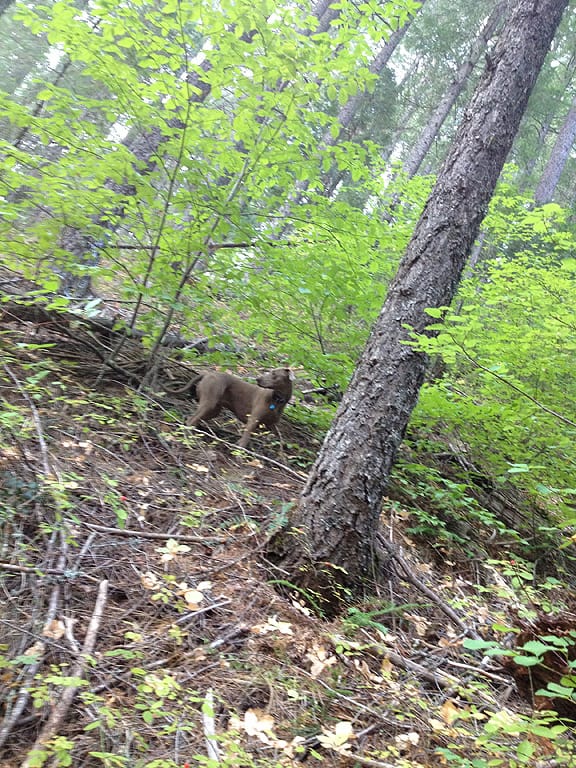 Finished a two hour run with Coco this morning in the chilly mountain air in Tahoe National Forest here at Downieville, California. Last bottle party was our pasta dinner last night on our porch next to the roaring rivers. Working on a post or two. Maybe a story in Bottles and Extras.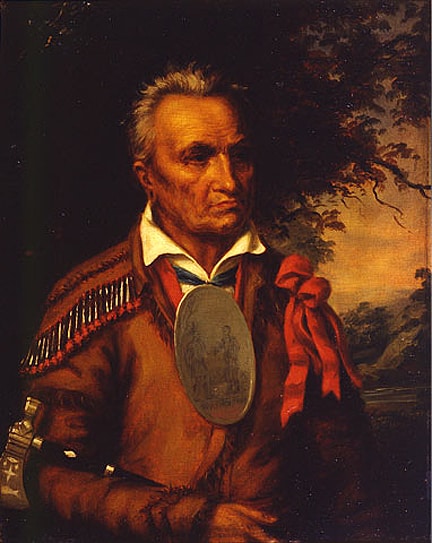 Updated Red Jack Bitters post with information provided by Reginald Shoeman.
Thursday, 12 September 2013
Well I'm at the airport in Houston. Dropped Coco off at PetSafe Cargo with United Airlines. We both fly to Sacramento this morning. Pick her up at the same on that end, travel to see Jeff Wichmann at American Bottle Auctions and then off to Downieville, Cal for the Bottle Show and events this weekend. A few of us have rented a house on the river. Going to run the mountain paths of the Sierra Mountains for a week and work on some special projects.
Wednesday, 11 September 2013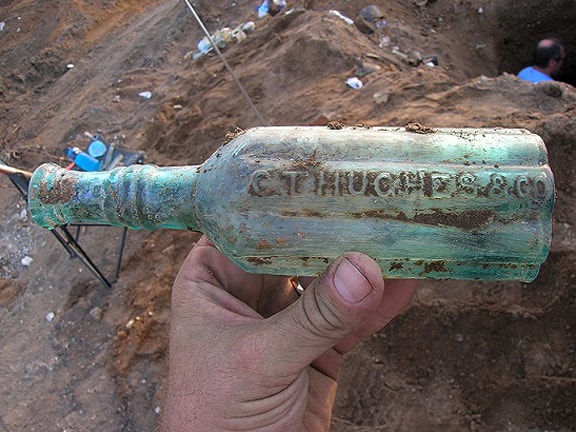 Don't you love this picture and story. "The One We Have Waited For, Privy Heaven!!!!".  C. T. HUGHES & CO fluted/ribbed gothic peppersauce bottle, circa 1840-1860!!! Probably at least 150+ years old.
Coco and I headed to Downieville in the AM.
Tuesday, 10 September 2013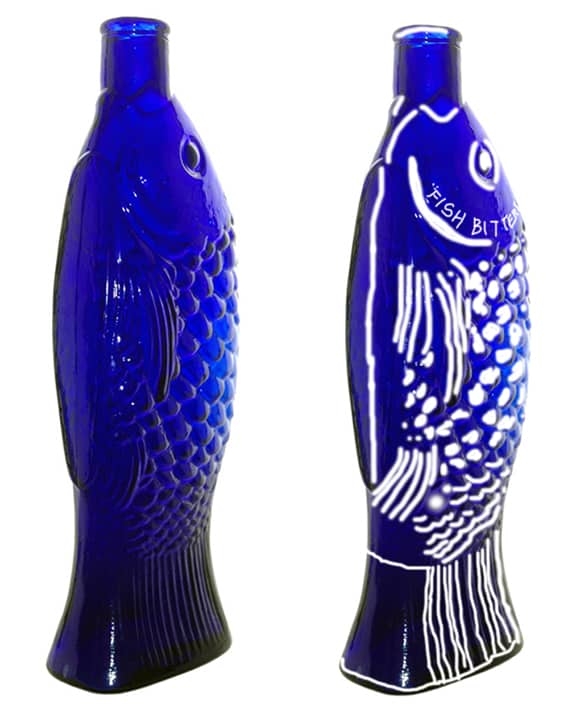 With the post yesterday on painted bottles from the Carl Sturm collection being auctioned at Heckler 'Opportunity' Auction 105, I posted the blue fish image with paint on PRG facebook yesterday. A few people became alarmed, or thought I went crazy. One comment, "How long did it take to do? How long will it take to wash off?". I responded after a number of comments, "Oh noo… I thought I grabbed the white finger paint out of the shed…grabbed 10-year highway traffic paint by mistake!". Just havin' a little fun.
Monday, 09 September 2013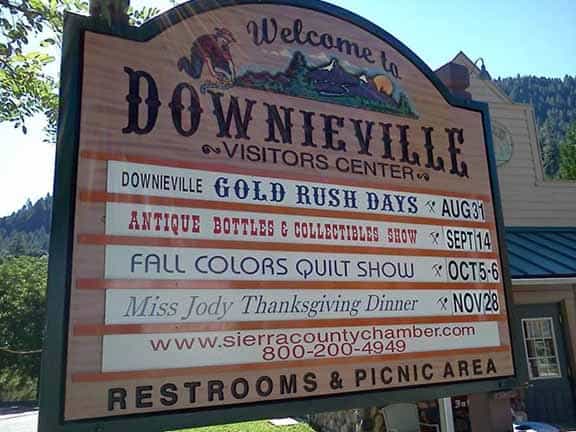 Hearing some rumors that some nice bitters might be showing up at Downieville this Saturday. So far names like Lacours, Wonser, Catawba & Bakers have crossed my wires…or was I dreaming?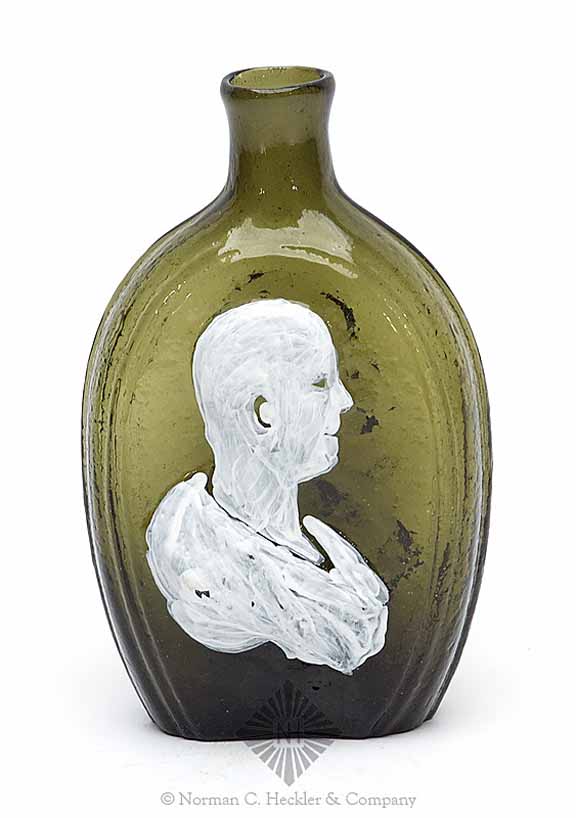 Also hearing some rumors that Sandor is considering hiring a "really good, museum quality" bottle painter to "spruce up" some of his killer flasks. Wonder how long it will take to get a F Bomb text from him? 10, 9, 8, 7……
Saturday, 07 September 2013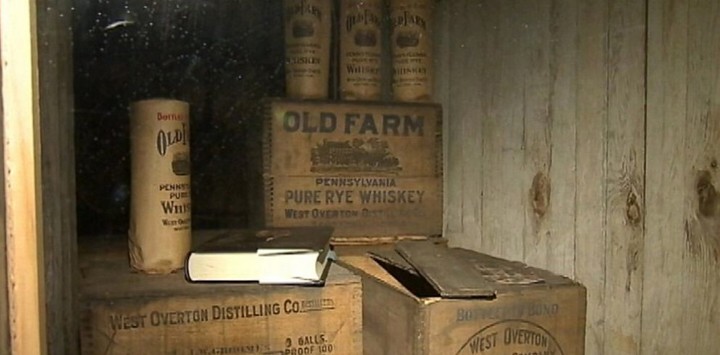 Man Drank $102,000 of Historic Whiskey Read More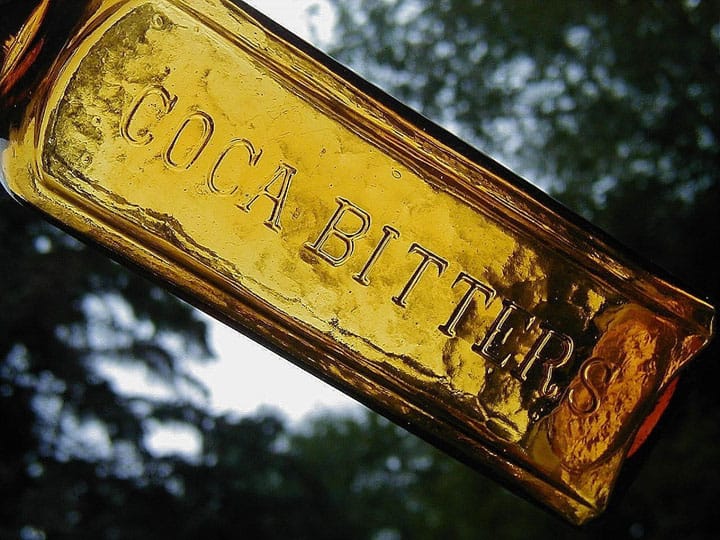 Come to Papa… Read More
Friday, 06 September 2013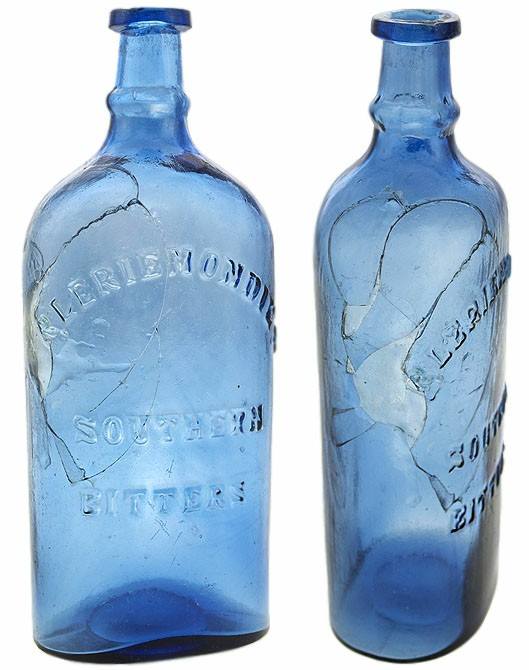 You have to admit, these pieces of a DR. LERIEMONDIE'S SOUTHERN BITTERS are a piece of art! Actually in Glass Works Auctions The 'End of Summer' Potpourri Auction. To see a complete bottle or two…
Read: Some Extremely Rare Mississippi Bitters
Thursday, o5 September 2013

Pretty cool pic. 110th Street Curve, Ninth Avenue IRT Elevated Line, c. 1889, New-York Historical Society. Had fun yesterday looking at the Lower East Side in Manhattan regarding the Gehrmann & Ahrens Alpine Stomach Bitters. Many times when I am in NYC, I eventually end up in SOHO and Chinatown.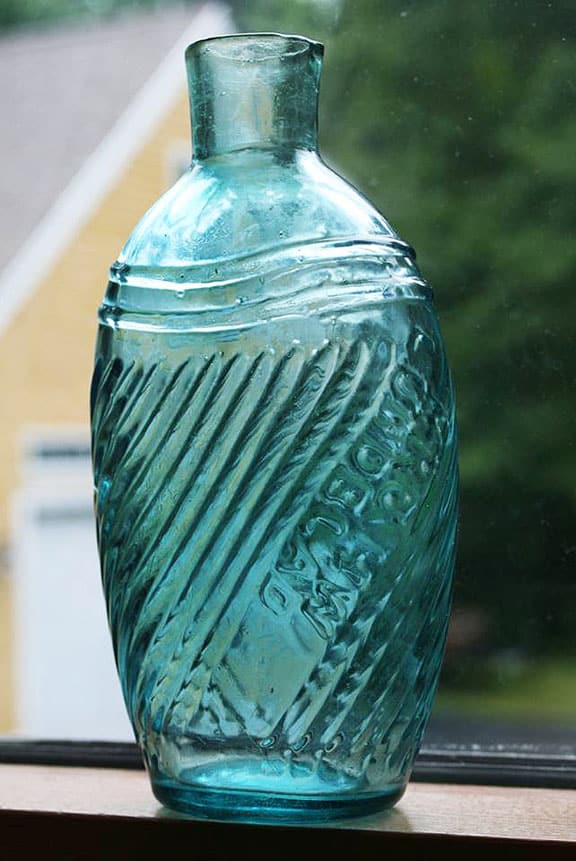 From EAG authority Michael George: Whimsical Early American Glass at its finest! Here is a UNIQUE flask produced from an extremely rare soda bottle mold! Made from the very decorative LUNDBLAD soda from Quincy, Illinois… this one was removed from the mold, then flattened and formed into a traditional historical flask shape with a sheared and refired lip. The diagonal ribs give it a "patterned glass" look! This is a recently excavated find! If found 50 years ago, this would have surely been photographed for the American Glass book, and pictured right alongside the George Eagle pitcher! An important and unique piece of glass in my opinion.
Wednesday, 04 September 2013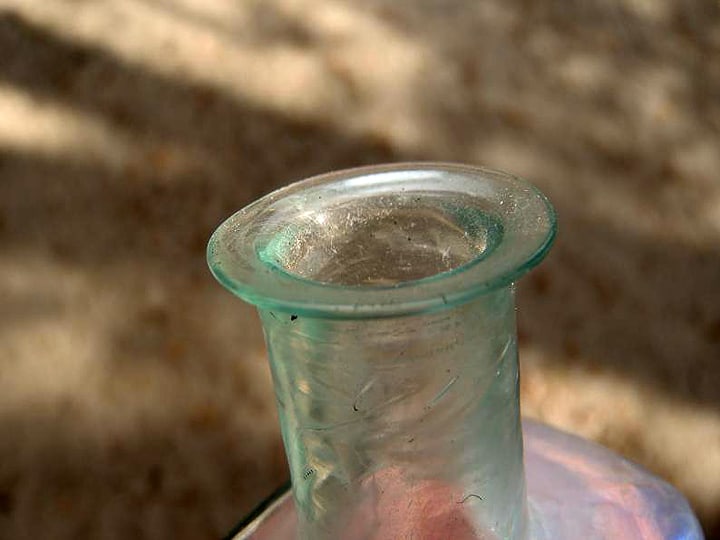 Thank you to Jimmy Bray who sent in the really nice pictures of the Negative Electric Fluid bottle. Pictures added to the Southern Alterative post. Also to James Viguerie for developing the post.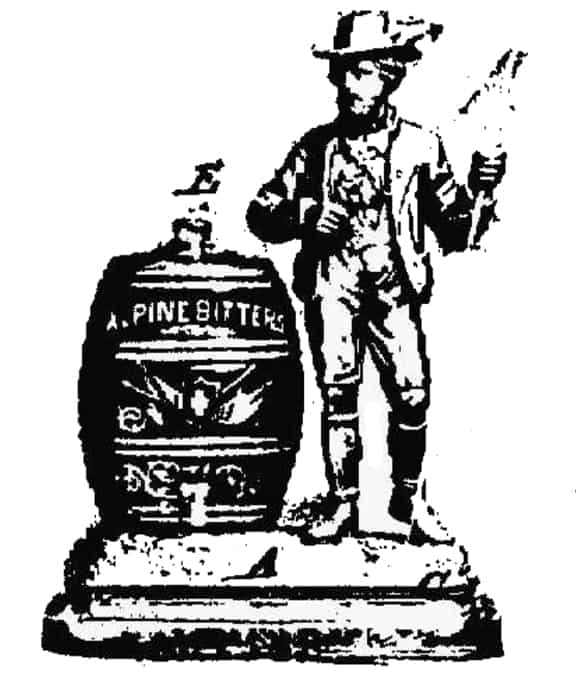 What a story with this Otto Kornemann and his Alpine Bitters from New York. Can someone more definitively connect him to the Peat Moss and Steamship Disaster portions of the post?
Tuesday, 03 September 2013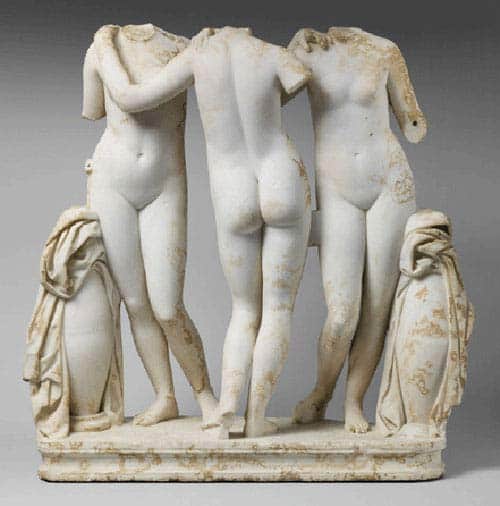 As most of us know, there is a certain beauty and historical significance with rare bottle shards. As I frequently remind people, a museum does not reject an ancient sculpture because it is missing an arm or a head. The above picture represents an ancient Roman group statue of great importance and beauty – a depiction of the Three Graces of Greek mythology which was acquired by the Metropolitan Museum of Art in 2010. The below shard represents the Southern Alterative which is the topic of today's post.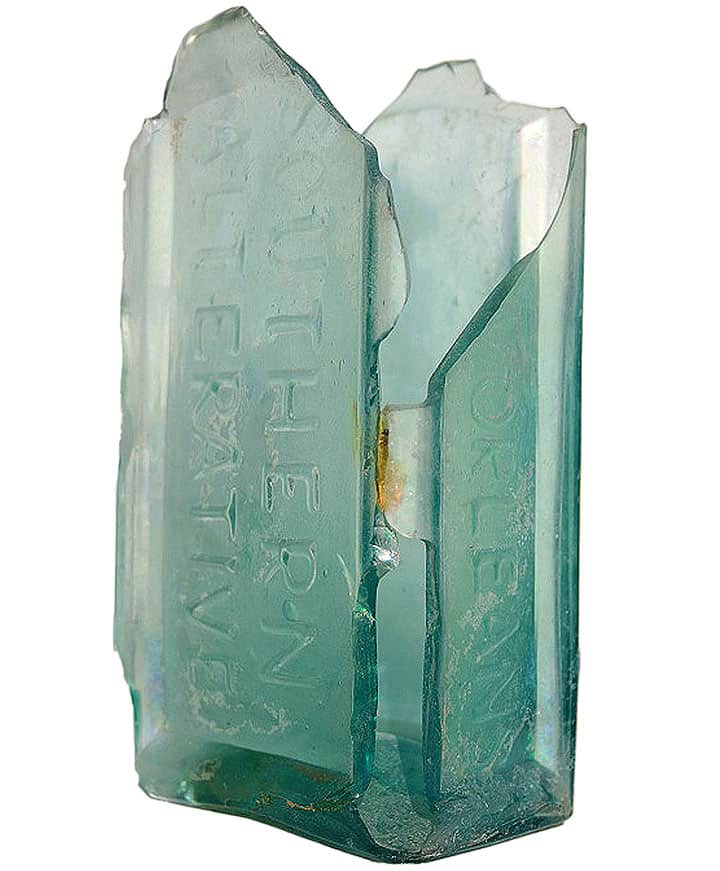 Monday, 02 September 2013 | Labor Day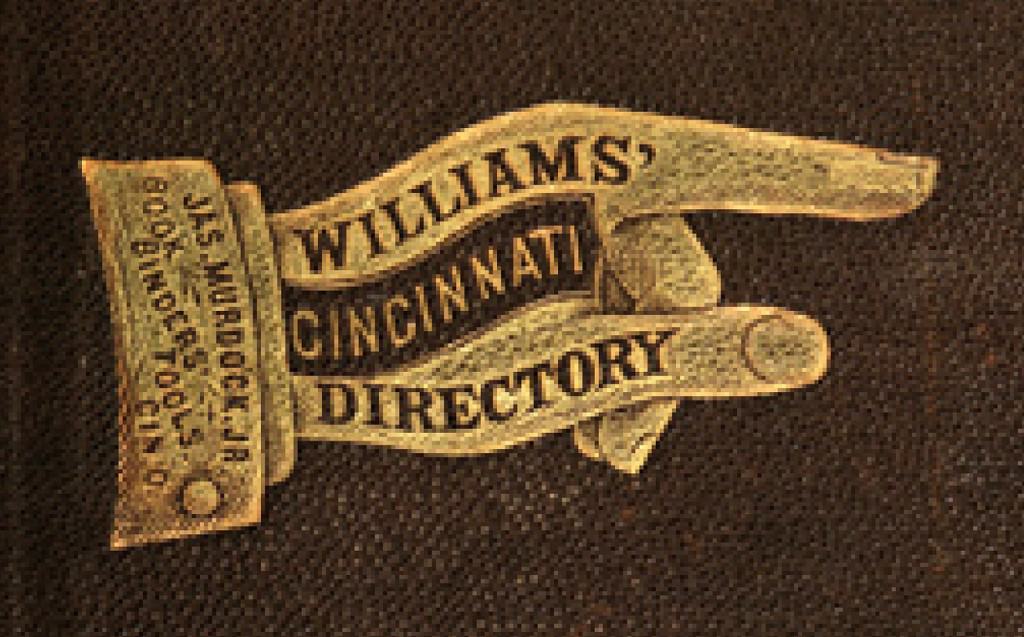 Amazing what you can do with some time, Bose earphones, Pandora and city directories. Covered about seven decades in the 1800s in Cincinnati and really had some fun. Read: Cincinnati Bitters Spotting – A cross reference of directories. I'm afraid we have quite a bit more to do with bitters research and finding. No wonder new discoveries keep happening. I am working closely with Bill Ham and he is working hard to keep the draft current with the upcoming Bitters Bottles Supplement 2 (Two). I keep a PDF copy close at hand.
Typical GREAT U.S. postage stamp art.
Sunday, 01 September 2013
Finally September! Bottle and football season. Hopefully you have noticed the increase in people willing to share news and stories on Peachridge. I am totally open to this and encourage submissions. Just yesterday it was Jack Stecher and that great Avon Mineral Springs article and the day before Tom Feltman inspiring the work for the Xavier Bazin post. Every day it is a pleasure to sort through all of the incoming emails to see what is going on.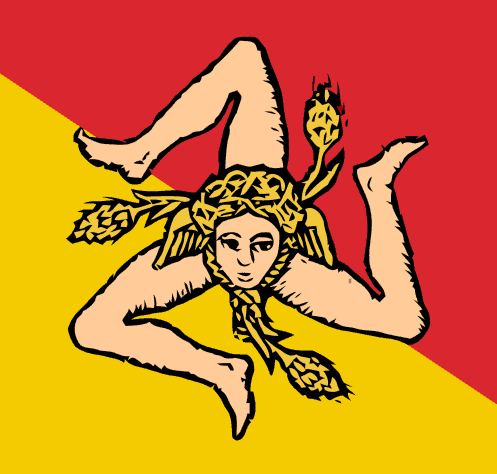 Mark newton sent me the following, "I had a 'bitters week' because two days later in a trade with a friend I got a SARRACENIA LIFE BITTERS – TUCKER – MOBILE ALA and it was the rare version S 34 in mint condition." This prompted me to go back and look at, and buff up the PRG Sarracenia Bitters post from April 2011. I even found an advertisement for the product this second time around. My point is this, look at the 'Comment' column on the right of each page for 'updates'. This is the beauty of online work. We can always add, revise or correct information.