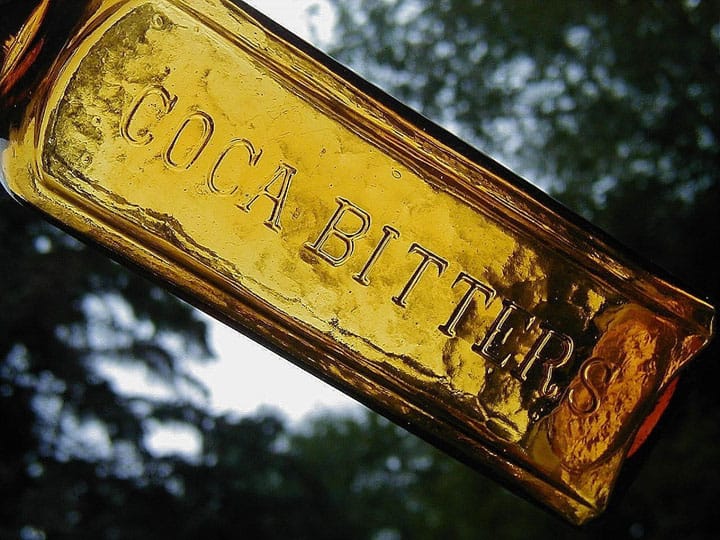 As with many posts where I look back at my collection, I get asked a question about a specific bottle. In this case the question pertains to the mysterious Coca Bitters that was recently dug in the coastal town of Duxbury, Massachusetts (see pictures below).
The Mysterious Coca Bitters – New York
08 March 2013 (R•30 Sep 2013) (R•103118)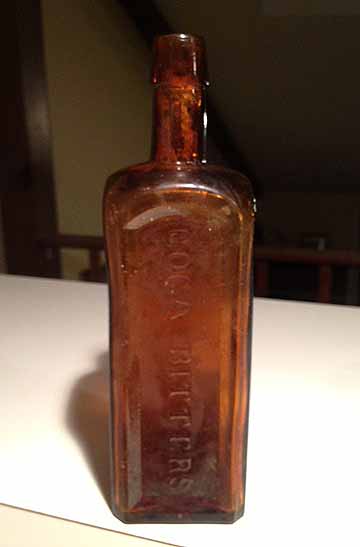 Hello Ferdinand, I just discovered the web site while searching for info on a bottle I dug up today (picture above) in Duxbury, Ma. It is the identical (to the) one shown on the site that was referred to as rare and was found in Hamden, Conn. in July 1973. Is this is so, then the Coca Bitters bottle I found is a big deal? –

Chris
I say mystery because I know nothing about this bottle except that I like the name and it sits on a shelf somewhere, waiting for someone to 'rediscover' the story of the brand. The Carlyn Ring and W.C. Ham description in Bitters Bottles is as follows:
C 178

 COCA BITTERS
COCA BITTERS // f // f // f //
8 1/2 x 2 1/2 (6 1/4) 3/8
Square, Amber,
yellow amber

, LTC, Applied mouth, Extremely rare


One dug in Hamden, Connecticut, July, 1973.
They have named it COCA BITTERS, but hope the name will not cause it to be classed with the so-called "Bitters", which have done so much harm – physical and moral. 
With little information to go on I can quickly search the net and find a few references to a Coca Bitters made by The Quichua Coca Co. in New York City. I love the copy in the advertisement below that says "They have named it COCA BITTERS, but hope the name will not cause it to be "classed with the so-called 'Bitters', which have done so much harm – physical and moral". WOW. Use the coca leaf instead of alcohol and rise above!
[Update] I also see, (with the eyes of Warren Friedrich) that this new dug example is different than the example I possess. It looks earlier with indented panel(s) and smaller embossed typography. Is the mouth also applied. I only received one picture. I will ask for more. Stay tuned.
From the official report of Lieut- Herndon, U.S.N.: "The Peruvian natives who use Coca, perform prodigies of labor without fatigue. A powerful tonic for the nervous system, but not injurious to the health"
"Erythroxyline,"
OR
SPIRITS OF COCA.
This new and wonderful Remedy, which is specially adapted to disorders of the STOMACH and NERVOUS SYSTEM, is the result of a triumph of chemical art in extracting the volatile active principles of ERYTHROXYLINE COCA.
The properties of this remarkable Plant are such as to interest every physician, as it has the power of stimulating all the vital functions of the Human System, and unlike all other nervous excitants, such as alcohol, opium, etc., its use is followed by no after feeling of depression, but leaves behind it a permanent benefit.
COCA has been used for centuries in its native lands, Peru and Bolivia, with great success for the cure of
DYSPEPSIA, DISEASES OF THE LIVER,
DEBILITY OF THE NERVOUS SYSTEM, And all forms of Malarial Diseases.
It is also a most reliable tonic for Muscular or Mental Fatigue, as under its use prodigies of labor may be performed without that feeling of weariness which usually follows continued exercise, whether of mind or body. It is, in fact, equally valuable to literary workers or mechanical artisans. IN SHORT, COCA IS NOT A SPECIAL STIMULANT, BUT A TRUE SUPPLY OF VITAL FORCE.
The most valuable properties of COCA are fully represented in our New Preparation,
ERYTHROXYLINE: Or, SPIRITS OF COCA,
A compound prepared with great care from the FINEST and FRESHEST COCA LEAVES, and guaranteed to be of uniform strength. ERYTHROXYLINE is an excellent Nervous Sedative, and is particularly applicable to Gastric Irritability, the Vomiting of Pregnancy,and Dyspepsia, and all disturbances of the Stomach arising from Catarrh of that Organ.
But its most remarkable property is its action upon the NERVOUS SYSTEM generally, and as has been shown by repeated trials, it is a
SPECIFIC FOR NEURALGIA AND NERVOUS HEADACHE.
Its action in Neuralgia is rapid and pleasant, relief being experienced in a short time, and, as with all preparations of Coca, no evil after-effects are experienced, BUT A COMPLETE CURE OF THIS MOST DISTRESSING COMPLAINT IS EFFECTED.
We also make the following preparations directly from the fresh Coca leaf:—
FLUID EXTRACT OF COCA, U. S. P.
Also COCA BITTERS.
The best nerve tonic known. An invaluable remedy for Dyspepsia, Malaria in all forms, and Nervous Debility.
QUICHUA COCA CO.
MANUFACTURING CHEMISTS,
72 William Street, New York.
Read More: If you wanna hang out you've got to take her out – Cocaine
Read More: Heroin – Purest and Best
Read More: To Smoke Opium is to get out of the Train (while it is still moving)
More Coca Bitters Photos