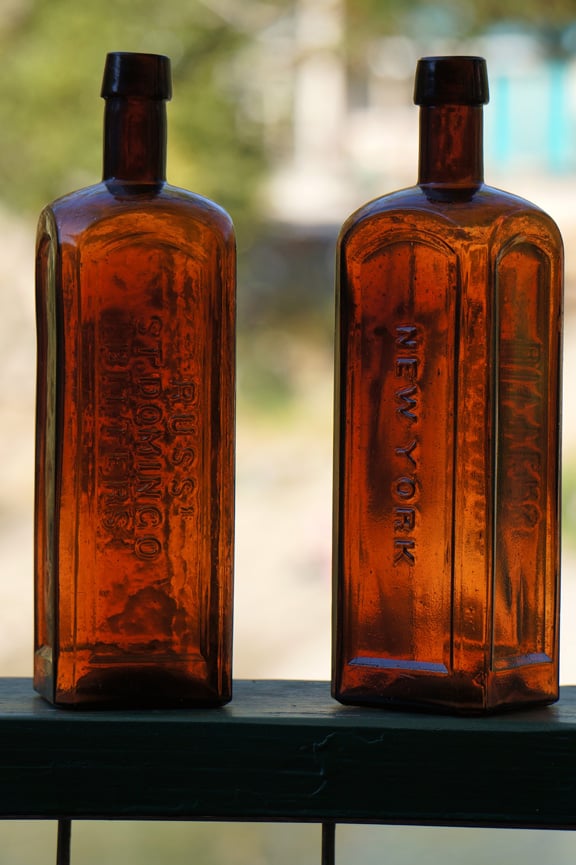 Russ' St. Domingo Bitters 
New York
16 September 2013 (R•21 Sep 2013) (R•01Oct13) (R•050914) (R•021815)


I was able to pick up a 'peachie puce' (how do you like that for a color description?) Russ' St. Domingo Bitters at the Downieville Bottle Show this past Saturday to add to my three other examples in yellow, green and strawberry puce. This whittled example (pictured above left) has an extraordinary peach coloration when held in front of a light. I will try to capture this color when I return to Houston.
The little bee sucks the flower,
The big bee gets the honey,
The poor man does the work,
The smart man gets the money.
Try Russ' St. Domingo Bitters.
Trade Card
I have mentioned the Russ name before (Read: Russ' Stomach Bitters – A New York Lady's Leg) as I wanted to try to tie together a number of Russ names on bottles. Well, I think I may have found out who Russ was and linked the brands together.
The Carlyn Ring and W.C. Ham listing in Bitters Bottles is as follows: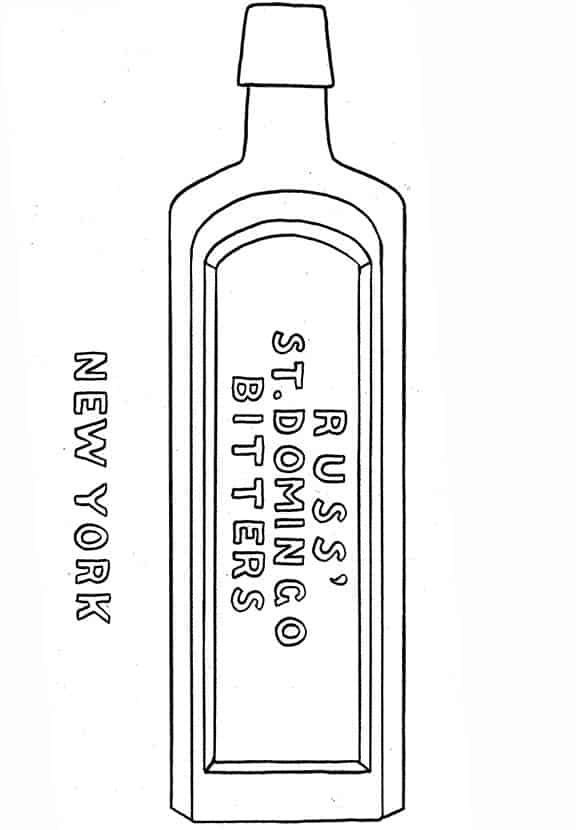 R 125

 RUSS' ST. DOMINGO BITTERS
RUSS' / ST. DOMINGO / BITTERS // sp // NEW YORK // f //
St. Domingo Manufacturing Co. 34 Dey Street New York
9 7/8 x 2 3/4 (7 1/2) 3/8
Square, LTC, Applied mouth, 3 sp, Amber – Common; Puce, Yellow
and Green – Rare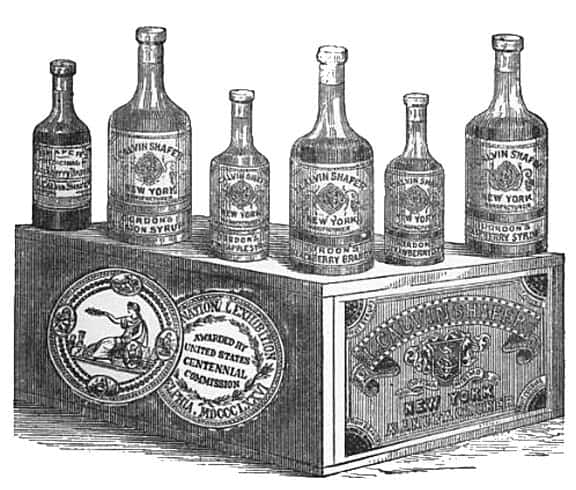 It was nice to see that Frank Wicker over at BottlePickers.com had found an advertisement putting a J. Calvin Shafer (also represented as "I. Calvin Shafer" which most likely is correct) as Proprietor and Manufacturer of the Russ' St. Domingo Bitters. This was new information to me that allowed an expanded search for information. It appears now that Shafer had a major business selling fruit syrups, cordials, bitters, brandies etc. He even won an award for his Raspberry Syrup which was "Commended for good taste, fine fruit flavor; is one of the choicest syrups" by the United States Centennial Commission in 1876.
The Shafer products were also represented by the well known, Weeks & Potter in Boston, Massachusetts as you can see by the advertisements at the bottom of this post.
Further searching finds this 1874 New York Directory advertisement below which lists a John A. Russ, Jr. as the President of Shafer Manufacturing Co., J. Calvin Shafer is listed as secretary and treasurer. In 1875, Shafer is listed as President without mention of John A. Russ. Without a doubt, this would be the "Russ" of Russ' St. Domingo Bitters. Note that Shafer Manufacturing Co., was a successor to P. Gordon & Russ & Co.
John A. Russ Jr. is listed as a liquor merchant in New York City as early as 1857 at 42 Water Street and 94 Pearl Street in 1859. Russ & Co. shows up as importers as early as 1861. John A. Russ is also listed as a clerk as early as 1853.
What we have done now is link John A. Russ at 94 Pearl Street to the Russ & Hinman letterhead below (from Bitters Bottles Supplement), also 94 Pearl Street. This letterhead notes Russ' Stomach Bitters and Aromatic Schnapps.