Hello Ferdinand:
Have enclosed some pictures of an interesting bottle that I dug in St. Louis. I dug this large flint glass pictured hair bottle from a pontiled era privy. It is a large bottle 8 1/2″ tall and 4″ wide. It is embossed – X. BAZIN – and below the picture it is embossed – PHILADa. The sides of the bottle has five fancy ribs on each side. The bottle is not pontiled but it appears to be made in the 1850's as all the other bottles were pontiled. I have never seen a bottle quite like this. I wonder if you are any of your fellow collectors have?
Tom Feltman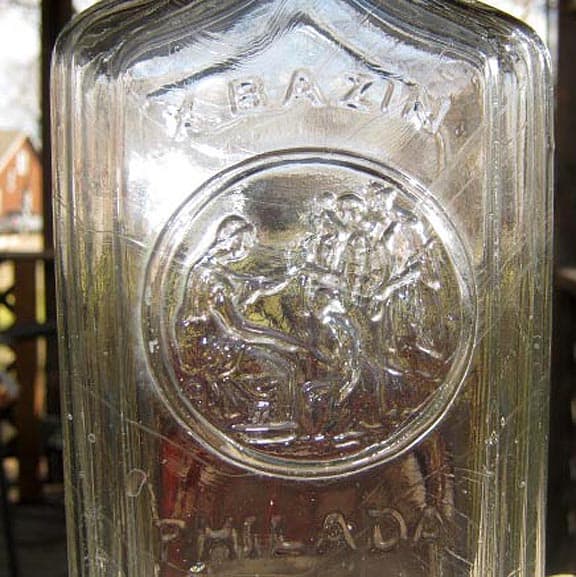 What an interesting bottle and name. A little researching online reveals some pretty amazing material. To me this looks like a pretty fancy perfume or hair bottle. Let's hear what our readers think. First a little on Xavier Bazin.
Xavier Bazin, Steam Fancy Soap Works and Perfumery 
30 August 2013

|

Ferdinand Meyer V & Tom Feltman
Xavier Bazin established a soap and perfumery business in Philadelphia sometime before 1850. Bazin initially served as the lab director for perfumer Eugene Roussel from circa 1840 to circa 1849 when he assumed proprietorship of the business. Eugene Roussel came to Philadelphia in 1838. He immediatly set up a perfumery where he made fancy soaps and stuff and had a mineral water fountain there too. Bazin bought the perfumery business from Roussel because Roussel wanted to focus on his mineral water venture. Bazin continued to use Roussel's name until circa 1853. The Bazin family owned the business until 1884.
By 1857, Bazin had moved to a new address at 17 S. 5th Street. There he continued to very successful with his Perfumeries, especially his Shaving Creams. These Bazin products were put up in ornately decorated pots, the lids of which are very valuable to collectors now.
He manufactured X. Bazin's Celebrated Toilet Soaps, Shaving Creams, Bandoline, Philocome Pomade, Toilet Waters, Cosmetics, Bulk Extracts, Cologne, etc. He was the sole proprietor until the mid 1870s when his sons joined the business. In 1875, he formed a partnership with Robert O. Kilduffe, forming X. Bazin & Co. In 1877, Hall and Ruckel of New York became sole agents for his products.
One of Bazin's products, Egyptian Hair Dye, also known as Egyptian Hair Coloring was for sale in the 1872 John F. Henry catalog, and later in the 1885 McKesson & Robbins catalog. Cristiani listed the formula for "Egyptian Hair Dye" as 2 ounces of fresh slaked lime, 1 ounce of litharge, 1 ounce of carbonate of lead, 1/2 ounce of hydrated oxide of bismuth, and 1 pint of distilled water. He said the ingredients were well mixed, then allowed to stand for a while, and finally the larger portion of the water was poured off.  In 1856, Bazin advertised Eau Lustrale, Egyptian Hair Dye, pomades, hair oils, etc. (View ad) In 1880, Bazin advertised the following hair products: Philocome, Pomatum, Hair Oils, Eau Lustrale, Hair Dye. [above paragraph Hair Raising Stories]