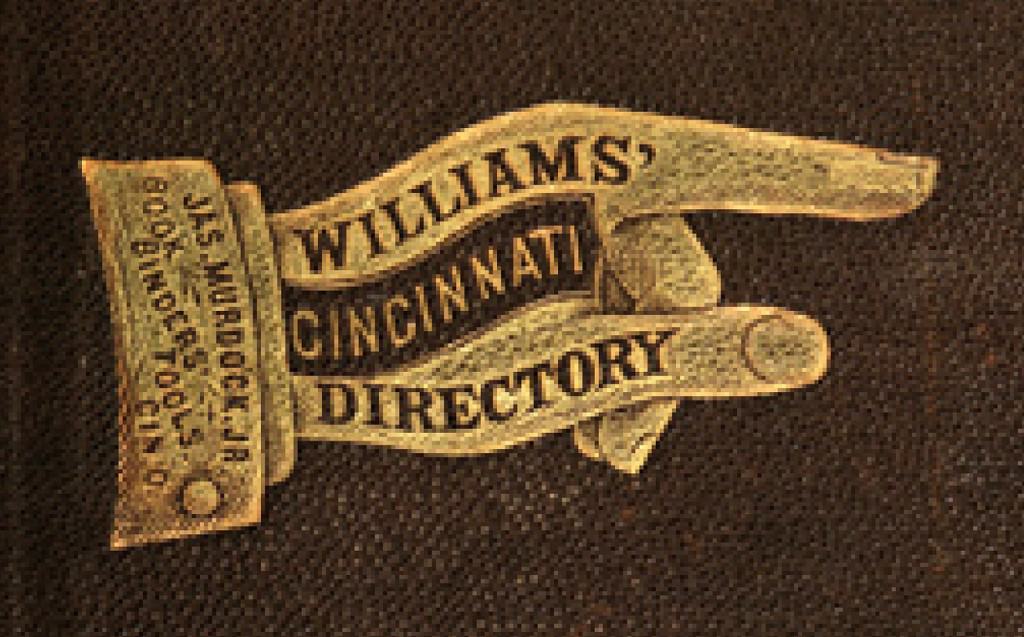 Cincinnati Bitters Spotting
A cross reference of directories
02 September 2013 | Ferdinand Meyer V

Here on this Labor Day, I have laboriously gone through the William's Cincinnati Directories, and a few others prior to Williams, to cross-check the bitters listings. You can learn a lot from doing this such as advertising trends, population growth, occupations (I think every 5th person was a cigar-maker) and about bitters brand introduction, growth and demise (sometimes all in one year). Please keep in mind, this list does not include listings for say, Morning Call Bitters by the Mills Bro Co. because a listing using the word 'Bitters' never occurred in a directory.
There are some unlisted brands here so I have noted below for cataloging purposes and for you diggers and pickers. Please go find an example!
New Bitters Finds
(see more information in body of post):
Superior Wine Bitters, by Israel Wilson, 1836-7
Holland Bitters, Henry VanDyke, 1858
Richardson's Sherry Wine Bitters, J. N. Harris & Co., 1861-1868
Kempfer's Stomach Bitters, 1870 (listed at Kempfer's Bitters much earlier)
Kaufman's Stomach Bitters (also Kaufman's Anti-Cholera Bitters), 1869 & 1870
Alaska Bitters, S. Kaufman & Co., 1871 (this does not appear to be the C88.7 Kendallville, Indiana variant by G. H. Lohman)
Catawba Bitters, PH Zimmermann, 1877 (This does not appear to be the Catawba Bitters from St. Louis). Recent Meyer addition.
Monarch Stomach Bitters, Brodie Williams & Co., 1879 – 1882 (does not appear to be M 119.2 (Buffalo) or M 119.3 (Milwaukee).
Fletcher's Bitters and Ginger Tonic, Wm J. Klein & Co. 1885 (Do not believe this is F 55 L in BBS2)
Home Rules Bitters Co., 1890, 1891, 1892
Paradise Bitters, Fred W. Diederichs, 1892, 1893 (Does not appear to be P 19.5 in Bitters Bottles)
Read: Some Early Hostetter's Stomach Bitters Shards Dug by Chris Rowell
A. Kempfer, stomach bitters, 403 W. 8th, 1857, 1858, 1861, 1865, 1868, 1869, 1870, 1871, 1872, 1873, 1874 (adds Leopold Meyer in 1865), Kempfer's A. Sons (see above) (Leopold Myer (sp) & George A. Bidenharn) Manufacturer of Kempfer's Bitters. Referred to as Kempfer's Stomach Bitters (unlisted) in 1870 listing. Williams Cincinnati Directory
John Lee, agnt. Hostetters bitters, 44 W. Row, 1857 Williams Cincinnati Directory
Herman Snyder, bitters seller, 602 W. Row, 1857 Williams Cincinnati Directory
Henry VanDyke, agent Holland Bitters (possibly listed in Supplement 2 from Milwaukee), 113 W. Canal, 1858 Williams Cincinnati Directory
Charles Frank & Co., (L. Meyer), bitters manufs., 141 W. Pearl, 1860 Williams' Cincinnati Directory
Fred Heyker, bitters manuf., 86 Clinton, 1860 Williams' Cincinnati Directory
Theodore M. Heyker, manuf. stomach bitters, 355 Cutter, 1861 Williams' Cincinnati Directory
John Szotzski, manufac. of bitters, s.s. Liberty b. Clay & Main, 1862, 1863, 1864 Williams' Cincinnati Directory
F. & M. Heyker (Frederick H. & Mathias H.), stomach bitters, 142 Linn, 1864, 1865 Williams' Cincinnati Directory
Graham & Co., J. D. G. & Peter Bohl, Manufacturers of Blood Syrup and Bitters, 137 Sycamore, 1865 Williams' Cincinnati Directory
Read: Bavarian Bitters – Two Examples worth Comparing
E. B. Cuyler & Co., (E. B. C. & Geo. Koker), bitters, 1 water, 1868 Williams' Cincinnati Directory
J. A. Sangston & Co., Brady's bitters, (J. A. S. & D. C. Brady) 16 E. 2nd, 1870, 1871 Williams' Cincinnati Directory
Brady's Bitters, 16 E. 2nd, J. A. Sangston, Agent, 1872 Williams' Cincinnati Directory
Read: Brady's Family Bitters – "Every Body Takes It!"
Read: Barrel Series – Roback's Stomach Bitters (the smaller ones)
Read: Barrel Series – Roback's Stomach Bitters (the big boys)
W. B. Wood, Bitters Manufacturer, Wood's Bitters, 1515 Montgomery, 1872 Williams' Cincinnati Directory (possibly referring to W 153 Woods Tonic Wine Bitter in Bitters Bottles)
Bitters, Geo. Stricker, 31 Vine, 1872 Williams' Cincinnati Directory, Stricker & Nathan, 62 Main, 1879 Williams' Cincinnati Directory
Read: Dr. Henley's Wild Grape Root IXL Bitters 'Showdown'
Wm A. Meyer, stomach bitters, 403 W. 8th, (also manuf. of bitters). Works with Kempfer's Bitters 1875, 1876 Williams' Cincinnati Directory
Bitters, B. Ahrnghaus, 331 W. 5th, 1875 Williams' Cincinnati Directory
Bitters, Strickland & Co., 311 Vine, 1876 Williams' Cincinnati Directory
Bitters, Duby Green, 306 W. 5th, 1877 Williams' Cincinnati Directory
Bitters, Leopold Meyer (also Otto G. Meyer), 403 W. 8th., 1877, 1878 (Manufacturer of Kempfer's Bitters) Williams' Cincinnati Directory
Bitters, Solomon Schertz, 133 W. Court, 1880 Williams' Cincinnati Directory
Strauss, Son & Co., (Seligman S., Louis C. S. and Fred D. Strauss), Distillers, Fruit Brandies, Cordials, Bitters & c, 236 Walnut and 33 W. 6th, 1882, 1883, 1884, 1885, 1886,  1887 Williams' Cincinnati Directory
John Hess, bitters manuf. 86 W. Court, 1884, 1885 Williams' Cincinnati Directory
Tonquin Bitters Co., (The), 169 Plum, 1885, 1886, 1887, 1888, 1889 Williams' Cincinnati Directory (probably T 48 in Bitters Bottles, if so, listing update required in BBS2)
Read: Saint Jacob's Bitters – Cincinnati, Ohio
Charles Smith, agent, Albert Harris, Bus. mgr, Ferd. Schulze, agent Dr. Smith's Colombo Bitters, 289 Vine, 1889 Williams' Cincinnati Directory (looks like S 123 L in Bitters Bottles) (*could be related to S 128 in BBS)
Home Rules Bitters Co., whol. liquors, 10 E. 2nd., 1890, 1891, 1892 Williams' Cincinnati Directory
Fred W. Diederichs, bitters manuf., Paradise Bitters,  (1892, 1893) manfr. Paradise Bitters (1894), 507 Race 1891, 1892, 1893, 1894 Williams' Cincinnati Directory
Boyer's Sure Cure Bitters Co., Boyer's Sure Cure Bitters (1894) (Chas. Boyer, propr.) (H.C. Gary, mgr.), 92 E. 2nd. (and 3rd listed) (4!8 E. 2nd 1895), 1893, 1894, 1895 Williams' Cincinnati Directory (Refer B 184 and B 185 in Bitters Bottles) (See Boyer's B 184 from Meyer Collection)
Schroeder's Cocktail Bitters Co., 213 Sycamore, 1895 Williams' Cincinnati Directory