"

Drink as a Beverage"
XXX E. DEXTER LOVERIDGE WAHOO BITTERS
19 October 2012 (R•031215)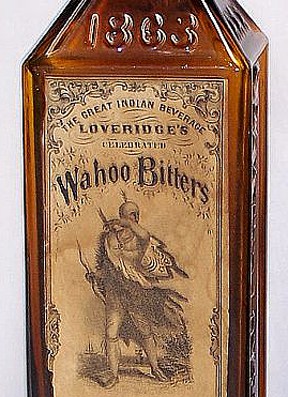 "The compound was procured in part from the most eminent Indian physicians known among our northwestern tribes"


The Jack Stecher post of the three labeled upstate New York Bitters bottles (Read: Some of Jacks labeled Upstate New York Bitters) on Peachridge Glass recently prompted me to go back and look at further information for each bottle in the picture. In this post we will specifically be looking at the great semi-cabin form for the E. Dexter Loveridge Wahoo Bitters which is one of my favorites!
This is a wonderful bottle from Buffalo, New York, that unlike the Dr. Walkinshaw's Curative Bitters or Steele's Niagara Star Bitters, which come in primarily amber, comes in some drop-dead gorgeous colors as you will see in some of the pictures below.
I thought it is also interesting that a piano sectional was written call The Wahoo Polka (see below).
I hope this post prompts a couple of my mysteries being solved that include, what does the 'XXX' stand for in the brand name, what does the 'E' stand for in E. Dexter Loveridge name and where the bottle was made (see below). I am also curious about the 'D.W.D. – 1863 – X.X.X.' on the bottom label area. The 'E' is referenced many times as either Edwin or Edson. He obviously was shying away from this initial in his advertising.
Read: Jacob Pinkerton's Wahoo & Calisaya Bitters
Read: The extremely rare, triangular Wahoo Chamomile Bitters
Read: Dr. Shepard's Compound Wahoo Bitters – Grand Rapids
Read: C. K. Wilson's Original Compound Wa-Hoo Bitters
Some brief family information references that Dr. Loveridge was married to Susannah Bodine Pierson (daughter of Paul Pierson and Temperance Woodruff from Buffalo, N.Y.) and had a daughter Mary (or May) Louisa Loveridge who married Judge Lawrence Woodruff Halsey, Jr from Milwaukee, Wisconsin. They had a daughter named Louisa Ketcham Halsey.
"He gets all the glass they can furnish him from Lockport and Clyde, N.Y., and for the balance he sends to Pittsburgh"
The Carlyn Ring and W.C. Ham listing in Bitters Bottles is as follows:
L 126

  XXX/E. DEXTER LOVERIDGE WAHOO BITTERS, Circa 1860 – 1870
E. DEXTER LOVERIDGE / WAHOO BITTERS // motif eagle with an arrow // E. DEXTER LOVERIDGE / WAHOO BITTERS // sp // // s // DWD // PATD // XXX / 1863 //
10 x 2 3/4 (7)
Square, ARM, Applied mouth, 4 sp, Amber – Scarce;
Green, Apricot, Burgundy and Yellow olive Very rare.
At least two different molds were used for this brand, birds have wing and arrow variations.
Label: The Wahoo Bitters are entirely vegetable being composed of more than twenty different roots and barks. The compound was procured in part from the most eminent Indian physicians known among our northwestern tribes; the balance from my own botanical research and is a profound secret, making the best compound ever invented for the preservation of health.
Read More: Some of Jacks labeled Upstate New York Bitters
Read More: Dr. Walkinshaw's Curative Bitters from Batavia, NY
Read More: Some of Jacks labeled Upstate New York Bitters
Read More: Surreal Loveridges!