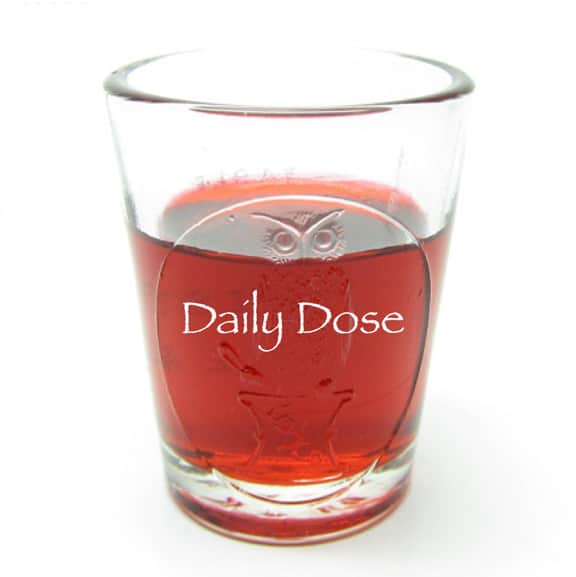 OCTOBER

  

|

 2 0 1 4
Friday, 31 October 2014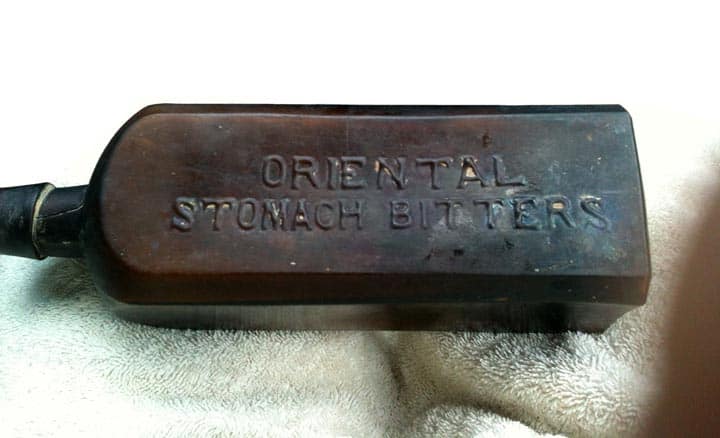 Benning E. Mann, working out of Chicago selling B E Mann's Oriental Stomach Bitters. See new information provided by Corey Stock. Read: B. E. Mann before he became a Professor Overnight
Better picture of unlisted Celebrated Stomach Bitters. Frank Wicker provided image from source. Labeled bitters. Mold obscures info on label. Looks like a wolf which might be a clue.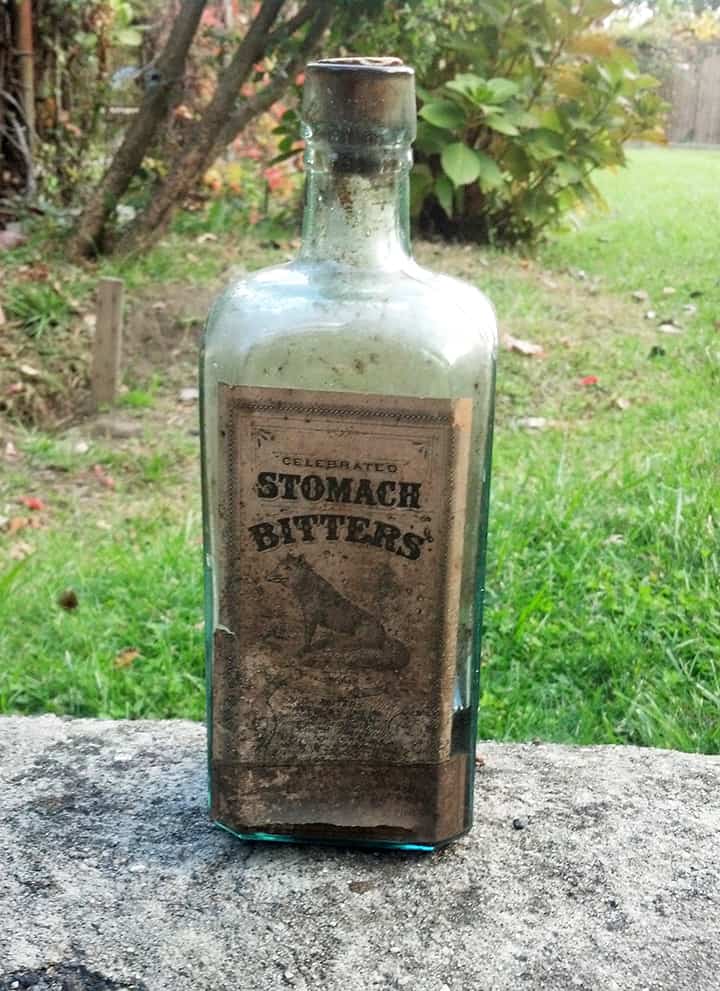 Thursday, 30 October 2014
This very important John Roots Bitters in amber is now at $8,500 in the American Glass Gallery Auction #13 that closed this past Tuesday evening. I have been looking for a good amber one for some time to join my color run (pic below) but alas, the moon and stars were not aligned on this one. Read: John Roots Bitters – Gorgeous Green Colors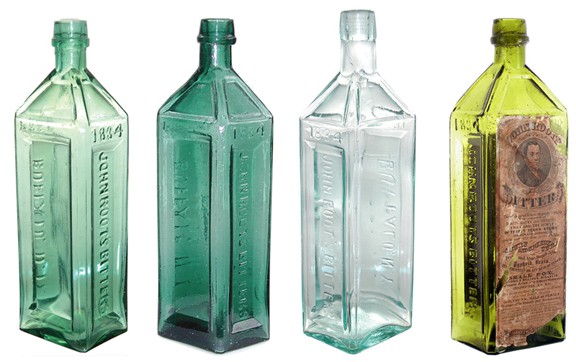 [from Bill Ham] I got a letter from xxxxxxxxx in Elgin, Oregon. He said he dug this bottle in northeast Oregon. Put in a side drawing of the embossing and base, no photo.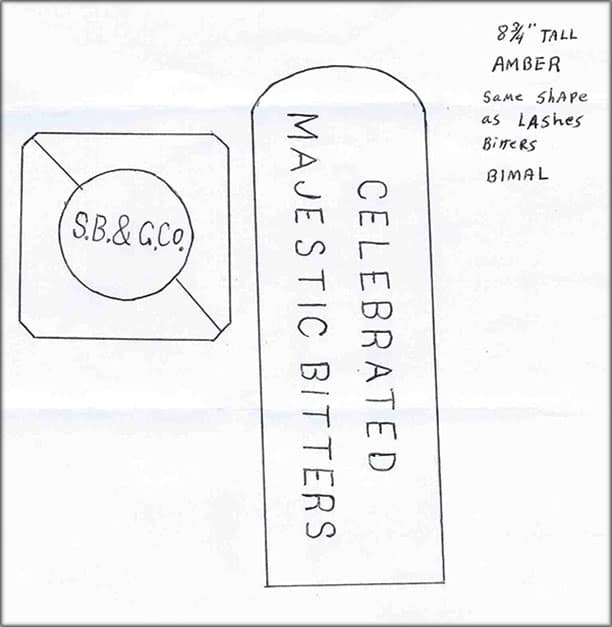 C 96.5 CELEBRATED / MAJESTIC BITTERS // sp // f // sp // b // S. B. & G. Co.
9 x  2 ¾
Square, Amber, LTC, Applied mouth, Extremely rare
Example dug in northeast Oregon
The following posts have been updated:
National Bitters – Schlichter & Zug – Philadelphia
Dr. Von Hopf's Curacoa or Curaco (or Curacao) Bitters
Tuesday, 28 October 2014
Schrader's Highland Bitters post updated with information provided from Marianne Dow. Working on a post for S. Rosenthal & Co. New York. Hearing about an unlisted Celebrated Majestic Bitters that was dug in north east Oregon. Stay tuned. American Glass Gallery Auction #13 ends tonight.
Sunday, 26 October 2014
Hi Ferdinand. This one is a tough one to find. I'm very lucky to have come across my example at a yard sale of all places. This was probably close to 20 years ago now. Anyway, you can probably make out the embossing clear enough, but just in case, it's COLUMBIAN PHARMACY 461 STATE ST. PERTH AMBOY, N.J. Since I'm from NJ, this was a very spectacular find for me. Take care and best regards, Chris (Eib)
Killer druggist bottle. A quick search reveals that Thomas A. Smith, who was a chemist started the Columbian Pharmacy in Perth Amboy, New Jersey around 1919 or so. His partners were Annie E. Smith, president and Stephan Rostkowski, treasurer.
Friday, 24 October 2014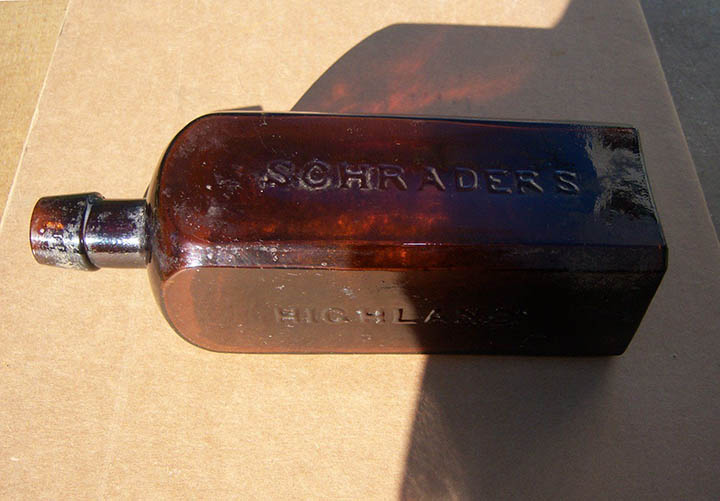 Totally missed this apparently unlisted Schrader's Highland Bitters bitters that closed on eBay yesterday. Fk! Thanks to Frank Wicker for tip.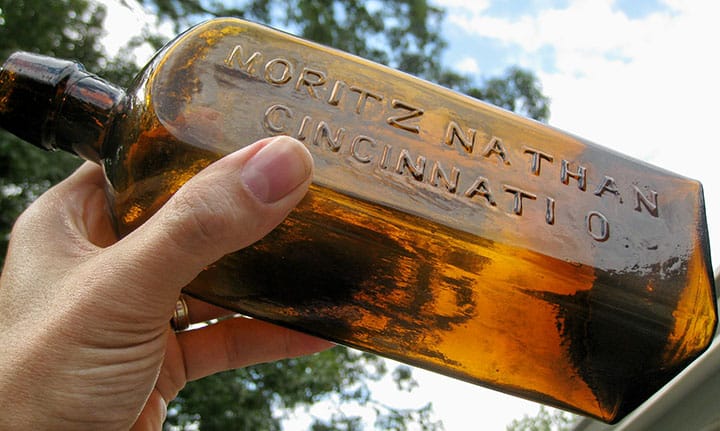 Incoming pictures for a Moritz Nathan bitters (probably) from Chris Eib. This one looks to be a variation where "M. Moritz" is now "Moritz Nathan". Read: Could this be the Nathan's Celebrated Union Bitters?
Wednesday, 22 October 2014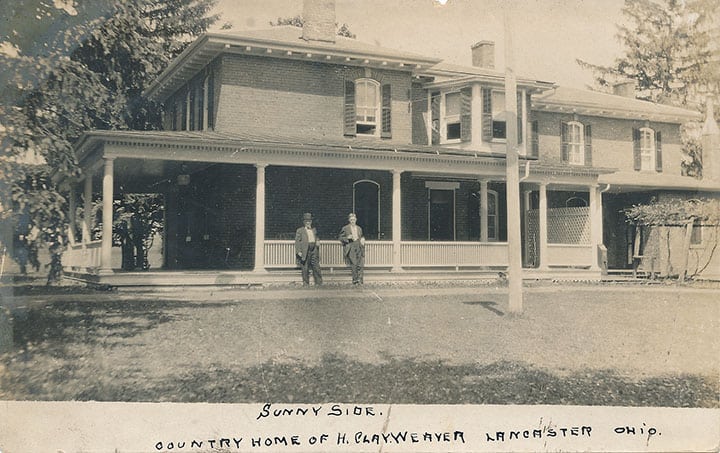 Ferd this is going to blow your mind. I found this postcard on eBay under collectables. I couldn't believe my eyes. I believe the older man is Henry Clay Weaver and the younger his son. It gets better. Remember in my story I made a connection with Weaver & Rochester N.Y. ? Well look at the reverse of the card. Let me know what you think. By the way the card is dated. Gary (Beatty)
PS. Now to go to Lancaster and find this house!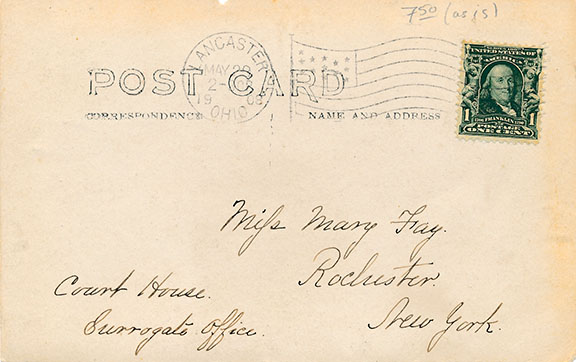 Read: Henry Clay Weaver: 19th Century Entrepreneur extraordinaire. Lots more bitters stories in Bottles and Extras. Subscribe now.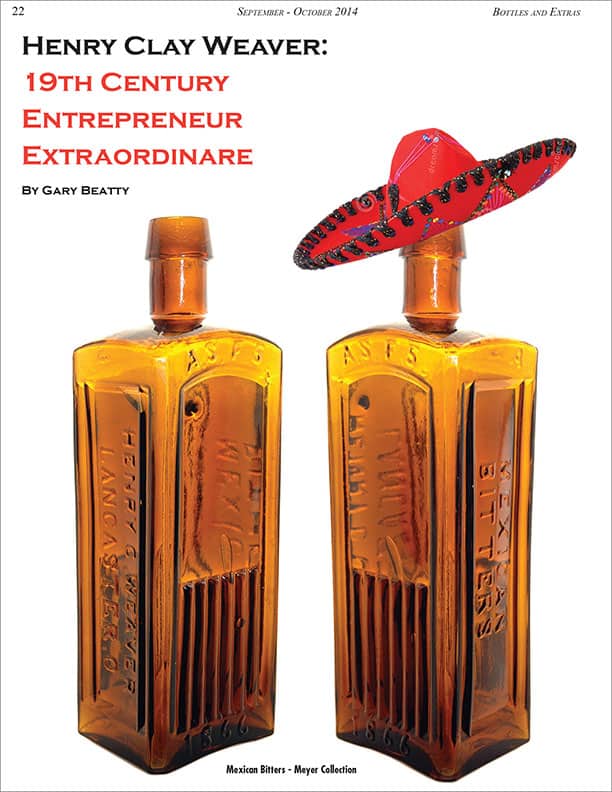 Post Update: Mexican Bitters – Henry C. Weaver – Lancaster, O
Tuesday, 21 October 2014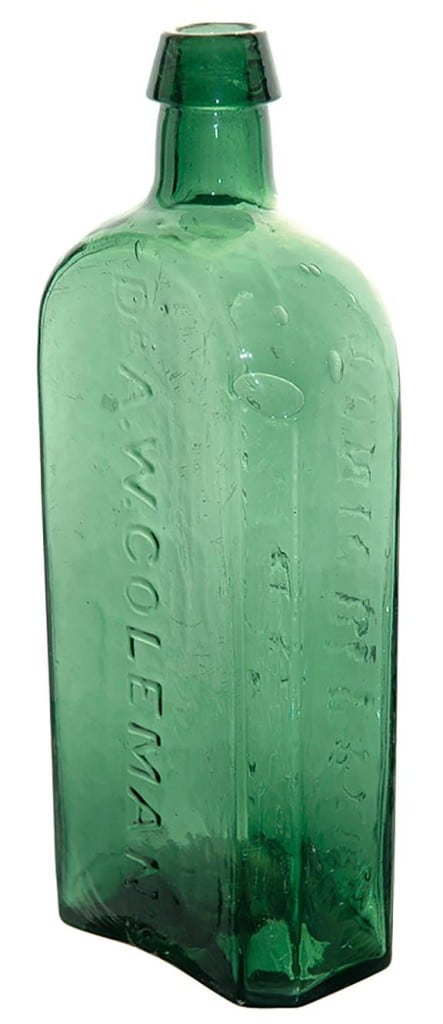 Ahhh…. the color green. Look at this gorgeous Dr. A. W. Coleman's Anti-Dyspeptic and Tonic Bitters from the Grapentine collection. Read about it today.
From a collection in the northwest. Yup we know where….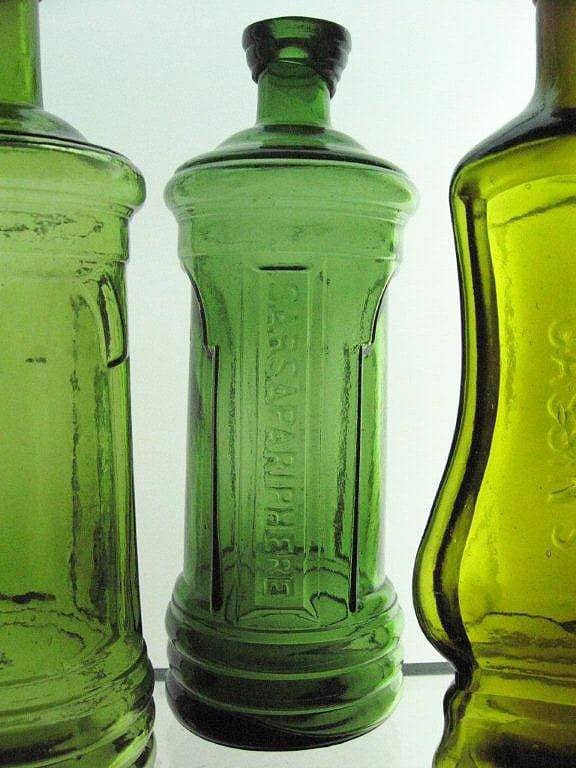 Hi Ferdinand, I thought I would send you a photo of this beautiful variant 2 Lacour's. As you know, the variant two is quite rare with maybe 10 or so known in collections. While the differences between the three versions of the Lacour's are subtle, to the trained eye they are quite apparent. This example is also in a gorgeous deep emerald green. No yellow, olive, or amber tone. It is the only variant two ( or any other Lacour's) in this deep pure emerald that I have handled. Regards, Dale

Monday, 20 October 2014
Off to San Antone here shortly. Updated the Dr. John Bull and Louisville at that time post with new information about John Bull.

Look for an upcoming announcement for a WebEx and/or conference call meeting for the 2016 Antique Bottle Convention in Sacramento.
Working on a post for Dr. A. W. Coleman's Anti Dyspeptic and Tonic Bitters. Dr. Coleman was from Mobile, Alabama as was the J. W. Hutchinson's Tonic Bitters.
Friday, 17 October 2014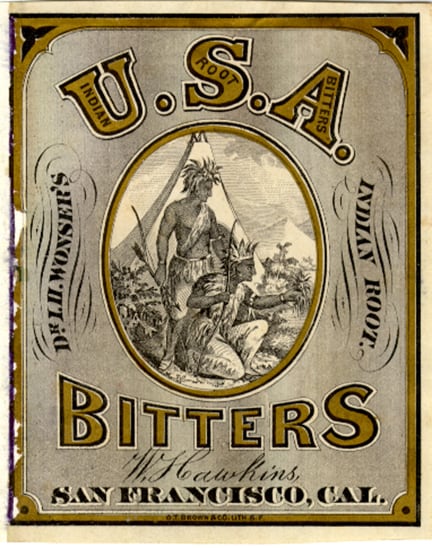 Back in the saddle again. Good to be home. Added this color label image to Dr. Wonser's U.S.A. Indian Root Bitters – Looking at Some Information and Colors historic post. It replaced a black & white image of same.
I found this old picture of Buker & Colson Druggists from Fresno, CA. They were pushing Buker's 974 Cough Syrup as that was their address. Hope they didn't move a lot. Druggists look different nowadays.
The year was 1892, when Will C. Colson, left, and H.O. Buker, cigar in hand, posed in front of their drug store they opened in 1889, at 1908 Mariposa Street, along the bustling main corridor of the growing city. They spared no expense in advertising for the new business, especially for their "974" cough syrup. Of architectural interest, their drugstore utilized a popular feature of the era, a cast iron building front. Cast iron components such as columns, panels and decorative elements, manufactured in east coast foundries were pre-assembled for fit and detailing, disassembled and shipped to the building site for reassemble. – John Walker Read More
Thursday, 16 October 2014
Headed back tonight to Houston. Been in this gloomy weather all week. Actually been thru the front 3 times as it moved east.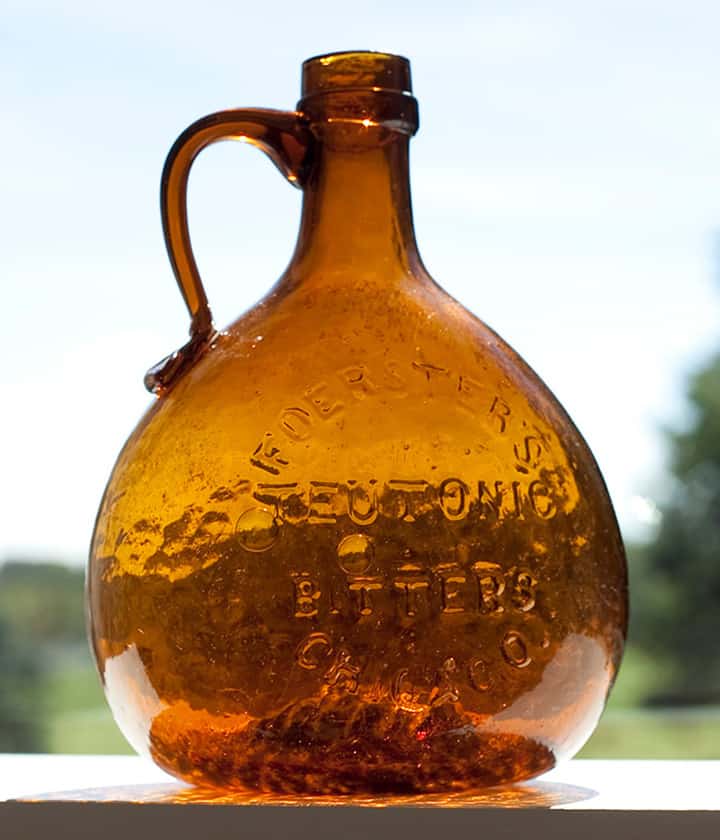 Updated the Foerster's Teutonic Bitters post with John Pastor's fantastic bottle in his American Glass Gallery #13 Auction. This same bottle surfaced on Peachridge earlier (see August Daily Dose) in the year when the owner sent pictures asking if it was real or a reproduction. Been sitting in a window if I remember correctly. This makes the fourth example. Two left handled and two right handled.
Wednesday, 15 October 2014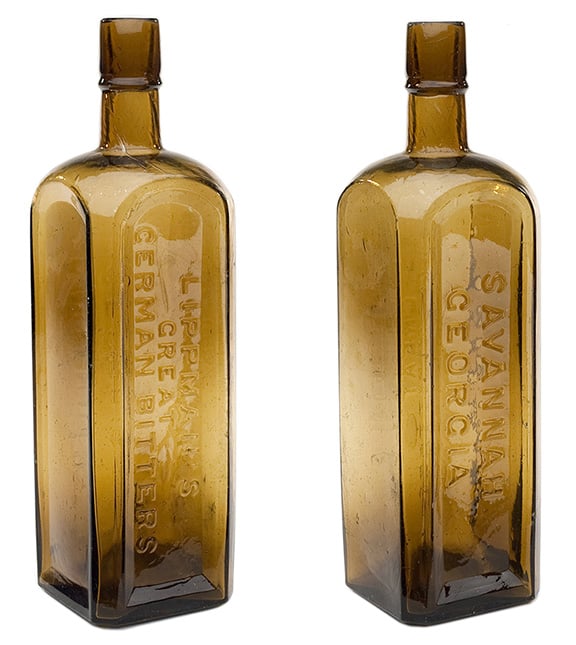 Updated Dr. Forest's Tonic Bitters post with new information from Eric McGuire. Updated Mett (or Alett) Stomach Bitters bitters post with suggestion by Lou Holis. Updated Dr. Planett's Bitters post with new example from American Glass Gallery #13. Updated Lippmann's Great German Bitters post with new example from American Glass Gallery #13.
Saturday, 11 October 2014
Rain coming in here shortly, Our second front for the season. Wanted to cut grass. Sun has to come up first anyway. Wish I was in the Northeast for the big bottle weekend in Connecticut and New Hampshire.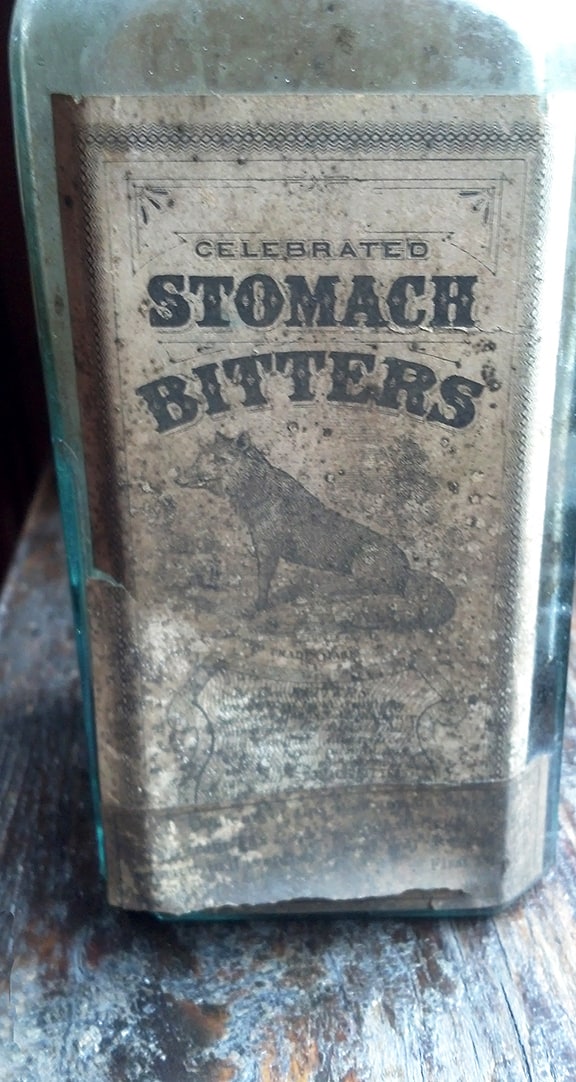 Could be an unlisted bitters. Working on Celebrated Stomach Bitters.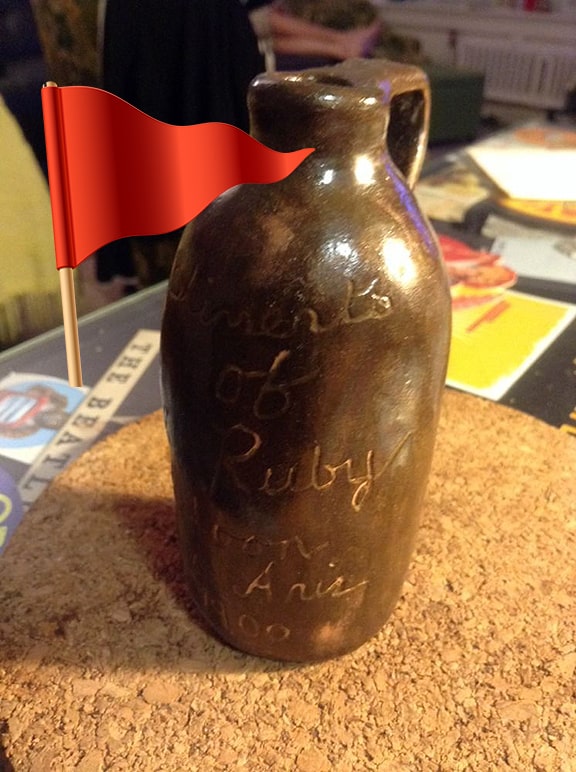 In from Bruce Silva up in Oregon… Ferd: Just got a heads up via my website about the next round of fake mini jugs set to hit the market courtesy of Fleabay~ Bruce [see eBay listing]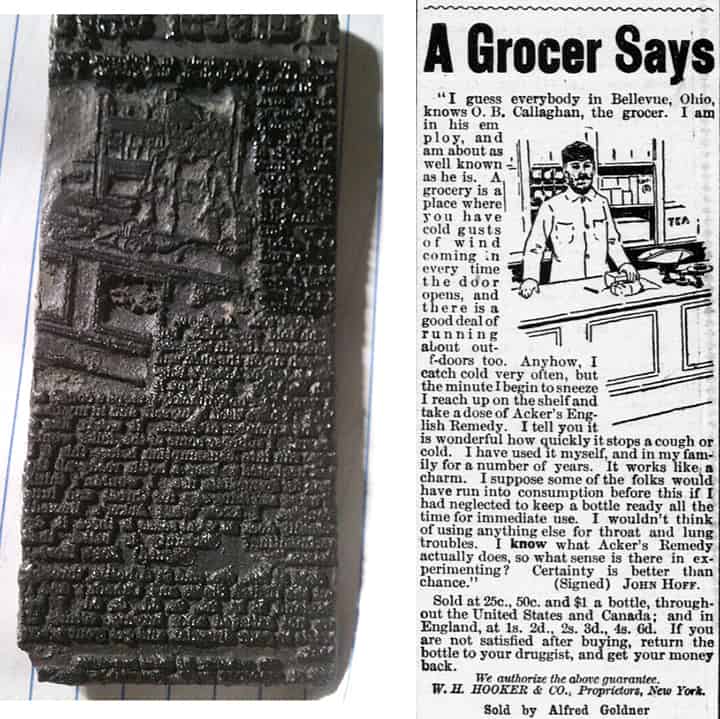 From Frank Wicker: I found on your site that you have a collection of the Acker's bottles and advertising. Last week while digging, I discovered a solid copper newspaper print plate. It it's for Acker's English Remedy and ran in the year 1900. I was able to pull up a copy of the printed as in a newspaper archive online. I'm wondering of you happen to have ANY idea what this would be worth or any information ass to who may be interested in buying it. Please see the attached photos. Thank you – Sara
Friday, 10 October 2014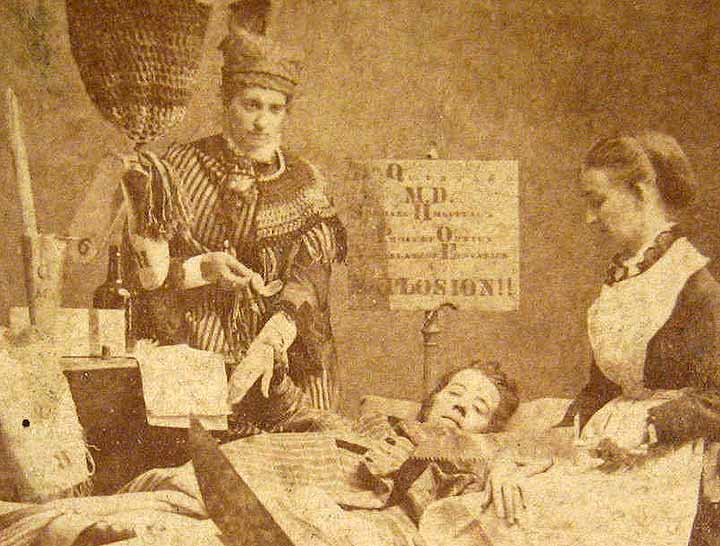 In reference to: Drakes Plantation Bitters on 1874 Stereoview Mock Medical Scene
[Marianne Dow] The lock, key and trident are symbols related to Pluto, aka Hades, God of the Underworld, which I interpret as they're saying having women nurses could lead to women doctors, and figurally speaking, all hell breaking out, hence the references to explosions and the She-Bang Hospital. There was a huge controversy around the professionalizing of nurses during the Civil War, and of course the eternal Women's Rights controversy continues. The card mentions Dr. Quintard, who was a well known Civil War doctor who became a noted Episcopal Bishop in Tennessee. I think he likely favored nurses, as he certainly needed all the help he could get as a war time doctor.
Read: Dr. Quintard bio link
Read: Pluto symobols link
Read: Unprecedented but Accomplished: The Professionalization of Female Nursing During the Civil War
Tuesday, 07 October 2014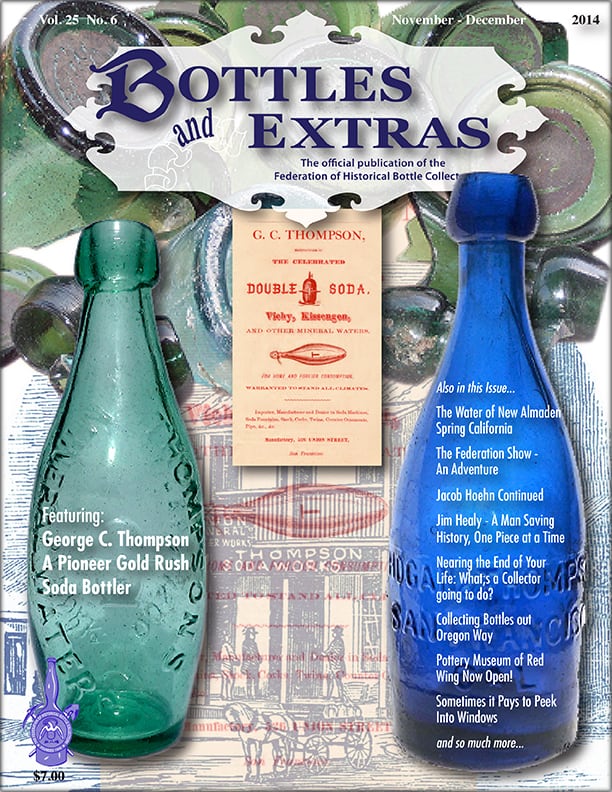 Working on the cover for the November | December issue of Bottles and Extras. Soda Bottles dominate this issue.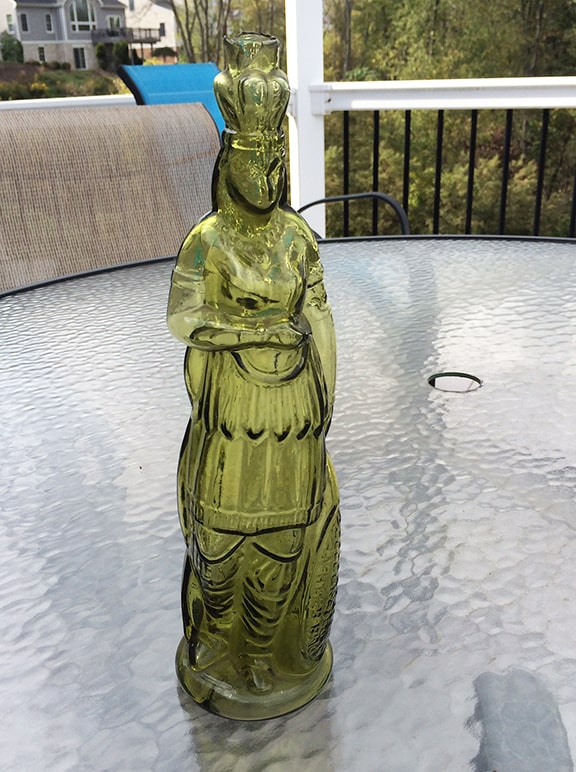 In from Chip Cable: Hi Ferdinand, Just thought I'd drop you a note. I picked up this queen from a picker last night. It has a 1/4″ lip chip, but the color is great. I also picked up a G-XIII-49 in topaz. It's fun to see good bottles are still coming out.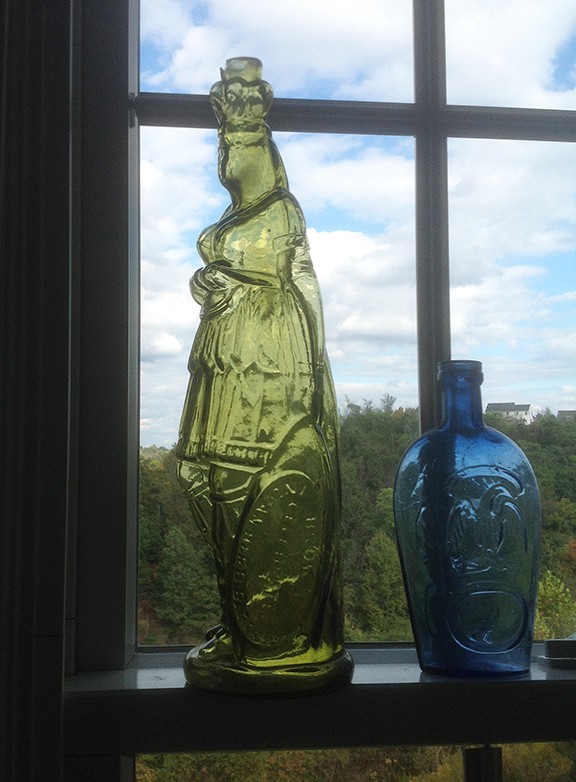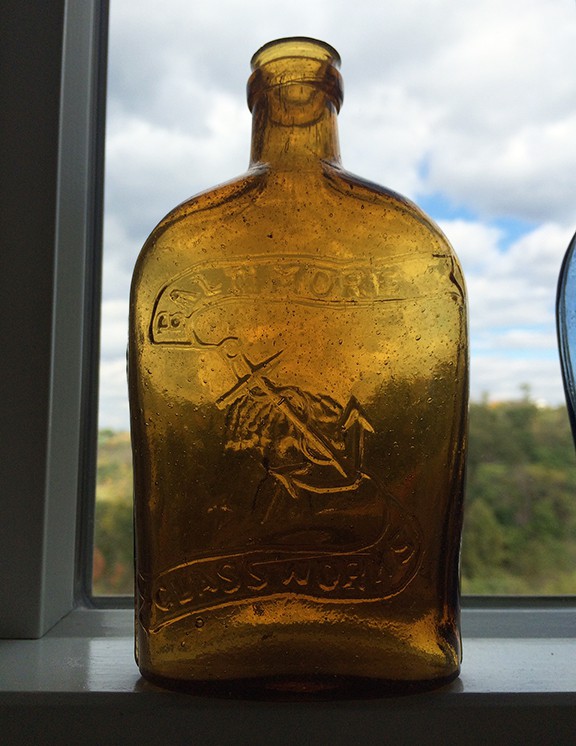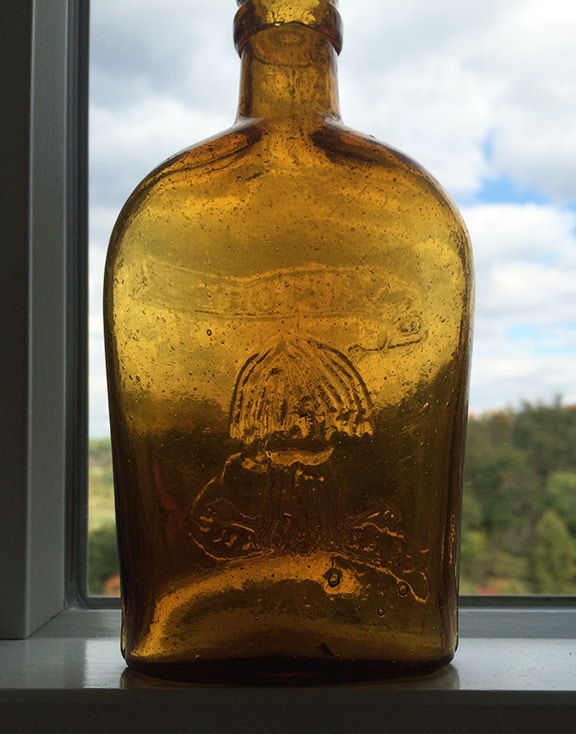 Thursday, 02 October 2014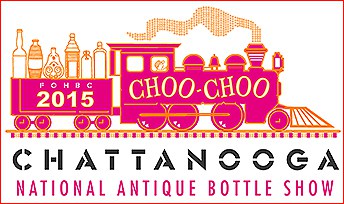 2:25 am and I can not sleep. Need to depart the Chattanooga Marriott soon which will serve as the host hotel for the FOHBC 2015 National Antique Bottle Convention. Toured the hotel yesterday and adjacent convention center. Of course Tom Phillips and Co-Chairs John Joiner and Jack Hewitt have been here a number of times. Gonna be real nice.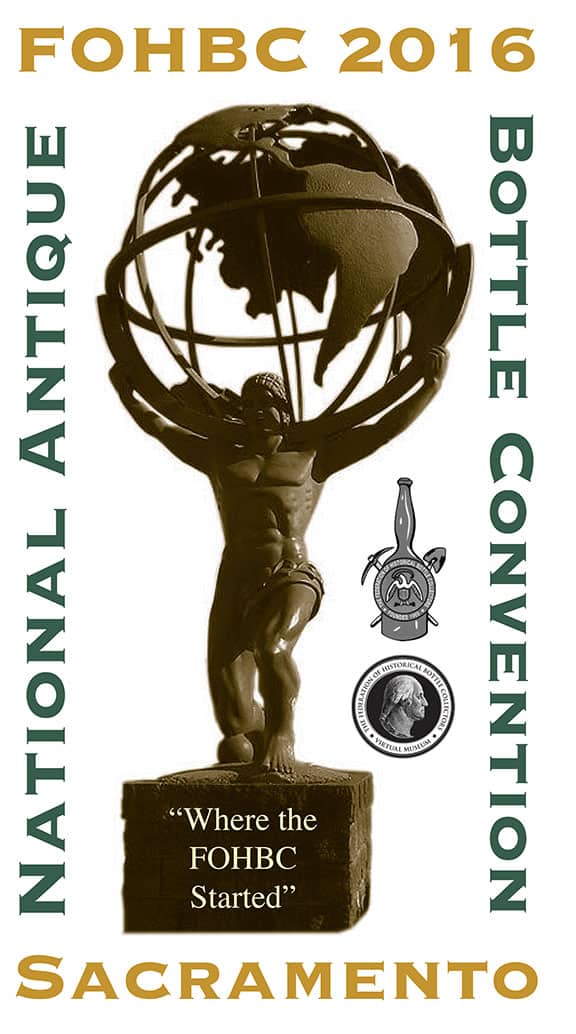 Here is one of the concepts I am working on for the FOHBC 2016 National Antique Bottle Convention in Sacramento, California. Toured that location last month and was blown away. Of course there will be bottle art too.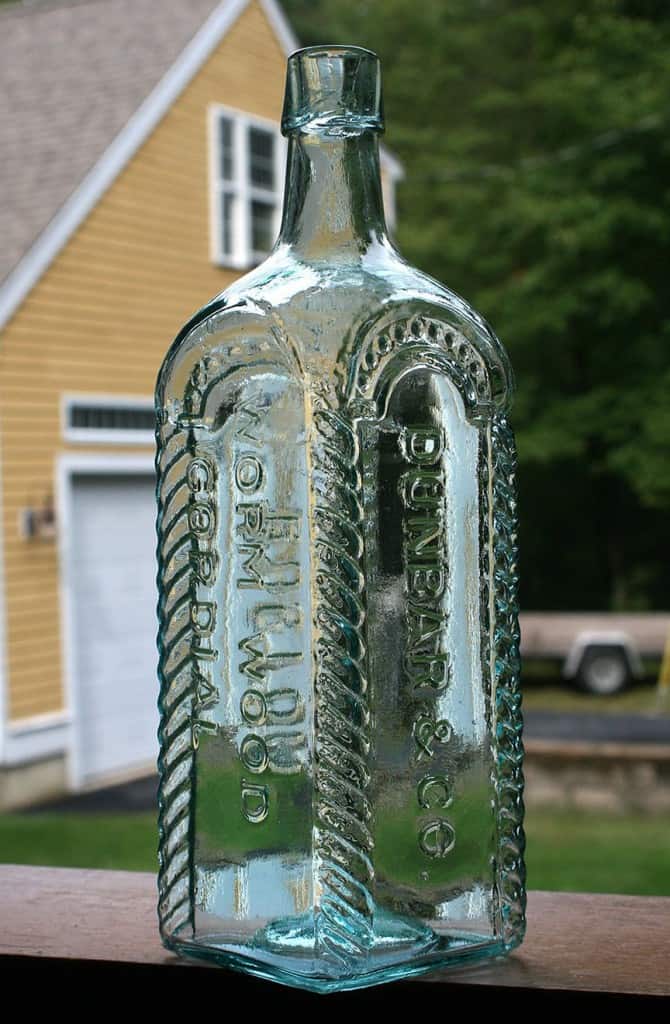 Hey Ferd, Here is one to add to your "fancy corners" collection! This is the "DUNBAR & CO / WORMWOOD CORDIAL / BOSTON". It is made from the same mold as the Russian Imperial and National Tonic Bitters. One sold in the Gardner sale 40 years ago, but this is the first one I have ever seen. – Michael George
Read: Roped Squares – Russian Imperial Tonic Bitters