A labeled Mett

(or Alett)

Stomach Bitters from Joliet
14 October 2014 (R•101514)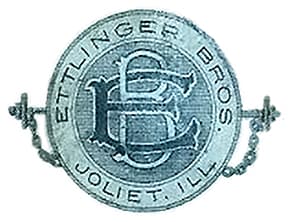 Lou Holis sent me the top picture via e-mail saying, "Hello. Picked this up last week on eBay. Bottle is from Joliet, Illinois (my home state). It is a label only, tooled top, bigger than most, square form. Can't find any information. Think it is from 1906. Nothing great, just letting you know."
This is interesting. Sure it is not a figural, or in some killer color but it is rare and possible unlisted. Like finding a new bug rocks an entomologist, this bittersologist gets just as excited. Looking at the label, I see a cool seal which I have isolated and cleaned up above. It has a interlocking "EB" typography and reads "Ettlinger Bros., Joliet, Ill." in a decorative circle. Kind of cool to this grapicsologist too. By the way, Magen means stomach in German so we still have Mett Stomach Bitters. What is the deal with "Mett"?
Aaron Ellinger (1840-1884) was a cattle dealer in Joliet, Illinois. He had two sons, Benjamin S. Ettlinger and Ralph Carl Ettlinger who first worked together in a liquor store. Eventually the wholesale liquor business was called Alexander and Ettlinger (Robert Alexander and Benjamin Ettlinger) from 1902-1908. Both brothers united in business from at least 1909 to 1920 as Ettlinger Brothers at 303-305 S. Chicagio Street in Joliet. They were wholesale dealers in imported and domestic wines, liquors, gins and whiskies.
Mett is probably a word-play with "M"agen and "Ett"linger. It could also be "Alett" combining "Al"exander and "Ett"linger. Jury still out on that one. What do you think?
Select Listings 
1881: Aaron Ettlinger, cattle buyer – Joliet City Directory
1881: Birth Benjamin Ettlinger on October 6, 1881 in Joliet, Ilinois
1884: Aaron Ettlinger, cattle dealer – Joliet City Directory
1884: Birth Ralph Carl Ettlinger on June 1, 1884 in Joliet, Illinois
1901: Ralph C. Ettlinger, clerk, Benjamin S. Ettlinger, bookkeeper, Mary Ettlinger (widow Aaron Ettlinger), bds 537 S. Chicago – Joliet City Directory
1902-1908: Alexander & Ettlinger, wholesale liquor, (Robert Alexander and Benjamin Ettlinger), Ralph C. Ettinger is manager of Bottling department at Alexander &Ettlinger, 301 – 303 S. Chicago, Joliet, Illinois – Joliet City Directory
1909-1920: Ettlinger Brothers, wholesale liquors, (Robert Alexander and Benjamin Ettlinger), 301 – 303 S. Chicago – Joliet City Directory
1944: Death of Benjamin Ettlinger, 16 August 1944, Chicago, Illinois