Chief Two Moon Meridas and his Bitter Oil
30 September 2014 (R•013117)

While cruising around eBay a little while ago I came across this monster cardboard folding advertising piece for Chief Two Moon Bitter Oil. I mean, this piece is big, measuring approximately 39.5 inches tall and 52 inches wide when fully expanded. See eBay listing. I am wondering, who is Chief Two Moon? Curiously, the Bitter Oil is listed in Bitters Bottles without a classification number.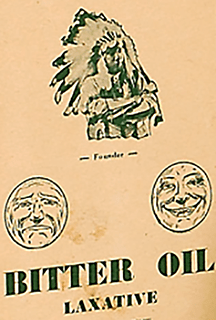 What I find particularly creative in this advertising is the use of two moons, both a happy and sad moon face in the medicine packaging. As you may know now, the face and pain threshold pictogram is a regular tool in doctors offices to solicit pain level responses.
"Chief" Two Moon Meridas
"Chief" Two Moon Meridas (ca. 1888–1933) was an American seller of herbal medicine who claimed that he was of Sioux birth.
Meridas was born Chico Colon Meridan, son of Chico Meridan and Mary Tumoon; his exact place and date of birth are unclear. Later, his marriage certificate recorded his date of birth as August 29, 1888, but this information in unconfirmed.
By 1914 Meridas was selling herbal medicines in the streets of Philadelphia and New York. In New York he met Helen Gertrude Nugent and later married her. Shortly afterwards they moved to Waterbury, Connecticut. Meridas began to sell his herbal medicines from his house. Contemporary newspaper accounts stated that during the 1918 influenza epidemic, none of his patients died. This increased his prestige and clientele. His most famous product was "Bitter Oil", a laxative that was widely marketed as a cure-all.
In 1921 Meridas moved to a larger house and established an extensive and prosperous herb business in a storefront at 1898 East Main Street. He built his own laboratory at 1864 East Main Street in 1925. His business increased to such an extent that he had a fleet of buses for his salesmen and an airplane. He took money only for his products, not his advice. He spent lavishly but also surreptitiously donated to charities and to the poor.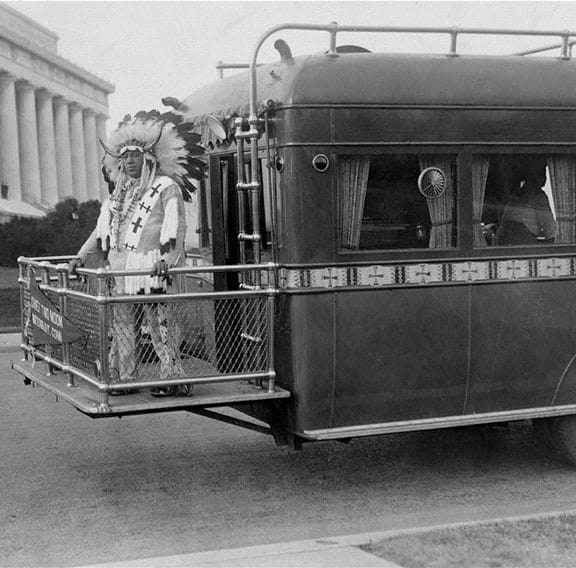 In 1928 the Atlantic City gave him the keys to the city when he founded his Indian Temple there.
Meridas claimed that he was a Pueblo Indian. However, the United States Department of Interior refused to certify that he was an American Indian, although he was presented as one in his publicity. On August 6, 1930 the Oglala Lakota Sioux of the Pine Ridge Reservation gave him the honorary title of chief, due to his financial help during the Great Depression.
In October 1930 Meridas and his wife traveled to Europe to meet Pope Pius XI. On May 3, 1932 Meridas was indicted and later convicted of practicing medicine without a license in New York and Connecticut. In November 1932 Meridas brought 26 Sioux to Waterbury to speak for his defense, some of whom stated that they had taken part of the Battle of the Little Big Horn. They also stated that Meridas had been named an Honorary Chief of the Sioux. They later celebrated at Meridas' Connecticut estate. Two Moon Meridas died on November 3, 1933. He is buried in Hillside Cemetery, Roslyn, Montgomery County, Pennsylvania. [Wikipedia]