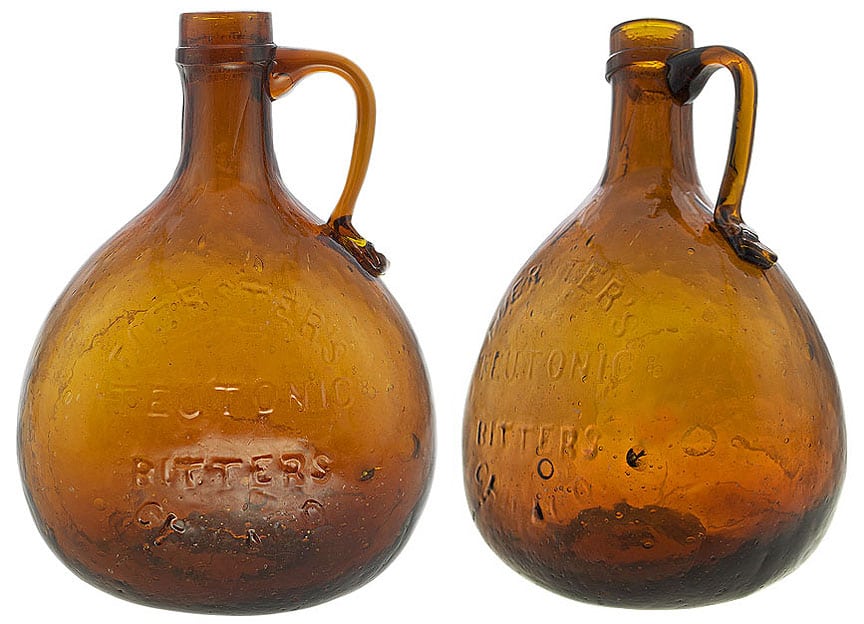 Foerster's Teutonic Bitters
|
Chicago
06 July 2013 (R•101514)

I was recently able to add a long sought after, extremely rare, Foerster's Teutonic Bitters to my collection. As one of only two handled bitters brands that exist, the Foerster's from Chicago, will join the other, the Old Dr. Townsend's Celebrated Stomach Bitters (pictured below) on my shelves. This example is from the famous John Feldmann Collection and recently sold in Glass Works Auction #98. The Glass Works write-up is as follows: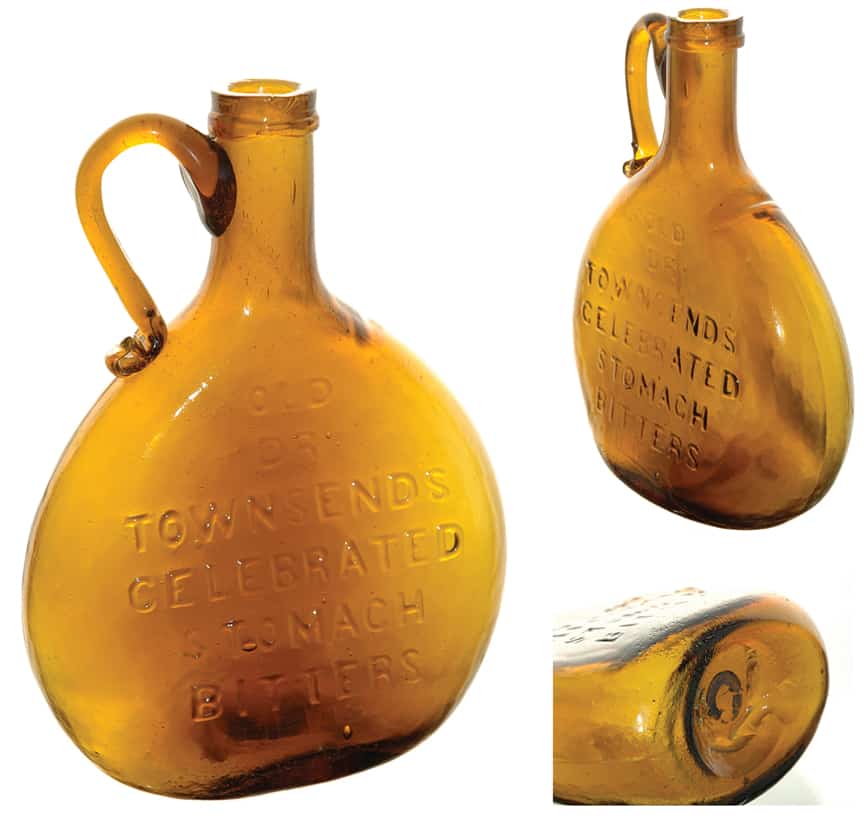 109. "FOERSTER'S / TEUTONIC / BITTERS / CHICAGO", (F-63), Illinois, ca. 1855 – 1865, orange amber handled jug, 6 3/4"h, iron pontil, applied ring mouth and handle. A tiny potstone located to the right of 'Bitters' has a radiation surrounding it. Crude highly whittled glass and currently one of only two known examples. To our knowledge this is the first one to be offered at auction! Ex. Ken Sosnowski Collection.
The Carlyn Ring and W.C. Ham listing in Bitters Bottles is as follows:
F 63

 

FOERSTER'S TEUTONIC BITTERS
FOERSTER'S ( au ) / TEUTONIC / BITTERS / CHICAGO ( ad ) // c //
6 7/8 x 3 1/2 x 3 (4) Bottle measurements are not exact, they are taken at the base which is quite curved.
Chestnut flask with applied handle on right

(example also exists with handle on left)

. Amber, ARM, Metallic pontil mark, Extremely rare
During 1859 and 1860, Theodore Foerster was listed as a rectifier, one who blends or dilutes whiskey, at 54 S. Wells St. Chicago. He was also listed as an importer and wholesale liquor dealer at the same address, and then subsequently at 246 Randolph Street, in the early, to mid-1860's. Based on the rarity of the bottle, the pontil scarred base, and few scant ads that have been found for Theodore Foerster, it is likely that the bottles were only produced for perhaps a year or two during Foerster's early years in business. Perhaps because of competition, a limited market, or the unusual chestnut form that was typically associated with whiskey, it was apparently not a very successful venture. Prior to this bottle coming to light, there were only three other examples known.
In the Glass Works auction listing, the bottle was noted as being produced from 1855 – 1865. I believe this to be highly unlikely and suspect maybe only a one t0 two year period around 1860. I also believe there are three examples and not two (now four – 101514). This has been confirmed by another western bitters collector.
Theodore Foerster, 54 S Wells, Chicago City Directory, 1860
Theodore Foerster, 246 Randolph, Chicago, Illinois, Chicago City Directory, 1865
Theodore Foerster, importer and whole. dealer in wines and liquors, 246 Randolph, r. 520 Hubbard, Chicago, City Directory, 1867
I really wish I had a copy of "Bottled in Illinois: Embossed Bottles and Bottled Products of Early Illinois Merchants from Chicago to Cairo, 1840-1880" by Kenneth B. Farnsworth and John A. Walthall. I wonder if the authors have any more information on this brand and Theodore Foerster?
Read More: Old Dr. Townsend's Daisy Vases, more common than you think
Pictures of this example below surfaced at Peachridge earlier in the year. The person was asking if the bottle was real or a reproduction. Almost fell out of my chair!