Dr. John Bull and Louisville at that time
04 July 2014 (R•080914) (R•102014) (R•022219) (R•032119)
"Louisville has a population of 140,000 or 150,000 and its population supports thousands of drinking saloons. Go in whatever direction, you will hardly be able to walk two squares without finding a place where liquor is retailed."

Jeff Mihalik forwarded these two pictures below of a dig where the crew unearthed a Dr. John Bulls Extract of Sarsaparilla from Louisville, Kentucky. This is one monster of a bottle. Jeff said in the e-mail with a few pictures:
"Hey Ferd, Nice picture of a killer, Dr. John Bulls, Extract of Sarsaparilla, Louisville KY…green, open pontil, huge donut top.. great condition. It now resides in a local collection…but he will be at the National Show so, maybe this bottle will make an appearance.. (picture 1 shows me holding the bottle). Thanks, Jeff "
Note: Jeff is one of the featured seminar speakers at the upcoming Lexington National. His topic is "Ohio River Valley Privy Digging". More Info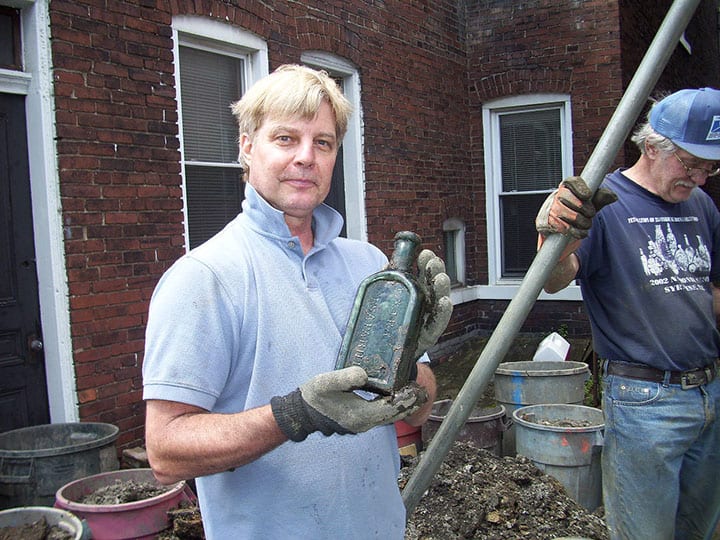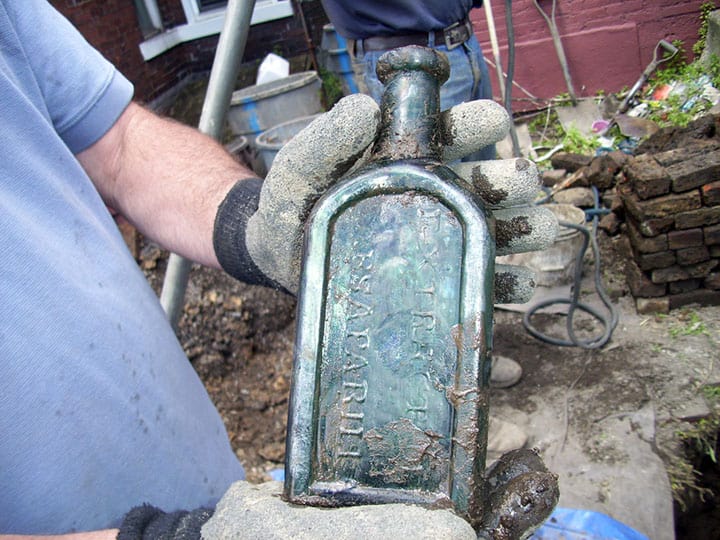 The cleaned up bottle below, is now owned by Chip Cable in the Pittsburgh area.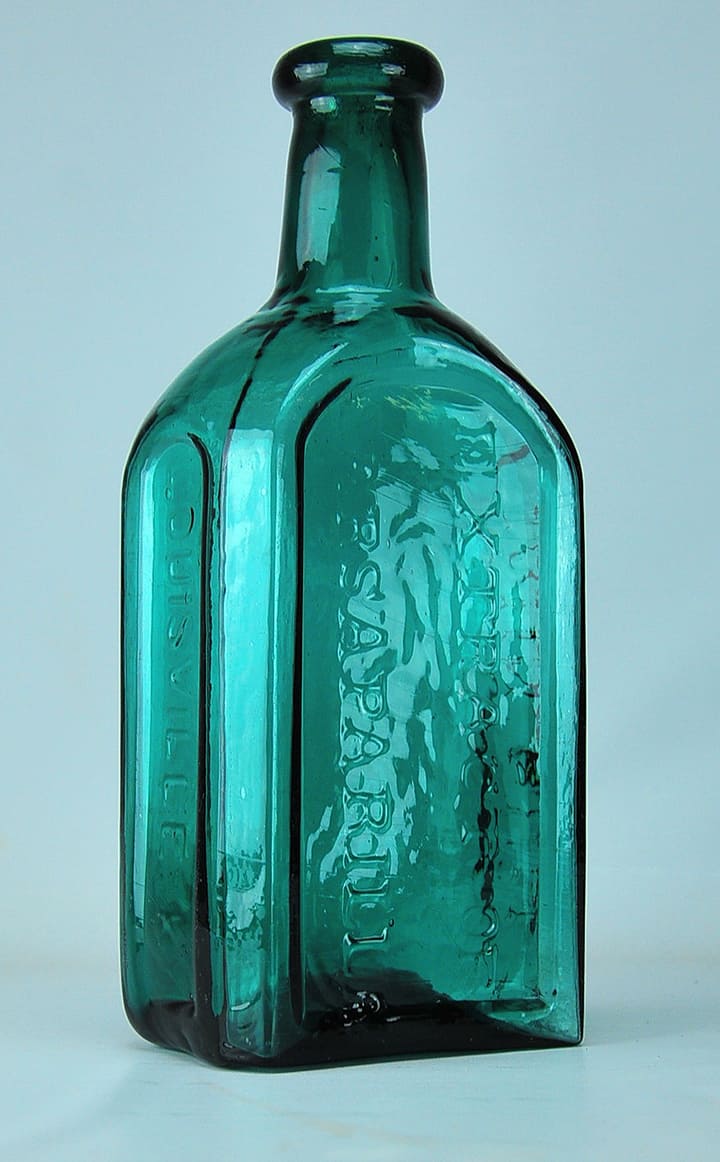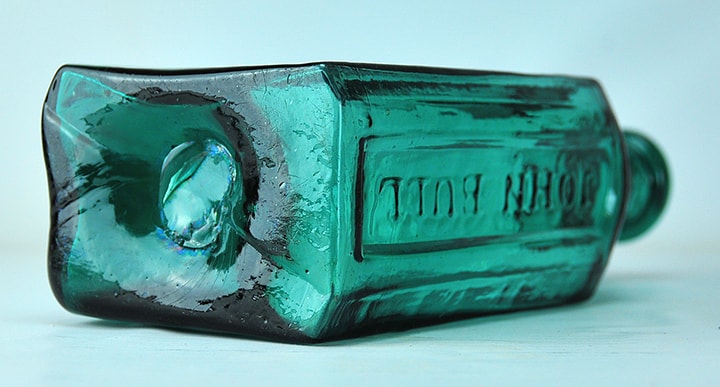 Many of us bitters collectors are familiar with John Bull because he also put out the Dr. John Bull's Compound Cedron Bitters which is another killer Louisville, Kentucky bottle. My example is pictured below. This bottle is ranked #14 on the Top 25 Kentucky Bitters Bottles List.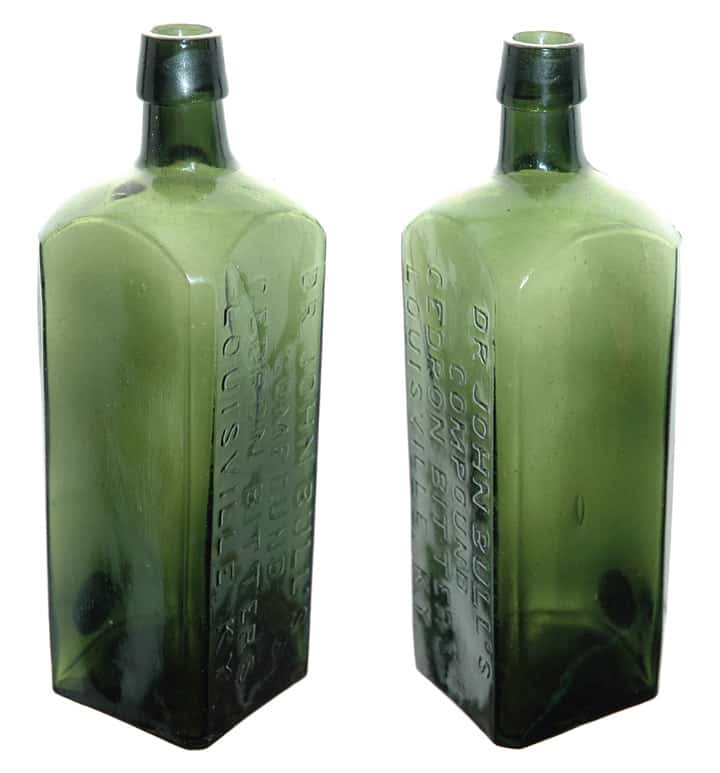 This is all really relevant since the FOHBC 2014 National Antique Bottle Show is in Kentucky, specifically Lexington next month. Though Dr. Bull was in Louisville, it is a great KENTUCKY bottle.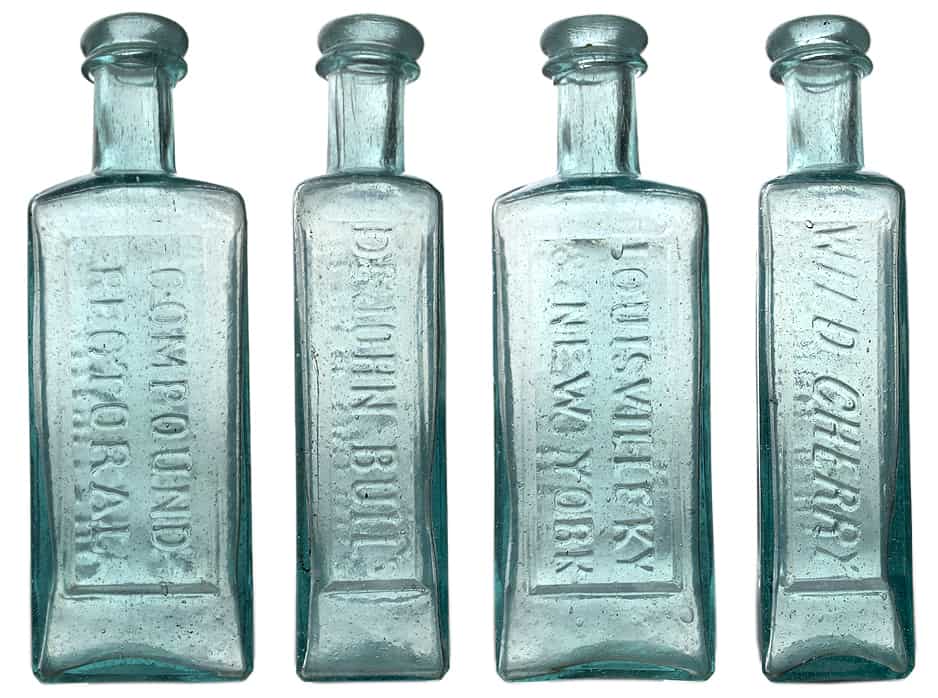 Pictured above is a 7 1/4″ tall, iron pontiled Dr. Bull's Compound Pectoral Wild Cherry in a bluish aqua.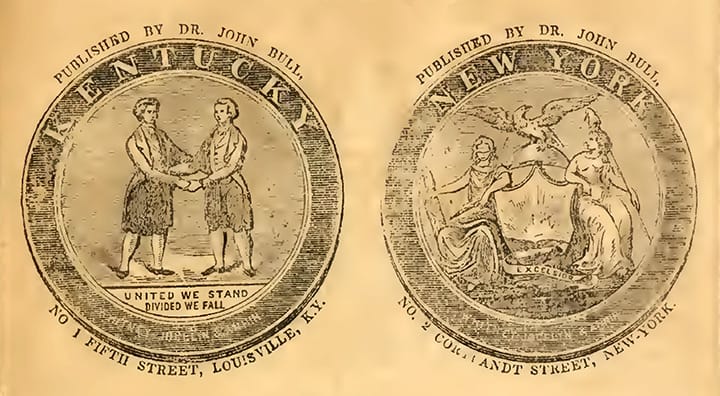 Looking online, I found an example of a Dr. John Bull's United States Almanac for 1856. Pictured below are a few representative pages including the cover and full-page advertisements for Dr. John Bull's Sarsaparilla, Dr. John Bull's King of Pain and a few other of his products. Notice that Dr. Bull had a laboratory in New York City too. He eventually pulled up roots and operated solely out of Louisville.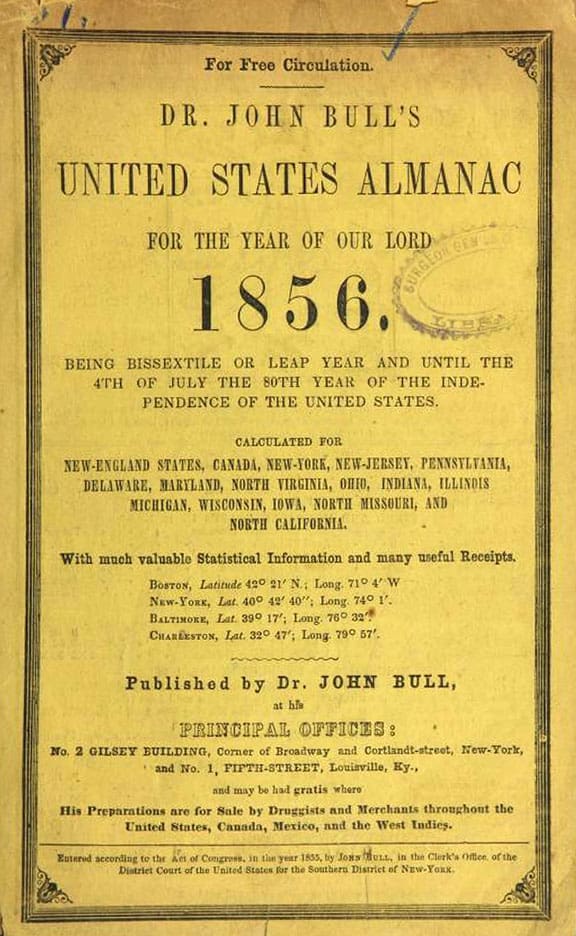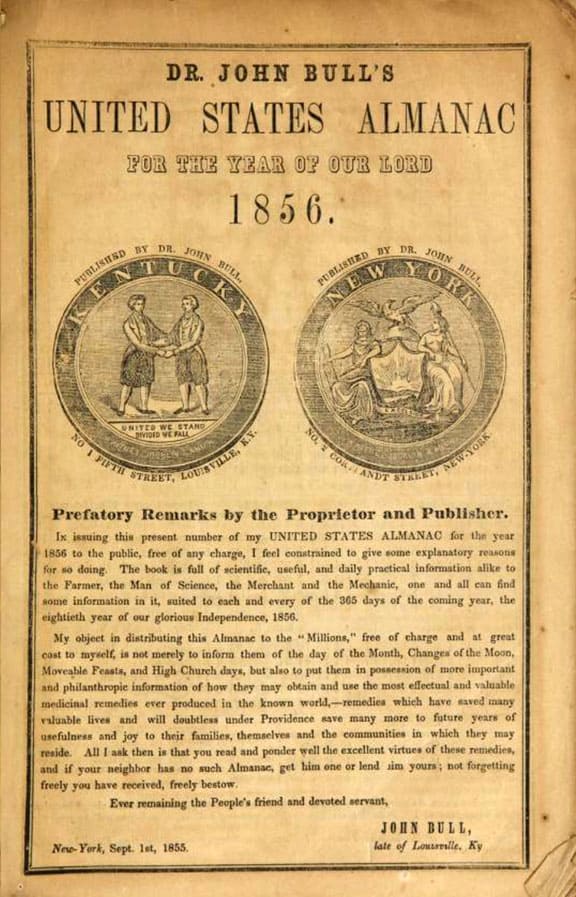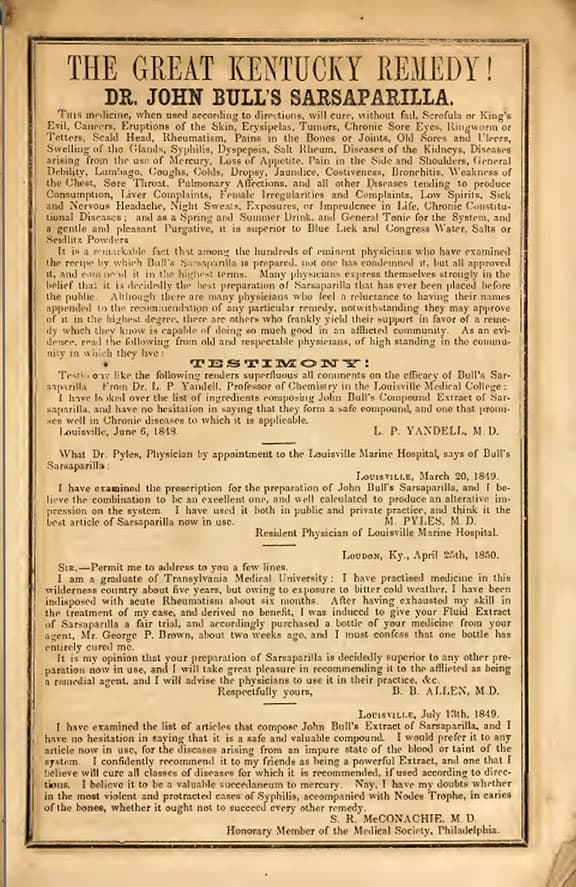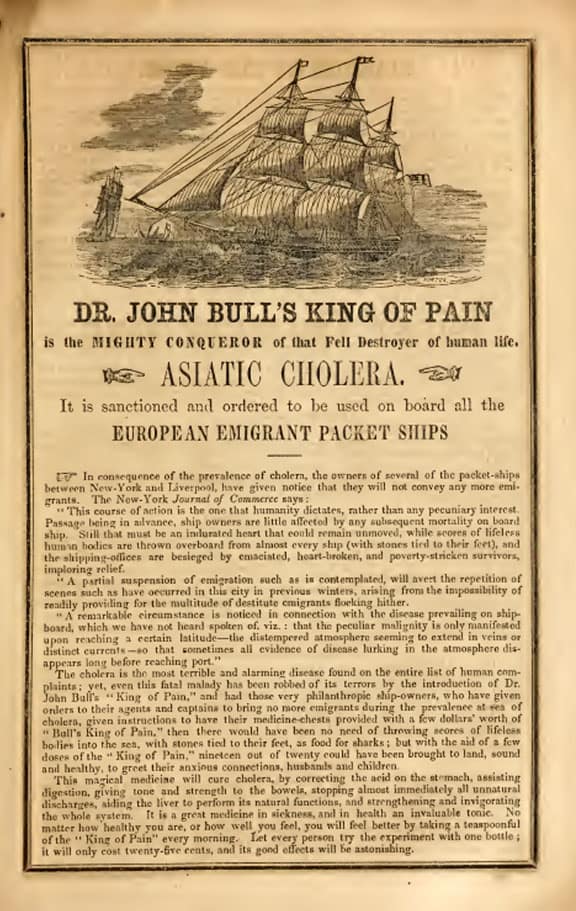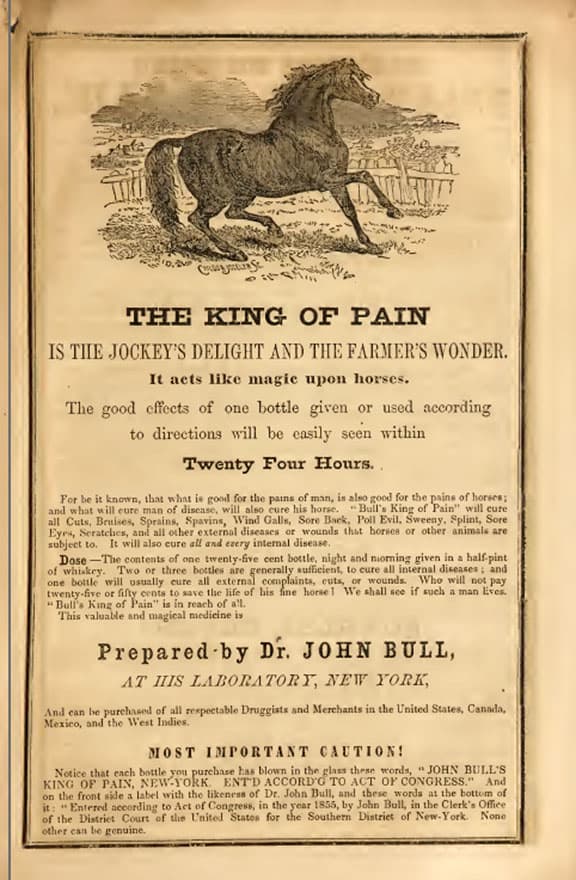 [Above] "JOHN BULL – EXTRACT OF / SARSAPARILLA – LOUISVILLE KY", probably Kentucky or Louisville Glass Works, 1850 – 1860. Rich, medium-to-deep blue green, rectangular with beveled corners, applied round collar – heavy blowpipe pontil scar, ht. 8 7/8″, near mint; (some faint interior haze, primarily in the back panel; a little scattered light exterior wear, otherwise perfect). A big, impressive, beautiful bottle with outstanding character and crudity. Provenance: Ex. Sam Greer, James Chebalo collections. A great rarity and very important bottle that was featured in the Greer color plates. – American Glass Gallery – Auction #22
Dr. John Bull
John Bull was born near Simpsonville, Kentucky in 1813. He was married to Mary Ann Batchelor (1823 – 1909) and was known throughout the world for his patent medicines such as Dr. John Bull's Compound Fluid Extract of Sarsaparilla, Dr. John Bull's Balsam of Wild Cherry and Iceland Moss, Dr. John Bull's King of Pain, Dr. John Bull's Compound Cedron Bitters and Dr. John Bull's Vegetable Tonic Pills. While a prescription clerk, he made a sarsaparilla remedy that became so popular that he earned more than anyone in Louisville after the Civil War. Becoming ill, he used his own medicine but it didn't help him so he gave up smoking and died within days in 1875 in Louisville.
At the age of twelve years old, John Bull moved to Louisville and became a porter in Hyer's and Butler's drugstore. He studied medicine under a Dr. Shrock. In 1837, he opened his own store, which failed within two years. Bull then joined the wholesale drug firm of James B. and Edward Wilder as a prescription clerk, who also marketed a line of proprietary remedies. Read: Edward Wilder and his Building Bottles
Bull is listed as an employee of J.B. Wilder Co. in Collins' 1843 Louisville Directory, but by 1845 he was in partnership with Robert Bower manufacturing a "tonic syrup". Bower withdrew from the business by 1847. With new financing, possibly from Edward Wilder, Bull began to market a sarsaparilla mixture (ca. 1850) – first in Kentucky and then in other states. I even found Dr. John Bull advertisements in Houston. Read: What was here, Early Houston Advertisements – Part II
Judging from the number of tax stamps issued over a period of seventeen years, Henry Holcombe estimates that Bull did an average annual business of $311,540 (Patent Medicine Tax Stamps, 1979) – An Annotated Catalogue of the Edward C. Atwater Collection of American Popular Medicine and Health Reform, Volume 3.
By 1854 the R.G. Dun and Company credit agency reported that "Bull is rich and coining money by his preparation". Two years later he moved away and opened up shop in New York but returned chastened after losing some ten thousand dollars and complaining that New Yorkers "are a sharp set of fellows."
By 1860, Bull employed 15 men and was "making Sarsaparilla as fast as ever and shipping it off as fast as he makes it." Most of his raw material expenses were for Sarsaparilla and bottles and a factory located on Fifth between Main and Water Streets. His products were pills, the Sarsaparilla concoction and an anti-worm product at the time. Profits were moderate.
By the time the Civil War came, John Bull was doing very little business. In early 1862, the Sheriff seized his factory and stock. To make ends meet, he then became a Federal Provost Marshall at seventy-five dollars a month.
By 1868, things had turned around for John Bull and the path forward looked rosier. By 1874 he was selling between four and five hundred thousand dollars' worth of his Bull's Worn Destroyer, Smith's Tonic Syrup and his Cedron Bitters. He employed fifty men and was officed at Main between Eighth and Ninth Streets and another office near the Fifth Street factory.
John Bull died in Louisville on 26 April 1875 of "congestion of the brain". He reportedly smoked from 15 to 20 cigars a day.
Louisville about that time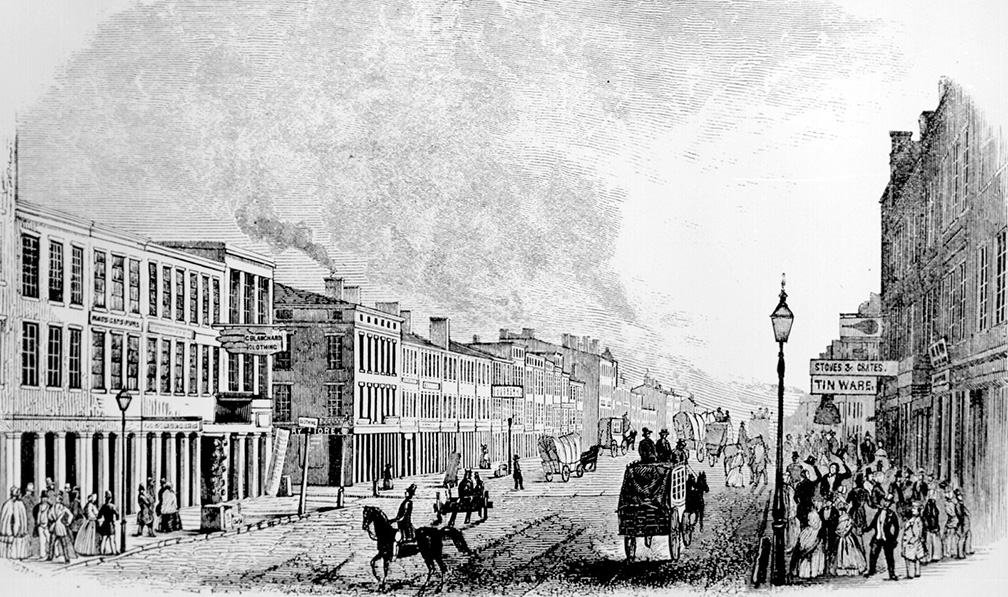 Following the 1850 Census, Louisville was reported as the nation's tenth largest city, while Kentucky was reported as the eighth most populous state. The illustration above titled "View of Main Street, Louisville, in 1846" is an engraving from the History of Kentucky by Richard H. Collins (1874).
What you don't see here are all the saloons and liquor establishments. I found the following excerpts from the The Encyclopedia of Louisville by John E. Kleber:
When the first corn was grown offshore on Corn Island, and later on shore, it was quite likely that part of it was used for bourbon whiskey. Corn Island has disappeared, but we still have a corn Alley in the west end, where a huge field of corn was grown.
Evan Williams in 1783 started operating his distillery on Fifth near Market Street. A swig from a bottle cost sixpence. It did not take long before innkeepers found an ounce glass was more profitable – the gulp was smaller.
Coffee houses were all over the city and advertised in the local newspapers. The following advertisement appeared in the 1828 Louisville Public Advertiser: "Western Coffee House – With all kinds of liquors – Hot punch Lemonade – Hot Toddies – Fresh beer from Cincinnati – also on hand – pigs feet – pickled Tripe and soused Sturgeon." Most said nothing about coffee.
By 1837 there was one liquor store for every seventy people. On December 3, 1869, an ordinance to allow grocers to sell beer was adopted. Within a decade the Louisville Commercial in December 1878 observed: "Louisville has a population of 140,000 or 150,000 and its population supports thousands of drinking saloons. Go in whatever direction, you will hardly be able to walk two squares without finding a place where liquor is retailed. Nearly every corner grocer has its customers who drop in for a morning toddy. Ice cream saloons also set out the drinks."
No small wonder Dr. John Bull did so well in Louisville.
Read about some more "monster: sarsaparillas:
Dr. Wynkoop's Sarsaparilla – New York
Sands' Sarsaparilla – New York