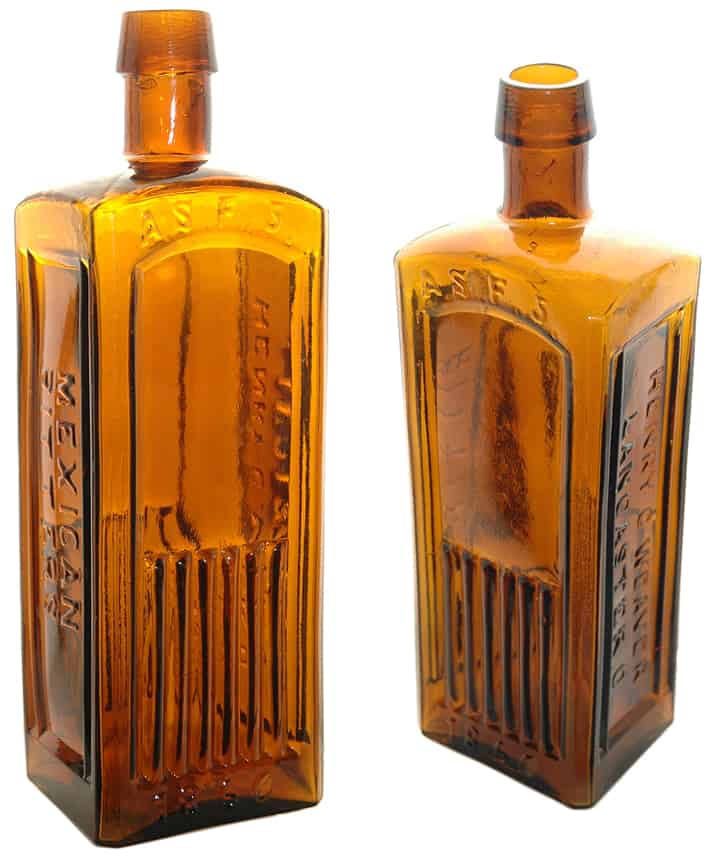 MEXICAN BITTERS – HENRY C. WEAVER
LANCASTER, OHIO
19 April 2013 (R•102214) (R•031516)
"

Just think he probably visited Henry Weavers bar and possible drank his bitters?"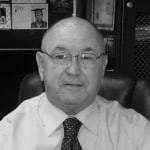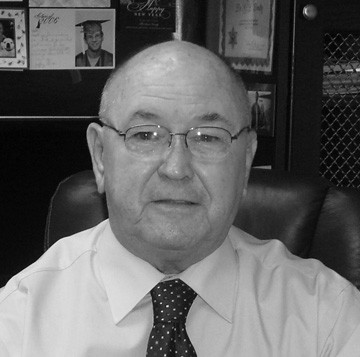 Ferd, how about you doing a small article with pictures on Peachridge about the bitters from my home town, Lancaster, Ohio. "Henry C. Weavers Mexican Bitters 1866, Lancaster, Ohio".
By the way. I was the first person to own one having gotten it at an estate auction in Cardington, Ohio. Ted Christ has mine.
Here is a side bar to that? Lancaster is also the birthplace, and home of a famous Civil War General, "Gen. William Tecumseh Sherman." Just think, he probably visited Henry Weavers bar and possibly drank his bitters? Think about that Bitters for a minute! It is in the shape of the Constitution Bitters, and is more rare than the American Life Bitters, from Tiffin, Ohio and much more rare than any of the Holtzermanns Bitters.

Best Regards,
Gary (Beatty)

Well, I think we can handle that. This is a super bitters that is much tougher to find than the Constitution Bitters with the similar form from Buffalo, New York. I found my example (pictured at the top of the post) at the FOHBC 2009 National Antique Bottle Show in Pomona, California in August 2009. It only comes in amber though.
Read: The Constitution Bitters from Buffalo, NY
A MOST FAMOUS RESIDENT
Lancaster, Ohio was founded as New Lancaster in 1800 where Zane's Trace crosses the Hocking River. The earliest settler may have referred to the area as Old Fairfield or Tarhe Town. By 1830, Lancaster had grown into a center of considerable political, economic and cultural influence. Many notable politicians and jurists lived in Lancaster or in one of the surrounding townships within Fairfield County Ohio. Approximately 75 early cabinet makers, chair makers and wheelwrights are known to have worked in Lancaster, Ohio.
Groceries and saloons, as such, were almost unknown; groceries were principally sold at the dry goods stores, and drinking was principally done at the taverns.
These were the principal industries of Lancaster in 1839, though there were others on a small scale, such as weavers, coopers, and the like, which I cannot take space to particularize. I must not, however, omit to mention Hunter and Edingfield, and Adam and Jacob Guseman, blacksmiths. Groceries and saloons, as such, were almost unknown; groceries were principally sold at the dry goods stores, and drinking was principally done at the taverns. There was not then a shoe and boot-store, or a merchant-tailor in the place; cloth was purchased at the stores, and made to order by the tailors. This was a little less than forty years ago; and when Lancaster is written as it is now, in 1876, the difference will appear. (Complete history of Fairfield County, Ohio)
Two Mexican Bitters found in a house in Ohio in the 1970s and one dug in Ohio.
HENRY C. WEAVER
Christopher Weaver was born about 1780 and came from Shippensburg, Pennsylvania (exactly year not known) as a young man. He married Elizabeth Arnold, daughter of Frederick Arnold. Weaver was a cabinet maker and contractor. He built a house and shop on Main Street. Weaver died on July 6, 1829 in Lancaster, Ohio. He is buried in Methodist graveyard in Lancaster, Ohio. Their children were named in order, Sarah, George, Eliza, James, John W,  Jane Marle, William,  Richard S, Christopher and Henry Christopher.
Henry Christopher Weaver was born on March 22, 1829 and married Mary Matilda Malvania Van Brunt. An 1870 Federal Census I found shows Henry C. Weaver listed as a Grocer and owning a Saloon. In 1870 Henry was 40, Mary M, Weaver 38, Richard Weaver 19, William H. Weaver 17, Inez M. Weaver 9. Also living with them at the time were Mary's parents, Cornelius Van Brunt, 75 and Lucy Van Brunt, 74.
The Carlyn Ring and W.C. Ham listing in Bitters Bottles is as follows:
M 77.5

 MEXICAN BITTERS
ASF5 ( au ) / 1866 // MEXICAN BITTERS // ASF5 ( au ) 1866 // HENRY C. WEAVER / LANCASTER, O //
9 1/2 x 3 x 2 1/4 (& 1/8) 1/4
Rectangular, Amber, LTC, Applied mouth, 4 sp, Extremely rare
Embossed with hand grabs on front and reverse near base.
Label

: Advertised in 1866 – 68.
Two found in house in Ohio in 1970's and one dug in Ohio.
Question: What does ASF5 stand for? The similar Constitution Bitters is embossed A.M.S.2. 1864.

MEXICAN BITTERS GALLERY
UPDATE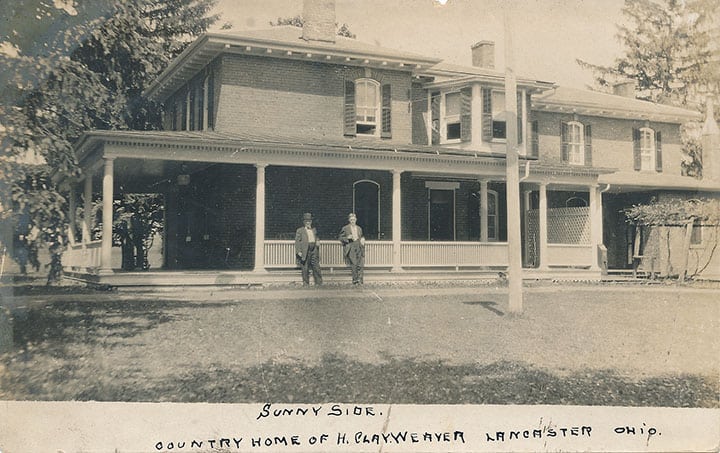 Ferd this is going to blow your mind. I found this postcard on eBay under collectables. I couldn't believe my eyes. I believe the older man is Henry Clay Weaver and the younger his son. It gets better. Remember in my story I made a connection with Weaver & Rochester N.Y. ? Well look at the reverse of the card. Let me know what you think. By the way the card is dated. Gary (Beatty)
PS. Now to go to Lancaster and find this house!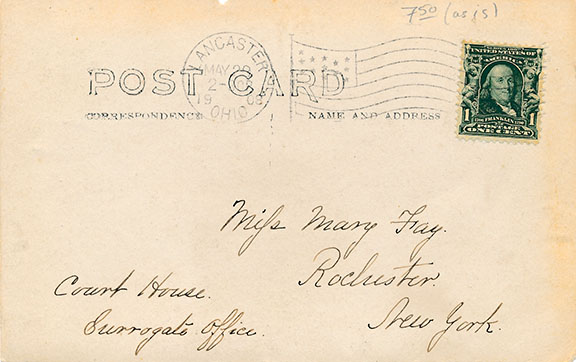 Read: Henry Clay Weaver: 19th Century Entrepreneur Extraordinare. Lots more bitters stories in Bottles and Extras. Subscribe now.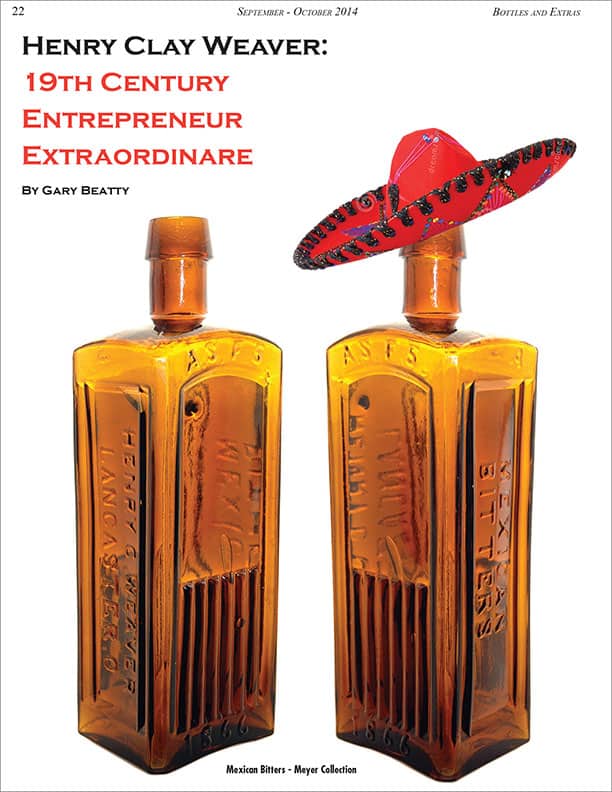 NEWSPAPER CLIPPINGS