Dr. Forest's Tonic Bitters –

Harrisburg, Pennsylvania
14 October 2014 (R•101514 – McGuire) (R•041519) (R•090619)

The Dr. Forest's Tonic Bitters from Harrisburg, Pennsylvania is one tough brand to figure out. I mean, who is Dr. Forest and why is Bacon and Miller embossed on the bottle? I picked up my example (pictured below) in the Glass Works Auction #83 and it was ex: Dr. James Carter. Dr. Carter apparently specialized in "Dr" embossed bottles. I have many top examples from his collection. What brought this extremely rare brand to life, after many years of quiet shelf sitting, was the appearance of a second example in the present North American Glass auction. Their example is pictured at the top of this post.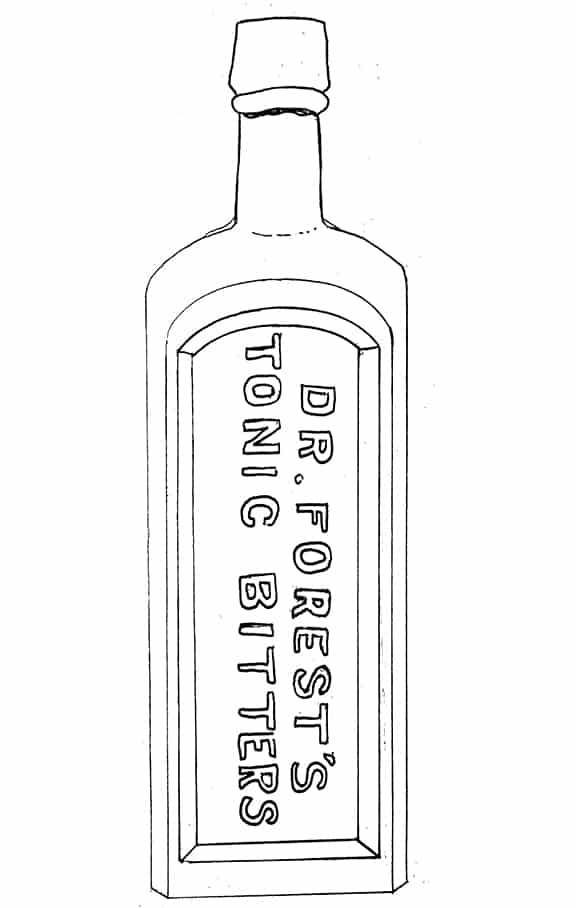 The Carlyn Ring and W.C. Ham listing in Bitters Bottles is as follows:
F 68 DR. FOREST'S / TONIC BITTERS // f // BACON AND MILLER /
HARRISBURG, PENNA. // f //
9 1/2 x 2 3/4 (7) 1/2
Square, Amber, LTC, Applied mouth, 2 sp, Extremely rare
Harrisburg Directory (Pa.) 1878 -1889: George & Harry Bacon listed as bottlers.
Here is an unlisted miniature from a past Morphy Auctions that I did not even know existed! Bill Ham has provided the following new catalog listing.
F 68.5 DR. FOREST'S / TONIC BITTERS // f // BACON AND MILLER /
 HARRISBURG, PENNA. // f //
4 1/2 x 1 1/4
Square, Amber, LTC, Tooled lip, 2 sp, Extremely rare
Harrisburg Directory (Pa.) 1878 -1889, George and Harry Bacon listed as bottlers.
What is most odd is that we have an applied top bottle with both "Bacon and Miller" and "Harrisburg, Penna." embossed on it. We also have the miniature pictured above. George N. Bacon and A. E. Miller hooked up in 1887 selling patent medicines in Harrisburg. That, on the surface, may be too late for this bottle. Pay close attention to the George N. Bacon listing from 1875 below. He is listed in Wilkes-Barre, Pennsylvania selling "Chinese bitters". I can't figure this one out.
[New Listing]


C 145.3 CHINESE BITTERS, George N. Bacon, N. Main, Boyds' Willkes-Barre City Directory, 1875

What we do have is the father George N. Bacon being born in 1838 in Pennsylvania. His father, Lewis W. Bacon, was an innkeeper by trade from Vermont. George's wife was named Maria. Harry W. Bacon (George's son), was born in 1864. I doubt the son had anything to do with this bitters. George starts out as a huckster in Scranton and in the early 1870s makes and sells segars in Wilkes-Barre, Pennsylvania. In 1875 he his selling Chinese bitters in Wilkes-Barre and then files for a stove cover patent in 1877. Say what?After this, George Bacon moves to Harrisburg, Pennsylvania and partners briefly with A. E. Miller from 1887-1890. This Miller guy is a tough nut to crack. They both are listed as selling patent medicines. This relationship would end and George and his son would go in the bottling business at 26 Grace avenue primarily selling beer though George started bottling earlier in 1878. I would target 1877 as the bottles date. (see new info below) Being extremely rare, probably means a short production span.
[From Eric McGuire]
Your listing of Dr. Forest's Tonic Bitters got me curious. I have seen a number of California made bottles of the late 1880s with applied tops and the Bacon and Miller bottle appeared to be a similar type example. The first attached item would put the beginning of this product at about October 1889. Also, note the partners actually include Harry Bacon and not his father, who had already died in 1888.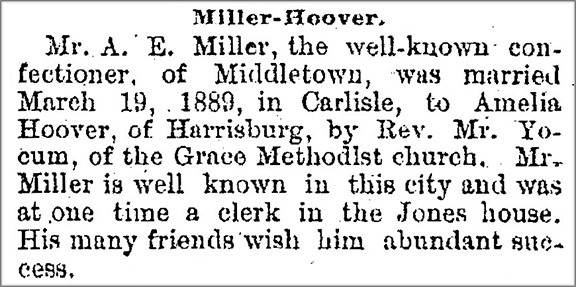 The second attached notice gives little doubt as to the ending date of the product. This would give a terminal date of September 1890.

Also attached gives a little information about A.E. Miller, who was previously engaged as a confectioner in Middletown, PA.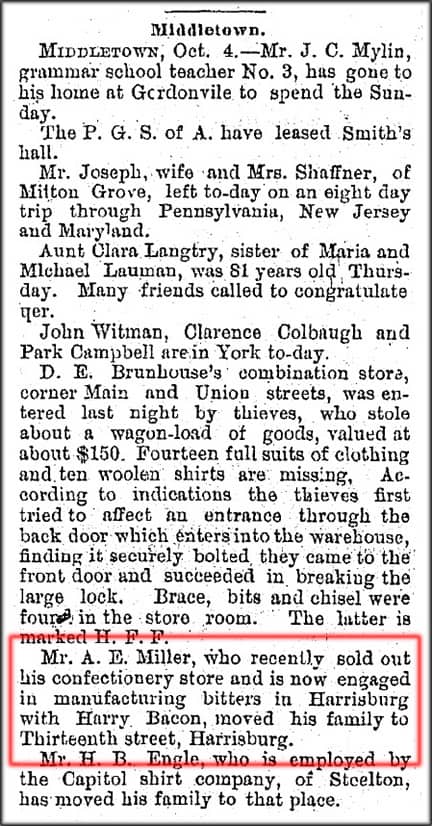 So, beginning in October 1889, and for about one year, this product was sold. The glassblower must have been "old school" and the run quite small, as the application of a separate piece of glass to create a top was generally no longer practiced at that time and this extra step would obviously slow down production. If payment to the blower was by the piece, this process would cost the blower money, unless he had nothing more to do after the run of Dr. Forest's Tonic Bitters.
Select Listings:
1816:

Birth, Lewis W. Bacon in Vermont.
1838:

Birth George N. Bacon in Pennsylvania on May 1, 1838
1850:

Lewis W. Bacon, innkeeper (son George N.) – 1850 United States Federal Census
1864:
Birth Harry W. Bacon on 05 May 1864 in Scranton,

 Pennsylvania
1865:

 George N. Bacon, huckster, Scranton, PA. – Scranton, Pennsylvania City Directory
1871-73:

 George N. Bacon, segar manufacturer, 204 North Main, Wilkes-Barre, PA. – Boyds' Wilkes-Barre City Directory
1875:

George N. Bacon,

Chinese bitters

, North Main, ab Union (see below), Wilkes-Barre, PA. – Boyds' Wilkes-Barre City Directory
1877:

Stove Cover Parent – Be it known that I, GEORGE N. BACON, of Wilkes-Barre, in the county of Luzerne and State of Pennsylvania, have invented a new and useful Improvement in Stove-Covers and I do hereby declare the following to be a full, clear, and exact description of' the same…
1878:

 George N. Bacon, bottler, Market cor 5th – Harrisburg, Pennsylvania City Directory
1880:

G.N. Bacon, beer bottler, son, Harry (16) at school – 1880 Unuted States Federal Census
1881:

Schlitz and Bavarian Beer advertisement (see below) from George N. Bacon – Harrisburg Daily Independent, August 11, 1881
1882-85:

Harrisburg Bottling Works (George N. Bacon), 26 Grace Avenue (various addresses) Harrisburg, PA. (see advertisement below) – Harrisburg, Pennsylvania City Directory
1887-1890:

Bacon & Miller (Harry W. Bacon and A. E. Miller), patent medicines, 1002 Market, Harrisburg, Pennsylvania. Harry W. Bacon (son) was a clerk. – Harrisburg City Directory
1888:

Death of George N. Bacon

on 

16 January 1888

 

in Harrisburg, Dauphin, Pennsylvania
1889

: A.E. Miller marriage (see clipping further above)
1890:

 The firm of Bacon & Miller, proprietors of Dr. Forest's Tonic Bitters dissolve (see clipping further above)
1915:

 Death of Harry W. Bacon on 

16 February 1915

 

in Harrisburg, Dauphin, Pennsylvania