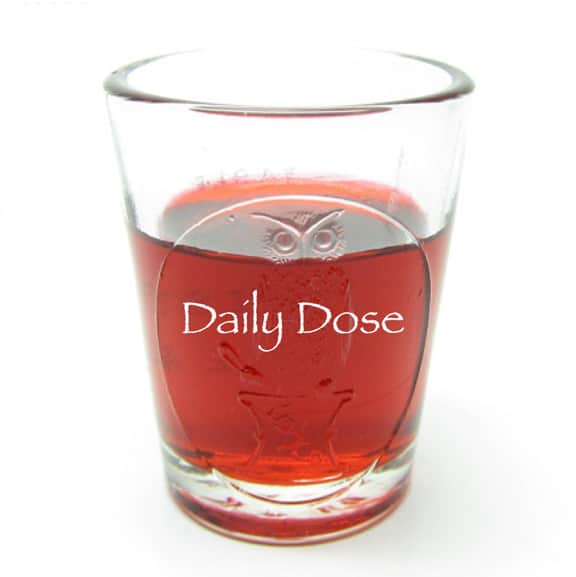 A p r i l    2 0 1 3
Just some ramblings and thoughts that are not on the home page.
Tuesday, 30 April 2013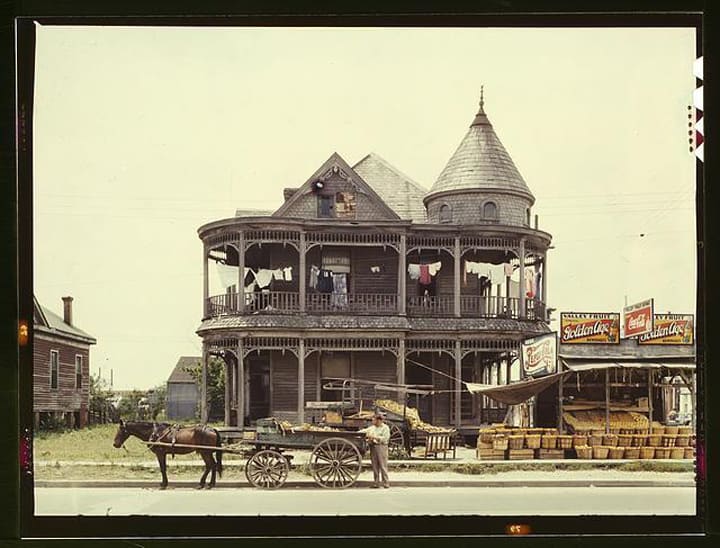 Ahhh, last posts of the month today. Look for another unlisted find, a Burnham's Timber Bitters that Brian Wolff has uncovered online. Chattanooga, Tennessee will be announced today as the location for the 2015 FOHBC National Antique Bottle Show (see Press Release). I really like this picture from May 1943, Houston, Texas called "Old house fruit stand on Franklin Street." 4×5 Kodachrome transparency by John Vachon that Tami Barber shared on my personal facebook page.
The M. S. James Family Bitters post has been updated with two new advertisements and pictures.
Monday, 29 April 2013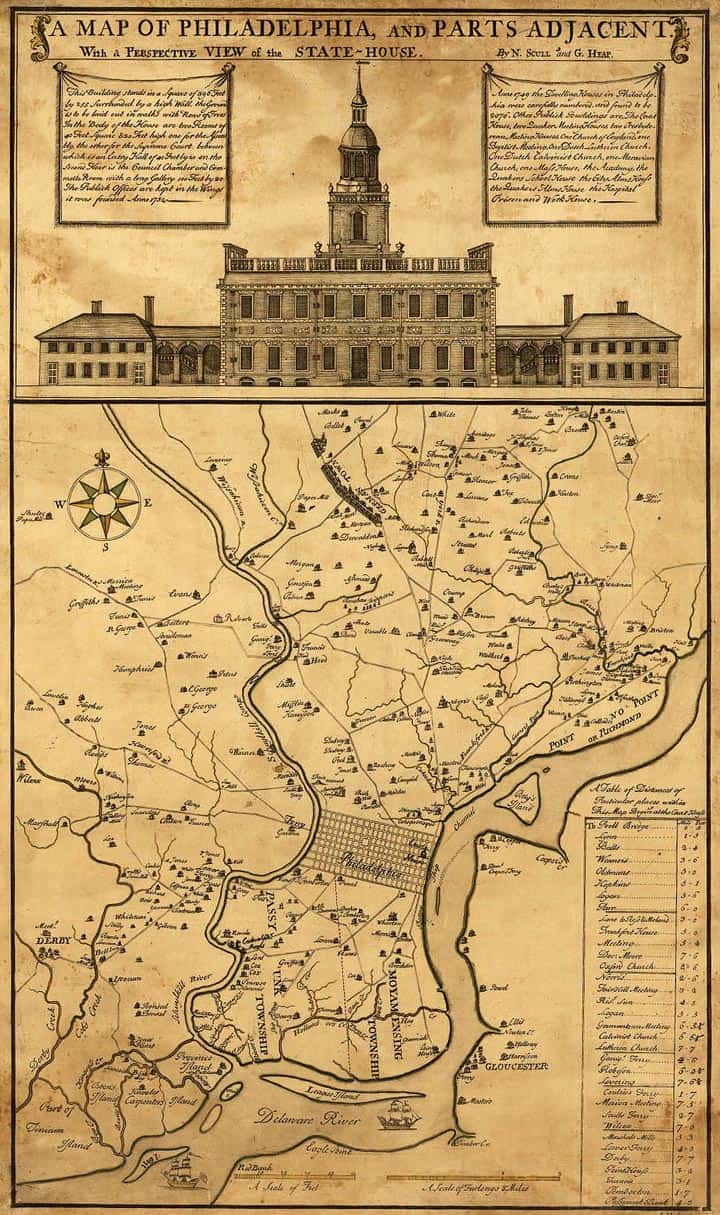 Been digging through early Philadelphia material looking for Rosenbaum Bitters connection. Also just developed s post on the extremely rare Dr. Kreitzer's German Stomach Bitters. Really like the art and graphics for this 1752 Map of Philadelphia and Parts Adjacent. I like that 'parts adjacent' bit. Scull and Heap's map was originally published in Philadelphia in 1752 by Nicolas Scull. READ MORE

Example of "Braille Dot" DeWitts Bitters added to existing post. Read: Braille Dots on a DeWitts Stomach Bitters. I just purchased this bottle as I type. So now you are looking at a Meyer example 🙂
Sunday, 28 April 2013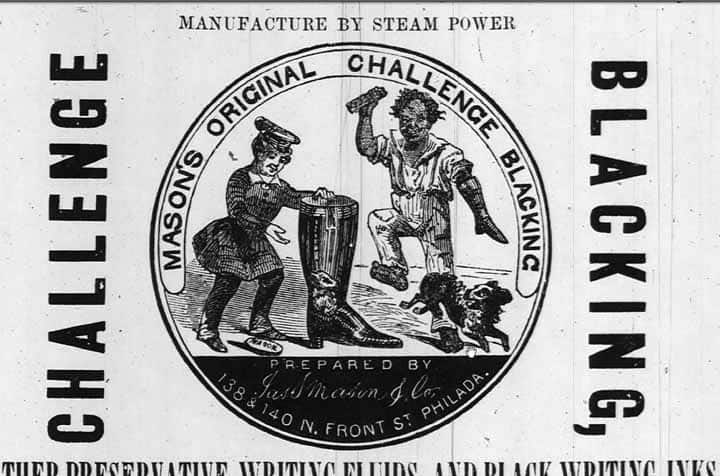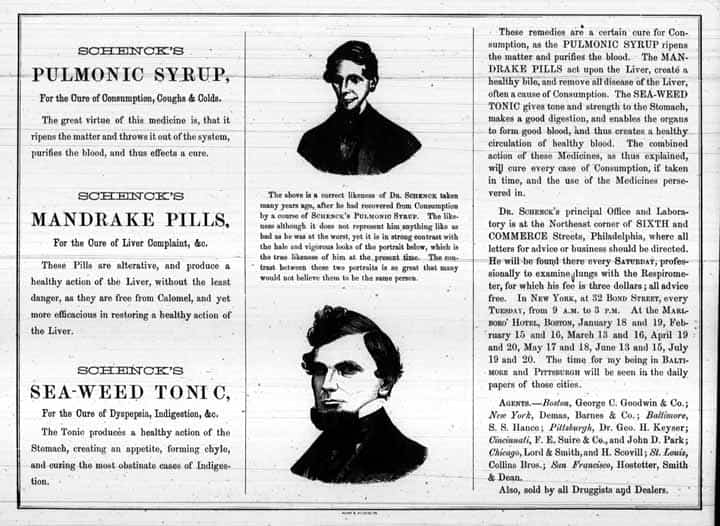 Been rummaging through 1860s and 1870s Philadelphia directories. Love these two ads. Read More: Blacking Bottles & a little more
Saturday, 27 April 2013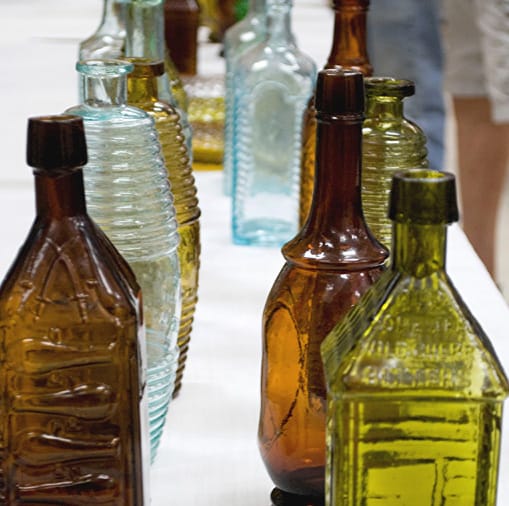 Nice post over at the FOHBC site on the LAHBC Bitters Forum by Dave Kyle.
Yet another unlisted bitters found at a flea market.
Friday, 26 April 2013
Working out of Peachridge today. Sandor Fuss (Denver) will be by here around 3:00 pm or so. This will be like his fourth time out here. We also have a special project to discuss. Maybe more news on that later.
News from Bill Ham on yet another unlisted bitters find. The bottle is embossed M. S. JAMES FAMILY BITTERS. Working on a post now. No pictures yet. Bottle found at a flea market by Ron Tetrault. Look for a post later.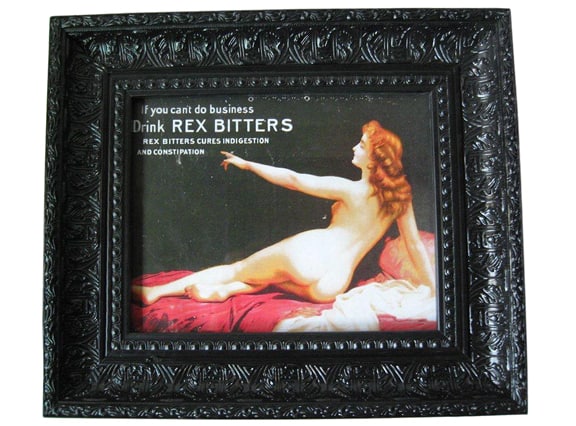 Hi Ferdinand…See what a period frame and a color copier can do? Actually looks beautiful in my office. Thanks, Dale (Mlasko)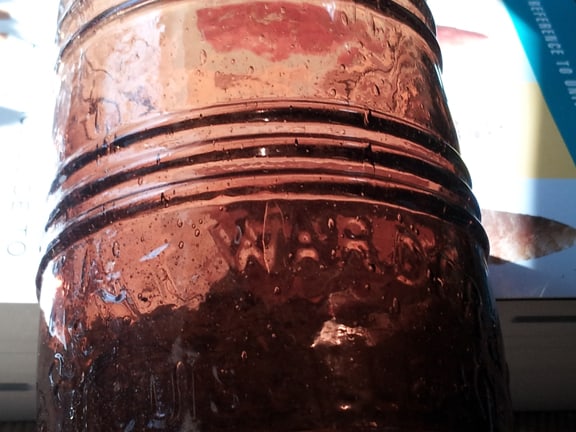 Mr. Meyer My wife and I are RVing thru the states and are now in Horse Cave, KY We were at an antique mall and I noticed a small barrel in a case marked Louisville bottle….Look for an upcoming post.
Thursday, 25 April 2013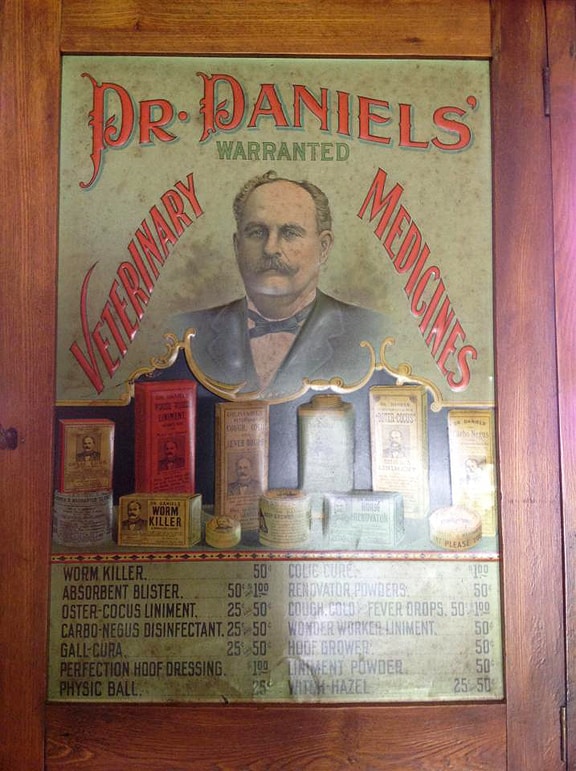 What nice Dr. Daniel's medicine cabinet graphics from the Jack Stecher collection.
Working on led lighting (see above). Smallest pickles, 6 to 7 in. – David Olson
Tuesday, 23 May 2013
Getting a call on an opportunity for an Alaska Bitters. That's a rare bird. I will keep you posted.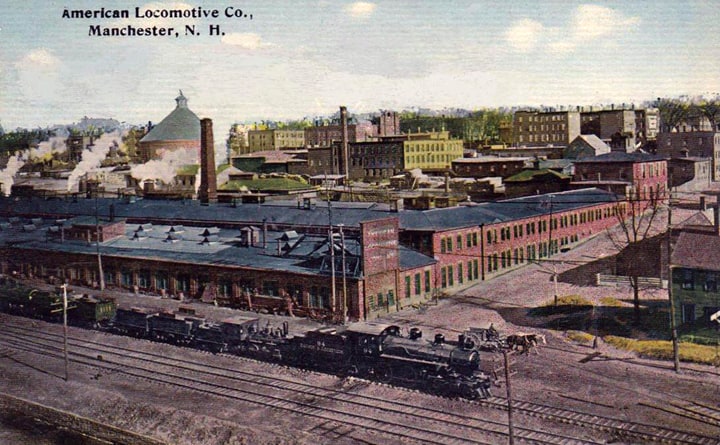 Having fun looking at old advertising for Manchester, New Hampshire, home of the 2013 FOHBC National Antique Bottle Show. Trying to figure out the timeline for Hayes and Company, wholesale and retail liquor dealers. Just love this old postcard of American Locomotive Company. Just bet there were some Hayes whiskey consumed near this plant.
Monday, 22 April 2013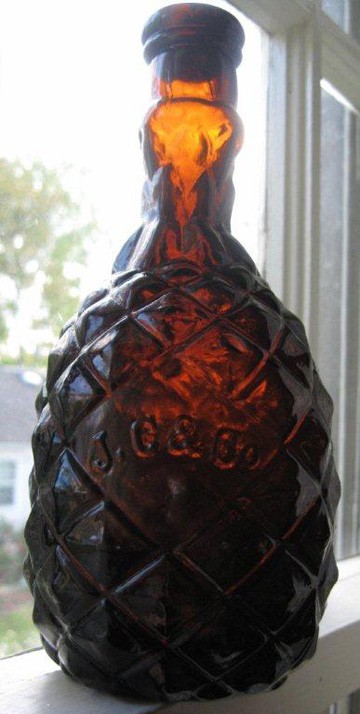 Hi Ferdinand, This was dug in an 1850s mining camp locally. I do not know much about these, but the "J.C. & Co." seems tougher than the other brands. Are these scarce? Thanks,
Dale (Mlasko)
Read: Pineapple Bitters – The Different Variants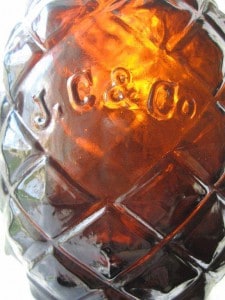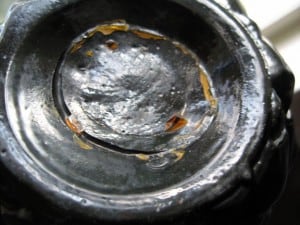 ---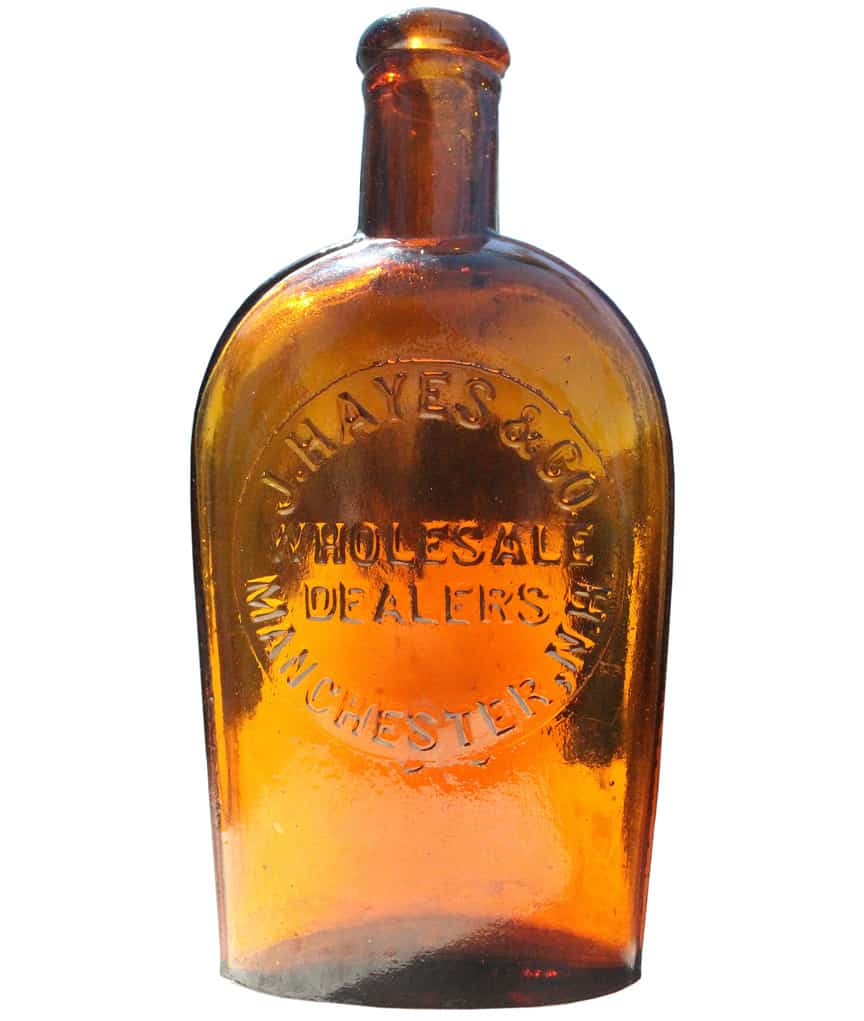 Get the latest FOHBC 2013 National Antique Bottle Show | Manchester, N.H. online. Updated often. Thanks to Pam Selenak for forwarding this nice Manchester flask currently on ebay.
Sunday, 21 April 2013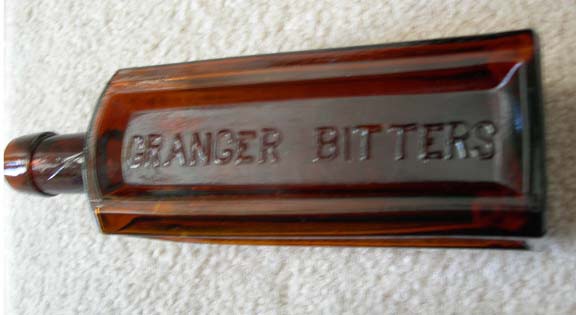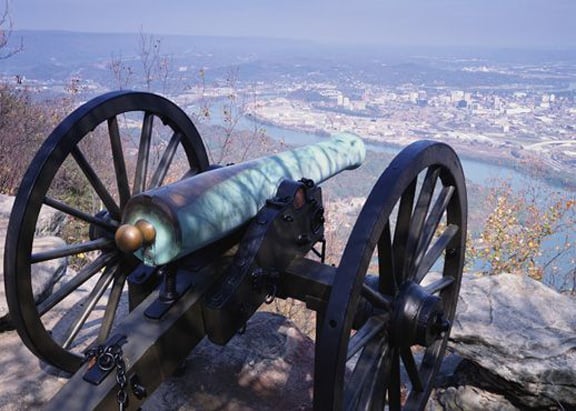 An un-named source tells me that the FOHBC is close to announcing the locale of the FOHBC 2015 National Bottle Show. Think choo-choo. Three important phone conversations today about a possible candidate for the EXPO in 2016. Wow would this be a biggie.
Saturday, 20 April 2013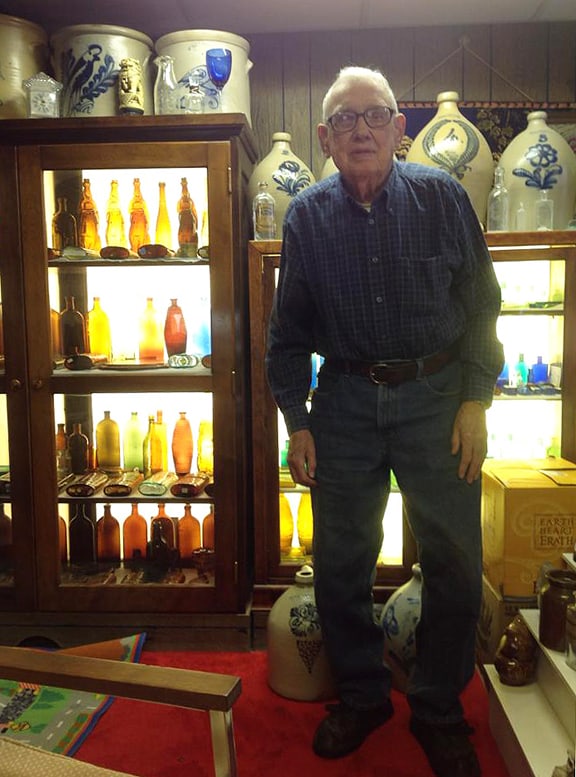 Just love this picture of Bob Sheffield that David Olson posted. Bob sold me two great bottles in the past including my pinkish Drakes and a stunning Electric Bitters.
Read: H.E. Bucklen & Company of Chicago – Electric Bitters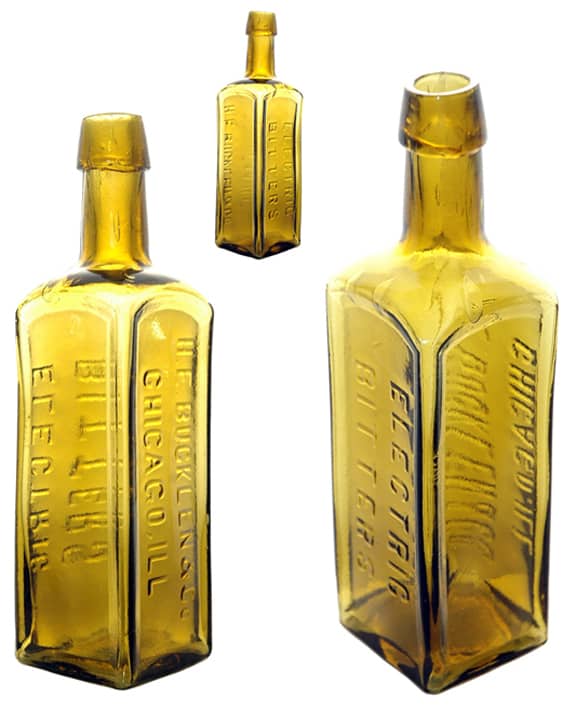 Friday, 19 April 2013
Diamond "M" post updated with new R/H number provided by Bill Ham.

I would like to ask Bill Ham and Jeff Burkhardt (essential) and others (critical Dick Watson, Bob Ferraro, Warren Friedrich etc.) interested in joining a team to Charrette (a method I use in my profession often) at an upcoming show. Possibly Manchester. I will reserve a meeting room with internet access. We will have a long sheet of paper, markers, laptops and we will develop a timeline of all of the great Bitters events and milestones to date. Jeff has already tentatively signed on. We will be noting great collections, collectors, dates, books published, specific bottle movement etc. The end result will be a working and editable timeline for all of us to reference. Personally, I am foggy on many historical events and would greatly appreciate a better understanding of Bitters bottle collecting.
Obviously we will not have all the answers at this session but it be a start. This material might want to be published in Bill Hams next Supplement which is on the radar.
Please let me know if you would like to join this committee. Thanks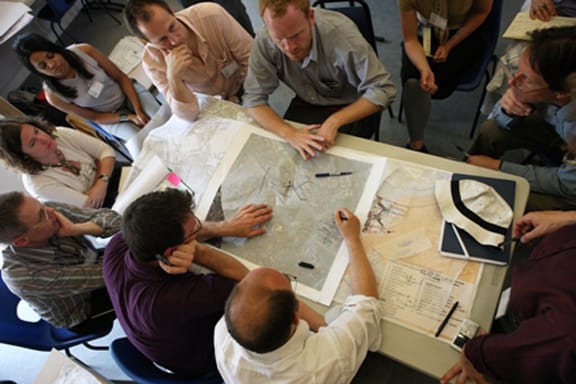 [Wikipedia] The word charrette may refer to any collaborative session in which a group of designers drafts a solution to a design problem.
While the structure of a charrette varies, depending on the design problem and the individuals in the group, charrettes often take place in multiple sessions in which the group divides into sub-groups. Each sub-group then presents its work to the full group as material for future dialogue. Such charrettes serve as a way of quickly generating a design solution while integrating the aptitudes and interests of a diverse group of people. Compare this term with workshop.
Thursday, 18 April 2013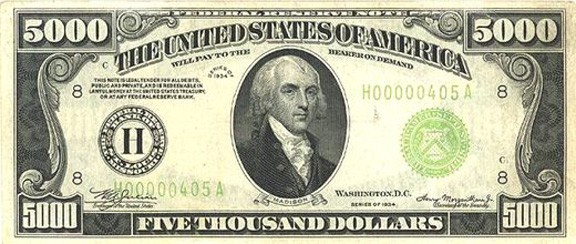 How about Jeff's nice donation to the FOHBC for the Manchester show. That guy is so understated and generous. Been in the news plenty lately, more than usual, with the great bottles he has been pulling in like the the green Drakes, Pittsburgh Wolff's, Constitution Bitters, I. Nelson's etc.

Look for posts on Mexican Bitters and the next installment on the Houston series. Anybody have anything on the Diamond "M" Bitters?
Tuesday, 16 April 2013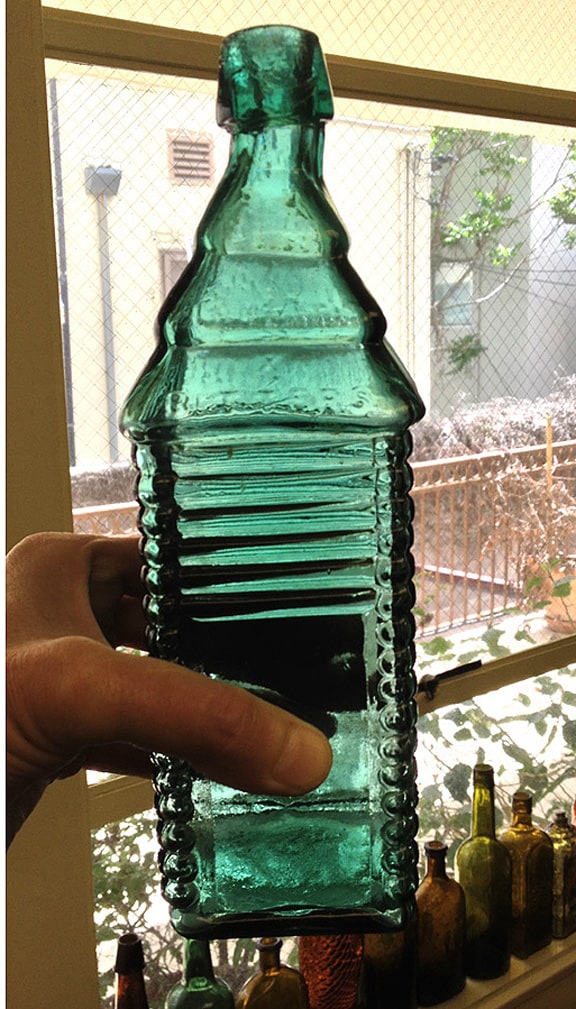 Holy Toledo, look at this new Drakes that Wichmann scored. The bent neck and crude mouth are off the chart.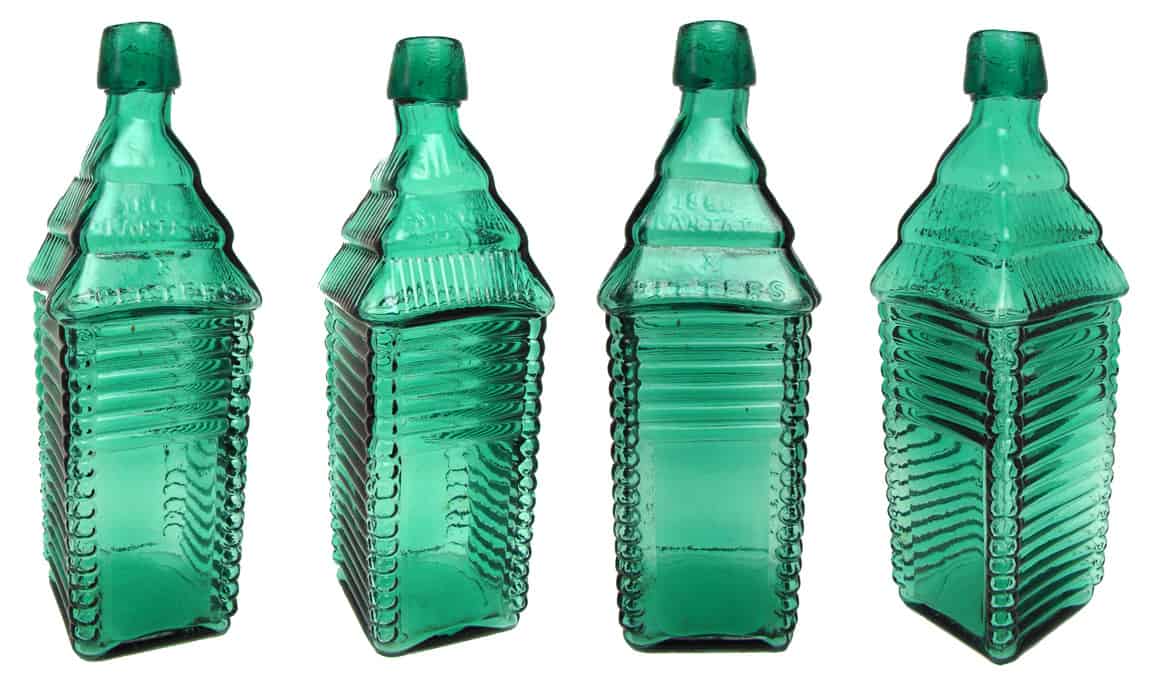 Monday, 15 April 2013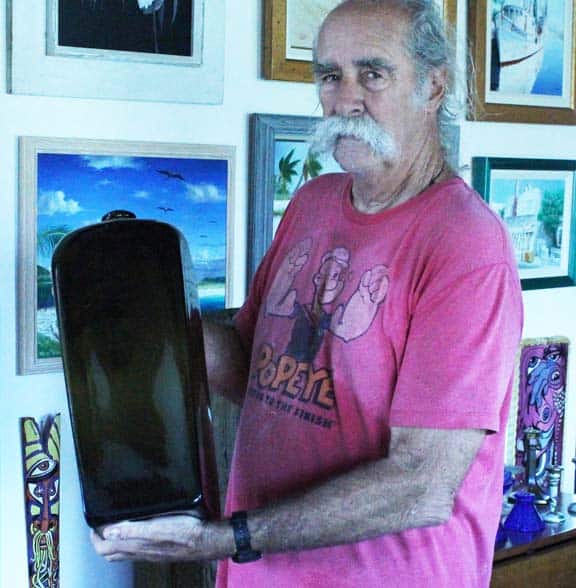 While in Key West this week we were able to visit another bottle enthusiast. His name is Ed Harper and he is the neighbor of Alex. We had the pleasure to be invited into his home and were able to take some pictures of his beautiful collection. These will be in my next article but I thought I would entice you with a picture of his real big case gin. Enjoy.

Pam (Selenak)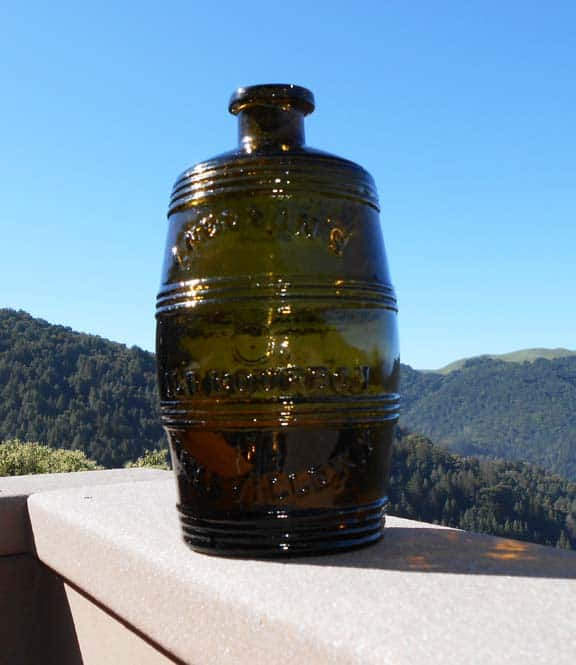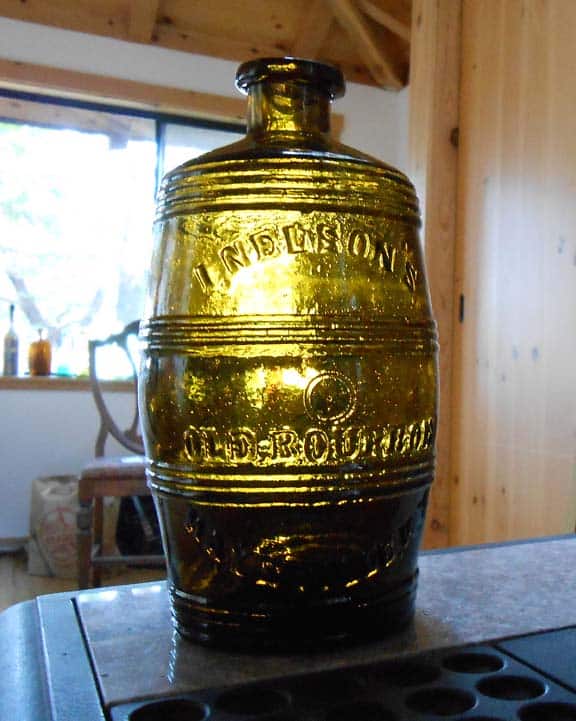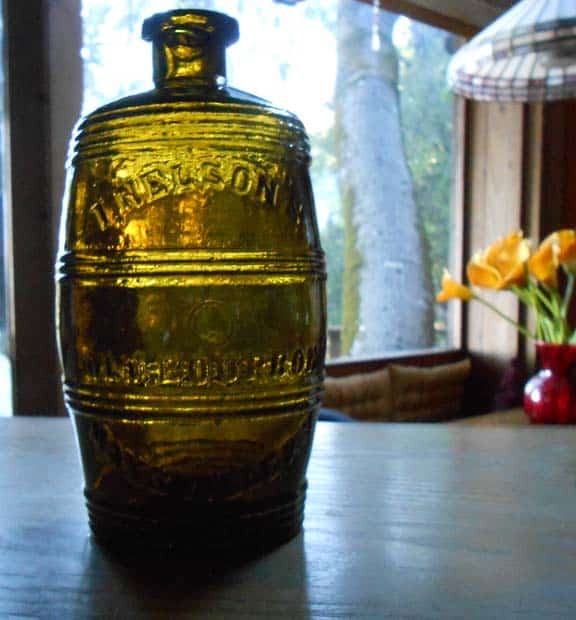 Jerry really working hard to capture the raw beauty and exciting color of the I. Nelsons Bourbon barrel he picked up last Saturday. What a bottle!
Sunday, 14 April 2013
Off to Augusta, Georgia today. I arrive during the Masters. That town ought to be insane. Hopefully I can sneak in.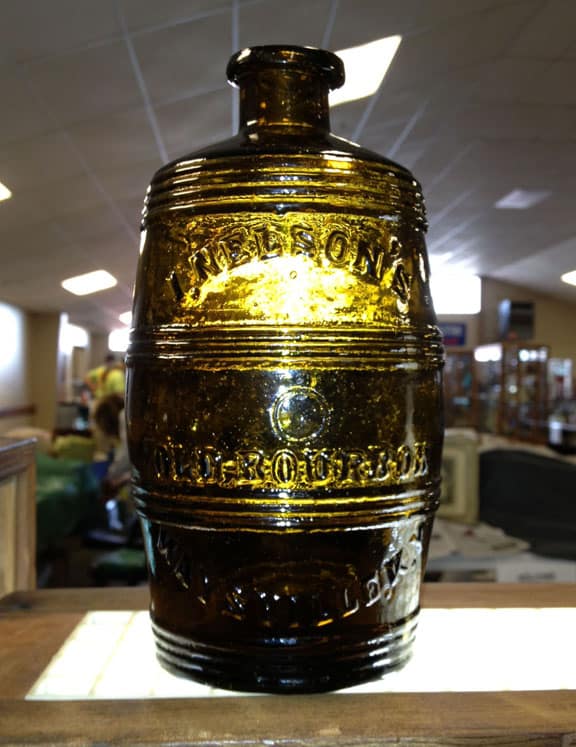 Look at this I. Nelson Old Bourbon barrel that Jerry Forbes scored at Golden Gate Historical Bottle Show yesterday. Read more on I. Nelsons.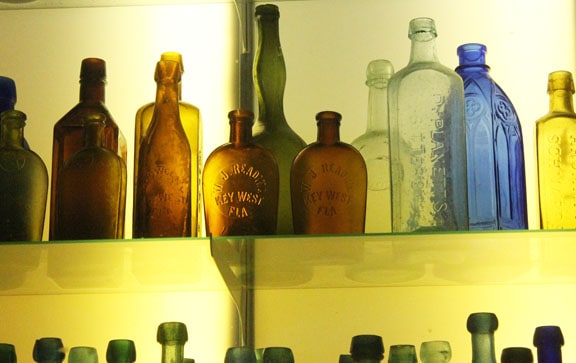 I thought I would give you an update on the Dr. Planett's from last year. Yesterday when we were over at Alex's he showed me his Dr. Planett's that he coincidentally brought up from a dive not far from where Bob brought mine up from. Makes you think what else could be down there. The other picture is the Key West welcoming committee.
Read: The Celestial Dr. Planett's Bitters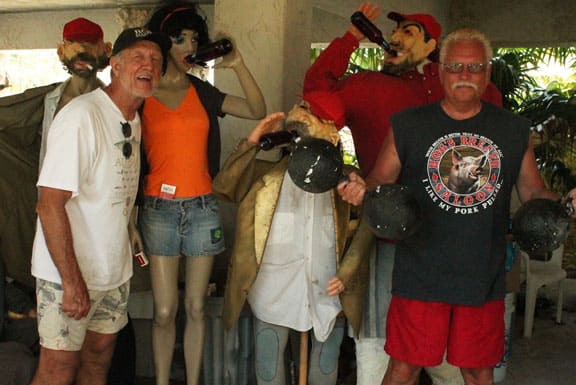 Saturday, 13 April 2013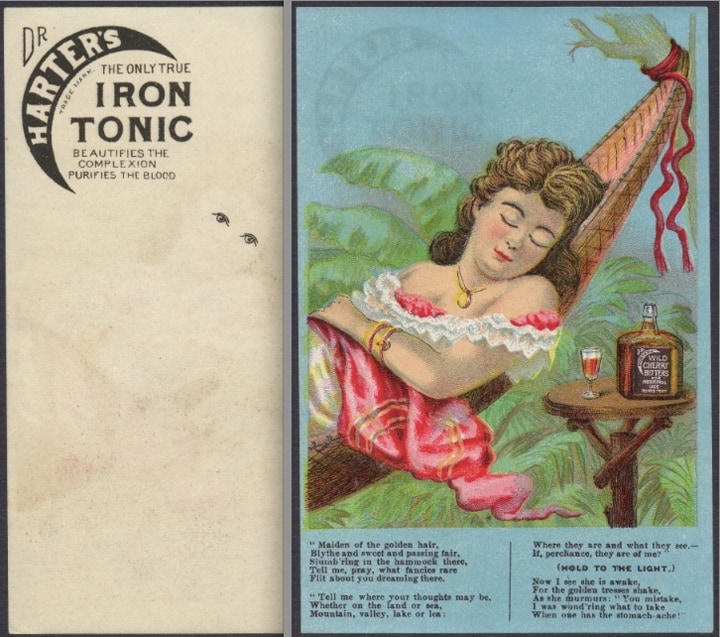 DavesGreatCardsGalore has a nice Trade Card on ebay that I added to the Dr. Harter's Post. I am really into trade cards. Met two of the top TC players in Balto at the show. Hope to see their collections.
Tom Phillips (Memphis) had a nice response to the Memphis Privy post.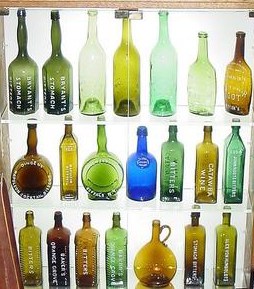 Old Dr. Townsend's spotted in this old photo from Bryan Grapentine. Some of these bottles now sit in my collection.
Friday, 12 April 2013
How about those Elvin Moody collection photographs? Real missing link with me. Thank you again Marty Kuzmic for sharing. The method of lighting the bottles actually adds suspense and historical significance to these pictures which I assume were scanned.
Pictures from the Bill Heminger collection just coming in. Look for a post.
Thursday, 11 April 2013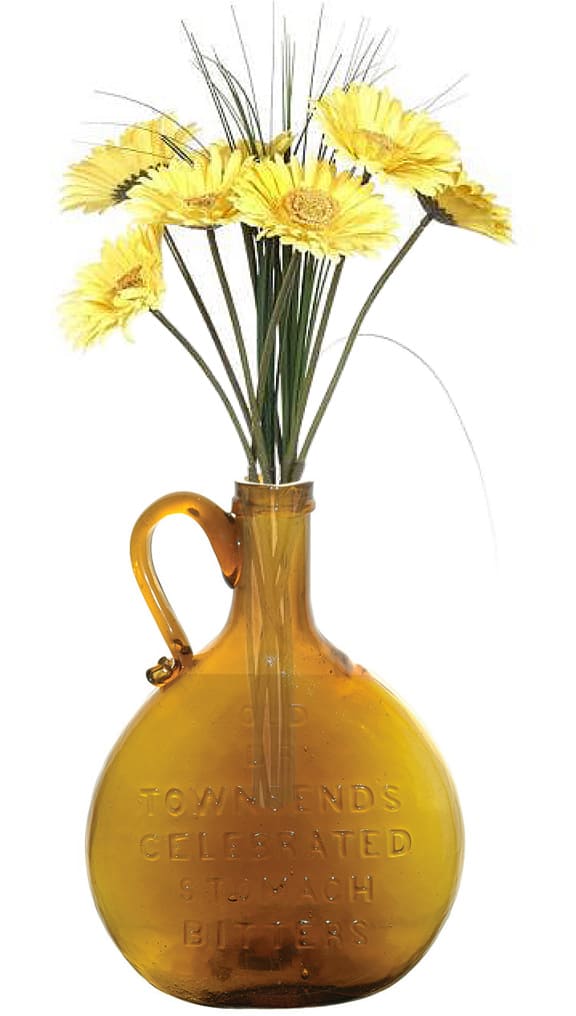 Lightning, wind, rain and thunder this am. Home at Peachridge again. Very cold, low 40's. I say this as Pam and Randy keep sending me updates on their bottle dive trip in Key West. What am I doing wrong!
I just got back from the program Alex gave on Key West bottles and general bottle diving. He had all of us in stitches with his presentation as well as a few songs he sang for us. Randy had a great idea that might interest you. He would be a great guest speaker for the southern region national banquet. Here are a few pics I took.
Pam (Selenak)
Wednesday, 10 April 2013
Uggh..still hobbling around with a bum foot. Working out of the house again. Sure glad I am not traveling this week though I do fly out Sunday to Augusta.
Incredible amount of fun stories, information and finds coming in. Yesterday it was so cool to do posts on that great I. & L. M. Hellman's bottle that Matthew Levanti submitted. What an exciting square. Couple that with the M. Nathan's post that Gary Beatty assisted with and you can see why so many people are getting fired up about these rare squares, whether they have 'Bitters' embossed on them or not. I am just curious as to 'who are the new big time square players' are? Congrats to whoever you are. I bet some of you are reading this.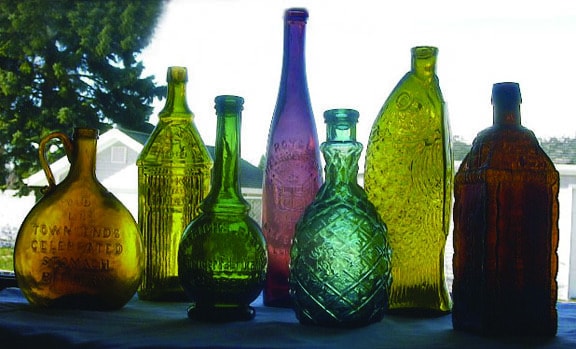 Great new example of an Old Dr. Townsend's Celebrated Stomach Bitters (left handled) chestnut just coming in from Tom Phillips. Double pontiled like mine with ghosted text on front. Picture above credited to Mark Warne.
And wow-o-wow, wait to you see what Jack Stecher has sent in regarding Jacob's Cordial. This guy amazes me.
Lots of new PRIVY information incoming from Reggie Shoeman from the Montana frontier. As many of you know, I am not a dirt digger (I'm a digital digger) and I am really fascinated by the privy ordinances. I guess I just assumed you found a spot in your yard and you dug a hole. Super interesting stuff. Stay tuned for Balto and Memphis privy updates.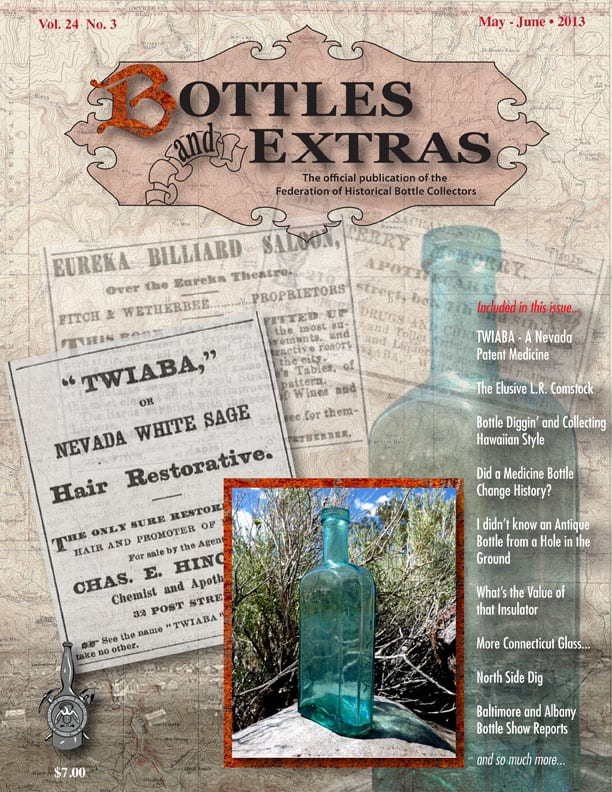 Just finishing up the May June issue of Bottles and Extras. It is somewhat of a Paradox for me to be working on stories and information posts in a digital format and to also be working on a magazine that is put out bi-monthly. I mean, you all know I live in a digital world. If you are reading this, you do too. It is just that I have Fed Board members and still many members and collectors who are not online. They say. "I like to take my auction catalog or bottle magazine to the bathroom". Well, it really won't be to long now when paper goes away. Sorry to say that. I am just trying to find a happy medium for both now. And guess what, I take my Ipad in the BR!
Monday, 08 April 2013
Stayed home today. Twisted my ankle and hurt my big toe so bad I am immobilized. Was there a Bitters product for this? Had fun with the Argyle Bitters post. Updated this morning with clarification from Bill Ham about earlier variant A 83.5. Thanks Bill.

Clue from yesterday.
Anybody watching that olive yellow OK Plantation square on ebay? Wow. Thought I had the only yellow example. XR bird.
Read: Charles Lediard and his Liquor Products
Sunday, 07 April 2013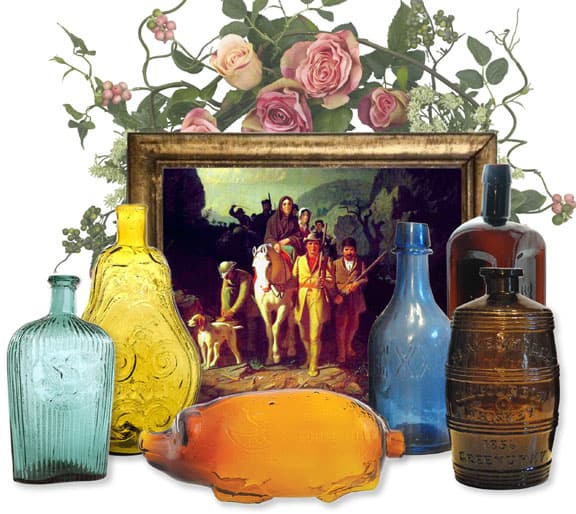 Been working on some art for something major, down the road. Can any of you all guess what this might be for? Shouldn't be too hard…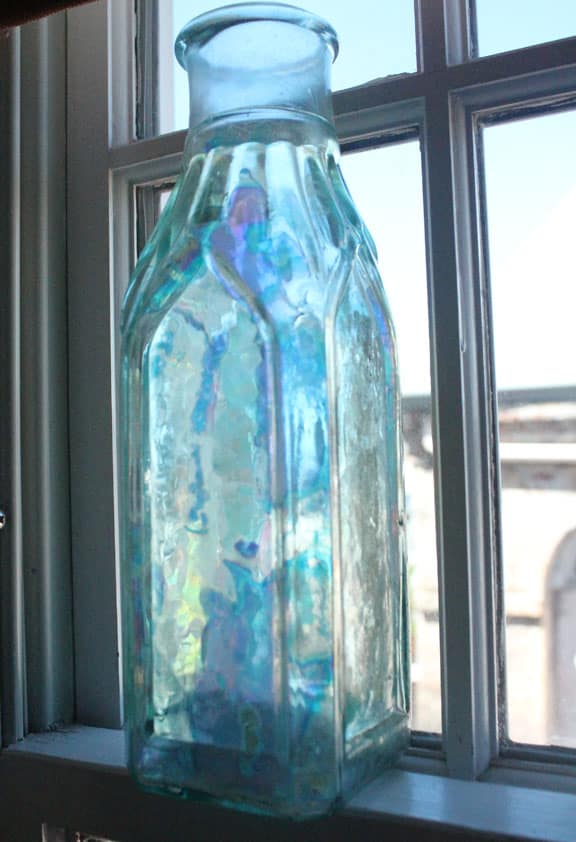 Enjoying ourselves down here in Key West. I will be writing an article for the B&E in regards to a revisit to Key West (last years article). We are planning a 2 tank dive on Thursday which I will be filming and taking stills. Alex has guaranteed us to find bottles. I've attached some pictures of a pickle jar we found in an antique store today. Super whittled, gnarly pontil and some absolute gorgeous benicia patina in it. I can't get the right picture to show off the colors. It changes with every view from blues to pinks to fire orange. Pam (Selenak)
Read More: The Celestial Dr. Planett's Bitters
Thursday, 04 April 2013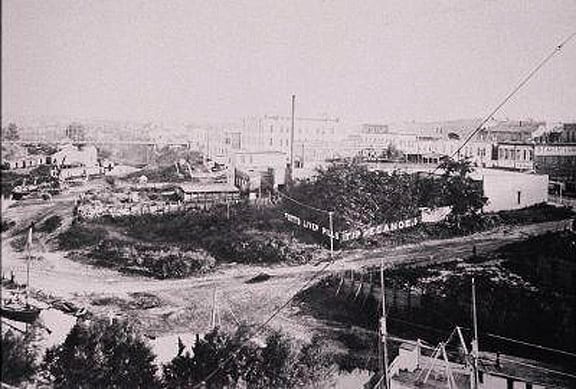 Can anyone make out the first word in the fence advertising graphics in this Houston photo? I get __ Liver Pills Tippecanoe. Even at low resolution, this is a fascinating image as I believe this is the earliest 'downtown' shot I can find. Is that a trash dump to the right of the fence. That is a barge on the lower right sitting on Buffalo Bayou. Maybe 'Log Cabin' ?
Wednesday, 03 April 2013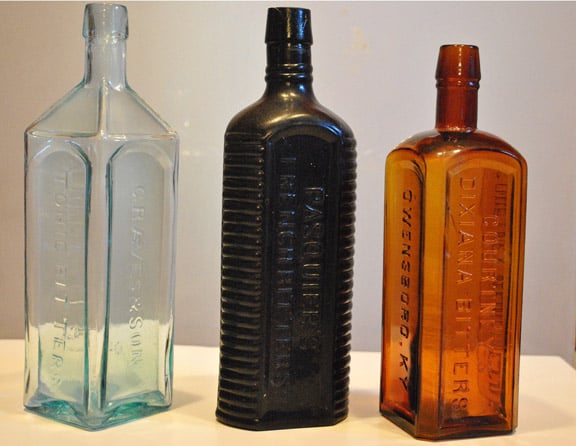 Look at these three really rare Kentucky Bitters. That Pasquier's French Bitters is to die for. Trying to put together some graphics for the FOHBC 2014 National Antique Bottle Show in Lexington, KY.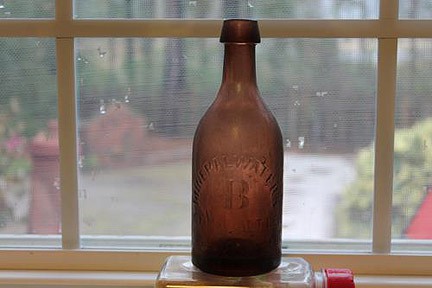 Will trade this puce J. Boardman & Co. for a cobalt blue R. Robinson from Wilmington, NC if anyone is interested?? Chris Whitehurst (Posted on FOHBC web site)
Tuesday, 02 April 2013

"I laughed my heads off" 
WOODY DOUGLAS
Put a few of the facebook comments with my 2 Headed Indian Queen post yesterday. Like any April Fools joke some people believe. Been fooled many times myself.
Monday, 01 April 2013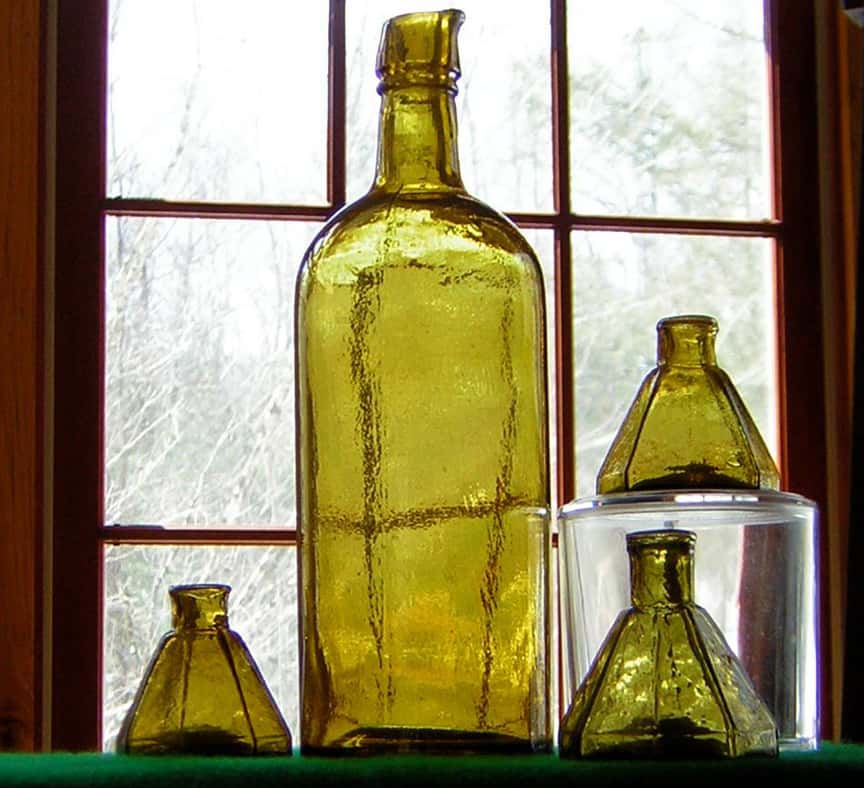 Kind of weird having Easter in March. I think Easter and April are the color yellow. Maybe I will do a post later on the Color Yellow in the same vein as the Color Puce and the Color Purple posts. Speaking of yellow, how about that great ink picture (see above) posted by John April?