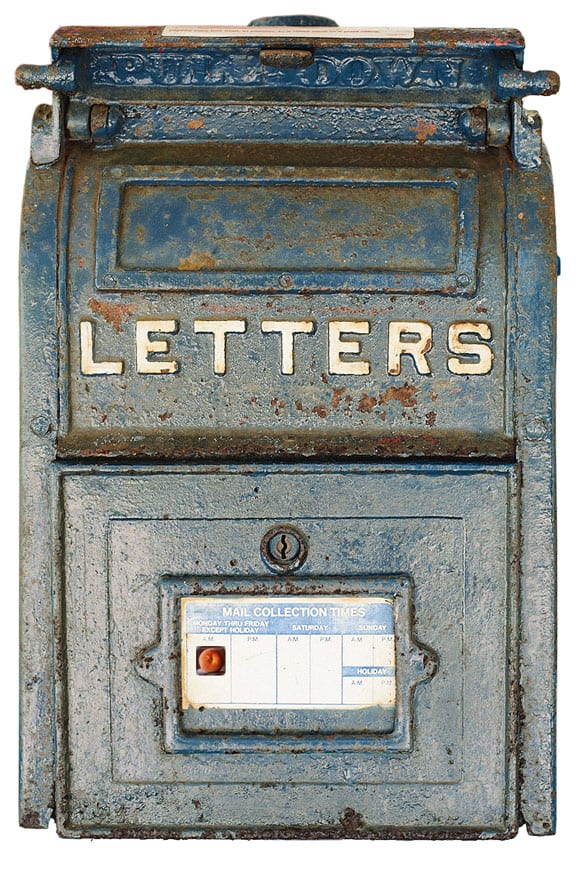 Please feel free to send any antique bottle or glass questions to ferdinand@peachridgeglass.com. The information will be posted if relevant or of interest to the readers. I will try to answer or wait for another reader to respond. Quality images are very important. Thanks! If you want to see previous questions,go to "Mailbox Letters" in "Categories" on the right column of each page.
---
Looking for Andrews & Johnson Bottle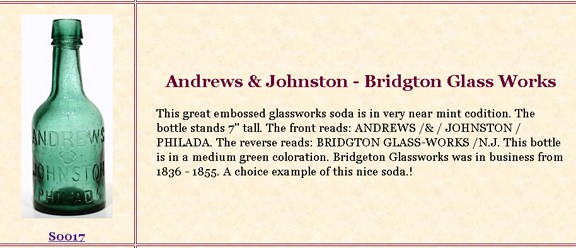 Hi Ferdinand, I got your name from Matt Lacy, who said you might be able to help us. We are looking into the purchase of one bottle of the attached. It reads ANDREWS & JOHNSTON, PHILADA" on the front and "BRIDGTON GLASS WORKS NJ" on the back. Do you think that is something you might be able to help track down for us? Matt said he has sold out of all of his. Thanks, KIM
---
Milk Can Questions for History Channel Project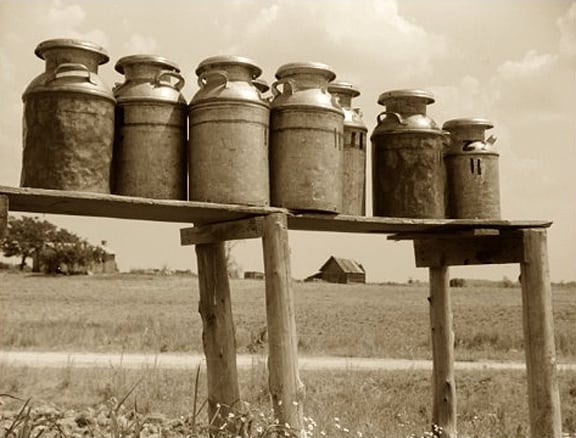 Good Afternoon! My name is Erin and I work for the History Channel show American Restoration. We are currently editing an episode for our fourth season which features antique milk cans. We are looking to add vintage photos or advertisements for milk cans to the episode to help enhance the history. I came across your website and was wondering if you or someone you knew had access to any. I would love to talk to you in more detail about what we are looking for.
I look forward o your reply!
Kind regards,
Erin
PRG: Erin was referred to the National Association of Milk Bottle Collectors
---
South Florida Bottle Question
Good morning, We were wondering if you could assist us or point us in the right direction. One of our Insured's broke 3 medicine bottles from Key West & Palm Beach.
1. Key West Medicine 7 1/4 " clear with slight purple tint embossed with 101 Duval Street, circa 1900 -1910
2. Key West Medicine 7″ clear Cuban embossed Farmacia El Aguila de Oro, Dr. Gabriel Diaz & Co, circa 1900 – 1910
3. Palm Beach Medicine 2 3/4″ clear embossed Doe & Gonya Royal Poinciana Pharmacy
We have been trying to find the values for these bottles and so far have struck out.
Do you know the values or can you refer us to someone who may be able to assist us?
Thank you. Marizena
---
Blue Barrel Question
Hello, I read with interest your article online about the mysterious blue barrel bitters. The reason I was researching is because I have one of these barrels that I am considering selling. I have had it since about 1970 when it was obtained as part of a collection of a Mrs Stahl in St Joseph, Mo. The collection had many bitters and barber bottles that were top notch. I was a young boy at the time and I had an affection for barrels, Mrs Stahl noticed my fascination with the bottle and rather than include it into the sale of the bottles to my Father she gave it to me. She literally took it out of the group and handed it to me.
I am unsure that I want to sell the bottle but am leaning in that direction. The bottle is actually about 200 miles from where I live and I don't currently have any pictures of it but I can assure you it is one of the "mysterious" group and fully authentic. But that is neither here nor there. The reason for my email is this; can you recommend a place that I could find a current value? I'm confident that this will be difficult since very few of these bottles sell I am sure. I am out of the bottle collecting loop anymore and don't even know where to start. Could you direct me to someone who could help me?
Thanks you and highest regards,
Kurt Surber
Kurt Surber-Museum Guest Services
Archery Hall of Fame and Museum
PRG: Kurt, if the bottle is in great condition and doesn't have any problems such as chips or cracks, you could fetch in the $2k to $3k range depending on how crisp the bottle color is. This bottle is not terribly rare, just a highly desirable color. If it was embossed, that would be a different story. Go to FOHBC.org and check out the Auction houses should you want to move your bottle. You could also try ebay. You will need really good pictures. Good luck.
---
Please visit PeachridgeBarberShopChair.com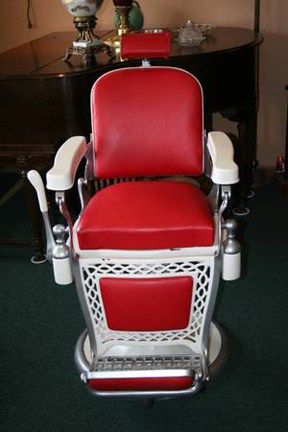 I'm trying to get an estimate of my barbers chair and I was hoping you could help. All I have is a picture, it's fully restored.
---
New Ink Bottle I Just Purchased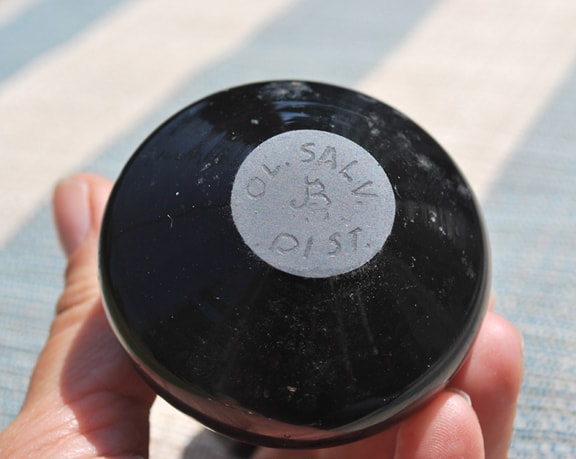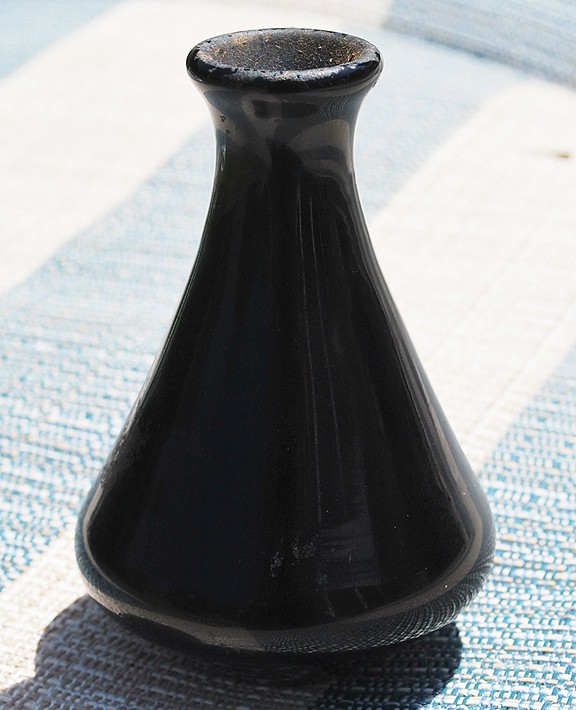 I found what I think is a cone flare top black glass ink bottle. But, I am not sure. On the bottom it is polished and engraved "ol.salv. B. dist." I'm including some photos. I hope that you can tell me what it is and when it's from. And if you like it, you are welcome to use the photos. I would appreciage any help. Thank you, – Vita
---
Later Atlanta's Gate City Guard bottle knock-off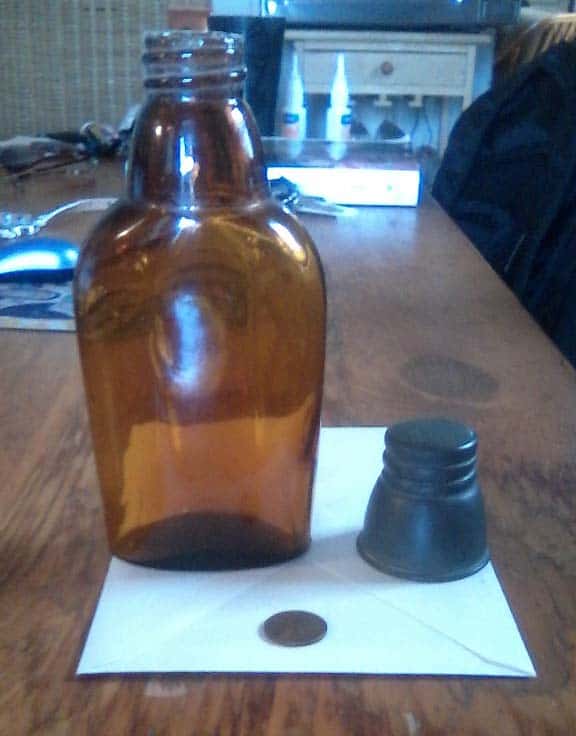 I have a neat bottle that I would like to try to sell. I am not sure of the worth. Can you folks help me out?
I attached a photo. I wrote to you guys because I found this article. It mentioned Tom Lines as owning one of these bottles. I will attach a copy of the article. I have the same bottle. My bottle does not have the engraving on the front though.
Thanks Craig.
Read: High calibre bottle designed for Atlanta's Gate City Guard
---
W J. Reading | Key West Florida Flask and another…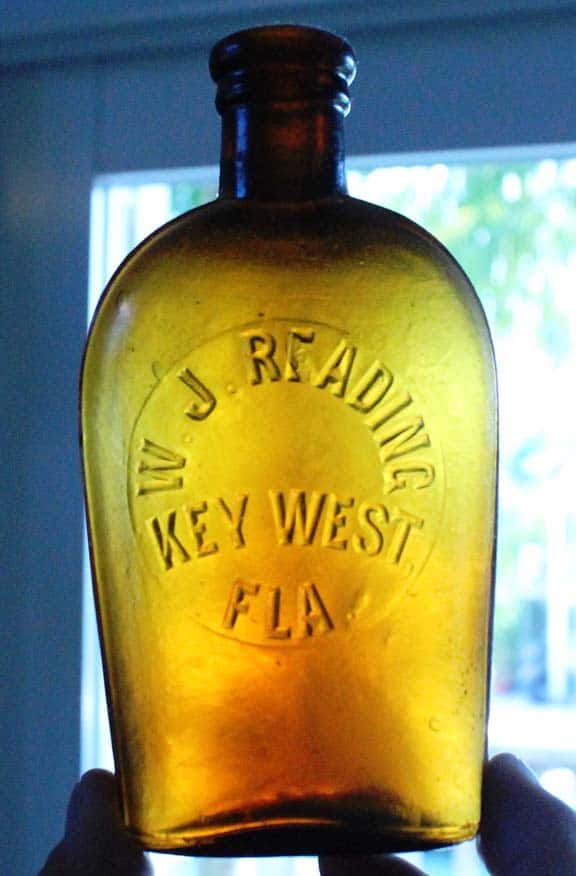 When in Key West last week I was shown 2 different flasks that seem to be pretty rare. The first one I saw 3 of them. One I saw at Alex's neighbor's (Ed Harper) house and 2 at Alex's house. The second one Alex showed me and he had found diving. I told him I would try to find something out about it. The embossing is not very strong probably due to the sand and current. – Pam (Selenak)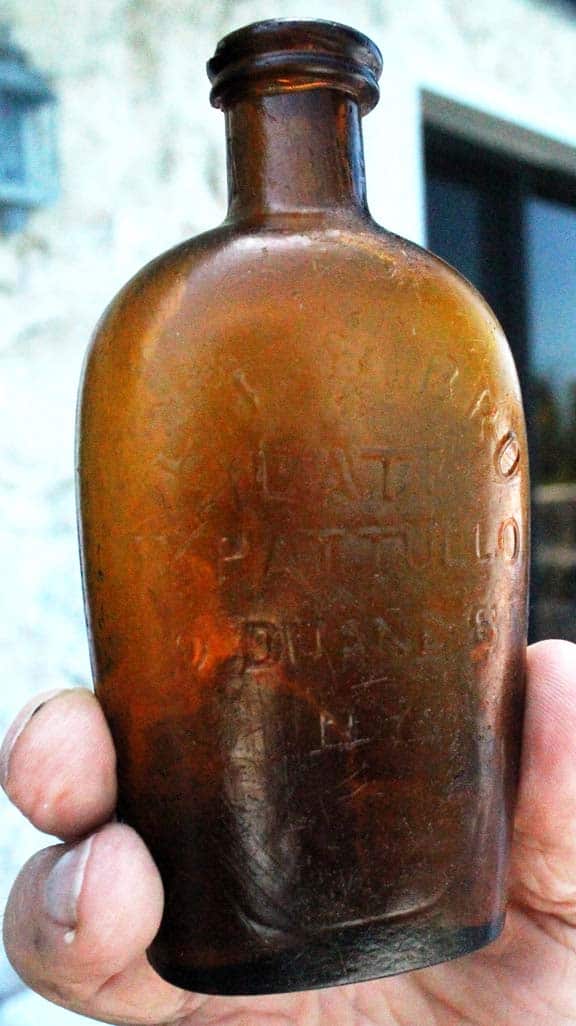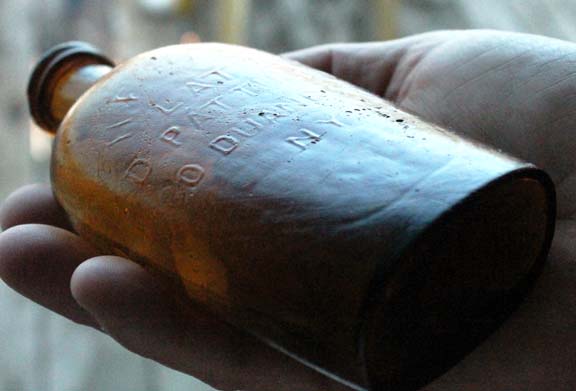 ---
Druggist Bottle Found in Arizona

Is this bottle worth anything? Clint found in Arizona. – Elizabeth (Meyer)
---
Vaseline Glass Collection
I have a very large collection of Vaseline glass for sale, I wasn't sure if you buy it or not. I am located in MD, please email me back.
Thanks, Lauren
[PRG] I have asked Lauren for pictures.
---
Bottle Collection Headed to an Auction House?
Hi from Rochester, NY. We enjoyed your website very much. The last couple weeks my husband has been going through his bottle collection for auction. The collection is vast, most of which he hasn't looked at in many years, approx 400 bottles (more or less, no exact count to date), apothecary, medicine/chemist, bitters, flasks, decanters, perfume, barbers, etc. As a young boy he was a runner for a local auction house, learned fast and started his collection over 40 yrs ago.
My husband has asked me to contact you ~ may we plz ask if you can refer a reputable auction house that specializes in antique bottles? We have several local auction houses, however my husband is insistent his collection go to an auctioneer who specializes in bottles with a broad bidder base.
We also are wondering what is customary for auction prep: Should we catalogue each bottle (massive) or would auctioneer do that? Should we plan on delivering this collection comprising many case boxes, or would auctioneer prefer to inspect at our residence?
Thank you in advance for any guidance.
Either myself or my husband (computer illiterate) would appreciate hearing back at your convenience.
Best Regards, Steve
[PRG] I have asked Steve for more information and pictures.
---
IXL California Bitters Question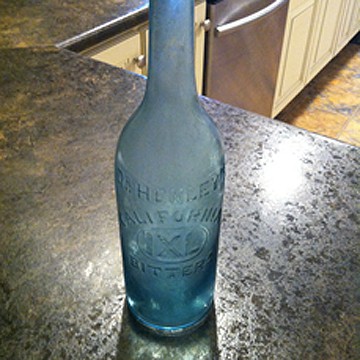 I have a Dr. Henley's IXL California bitters bottle in very good shape…It has a light green blue tint to it…What is the value of a bottle like this?… Thanks Doug Covington
[PRG] I have a really decent example and paid around $700 for it about 5 years ago. Really depends on color and condition.