This may be one of the shortest posts yet for a bitters bottle, but in my book it doesn't matter. This is an important find and a post needs to be developed. Hopefully more information and pictures will be added.
Updated with pictures from Ron Tetrault on 29 April 2013.
Updated with two advertisements from Brian Wolff on 30 April 2013.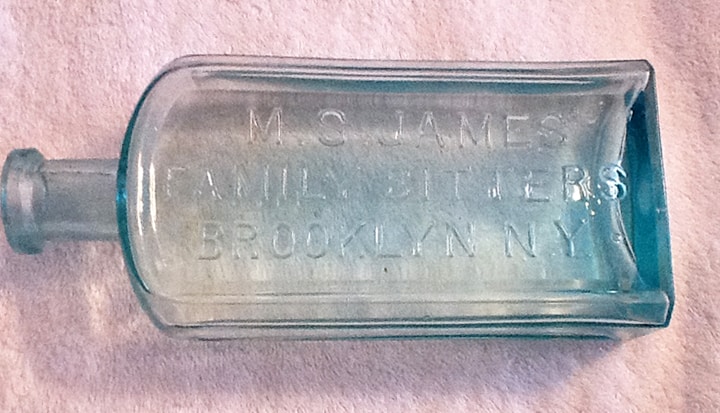 Hi Bill,
I often refer to your two volumes on bitters, and I've found that they're invaluable sources of reference. I'm writing to let you know of an unlisted bitters I just found at a local flea market. I've never seen nor heard of this one in all 46 years I've been in the hobby, nor has anyone else I've asked. It's aqua, rectangular, 7 1/4″ by 1 3/4″, indented panels all around, except for backside which is flat, smooth base, round prescription lip, and embossed in block letter on front panel: M. S. JAMES FAMILY BITTERS BROOKLYN N.Y. This would be a nice addition to Volume 3.
Regards,
Ron Tetrault
From Bill Ham: Ferdinand: It is amazing how many undocumented bitters there are. Here is a new listing that will appear in Bitters Bottles Supplement 2
J 17.5  M. S. James' Family Bitters
M. S. JAMES' / FAMILY BITTERS / BROOKLYN N.Y. // sp // f // sp
7 1/4 x 3 x 1 3/4
Rectangular, Aqua, FM, 3 sp, Applied mouth, Extremely rare
PRG: To get the ball rolling I did find a listing for a Moses S. James, Physician in Brooklyn, NY around the period this bottle may have been made and the product sold.
Read about a similar Bitters:
Standing Proud – Poor Man's Family Bitters – Oswego, NY