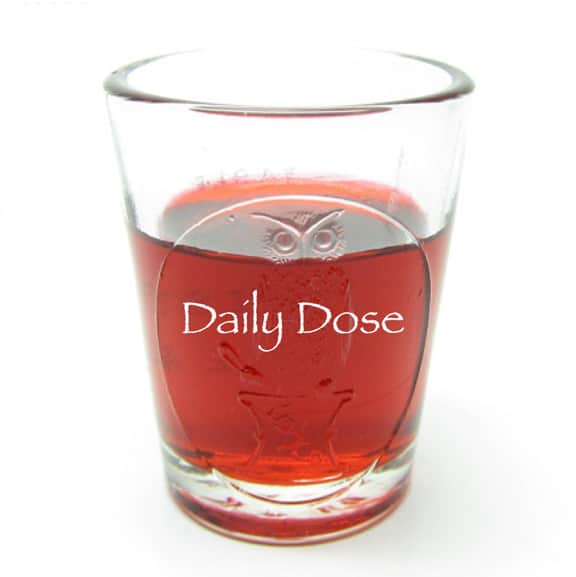 N o v e m b e r

   2 0 1 3
Saturday, 30 November 2013
I guess it seemed like a good idea at the time….? The Philadelphia Medical Journal, 1900
Friday, 29 November 2013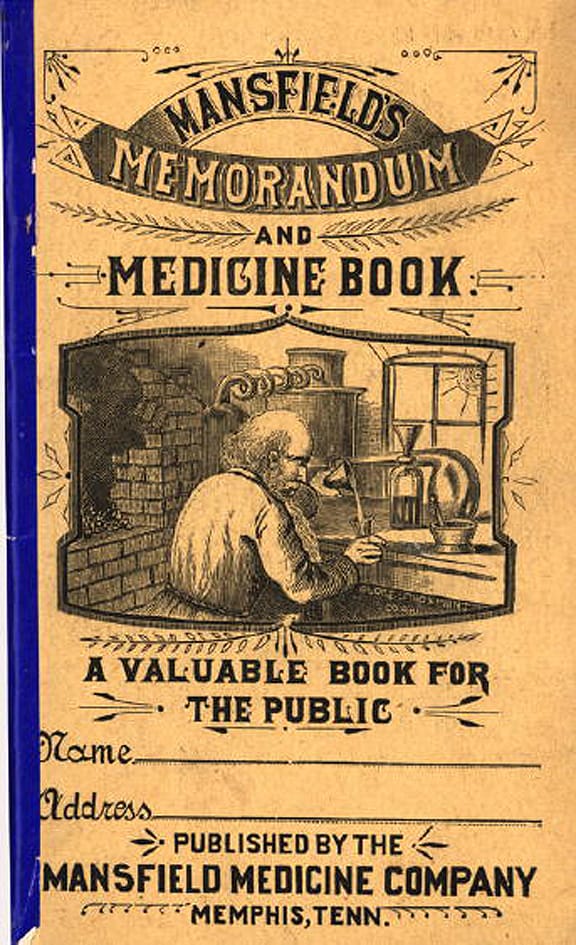 Added this image of a Mansfields Medicine Book to the Highlands Bitters and Scotch Tonic post. There will be an article in the January | February 2014 issue of Bottles and Extras on this great figural barrel.
Thursday, 28 November 2013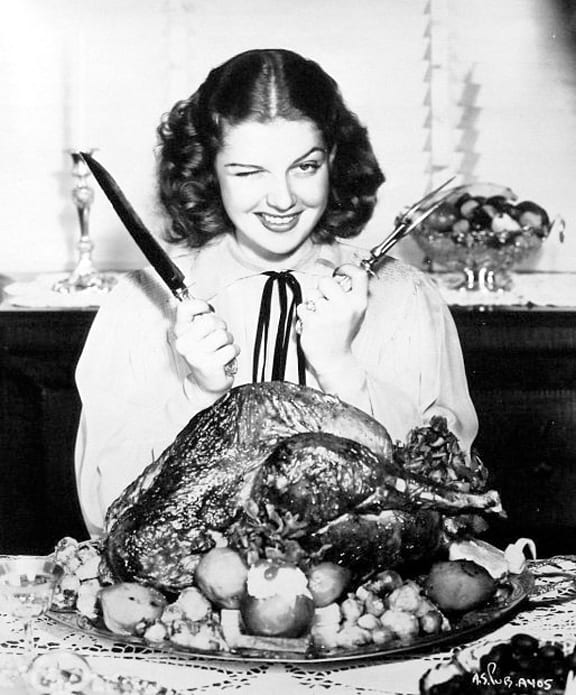 H A P P Y   T H A N K S G I V I N G
Everyone, have a nice day with your family, friends, pets and bottles. Stay warm. Eat some turkey. Actress Ann Sheridan pictured above.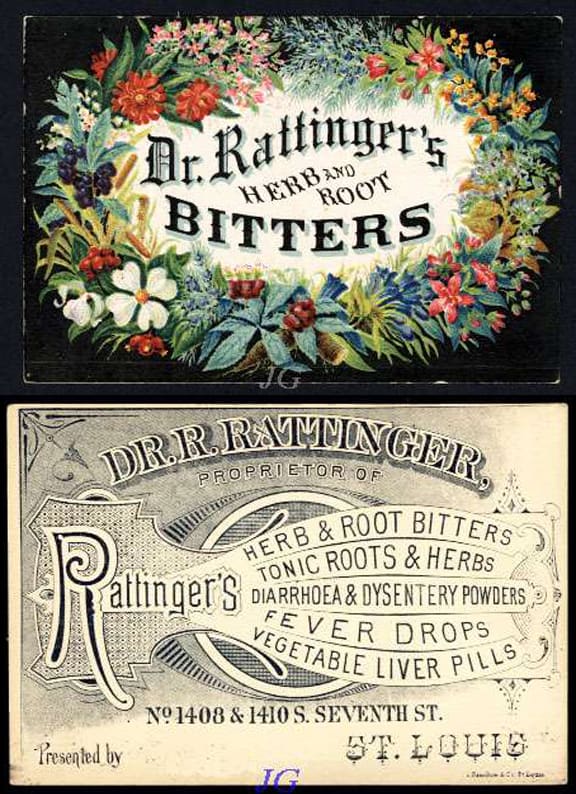 Cool trade card from the Joe Gourd collection added to the Dr. Rattinger post.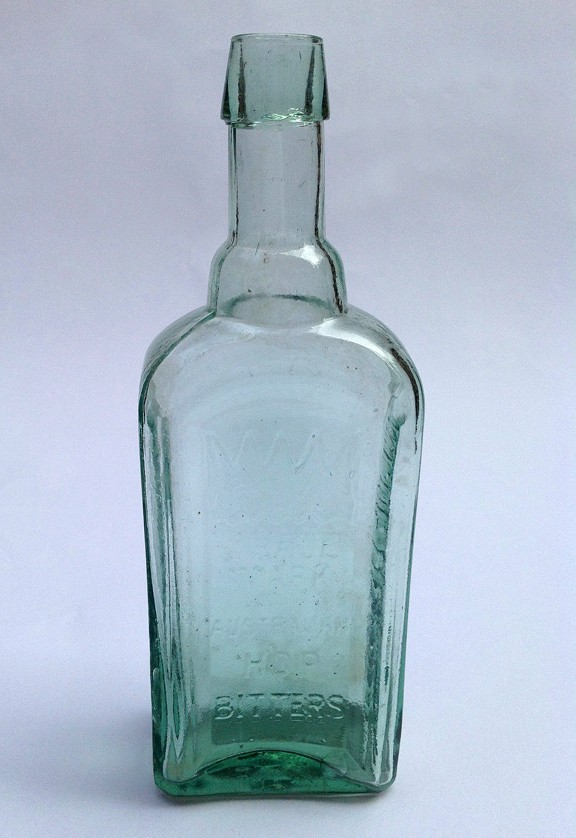 Ferdinand: Here is an extremely rare Austalian Bitters on Buy it Now. (ebay 141124144511) I emailed him and got clarification on the bitters and he added more to the listing so the bottle can be identified. He also pictures a BOSTON HOP BITTERS that he plans to sell. The BHB looks like a stunning example. Both are listed in the SUPPLEMENT – Bill (Ham)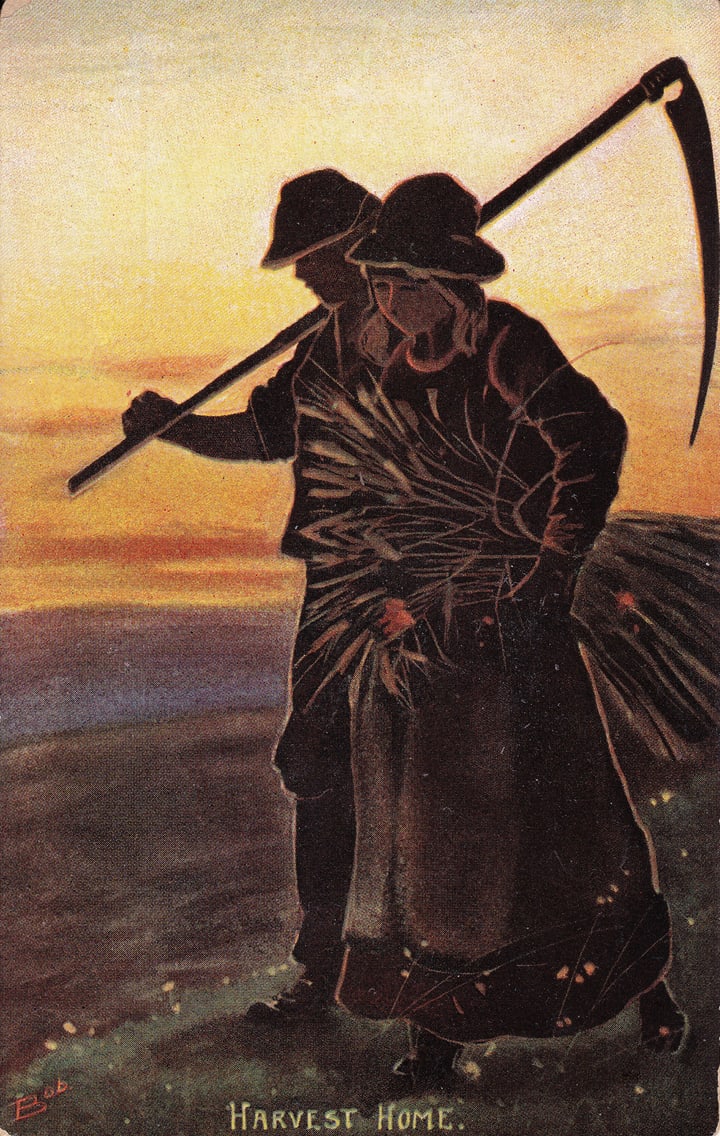 From Ken Previtali:  This postcard from our collection, is one of Katie's and my favorites. This peaceful walk home from the harvested fields belies the weariness they gently share. By comparison, we have it easy, and much to be thankful for these days.
Wednesday, 27 November 2013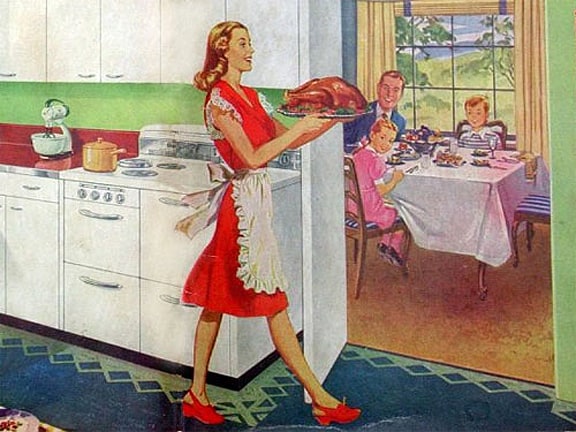 Almost time for turkey! Thanksgiving tomorrow. The three F's. Family, Food & Football.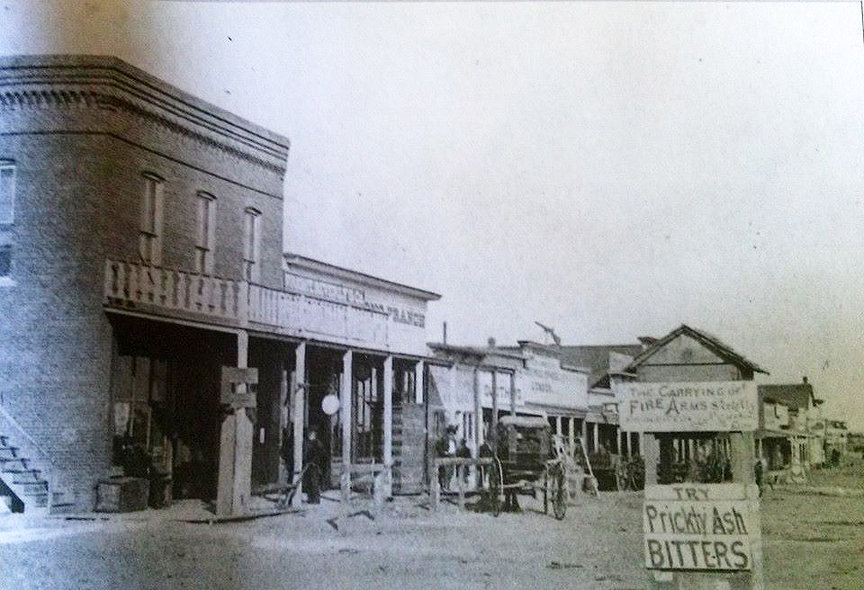 'TRY Prickly Ash BITTERS'. Look at this cool picture promoting Prickly Ash Bitters submitted by Brad Seigler. I like the 'Firearms' message too.
Read: Prickly Ash Bitters – Meyer Brothers Drug Company

Hey Ferdinand, Here is one shelf of IXL Bitters. They are all the first, and second molds. Regards, Dale M. (Mlasko).
See More: Dr. Henley's Wild Grape Root IXL Bitters 'Showdown'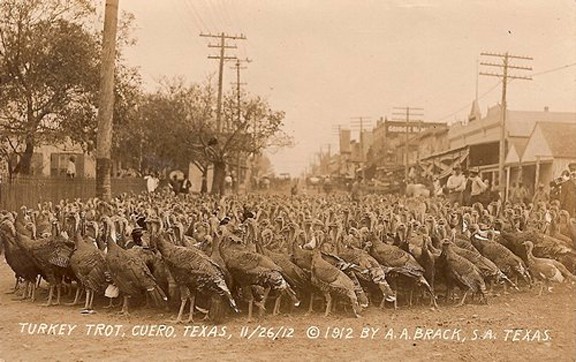 Anybody going to the Annual Turkey Trot in Cuero, Texas?
Tuesday, 26 November 2013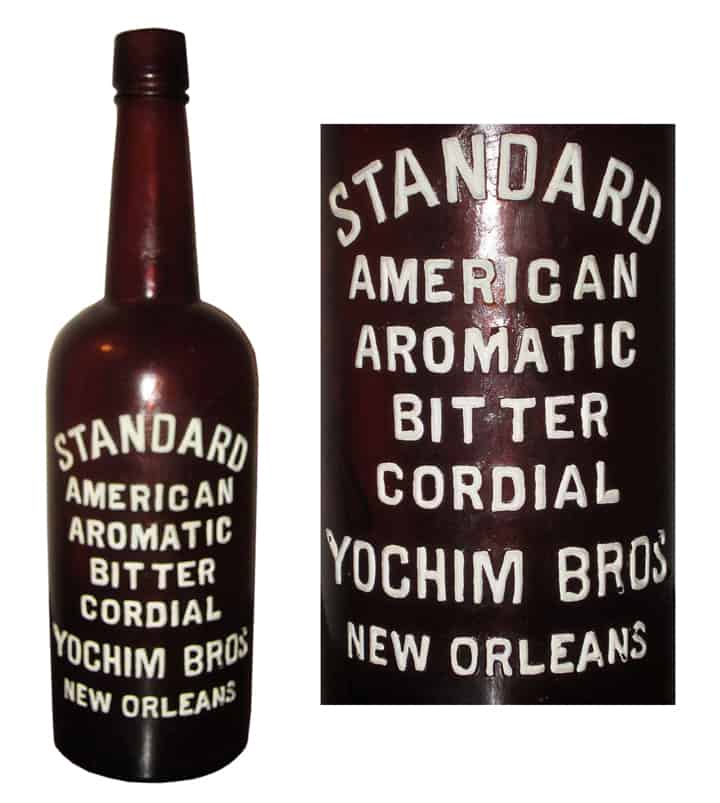 Standard American Aromatic Bitter Cordial | Yochum Bros New Orleans spotted on ebay. Added to Yochim Brothers Distillery, New Orleans Family History post.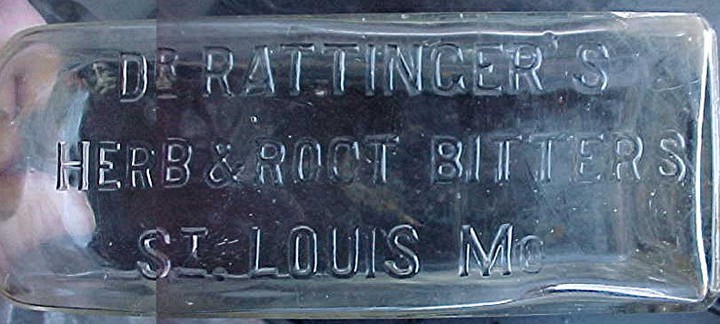 Clear example of Dr. Rattinger's Herb & Root Bitters – St. Louis on ebay now. Added to post. Thanks to Bill Ham for tip.
Monday, 25 November 2013
To compliment the extraordinary colors of the John Ryan sodas from Sunday, you are now looking at a recent addition to the Sandor Fuss collection.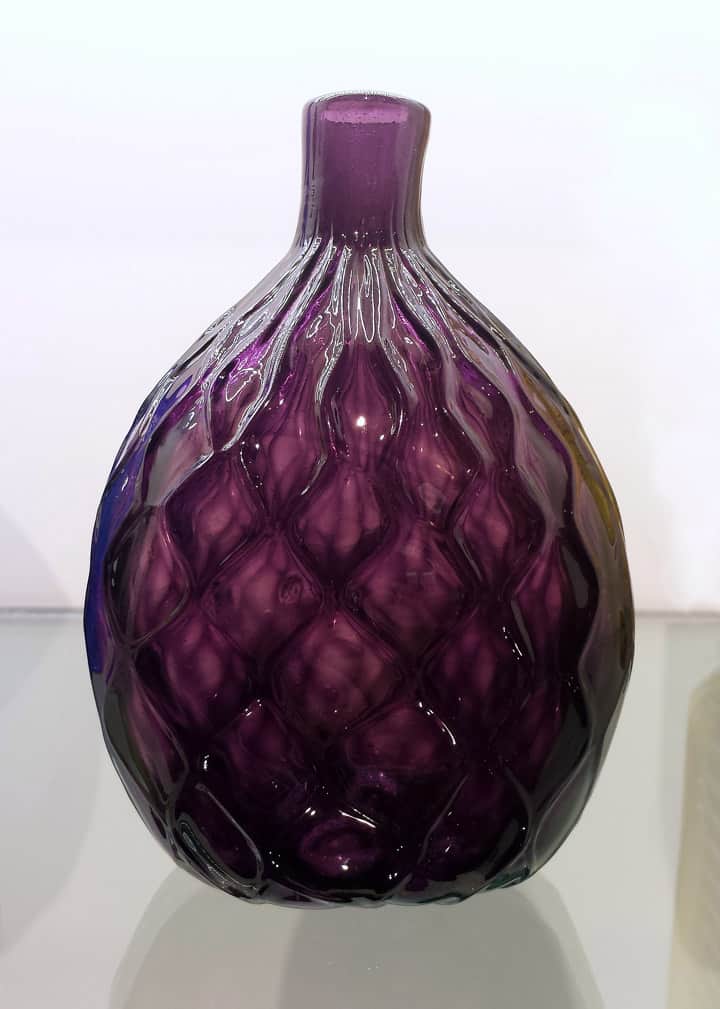 Pattern Molded Pocket Bottle, 12 Diamond pattern, attributed Stiegel's American Flint Glass Manufactory, Manheim, Pennsylvania, 1770-1774.  5 1/4 inches tall. Perfect. Extraordinary Impression.
Sunday, 24 November 2013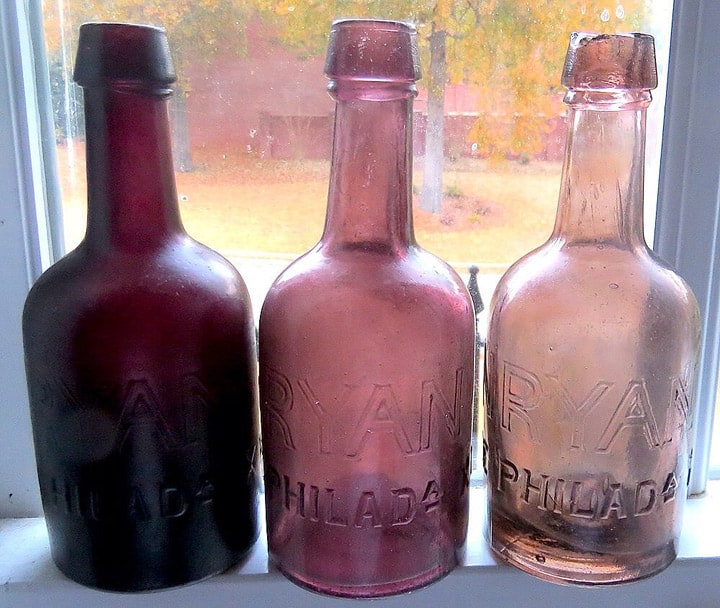 I have been wanting to post photos of these sodas for quite awhile, but have been too busy (lazy). These are three of the four colors that I have in the super rare early John Ryan mold. The fourth is a black amethyst color that would not pass light in the current cloud cover conditions. The dark strawberry red and medium rose (my description) colored bottles were the two favorites of long time John Ryan collector Tommy Mitchiner, a great friend of mine who passed away a couple of months ago. Tommy sold them many years ago to Charlie Matzen, a Savannah, Ga soda collector. Charlie sold them to me a few weeks ago, with the rose colored example being the most that I have ever paid for a colored soda and nearly twice what I paid for my blue pyramid Alf's from Charleston, SC. The third soda is a greyish pink color with a lip chip that also came from Charlie Matzen. – Mike Newman (Facebook)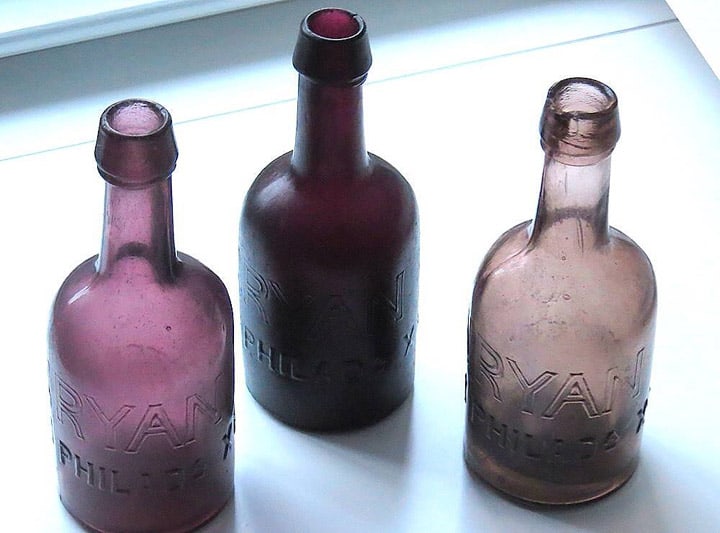 Post Update: Unknown New England Glass factory's contract with Clapp & Townsend July 15, 1848

Saturday, 23 November 2013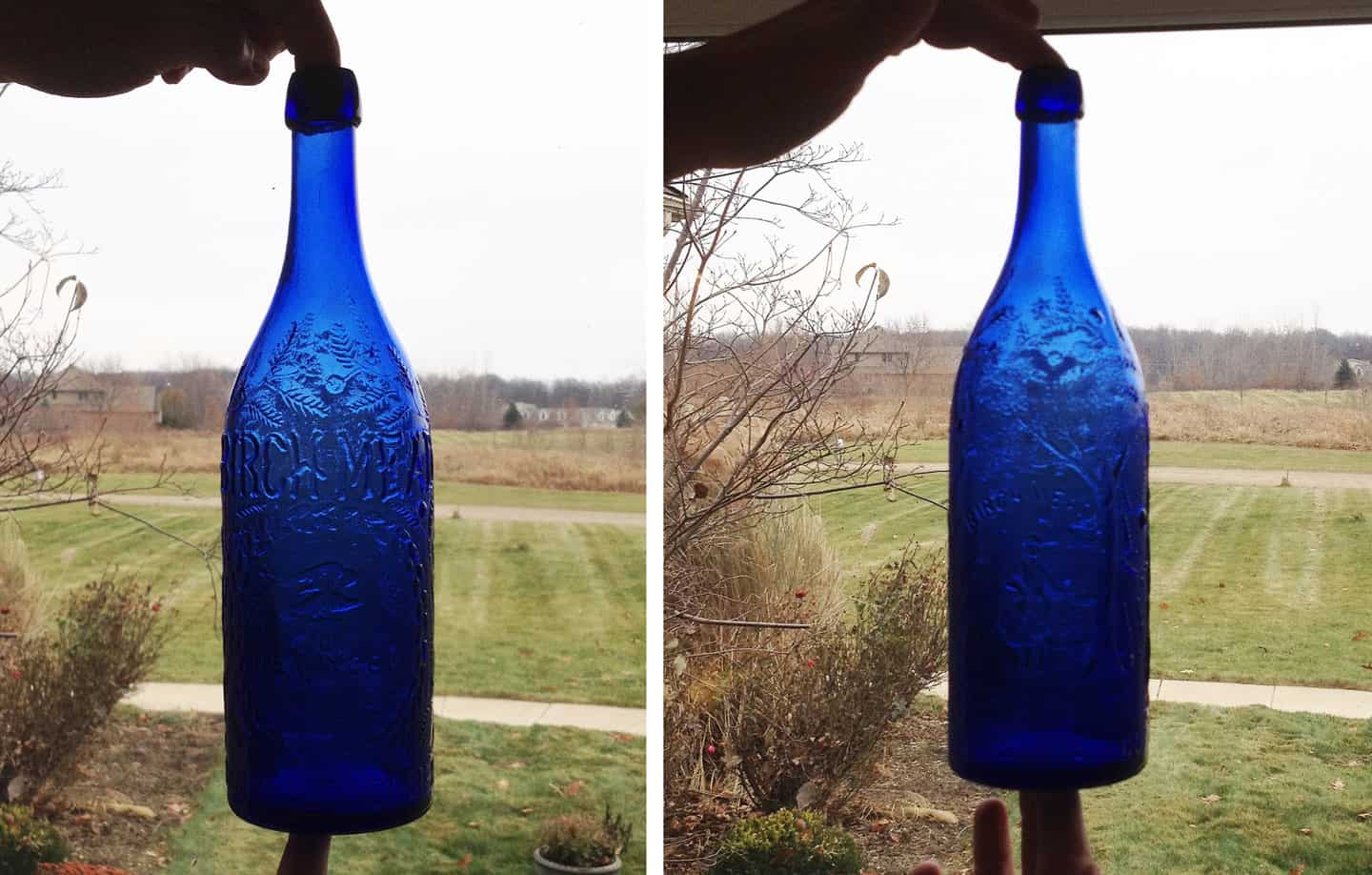 Well it has been raining all day and in the low 4o's. Just plain miserable. Look at this flavored beer bottle that John Pastor had gracing his shelves. A real stand-out. I believe it says Birchmead. Only example in blue. Apparently Dick Watson has one in aqua. Trying to confirm. Detail on the bottle is off the charts.
To my knowledge, it is the only example in blue although I have heard a rumor in years past that there may be another one. Dick Watson has one in aqua. An aqua example was pictured on the cover of a bottle magazine (Old Bottle Magazine, or ???), years ago, perhaps early 80's. I'm not sure if this is the one that Dick has, or not.

The embossing is: "Birch Mead / John Kelsey & Co" / (eagle and shield) / New York / & / Brooklyn (all within oval wreath) – "Thou Shalt Not Steal (around heal of bottle). On reverse: Image of large tree, "Birch Mead" / (image of girl with bucket tapping the tree) / "Registered / Aug 28 1877". On base: "Clayton Glass Works N.J."
John (Pastor)
Thursday, 21 November 2013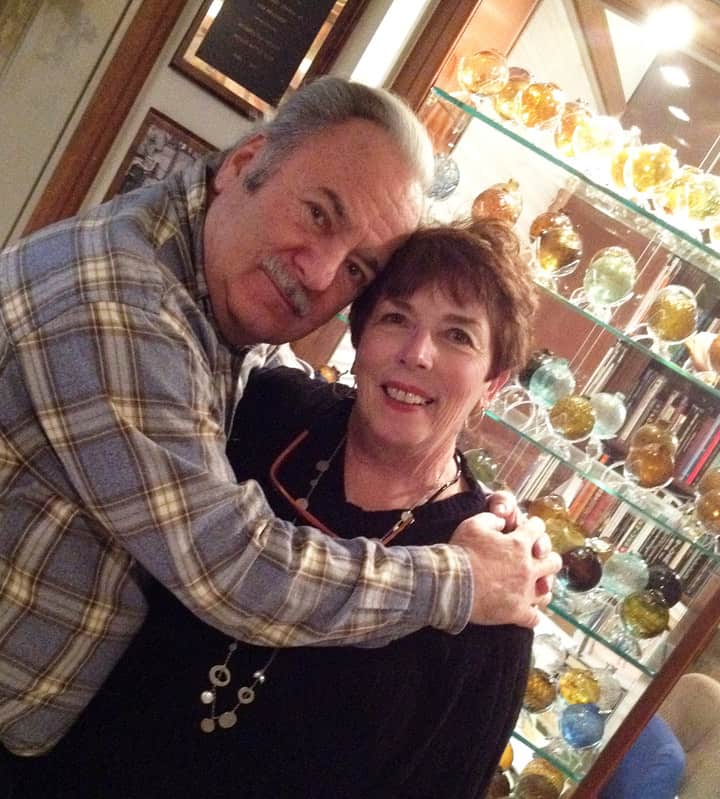 Catching a 5:40 pm bird from Detroit back to Houston. Lots of fun today with John Pastor, Ralph and Janet Finch. Saw some great target balls!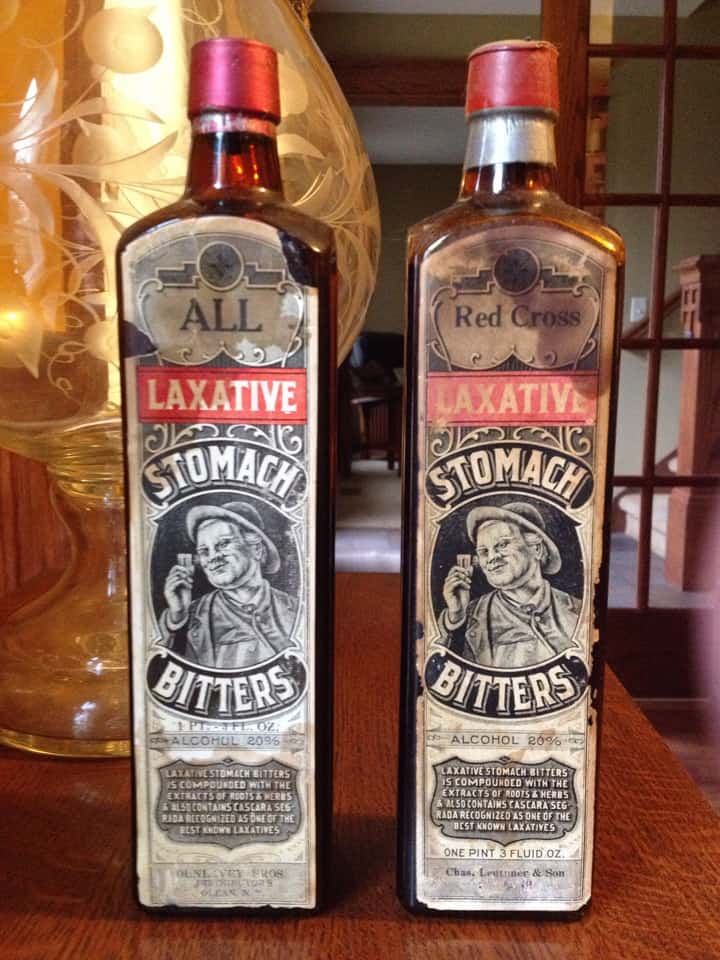 Hi Ferd – unfortunately I missed the Pepper's Bitters – would have fit in nice with my ALL and Red Cross – Cheers! John (Throop)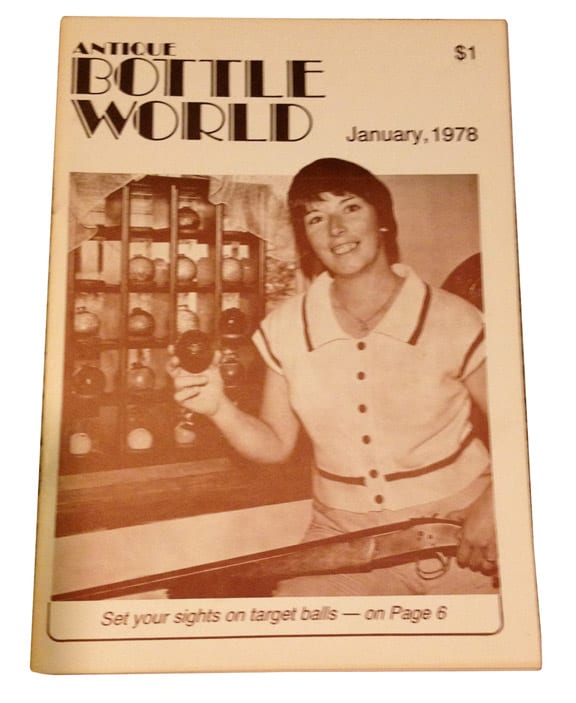 Janet Finch on the cover of Antique Bottle World in 1978.
Tuesday, 19 November 2013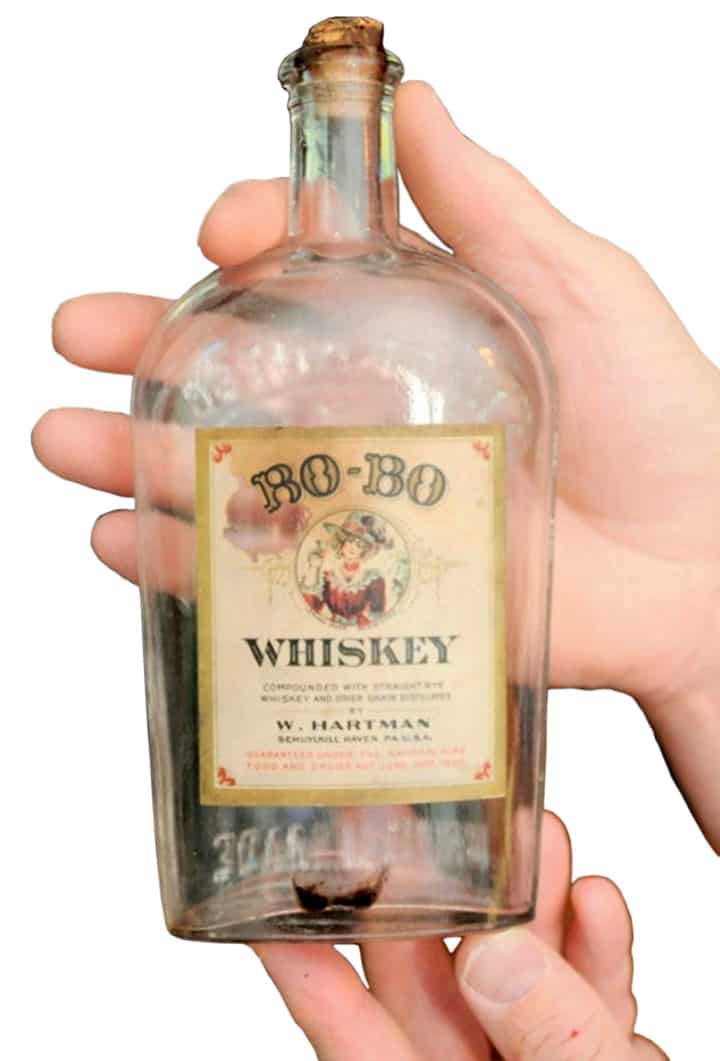 Headed out to Fort Wayne here shortly via Chicago. Then off to the Detroit area. Will stop in to see John Pastor tomorrow night and then Ralph & Janet Finch on Thursday. Looking forward. Had fun with the Hartman's Old Virginia Bitters post. Thank you Joe Gourd.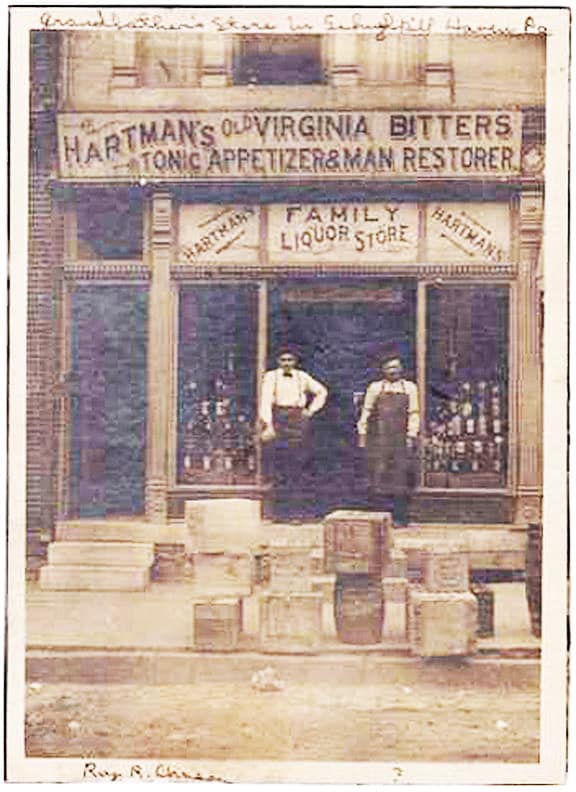 Monday, 18 November 2013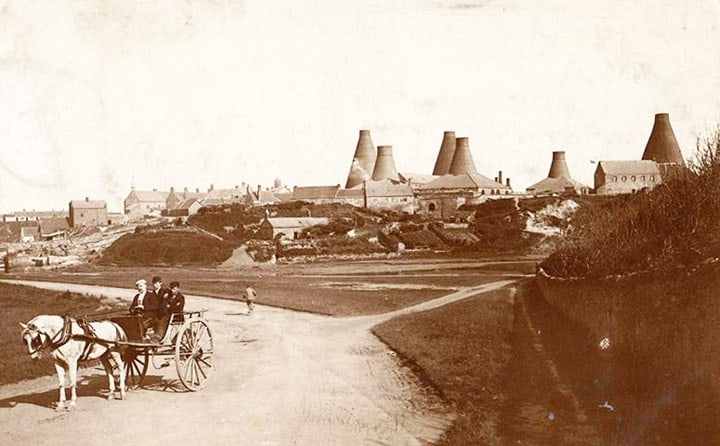 Wow, Thanksgiving racing towards us. Early 3-Mile Island? From Billy Emberton (Seaton Delaval, Northumberland, England): "I know this is a little out of area but thought it may be of interest. The Royal Hartley Bottle Works at Seaton Sluice, England in 1896. Some 25 years after closure."
Saturday, 16 November 2013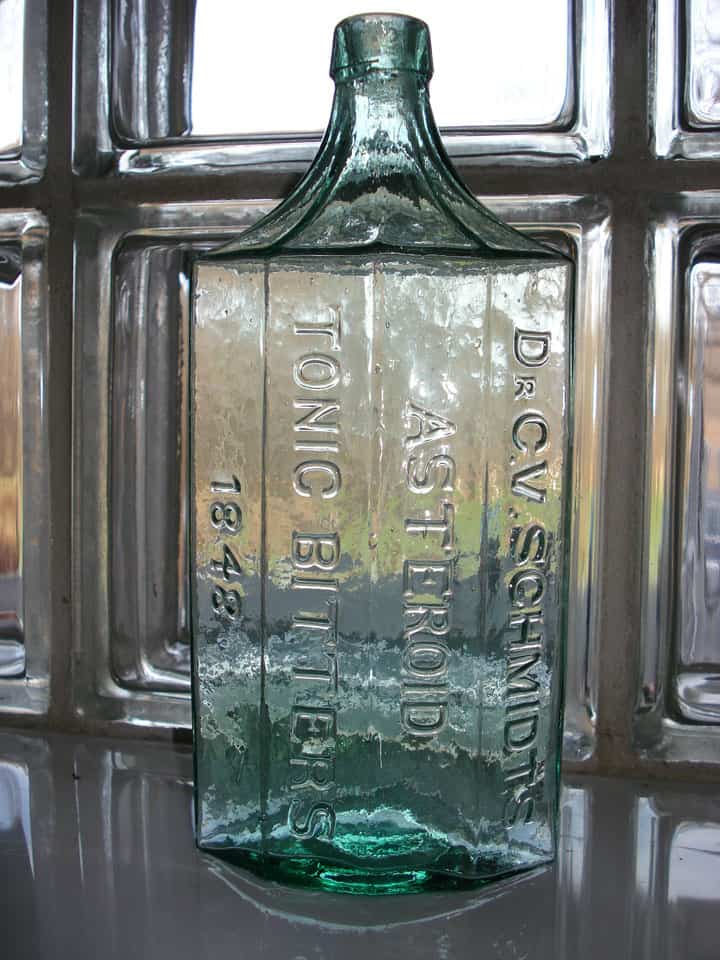 Visit the updated Dr. C. V. Schmidt's Asteroid Tonic Bitters post to see three spectacular pictures by Jeff Burkhardt of his prized 'only known' example.
Friday, 15 November 2013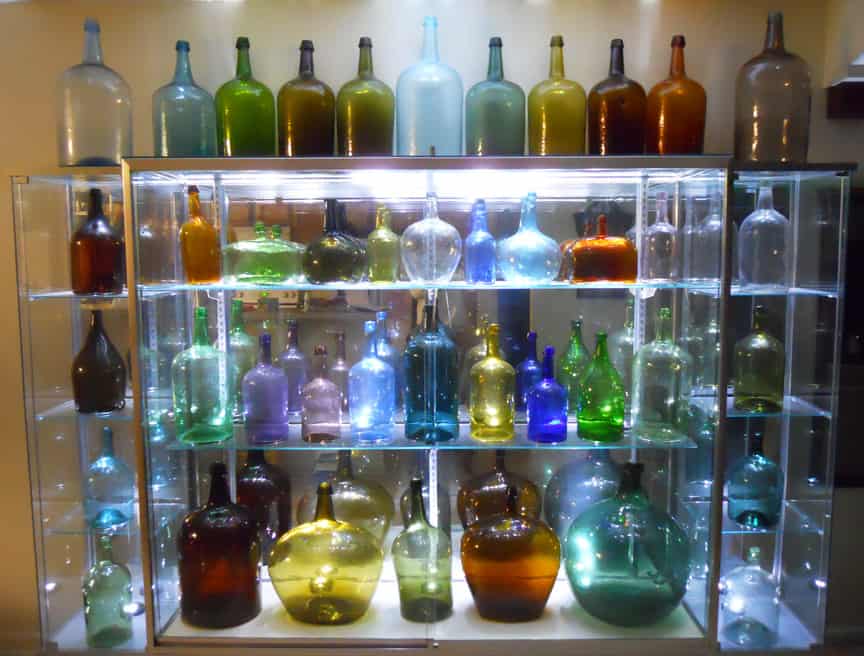 Hi Ferd, Wanted to share a somewhat fuzzy picture of a few demijohns, some are rather ordinary and some are not so ordinary. Hey Dale, you gotta have a lot of room to collect demijohns! Gene Ainsworth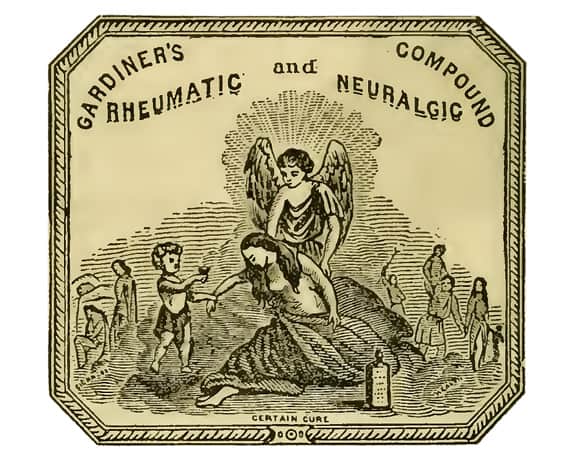 MAJOR UPDATE to the Gardiner's Rheumatic and Neuralgic Compound post based on information provided by MarianneDow.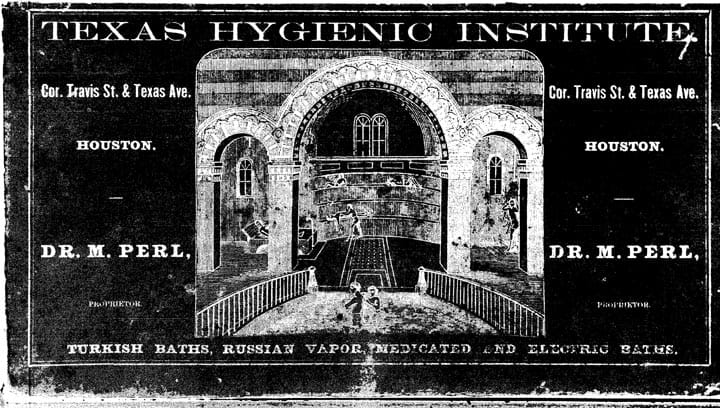 MAJOR UPDATE to the Could this be the same Dr. M. Perl from New Orleans? post by information provided by Eric McGuire.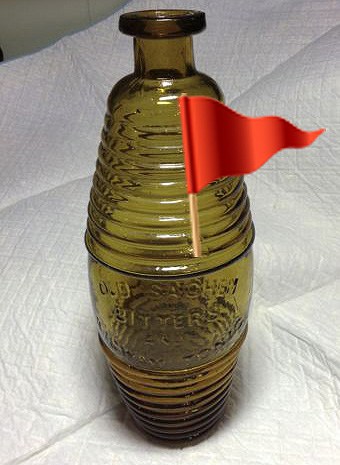 Getting quite of few RED FLAG emails and calls about this Old Sachems currently on ebay. POSSIBLE Dog River Reproduction.>>http://www.ebay.com/itm/OLD-SACHEM-BITTERS-WIGWAM-TONIC-BOTTLE-/321249651827? Already 16 Bids at $1,351. Jim Bender asked for provenance and was blocked.
Thursday, 14 November 2013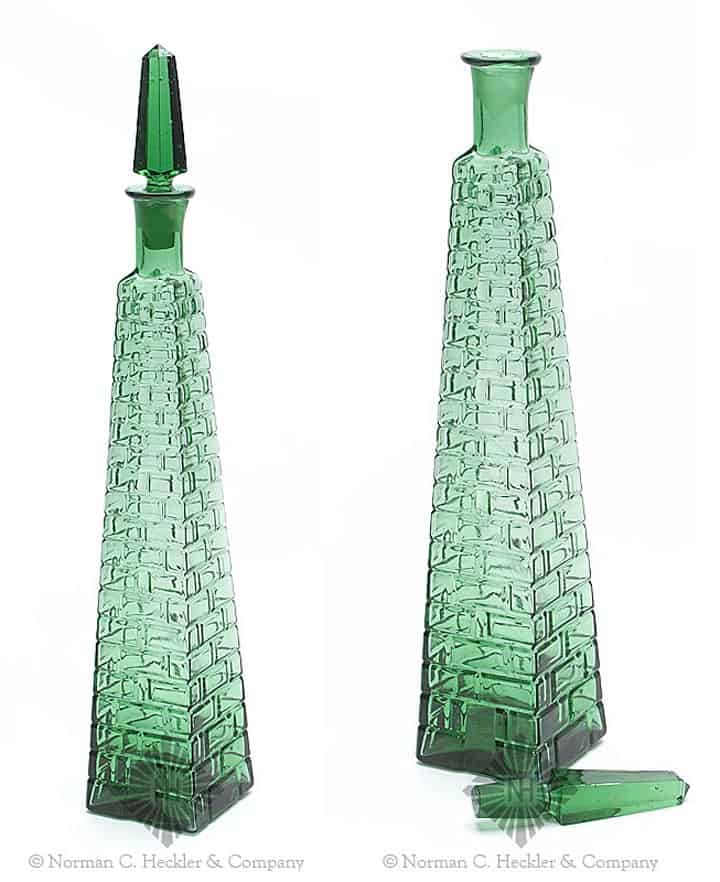 Returning to Houston tonight. That's good. Been a busy week here in Georgia with a client. FOHBC conference call tonight with the Board. That is always interesting.
Are you watching that medium green glass figural monument cologne that closed on Heckler last night. It is at $11,000 now with call backs. I logged on last night before closing to put a bid on that great piece for my collection and almost fell out of my chair!
Read More: Bunker Hill Monument Figural Colognes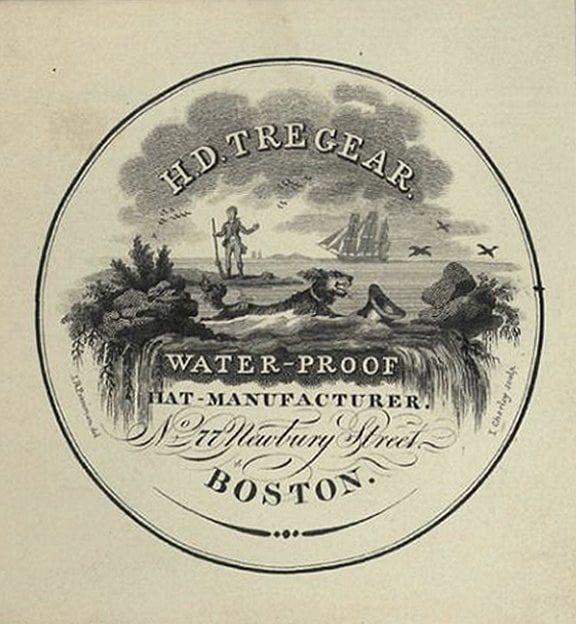 Back then, when you left your ship to explore and lost your hat, it must have been comforting to have your topper water-proofed and a dog to save it before it goes over a waterfall. Super illustration.
Wednesday, 13 November 2013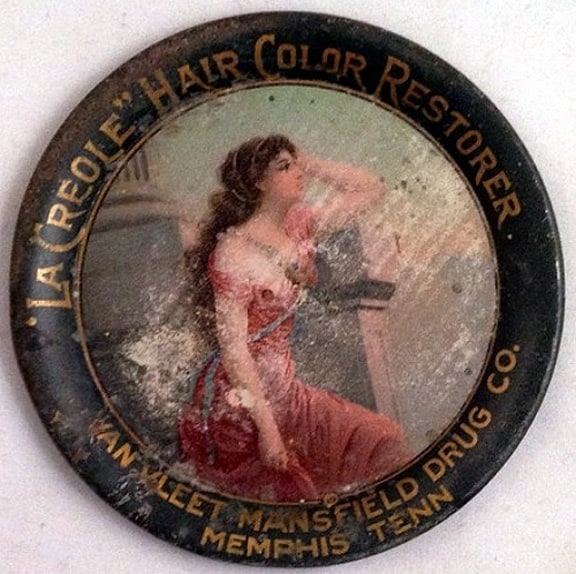 Enjoying this major cold front. 30 degrees here in Augusta, 35 degrees at PeachRidge. Also like this old tin advertising tray for "La Creole" Hair Color Restorer, Van Vleet Mansfield Drug Co., Memphis, Tenn. Makers of the Highland Bitters and Scotch Tonic figural barrel.
Tuesday, 12 November 2013
It appears that one of the 'first' insulator swaps and meetings was held on this heavily adorned telephone pole in New Orleans.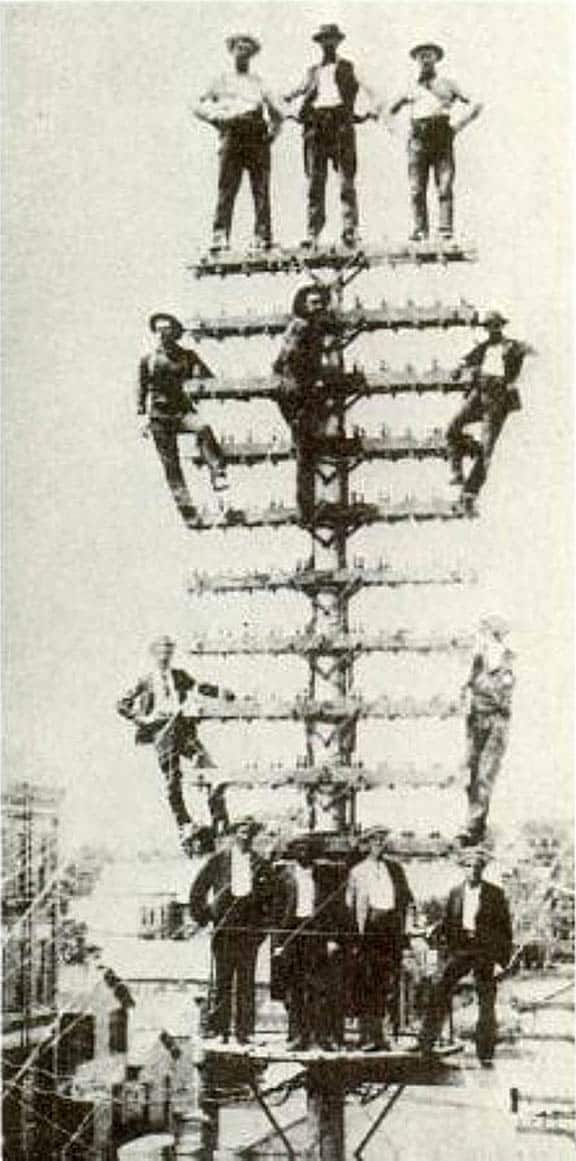 Monday, 11 November 2013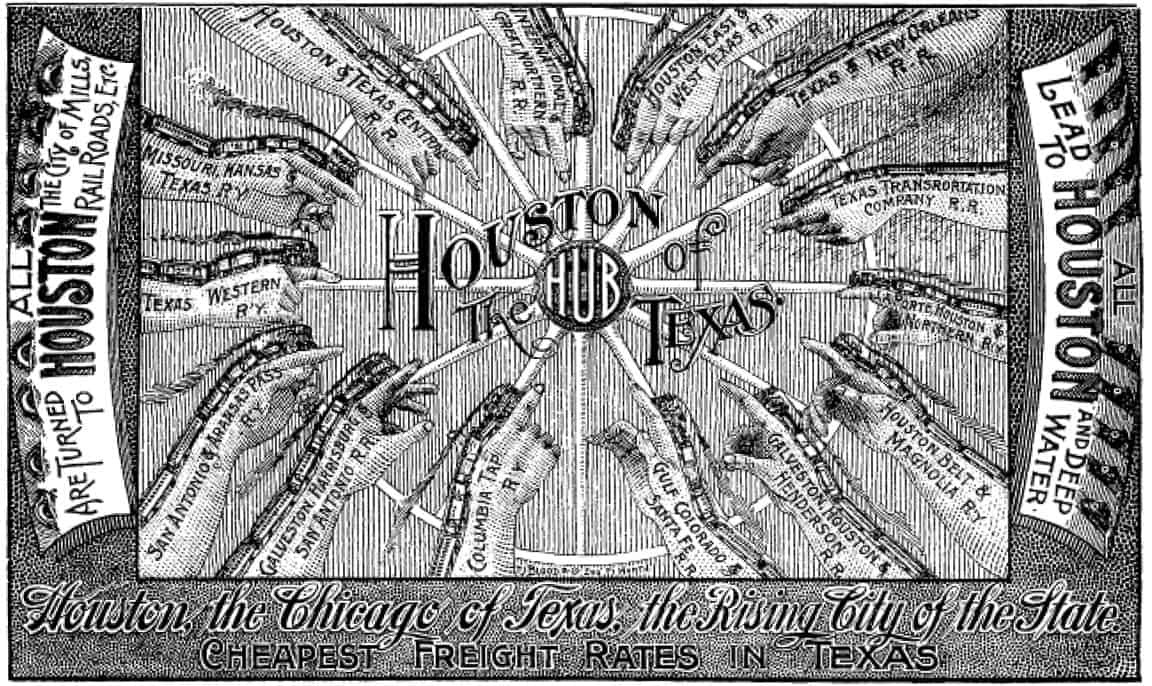 Houston, The Hub of Texas. Isn't this a complex but interesting illustration of railroading in Houston around the turn of the century?
Sunday, 10 November 2013
Off to the east coast today. Really do not like leaving on Sundays but I have an 8:30 am in the morning.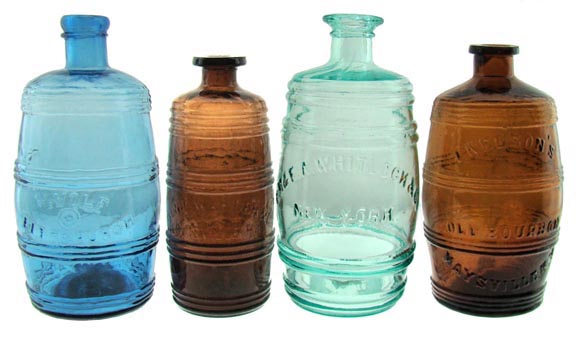 Jeff (Wichmann) sent in some pictures of his new Brent, Warder & Co. barrel (2nd from left) and says "Here are my four amigos. I love them. The barrel, I had no idea it was so small but I love it. Packs a lot of punch for a small bottle. I'm even thinking if I've ever seen one this size before. Not that I'm aware of." – Jeff
Read: Elusive Brent, Warder & Co. barrel found in Antique Mall
Saturday, 9 November 2013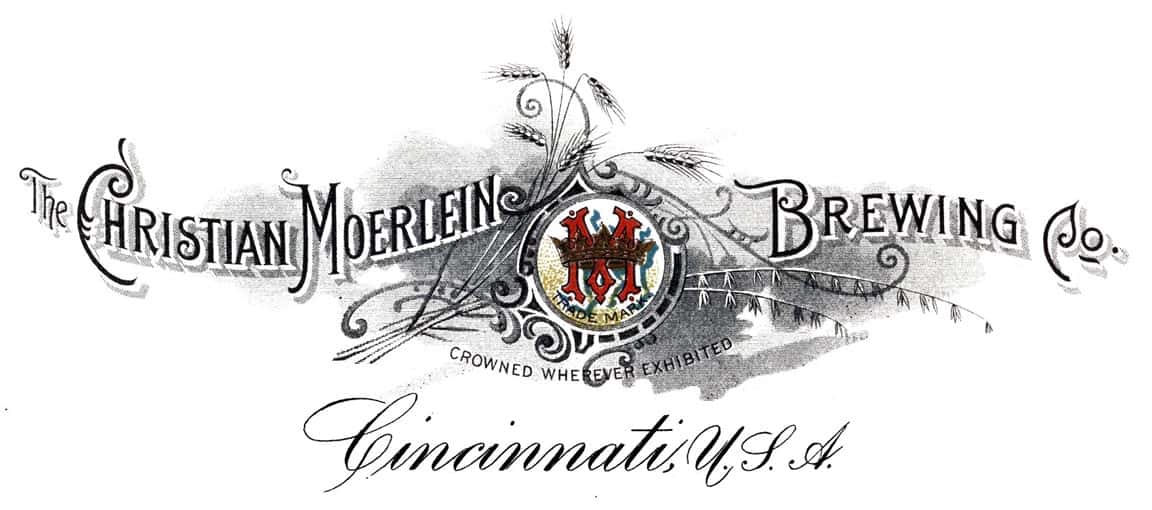 Had fun looking at Christian Moerlein Brewery in Cincinnati. Great graphics.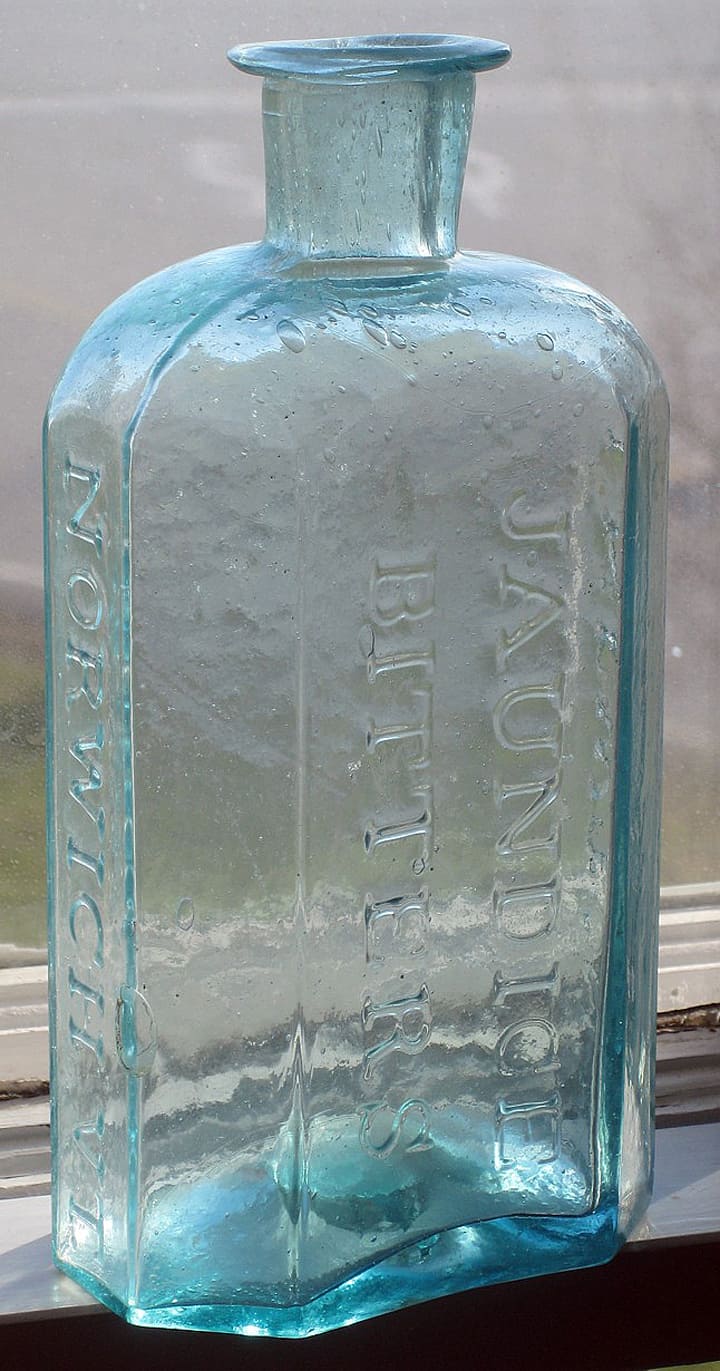 Jeff Noordsy provided this killer example of an aqua Dr. Newton's Jaundice Bitters to go with yesterdays post. Thanks man. This piece is wet with crudity.
Friday, 8 November 2013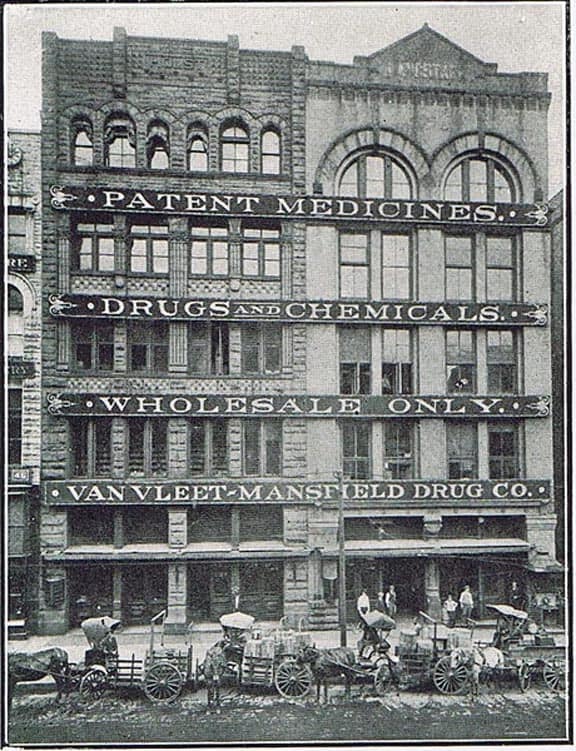 Updated the Highland Bitters and Scotch Tonic page with four new images including this great photograph of the Van Vleet – Mansfield Drug Co. in Memphis, Tennessee.
Wednesday, 6 November 2013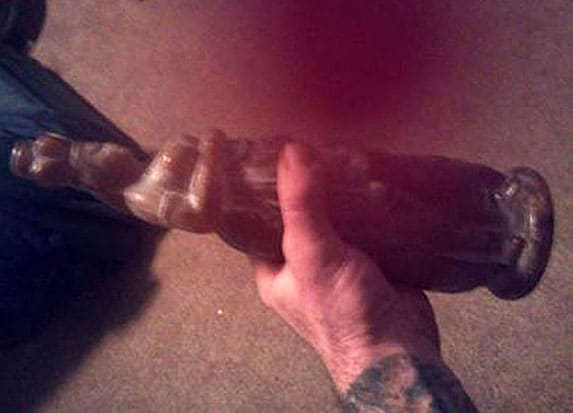 Not too often do you hear about dug Indian Queens. "These are always fun to dig. Keep on digging you will. Only found two in over 3,500 privies and I only dig 1870s and earlier…it's all in numbers" – Chad Hurst

Like this Eureka Bitters advertisement. From McClung & Betterton in Knoxville, Tennessee. Note the "For Sale by Pepper Bros., Texas" at bottom. That is the one and only Dr. Pepper folks!
Tuesday, 5 November 2013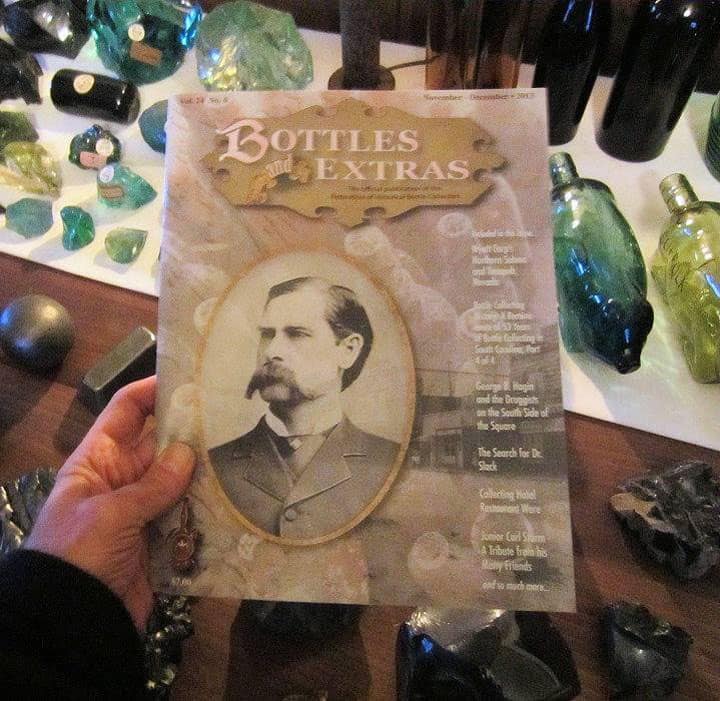 Just a very nice e-mail and picture: Accolades and Kudos for the Federation of Historical Bottle Collectors (FOHBC) and Peachridge Glass for the fantastic (!) cover on this issue of Bottles and Extras. (You could decorate with it.) Also, the little things that count, such as now knowing President Jimmy Carter was also a member. Awesome cover art and graphics. What a grabbable invite to an excellent (as always) issue. – Eric Richter
Monday, 4 November 2013

Iron pontiled Lamberi Bitters Phila seen in a shop last week. Owner said "not for sale" – Dennis Smith
Prototype Coca Cola bottle. $500,000 has been offered for it according to the October Midwest Glass Chatter.
Sunday, 3 November 2013
Ahhh, back in the bitters mode again with the Starne's Celebrated Congress Bitters. Looking for information on that rare and possibly unlisted bird.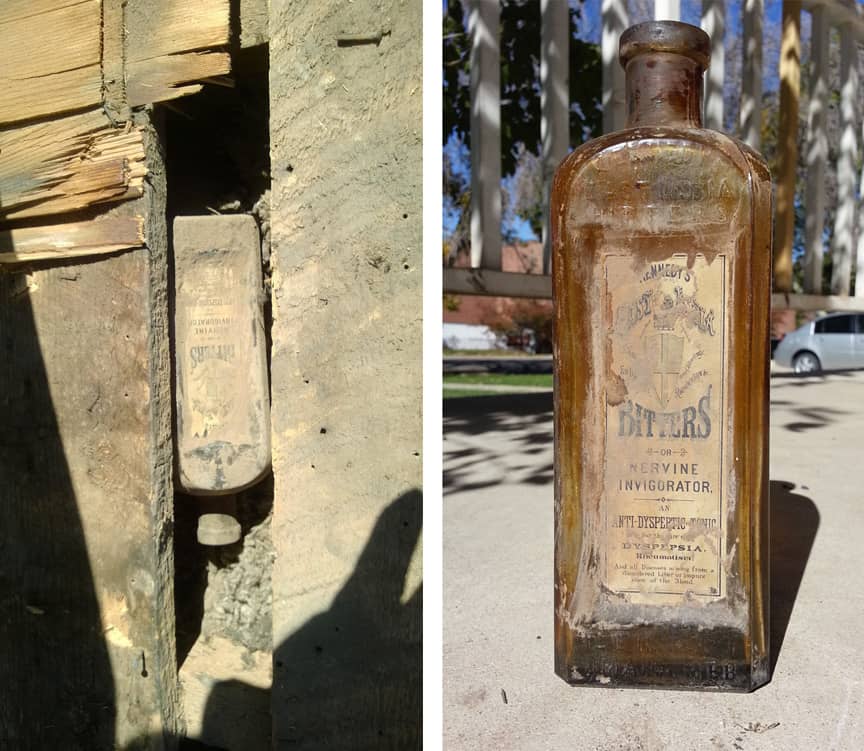 We found this bottle while replacing an old cedar shake roof today.
Hi Ferdinand. First of all I hope you and your family are doing well. I received this cool email recently and want to share it with you. "We found this bottle while replacing an old cedar shake roof today." Amazingly the labels are still intact. It just shows that a old bottle can be found almost anywhere. This bottle is a Kennedy's East India Bitters in a light amber color. Frank (Wicker) www.bottlepickers.com
Friday, 1 November 2013
October came and went really fast. Zoomed by. Hope everyone had a good time trick-or-treating last night.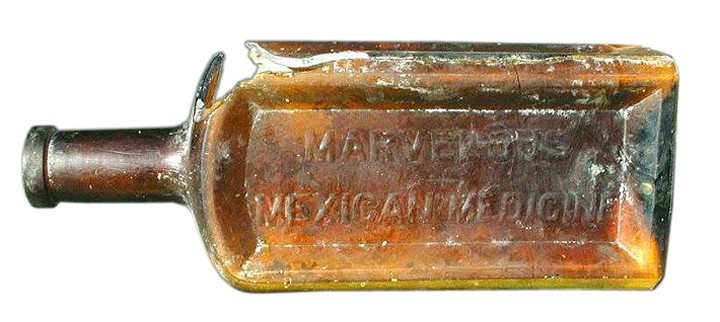 The Morley Brothers post has been updated with pictures of three extremely rare bottles submitted by Brad Seiger. Love the name Marvelous Mexican Medicine.