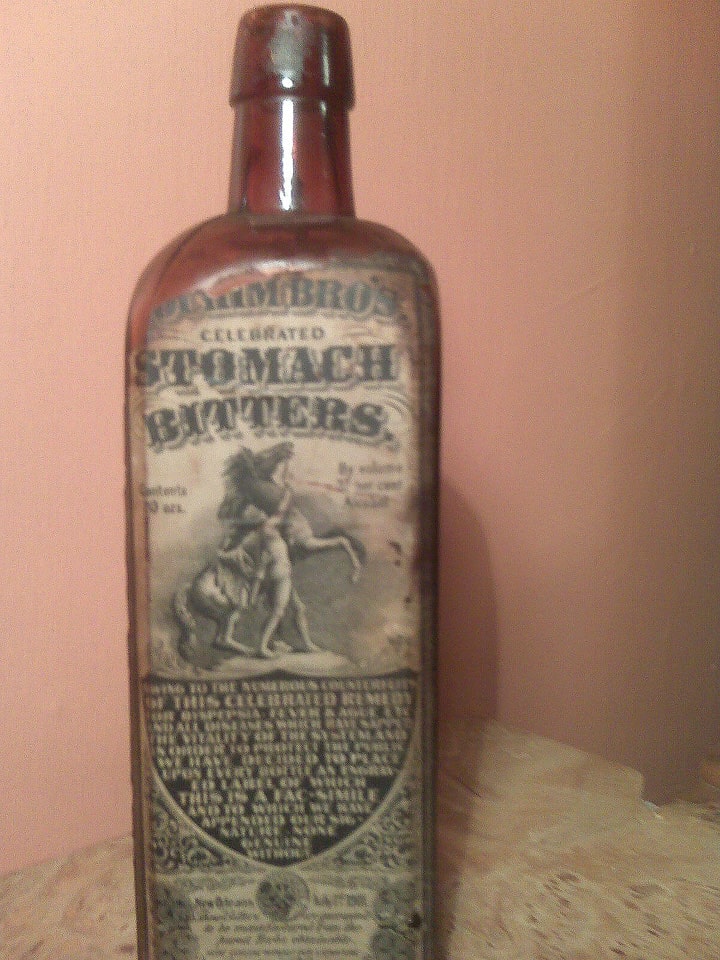 Yochim Brothers Distillery, New Orleans Family History
15 November 2013 (R•112613)

I did a post earlier this year called The New Orleans Absinthe Makers where I posted a picture of my Yochim Bros. Stomach Bitters. This prompted the following e-mail with some interesting information:
I came across your website and images of Yochim Brothers absinthe and stomach bitters. Attached is a photo (above) from my family's only surviving Yochim Bros Celebrated Stomach Bitters bottle including a nearly intact label.
Aloysius Richard Yochim and his brother Joseph Yochim are my great grand father and great grand uncle respectively.
They immigrated to the United States from Heidelberg, Germany in late 1800s and established a distillery of fine European cordial and liquors in New Orleans. Records and letters along with promotional flyers in my collection note a warehouse on Corondalet Street as the location of the offices.
They ran the distillery up until prohibition. Aloysius Richard was the salesman travelling all over the United States selling vast quantities of liquor to hotels and restaurants. Letters written to his wife, on hotel stationary, detail many of the long trips and his loneliness from his wife..many filled with colorful descriptions of various cities. Aloysius was the business genius while Joseph Yochim was the chemist. There are dozens of recipies written and scralled on scraps of paper.
As accomplished as he was as a distiller, he was also a bit of a gambler, who invested in all manner of financial instruments including Panama Canal bonds, Orange Crush stock, race horses and real estate. He made and lost huge sums of money. One document survives from a family confrontation detailing a series of large withdrawals from the business bank account. After which we know he was committed to a sanitorium where he died from Tuberculosis.
Feel free to share or post this information to collectors. Any old relics or bottles would be of interest to me if you ever come across any from the Yochim Brothers Distillery.
Regards
Chris Yochim
Parkesburg, PA
www.easyriderstable.com
The Carlyn Ring and Bill Ham listing in Bitters Bottles is as follows:
Y 5  YOCHIM BROS. CELEBRATED BITTERS
YOCHIM BROS. / CELEBRATED / STOMACH BITTERS // f // f // f //
8 3/4 x 2 5/8 (6) 3/8
Square, Amber, LTC, Applied mouth and Tooled lip, Rare
Example known with front and rear Hostetters Bitters labels.
Label: These bitters are guaranteedto be manufactured from the best herbs obtainable. 1901, New Orleans.
1878 – Aloysius Richard Yochim, born about 1878 in Louisiana., Reporter, Age 64 in U.S. 1940 Census, wife Wilhelmina Veronica Barnes (married 25 October 1905), son Aloysius Yochim, age 18
1900 – Annual Report of the Commissioner of Patents – Yochim Bros., New Orleans, La. Spirituous liquors, Patent # 35,105, September 18, 1900
1918 – Case Number 5138: Adulteration and misbranding of "Marischino Yochim Freres Liqueur Cordiale." U. S. v. Yochim Brothers Co., Ltd., a corporation, Plea of guilty. Fine, $25., January 29, 1918
See example on Bottle Pickers