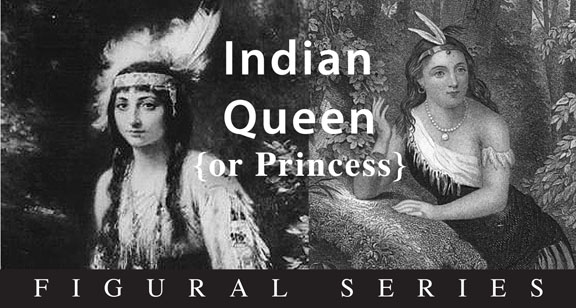 Looking closer at the

Brown's Celebrated Indian Herb Bitters
23 September 2012 (R•051814) (R•052714) 
(R•091018)
---
aka

 'INDIAN QUEEN'

I am presently working on a feature article on John Feldmann for the November/December issue of Bottles and Extras. During the development of possible imagery for the magazine, I prepared the above clip path art on the famous Feldmann 'Indian Queen' color run. I also wanted to look closer at the typographic variations on the Queens which I have below.
BROWN'S CELEBRATED INDIAN HERB BITTERS
Whitney Brothers Glass Works | Circa 1867 – 1870
B 222     B 223     B 224    B 225     B 226
According to the write up in Bitters Bottles by Carlyn Ring and W.C. Ham, there is no discernible variations between the five different Queens other than their datelines.
Collectors seem not to notice which date line their Queen has so ranking their relative rarity is impossible. Many of the ground mouth finish Queens have been found with traces of paint in the crevasses of robe folds and between feathers of apron or necklace details. It could easily be mistaken for accumulated dust or soil but as so many of these paint traces we tend to believe that some, if not all, were painted originally. Today's collectors seem to look for a sparkling mint specimen so the traces of paint are often removed.
Four other Queen molds are known. One quite varied with right arm well below waist and sword in hand. The left arm is bent and holding a shield to the body. Lettering on the shield is Mohawk Whiskey Pure Rye. At shawl fringe, Patented Feb. 11, 1868. Another of te same mold has unlettered shield. Area normally having patent date reads: H. Pharazyn Philadelphia Right Secured. Both of these queens have sheared mouths. The remaining queen molds are altogether different. See: E. Long's Indian Herb Bitters and Indian Herb Bitters Dickerson & Stark.
Not much is known about the proprietor, Neal N. Brown (also spelled Neall and Neill in historical documents) other than he lived and operated in Philadelphia and took out a couple of patents for his famous figural bottle in 1867 and 1868. I suspect he was an Irishman. We first see him as an innkeeper and tavern owner in 1863 and 1864. In 1866 he has some legal problems as he is charged by the United States government for transporting unsealed whiskey. Next Brown is into Patent Medicines and puts out his Indian Queen bitters. In the mid 1870s, he is listed as a liquor dealer. He must have been a good customer with Whitney Glass Works in South Jersey as he ordered a lot of bottles. It really is surprising that we do not see more period advertising.
Read More: Amethyst Indian Queen Found in Seattle
Read More: H. Pharazyn Indian Queen – Philadelphia
Read More: Mohawk Whiskey Pure Rye Indian Queen
Read More: E. Longs Indian Herb Bitters
Read More: The Indian Herb Bitters Prepared by Drs Dickerson & Stark
Read More: Why do we call the bottles the 'Indian Queen?'
Read More: The Rubenesque Queens
Read More: Barrel series – Original Pocahontas Bitters
Read More: Not Brown – A "chocolate" Brown's Celebrated Indian Herb Bitters
Read More: Iron Maiden
---
B

222 
PATENTED FEB. 11. 1868 (Celebrated has no R)
B 222  BROWN'S / CELEBATED / INDIAN HERB BITTERS // PATENTED / FEB. 11, 1868
12 1/8 x 3 1/4
Indian Queen, Amber and Green, Rolled mouth, Extremely rare

Celebrated as no R




Note

: There was a reproduction of this bottle made for the 1957 Jamestown Virginia 350 year celebration that is very similar except that the bottle ends at the headdress and has a stopper. The base has a fancy monogram. Thee bottle is heavy weighing about 1 1/2 lbs.
---
B
223
PATENTED 1867
B 223  BROWN'S / CELEBRATED / INDIAN HERB BITTERS // PATENTED / 1867
Neal N. Brown   Philadelphia, Pennsylvania
12 1/4 x 3 1/4
Indian Queen, Amber, Rolled mouth, Common
---
B
224
PATENTED FEB 11. / 1867
B 224  BROWN'S / CELEBRATED / INDIAN HERB BITTERS // PATENTED / FEB. 11 / 1867
12 1/4 x 3 1/4
Indian Queen, Amber, Sheared or ground lip, Common

There are several examples with original multicolor paint which are Extremely rare
---
B
225
PATENTED 1868
B 225  BROWN'S / CELEBRATED / INDIAN HERB BITTERS // PATENTED 1868
12 1/4 x 3 1/4
Indian Queen, Amber Common; Yellow green tone, Shear or Ground lip – Rare
---
B
226
PATENTED FEB. 11 1868
B 226  BROWN'S / CELEBRATED / INDIAN HERB BITTERS // PATENTED /
FEB. 11 / 1868 //
12 1/4 x 3 1/4″
Indian Queen, Clear and Aqua – Extremely rare ; Amber – Common
Sheared or ground Lip
---
BROWN'S '

INDIAN QUEEN'

GALLERY
Select Listings:
1863:

Neal Brown, innkeeper, Philadelphia, Ward 8 – Philadelphia Septennial Census
1864:

Neill Brown, tavern, S.E. 24th & Locust – Philadelphia, Pennsylvania City Directory
1864:

Neill Brown arrested for transporting whiskey notice (below): The Evening Telegraph, Wednesday, October 24, 1866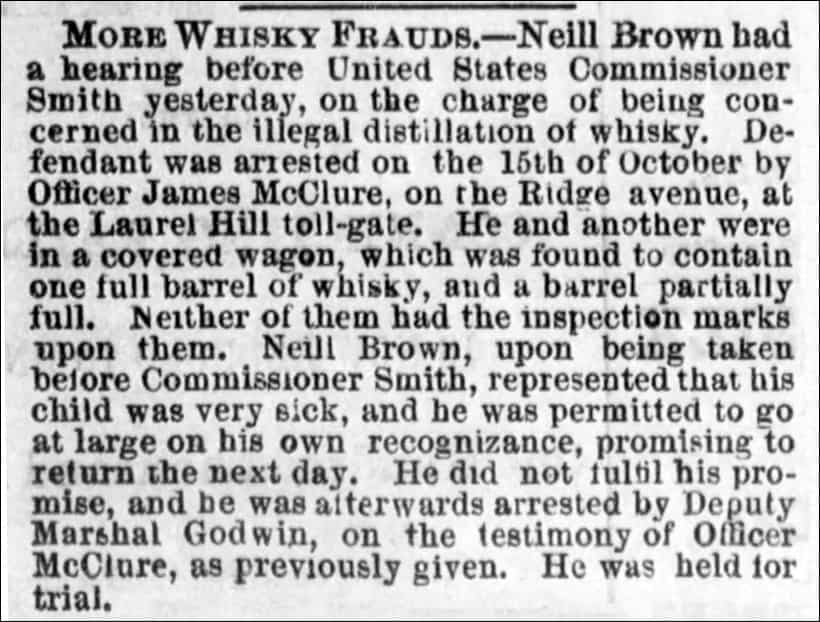 1866:

Legal problems (below), United States vs. Neal Brown – The Philadelphia Inquirer, Saturday, November 24, 1866
1867:

Patented 1867 on B 223 and B 224 (see above)
1868:

Neall N. Brown Design for a Bottle Patent Drawing 2950, Feb. 11 1868 (see above)
1868:

Neil N. Brown, Patent Medicines, 217 Callowhill – Philadelphia, Pennsylvania City Directory
1871:

Advertisement (below) – The Star and Enterprise, Thursday, June, 15 1871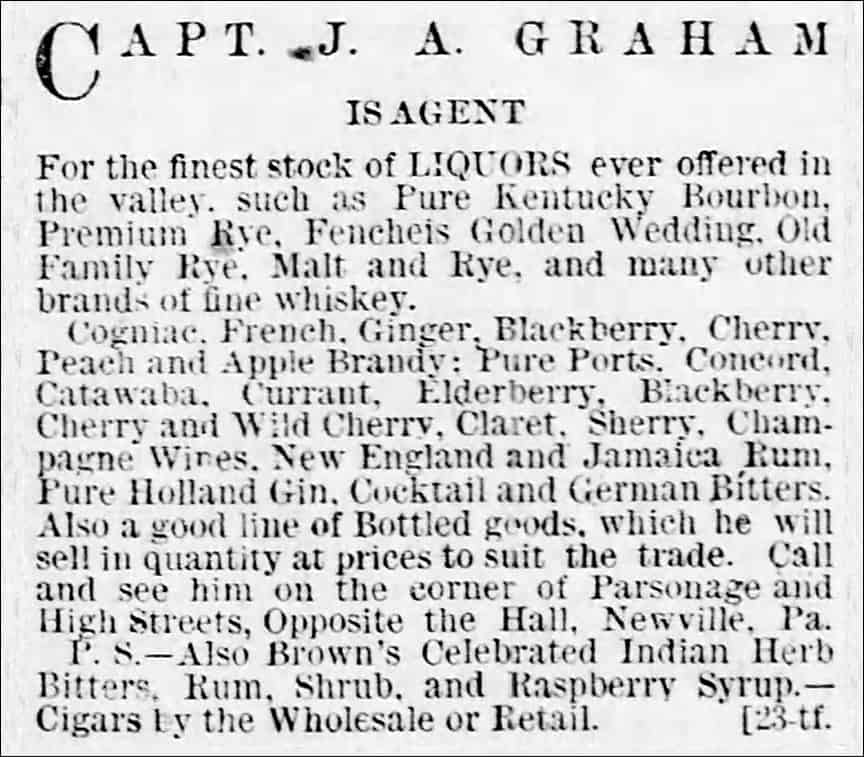 1874:

Neal Brown, liquors, 2379 Tulip – Boyd's Philadelphia Directory
1875-1876:

Neal Brown, liquors, 2379 Tulip – Philadelphia, Pennsylvania City Directory