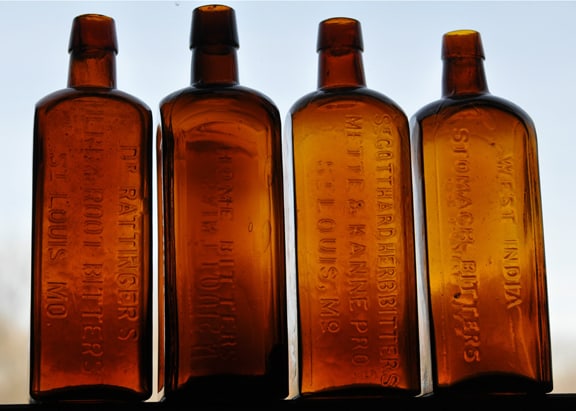 Dr. Rattinger's Herb & Root Bitters
St. Louis, Missouri
29 November 2012 (R•112613 – Clear Example Pic) (R•112813 – Trade Card) (R•092018)

An interesting Dr. Rattinger's Herb & Root Bitters square (pictured on far left above) is on eBay now. The word 'unlisted' caught my attention and refers to the base embossing. A portion of the write-up on eBay is as follows:
Dr. Rattinger's Herb & Root Bitters St. Louis Mo. Orange/Amber

(see eBay listing)

[eBay: dendirtyd, Platte City, Missouri] This is a nice orange amber attic type condition bottle embossed Dr.Rattinger's Herb & Root Bitters St. Louis, Mo. This bottle is unlisted I believe in the Ring & Ham Bitters bottle book, even in the supplement. They have no listing for the M.G. Co. on the base. This bottle is as crude and whittled as they get. The best one I have ever seen. Just a faint rinseable content stain and a pin point open bubble on the beveled edge. Excellent condition on this one and never in the ground. No chips,cracks or dings. The bid is for the one bottle only.
eBay Pictures
I have a pretty decent example of a Dr. Rattinger's so the eBay post prompted me to try to look into the Doc a litter further. What a name huh? "Children, it's time to go see Dr. Rattinger. He will make you feel better." When I was in the first or second grade, we had a school nurse named Miss Pusey and our school Principal was named Mr. Fuchs. As a kid, I can remember us little torkers really having a field day with that. And I thought being named Ferdinand was tough as a kid! So here we have Dr. Rattinger, Actually a strong German name.
The Carlyn Ring and W.C. Ham listing in Bitters Bottles is as follows:
R 11

 DR. RATTINGER'S HERB & ROOT BITTERS, circa 1860
DR. RATTINGER'S / HERB & ROOT BITTERS / ST. LOUIS MO. //
f // f // f //
R. Rattinger, M.D. 321 N. Fourth Street, St. Louis
9 1/8 x 2 3/4 (6 3/4)
Square, LTC, Applied mouth, Amber – Scarce; Clear – Extremely rare
Trade Mark No. 205, dated 1860, Also manufacturers of Rattinger's Fever Drops.
There is actually a R 12 example that is slightly smaller and base embossed L.G. CO.
R 12

  DR. RATTINGER'S HERB & ROOT BITTERS
DR. RATTINGER'S / HERB & ROOT BITTERS / ST. LOUIS MO. //
f // f // f // b // L.G. CO.
8 5/8 x 2 5/8 (6 5/8)
Square, Amber, LTC, Scarce

Rainer Rattinger was born in Bavaria, Germany about 1832 and was listed as a patent medicines manufacturer in St. Louis. His address is noted as being in the rear of 3211 S. 5th, in St. Louis at one time. He apparamtly lived in his shop as his residence address is listed as the same. Graduated Class of 1864 St. Louis Medical College. Dr. Rattinger was also an assistant Surgeon with the Union 40th Regiment Infantry Volunteers. He enlisted in 1865. There is also a listing for a Dr. Rattinger's Bitters and Rattinger's Medical Company in Sappington, Missouri. Rainer Rattinger's wife was named Matilda. He had three daughters and one son. Dr. Rattinger died on January 17, 1897.
Dr. Rattinger Gallery