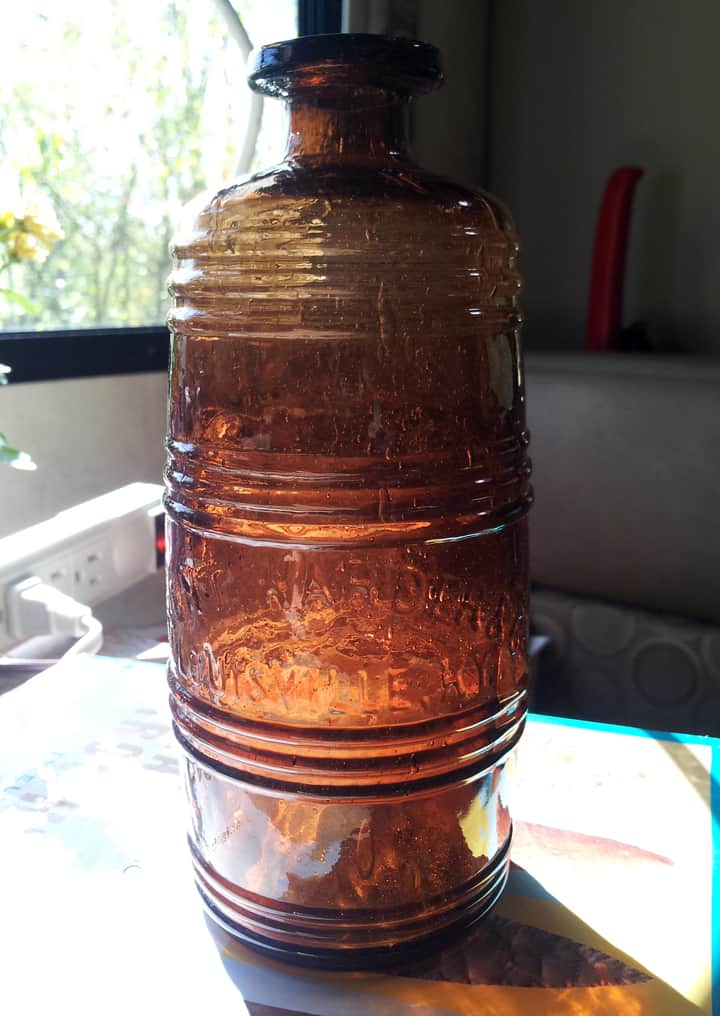 BRENT, WARDER & CO. – LOUISVILLE, KENTUCKY
Wholesale Grocers & Commission Merchants
26 April 2013
Mr. Meyer: My wife and I are RVing thru the states and are now in Horse Cave, KY. We were at an antique mall and I noticed a small barrel in a case marked Louisville bottles. I  have collected many bottles and have had unembossed barrels but never ones with company names. This is in mint condition, filled with bubbles and has a nice drippy applied top. It was marked $35 dollars. I got back to the KOA and to my amazement read your blog on this rare bottle and read that one had sold on ebay for over $2,000 dollars. Just how rare is it? Sincerely Dean.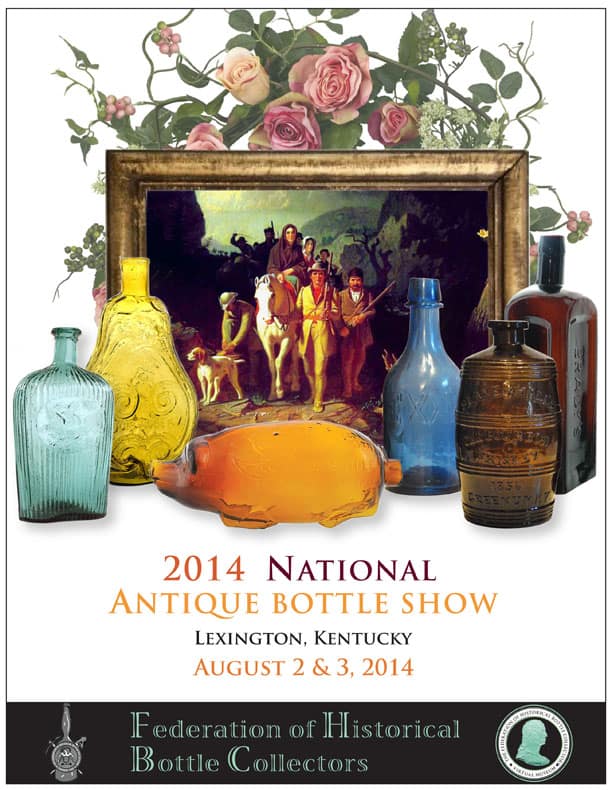 Dean, as you know, I have written about this elusive Kentucky barrel before. Read First: Barrel Series – Brent, Warder & Co. – Louisville. This is an extraordinary find. From your pictures (included in post), it looks like this bottle has the three 'C's'; "color", "condition" and "character". I have been looking closer at Kentucky bottles lately as I am developing the visual pieces (see above) to promote the 2014 FOHBC National Antique Bottle Show in Lexington, Kentucky. Honestly, if this bottle was in a display case by itself, it would be worth the price of admission just to see and admire. Congratulations! As you can see below, I was able to dig up a little more information.
First we have Elmore D. Warder (partner Brent Warder & Co. – 626 W. Main Street) of Louisville, Kentucky living at the Louisville Hotel in 1861. In 1862 he enlisted with the 7th Kentucky Calvary as a Confederate soldier. He was Second Lieutenant and eventually a Captain. He later died as a Prisoner of War (see further below). There is also a John P. Warder who was living at the Galt House in Louisville during the same 1861 period. He also worked at Brent, Warder & Company. The Brent listing is for William G. Brent, residence 805 Third.
These guys were operating at the same time and just down the street from Edward Wilder (514 West Main Street). Read: Edward Wilder and his Building Bottles
I'm writing because I bought an old bible belonging to THOMPSON GOSSOM. I was posing it for pics for an online auction when it fell open to psalms (battle prayer). Pressed there was a lock of hair and a newspaper clipping that reads: CAPT ELMORE D. WARDER is the A.A.G to GEN JOHN H MORGAN, and we have seen parole given to captured federal officers, in his handwriting and drawn during the recent raid into Ohio.
Capt. Warder died a POW at Fort Delaware under the harshest of conditions with typhoid fever….aug 1864…..buried in a community grave at Point Finn…for some reason without monument to his name….seems he was also one of the owners of BRENT, WARDER, & CO. Louisville, Ky, along with his brother John P. Warder. I would like to find out more info on this company and Elmore W. Warder….and also his connection to the THOMPSON GOSSOM FAMILY. In my efforts to find out about the Captain, I have become emotionally involved with this historic piece….please contact me with any interest,information or suggestions. Thank you… RootsWeb Post