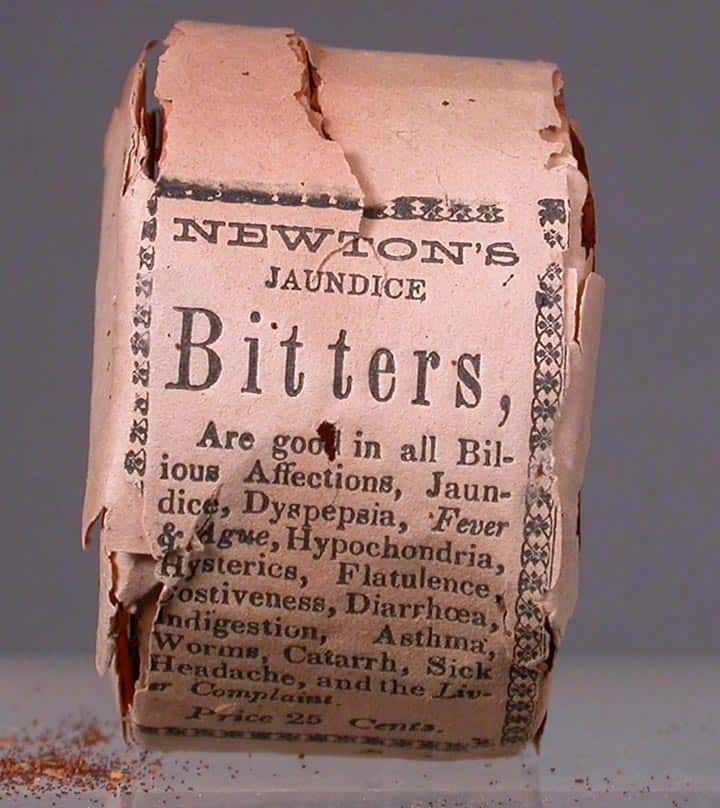 Dr. Newton's Jaundice Bitters Pill Box
08 November 2013 (R•110913)
Nathan Crary founded the industry that turned Knox, New York into the "Pillbox Capital of the World"

I have written about Dr. Israel Newton before (Read: Dr. I. Newton's Anti-Bilious Bitters – Norwich, Vermont) but elected to created this new post rather than add supplemental information to the existing piece. New material that needs to stand alone.
"Are good in all Bilious Affectations, Jaundice, Dyspepsia, Fever & Ague, Hypochondria, Hysterics, Flatulence, Costitiveness, Diarrhea, Indigestion, Asthma, Worms, Catarrh, Sick Headache, and the Liver Complaint. Price 25 Cents, Norwich, Vermont"
At first I was a bit perplexed with this image above held by the Smithsonian Museum of American History, Kenneth E. Behring Center (not on current display) for a Newton's Jaundice Bitters package until I realized it was circular and most likely a pill box wrapper. Beneath you can see two more pictures of different sides of the wrapper including an image of an affixed U.S. Revenue Tax stamp. Pretty cool.
Knox, New York – Pill Box Capital
Nathan Crary
In 1806, Nathan Crary founded the industry that turned Knox, New York into the "Pillbox Capital of the World". According to the 1860 U.S. Census, Nathan was born about 1783 in New York. His children were John G., Mary, Evelyn, Julie, Henry, Mary, Nancy and Edith. His wife was named Hannah.
Knox is a small town in the northwest part of Albany County, New York that had a population of 2,692 at the 2010 census. Knox itself is west of Albany, the state capital. The town of Knox was established in 1822 from part of the town of Berne. During the American Revolution, loyalties of the inhabitants was split, but the issue was resolved when Tories moved away.
Nathan Crary found himself with a fortuitous combination of abundance of raw material, eager labor supply, and a ready market to produce pillboxes. The pillboxes he made were small, two-piece construction and were used for products like Sherman's Cathartic Lozenges, Dr. Newton's Jaundice Bitters and Latcher's Anti-Dyspeptic Blood and Liver Pills.
In 1830, Crary and his brother Edward registered a patent for manufacturing basswood pillboxes. Workers produced these by the thousands in their homes or in small factories. The round oval boxes were made of very thin strips of wood. Workers shaved thin strips of basswood, earning $1.50 for 48,000 shavings in a typical day. The strips were bent, overlapped, and glued around oval or round forms. A man could earn $1 a day stamping out 24,000 tops and bottoms.
Skilled women and children working at home, could turn out 1,600 pillboxes a day, earning approximately 12 cents per 400. The pillboxes, which sold by the millions, were then packed in "tierces" of 10,000 and then carted over the escarpment to the Hudson River for shipment to patent medicine companies in New York City. This business drove this local industry for nearly a century. In spite of the millions of boxes manufactured, because of their fragile structure and disposable nature, very few remain today. [reference Helderberg Hilltowns by John K. Elberfeld & Jane B. McLean)