U.S. GOLD BITTERS – Augusta, Maine
16 January 2013 (R•010319) 
(R•012019)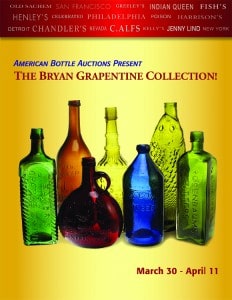 Yesterday all started innocently enough with an email from my friend and fellow bitters collector Jeff Burkhardt (Froggy) from Cedarburg, Wisconsin telling me he might take a U.S. Gold Bitters to the upcoming Baltimore Antique Bottle Show on 04 March 2013.
Say what? That is a rare bottle that you hardly ever see. Jeff even referenced the last one sold from The Bryan Grapentine collection in the American Bottle Auctions "Grapentine I" Auction that closed in April 2007 (see catalog to left). Well, that's my baby and I had not thought about this bottle for some time. Possibly when long-time Memphis collector, digger and FOHBC Conventions Director Tom Phillips and I last spoke regarding rare bitters. You see Tom is also a big-time coin dealer and collector and says the coin guys like this bottle as it depicts a US $20 Dollar gold coin on the bottle. Possibly the only bitters bottle with a United States coin embossed on it. Tom actually has an aqua and clear example from what I understand.
Well, time to pull out the US Gold Bitters pictures and related information so we can get to the rest of the bottle story.
The Carlyn Ring and W.C. listing in Bitters Bottles is as follows:
U 11  U.S. GOLD BITTERS
U.S ( su ) / GOLD ( su ) / BITTERS ( su ) / U.S (su ) // sp // U.S / GOLD ( su ) / motif US $20 coin / U.S / 1877 / sp // // s // OFFICER // PATENT // IN U.S // REGISTERED //

Partridge Bros. Druggists and chemists Augusta, Maine


10 x 2 1/2 (6 1/4)
Square, Aqua & Clear, LTCR, Tooled lip, 4 sp, Rare
Note: This brand must pre-date 1864, the year Federal law made it illegal to us a facsimile of a gold coin. This prohibition applied to coins only.
PRG: I doubt this.
"Incredible, I have lived in Augusta, even had a bottle store in Augusta, I have never seen one of these!"
CoboltMoon Glass
That's the only clear example I know of. I acquired this bottle from Howard Crowe in the 1980s. I also purchased an aqua example about the same time. My clear example is virtually perfect. My aqua example has a medium amount of stain but no damage. Last fall, Howard Crowe offered his personal example to me, and I sold it to a coin dealer that collects coin-related items. Howard acquired the bottle from a collector at a Virginia show in the 1980s. The bottle is near mint with a slight amount of stain. Back in the 80s, I told Howard to offer me any gold bitters that he came across, and this is the first one he's offered to me since then. Dick Watson has an aqua example in his collection. I believe your example is from the Grapentine sale.

I saw two aqua examples at a small Connecticut show in 1978. The same dealer had both examples. I didn't purchase either one of them; however, obviously I wish I had. He had priced them in the $300 range. Glass Works Auctions sold one in the 1990s and it may have been the one that Brian had in his collection that you eventually purchased. The examples I saw at the Connecticut show could also be some of the ones known in collections today. I have solicited info from many dealers and collectors and know of no others except the one you emailed me that will be at the Baltimore show.
Tom Phillips
[27 January 2013 update]
I am following up with some more information about the U.S

. Gold Bitters. The coin depicted on the bottle is the reverse design of a Type 1 U.S. $20 Gold Liberty Double Eagle Coin. This type was used from 1850-1865. The design change was made in 1866. The new design included our motto, In God We Trust, inside the circle of stars above the eagle. In God We Trust was first used in coinage in 1864 on the 2 cent piece. The Type 2 with motto reverse was used from 1866-1876. The Type 3 reverse was adopted in 1877. This new design spelled out the word "Dollars" instead of the abbreviation "D" located near the rim at the base of the design. The Type 3 designs were used from 1877 to 1907, when the Liberty type was replaced by the Saint Gaudens type.

The age of the examples I have seen do not appear to match with the date on the bottle. All have tooled lips and are not very crude, especially the clear example. I believe these were probably made in the 1880s.

To my knowledge, there is only one other American-made bottle with an embossed gold coin. This other bottle is a milk glass figural whiskey nip of a $5 gold liberty head coin with an octopus on top. It was probably made in the 1890s. Some believe that this may actually be a silver dollar coin, and not a gold coin. There are only a few coin-shaped bottles that were produced in the 1880s and 1890s. All are scarce. In 1892, coin glass was made for the Chicago World Columbian Exposition. Initially, the company used exact coin designs. The Secret Service forced them to destroy their inventory and start over using altered designs. Could the U.S. Gold Bitters have suffered the same fate or did they simply go out of business after limited production? I hope this info is helpful. Please feel free to use it in any way.
Tom Phillips

THE BOTTLE
AUGUSTA, MAINE
PARTRIDGE BROTHERS
Charles Kimball PARTRIDGE & 
Frank R. PARTRIDGE
Charles Kimball Partridge was born in Augusta, Maine on December 9th, 1836. When 14 years of age he was "Apprenticed" to Eben Fuller, apothecary, beginning thus early the work which, saving a short interval, be continued until his last illness came upon him. After leaing the business he entered the wholesale drug house of W. T. Phillips & Co. at Portland, afterward establishing and conducting a retail store in the same city. Returning to Augusta, he was employed by Charles F. Potter until the outbreak of the Civil War, when he became chief clerk of the adjutant-general's office under General J. L. Hodsdon. Here he spent four years in the hardest kind of duty, and bore a great burden of responsibility.
In 1865, Mr. Partridge sustained injuries by falling from a tree which caused hemorrhage of the lungs and endangered his life. Recovering, he went into partnership with his former employer, Mr. Potter, but soon bought him out. September of the same year his store was destroyed by the "great fire" and he occupied one-half of the Wells store until Granite Block was finished in 1866, when he moved in, and never afterward quitted the building except for brief periods after the two other fires which occurred in his premises. In 1874 he and his brother, Frank R. formed the firm of Partridge Brothers, which dissolved in 1887, after which he carried on the business alone. At his death he was and had been for years, in point both of age and service, the oldest druggist in Augusta and one of the oldest in the state.
Mr. Partridge was a charter member of the Maine Pharmaceutical Association, founded in 1877, and its president for several terms. In the same year he was one of the originators of the Maine Commission of Pharmacy. It was largely through his efforts that the existing pharmacy law was passed, and he was a member of the first board of examiners. He was also a member of the American Pharmaceutical Association. – The Druggists' Circular and Chemical Gazette, Volume 46 – 1902
Chas K. Partridge

Sam Fuller found this illustration above showing the corner store of Chas. K. Partridge at Granite Hall from 'Leading Business Men of Lewiston, Augusta and Vicinity' 1889. The copy below accompanied the picture where the new Post Office Building on Water Street is featuted.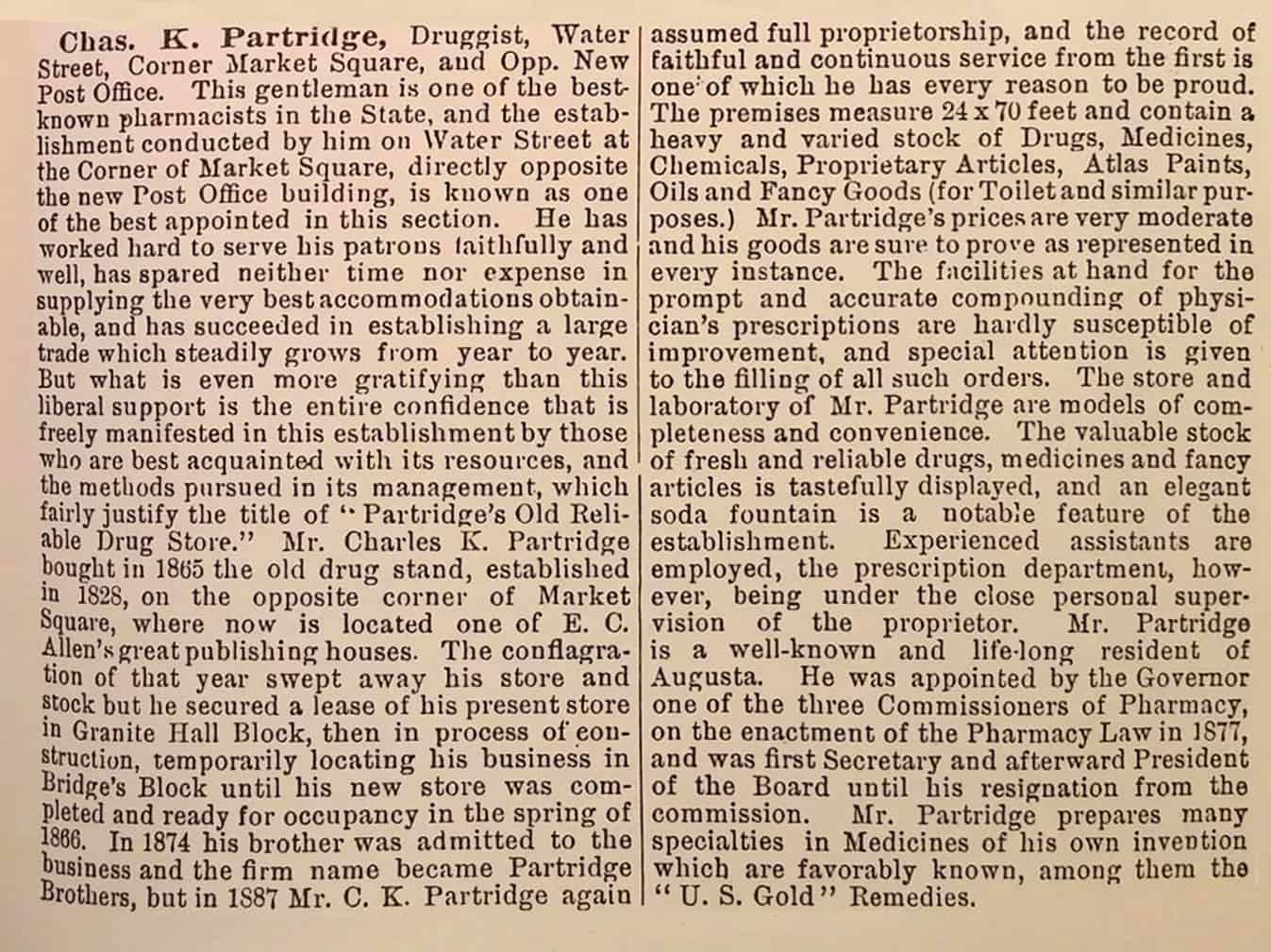 Select Listings:
1837: 

Charles Kimball Partridge Birth Date: 9 Dec 1837, Father: Reuben Partridge, Mother: Charlotte F Partridge,  – U.S., Find A Grave Index, 1600s-Current
1870:

Chas K Partridge, Druggist, Age in 1870: 34, Birth Year: abt 1836, Birthplace: Maine, Dwelling Number: 459, Home in 1870: Augusta, Kennebec, Maine, Personal Estate Value: 6,000, Inferred Spouse: Mary L Partridge, Household Members: Chas K Partridge 34, Mary L Partridge 33, Infant Partridge 1/12 – 1870 United States Federal Census
1873:

Charles K. Partridge, Surgical Instruments, Water, corner Market Sq. – Augusta, Maine, City Directory, 1873
1876:

Partridge Brothers (Charles K. and Frank R. Partridge), druggists and apothecaries, Water, corner Market Sq. – Augusta, Maine, City Directory, 1876
1876:

Newspaper advertisement (below) Partridges Drug Store, Corner Market Square – Daily Kennebec Journal, 01 September 1876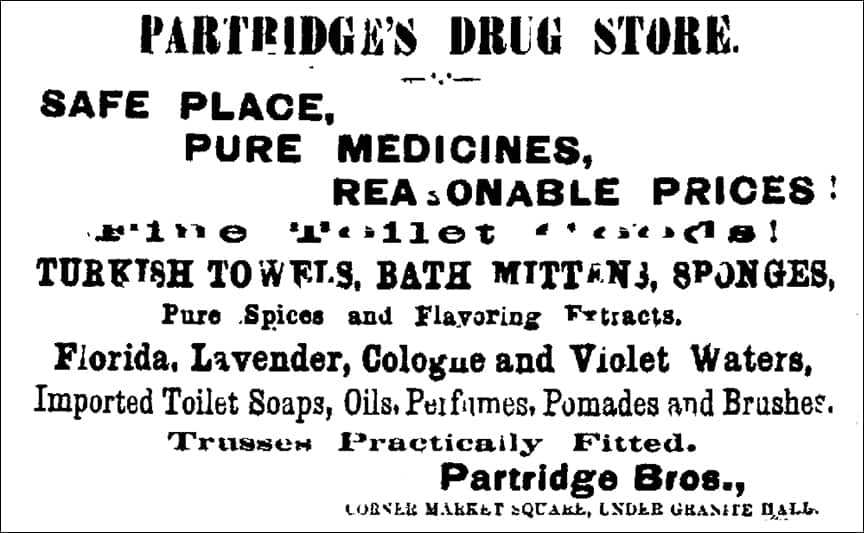 1878:

 Reference (below) to Partridge Brothers and U.S. Gold letters and word-symbol for Bitters product name, Augusta, Maine – 

New Remedies

, Volume 7, 

Wm. Wood & Company

, 1878

1878:

 Newspaper advertisement (below) Partridges Brothers selling U.S. Gold Bitters – Daily Kennebec Journal, 06 September 1878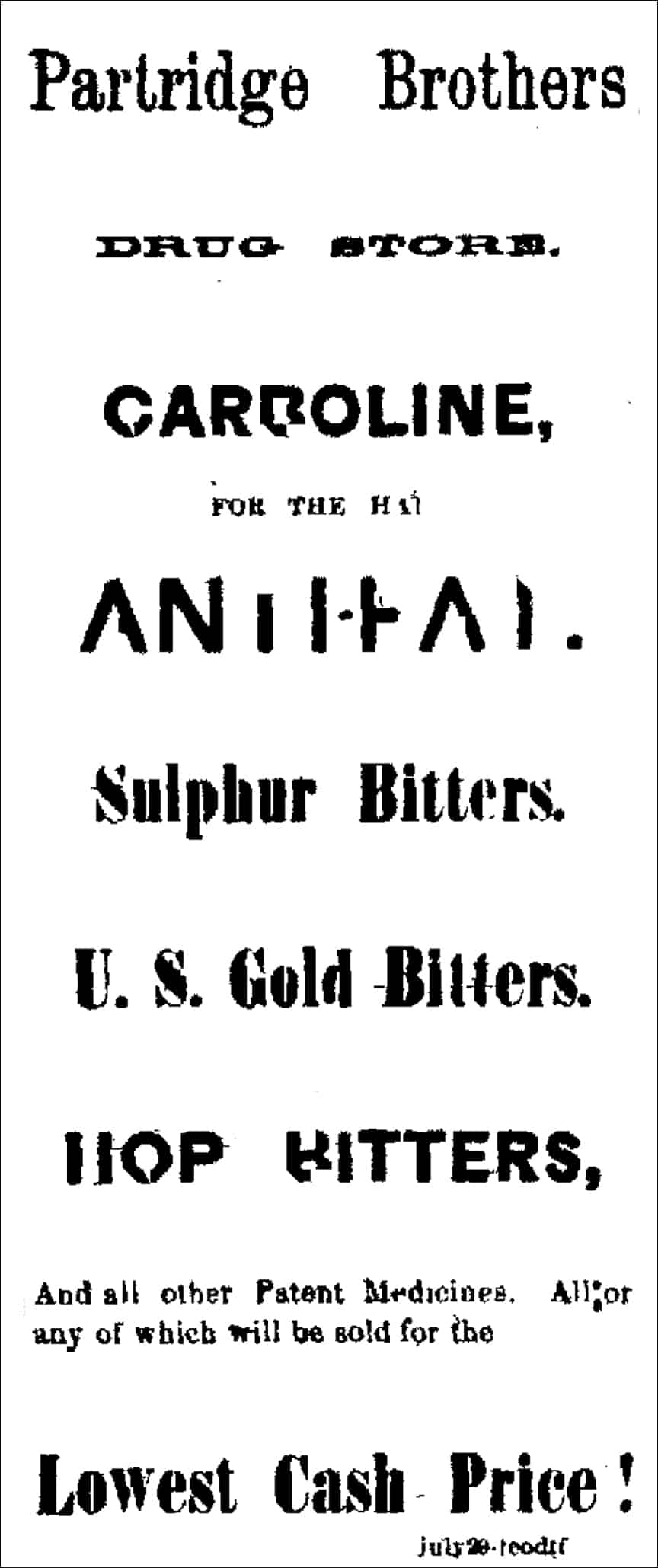 1880:

Chas. K. Partridge, Druggist, Age: 43, Birth Date: Abt 1837, Birthplace: Maine, Home in 1880: Augusta, Kennebec, Maine, Street: Green Street, House Number: 86, Dwelling Number: 57, Marital Status: Married, Spouse's Name: Mary L. Partridge, Father's Birthplace: Maine, Mother's Birthplace: Maine, Household Members: Chas. K. Partridge 43, Mary L. Partridge 41, Winifred Partridge 10, Margaret P. Partridge 7, Anna L. Partridge 30 – 1880 United States Federal Census
1894:

Charles K Partridge, Frank R. Partridge, Patent Medicines, U.S. Gold Cough Cure, Little Gem Persciptions, Cigars & Tobacco, Stationery, 200 and 292 Water opp P.O., Augusta, Maine – Augusta, Maine, City Directory, 1894
1897:

Charles K. Partridge, U.S. Gold Cough Cure, Little Gem Persciptions, etc., 294 Water, opposite P.O. – Augusta, Maine, City Directory, 1876
1900:

Charles K Partridge, Merchant of Drugs, Age: 63, Birth Date: Dec 1836, Birthplace: Maine, Home in 1900: Augusta, Kennebec, Main, Ward of City: 2, Street: Green Street, House Number: 57, Marital Status: Married, Spouse's Name: Mary R Partridge, Marriage Year: 1865, Father's Birthplace: Maine, Mother's Birthplace: Maine, Household Members: Charles K Partridge 63, Mary R Partridge 62, Winifred Partridge 30, Margaret P Partridge 27, Annie L Partridge 53 – 1900 United States Federal Census
1902: 

Charles Kimball Partridge Death (Cerebral Congestion) Date: 26 Aug 1902, Cemetery: Forest Grove Cemetery, Burial or Cremation Place: Augusta, Kennebec County, Maine, Spouse: Mary Roberts Partridge, Children: Margaret Prescott Partridge – U.S., Find A Grave Index, 1600s-Current