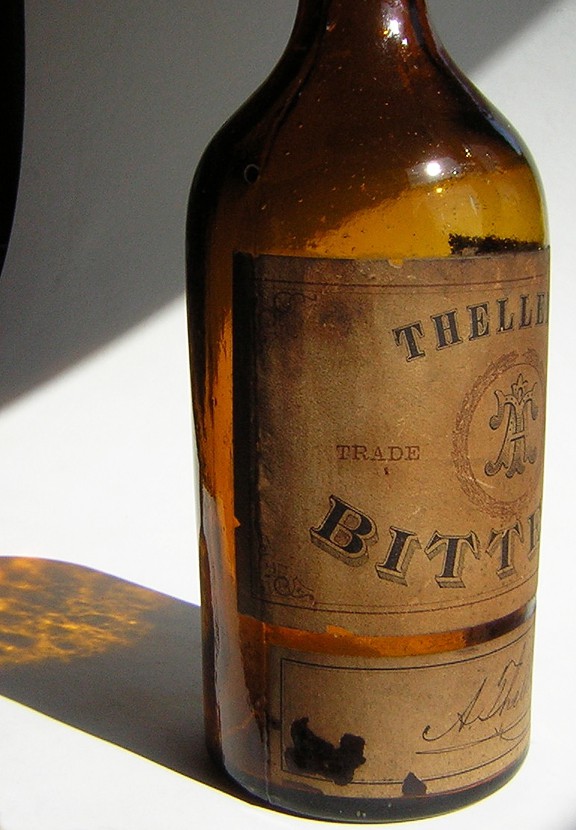 Labeled Theller's Bitters Lady's Leg – New York
01 July 2012

Just snagged this bottle on eBay. I think I would have paid the same amount for the photographs, they were so well done. Here is how you photograph a bottle for eBay.
Theller's Bitters New York ladies leg bottle with applied top. It is a nice orange amber color and it is 12 5/8″ tall. Two labels. Great character to the glass, lots of tiny stretched bubbles. Has a cup mold base. No damage chips or cracks. I can only find one, tiny short light scratch, 1/4 inch long. Mint condition. Label is stained. Other bottles shown for color comparison only and not included in auction. Photos taken in natural light, colors are very accurate. Check out my other fine bottles coming up for sale, and my feedback. turnitup38
In looking at the Carlyn Ring and W.C. Ham Bitters Bottles and Bitters Bottles Supplement books, I do not see this bottle listed which is a surprise. I do see an embossed, extremely rare, applied mouth THELLER'S STOMACH BITTERS square from New York. The note with the T 17 listing says:
"This bottle was dug in an old pre-Revolutionary dump on a clay bank in East Greenbush, Rensselaer County, New York".
I also found legal information regarding a circuit court case Trade Mark Imitation between Myers (Hostetters) and Theller. Download PDF
"That said imitation bitters are compounded by the defendants Arnold Theller and Cornell TheIler in New York city. That they place the same in bottles resembling …"
MYERS V. THELLER ET AL.
Circuit Court, S. D. New York. May 7, 1889.
1. TRADE—MARKS—IMITATIONS.
Defendants use a bottle for bitters which has the peculiar form, color, round shoulders, and short neck of complainants' bottle, with a label containing the words "Theller's Celebrated Stomach Bitters," a monogram of the letters "A. T." in place of the picture of St. George and the drag-on, used by complainants, a black Shield below the monogram greatly resembling complainants' Shield, and below the shield an imitation of the lettering upon the genuine label. Held, an imitation well and designedly calculated to deceive.
2. SAME—EVIDENCE—FORMER SUIT.
The fact that one of the defendants was in 1870 engaged in manufacturing imitations of the goods, labels, and trade-marks now manufactured and owned by complainants, and was then successfully sued therefor, is immaterial, and the record of that suit, which was offered only for the purpose of showing that fact, is excluded.
In Equity. Bill to enjoin infringement of trade-mark, etc. A. H. Clarke and James Watson, for complainants. Meyer Auerbach, for defendants. SHIPMAN, J. The bill alleges that the complainants, Hostetter and Myers, are partners doing business at Pittsburgh, Pa., under the firm name of Hostetter & Co., and are engaged in the manufacture and sale of a medical Compound known as "Hostetter's Stomach Bitters," and very extensively dealt in throughout the United States and other countries. That prior to the formation of their partnership said Hostetter's Stomach Bitters' were made and sold by said David Hostetter and George W. Smith, partners as Hostetter & Smith, at said Pittsburgh, for about 30 years continuously. That said David Hostetter, about 1852, originated a peculiar form of bottle, with round shoulders and short neck, and well adapted to the particular manner of putting up, packing, and shipping said bitters. That said Hostetter's Stomach Bitters "were by said Hostetter & Smith manufactured with great care and skill, and are still so manufactured by the complainants; and that, owing to their excellence, they have ac- quired a wide reputation as a valuable medicinal compound. That they have expended large sums of money in acquiring the right to the exclusive Use of the trade-marks, stock, and good-will which formerly belonged to said Hostetter & Smith. That the manner in which said "Hostetter's Stomach Bitters" have been by their predecessors, and still are by them, put up and sold is as follows. The bitters, when manufactured, are put into said bottles, which are square, of uniform size and color. Labels are pasted upon the reverse sides of said bottles. One label consists of the pictorial representation of St. George and the dragon, and the symbol of a black shield, which appear in the center below the words "Hostetter's Celebrated Stomach Bitters," and above a tiny note of hand for one cent, signed "Hostetter & Co." It contains other words and letters, all being surrounded by a double embossed border. The label for the reverse side is printed in gold or gilt let- ters, containing directions for the use of the bitters, etc. That the said defendants Arnold Theller and Cornell Theller, partners as A. Theller & Son; Henry H. Thomas, and Paul J. Felix and Patrick H. Cody, partners as Felix & Cody,—combined and confederated to- gether to defraud the complainants. That they are engaged in a scheme to put upon the market and palm off upon the public a preparation of their own, which is actually sold as and for the complainants', not only in bulk, but in bottles. That the bitters made and sold by defendants resemble the complainants' bitters in color, taste, and smell, to mislead and deceive purchasers and consumers. That said imitation bitters are compounded by the defendants Arnold Theller and Cornell Theller in New York city. That they place the same in bottles resembling complainants' bottles to an extent well calculated and in- tended to mislead and deceive the unwary, and which do so mislead and deceive. That they also purchase the empty bottles once used by complainants, and refill the same with said imitation bitters, and cause them to be palmed off as and for the genuine bitters of the complainants, and having the original labels and trade-marks thereon. That they also sell and cause to be sold or delivered by the defendant Thomas said imitation bitters in bulk, by the gallon, in jugs, and demijohns, marking the same "Hostetter's Bitters." That said defendant Thomas furnishes said imitation bitters to defendants Felix & Cody, who place the same in said bottles which once contained the genuine bitters of your orators; and that said Felix & Cody sell the same as and for the genuine, asserting that the said imitation are not an imitation, but are the genuine bitters of the complainants, when they well know that the same are made by said Theller & Son; and that said Theller & Son and said Thomas supply many others with said imitation bitters in bulk and in bottles, both the genuine bottles of the complainants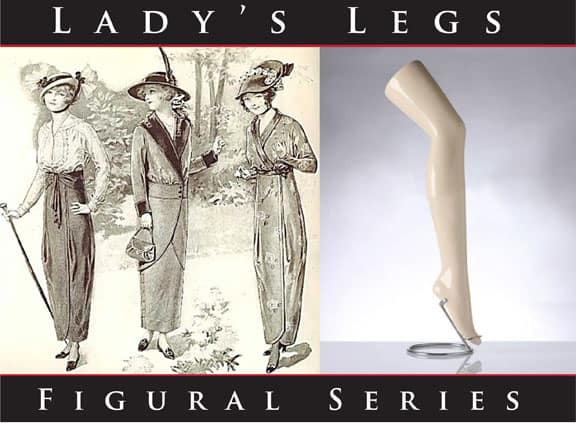 Read More: Lady's Leg Series – Weis Bros Knickerbocker Stomach Bitters
Read More: Russ' Stomach Bitters – A New York Lady's Leg
Read More: The old but sexy, Brown & Drake Catawba Bitters lady's leg
Read More: Lady's Leg Series – Zingari Bitters
Read More: Holloway's Bitters from Syracuse
Read More: The best Lady's Leg in the Galaxy – Universe Bitters