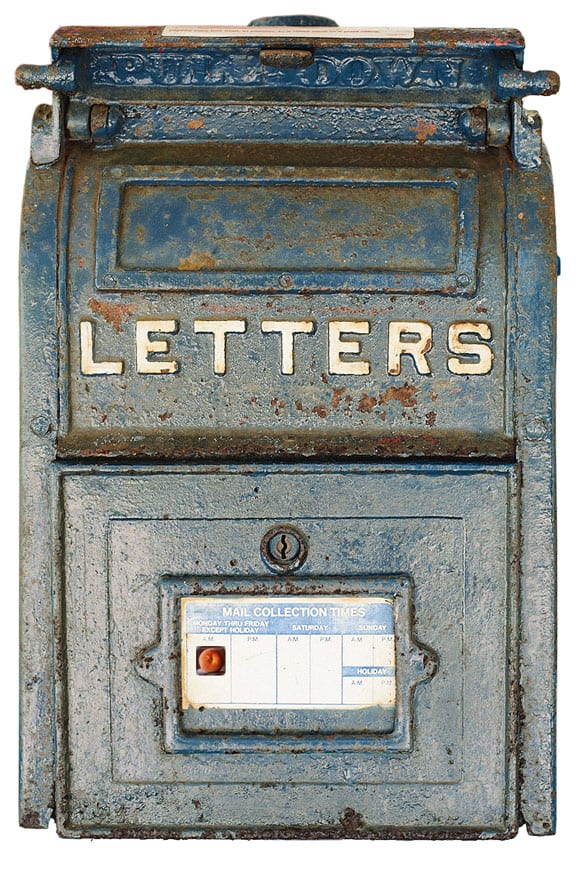 March Mail starting to pile up again. Thanks for all of the emails and information everyone.
---
Meeting a Collector on My Flight to Baltimore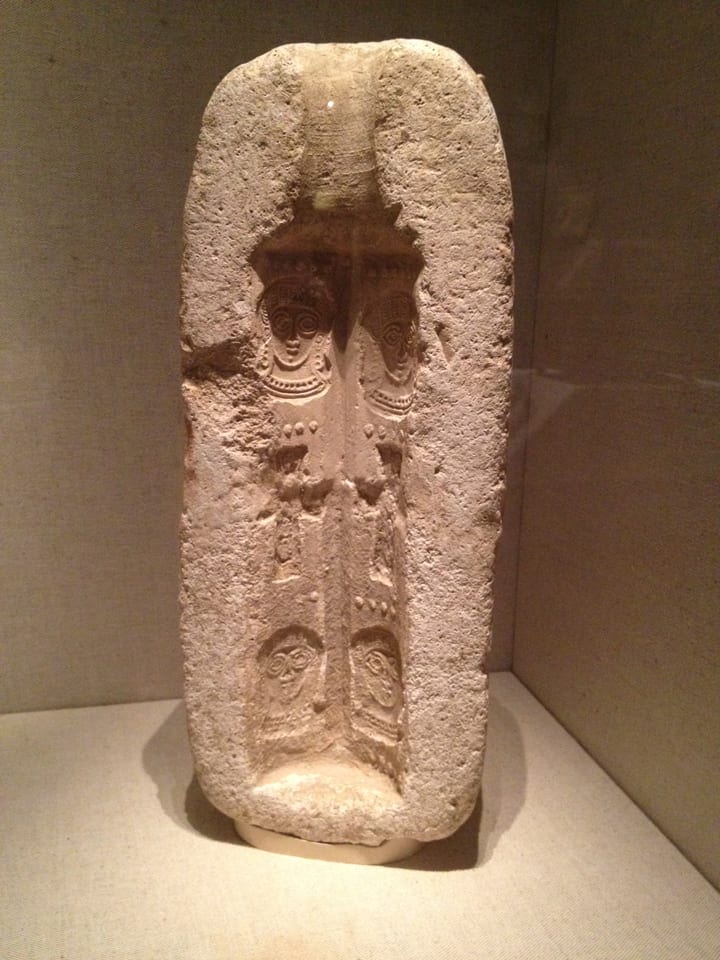 Hello Ferdinand,
It was a pleasure meeting you and learning about glass on the flight the other day.
I am sending along two emails this being the wall label for a lovely 5th century glass mould which I saw today while visiting The WALTERS ART MUSEUM in Baltimore. I wouldn't have recognized its import without having had our conversation.
Thank you for expanding my knowledge.
All best,
Frish
---
Brown Brothers Pottery Question?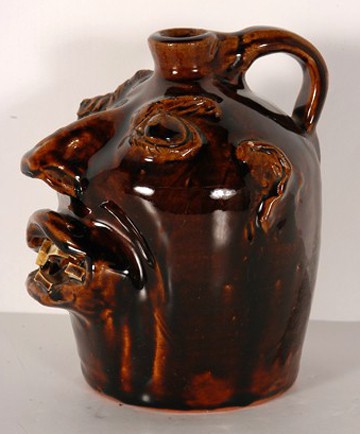 Good Day,
I'm the Chief of the Halesite Fire Dept. (the only FD right at Huntington Harbor) and I'm working on a 100th Anniversary history book of our organization. In telling the story we're touching on the history of some local landmarks, including Brown Brothers Pottery. I was wondering if I might get a high-resolution photo of actual pottery manufactured by Brown Brothers and a short descripton. I will of course provide appropriate credit.
Please let me know if you would be a good contact for this request or if you recommend I connect with someone else.
Thanks you.
Dan McConnell
Chief of Department
631-831-0860
---
Another Whitlock Piece Found
Hello, my name is Jeremy. Recently while metal detecting, I came across a green bottle that has Whitlock & Co New York on one side & the other side has BM & EA. I saw a picture of the same bottle on your web page. Any information you can give me on this bottle would be greatly appreciated!
Thanks,
Jeremy Price
Read More: Barrel Series – B.M. & E.A. Whitlock & Co. – New York
Read More: Constitution Bitters – The oldest Figural Bitters?
---
New Facebook site on American Pot Lids by Greg Dean
Dear Ferd,
Yesterday I started a facebook page project dedicated to collecting American Pot Lids. There's a lot of GREAT early American history related to these, particularly in the fields of dentistry and shaving that I'd like to share and build upon. FYI
Greg Dean
http://www.facebook.com/AmericanPotLids
---
Small Swirled Flask Question?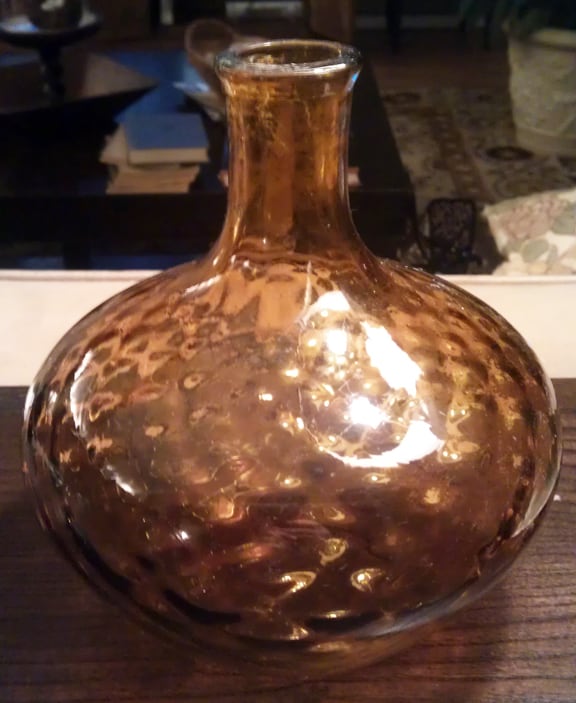 Mr. Meyer,
Here is the amber colored bottle I inquired about that I found. It seems to be ribbed with a swirl pattern. Some of the pattern seems to be inside. Any info would be appreciated. 6 ¾" Diameter 7 ¼" Tall
Thanks,
Tryna
---
William Harrison Historical Flask Question?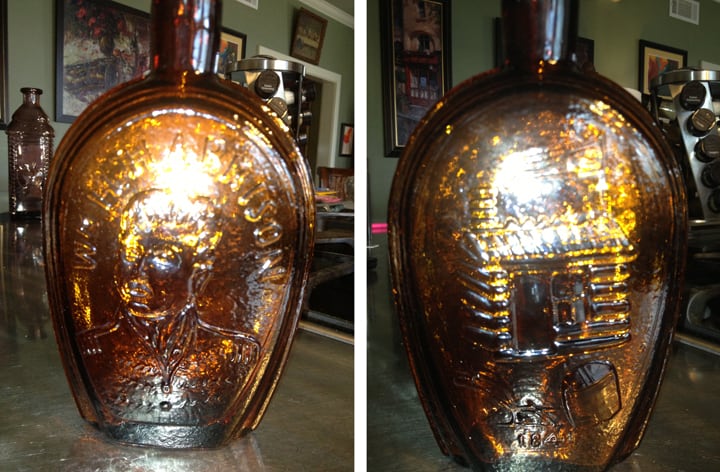 Dear Mr. Ferdinand,
I recently purchased a brown flask bottle with William Harrison on it. As I was researching this bottle I came to your site. Can you recommend how I can determine if it is an original. I'm not sure if you can see the date on the bottle but it has 1841 at the bottom under the plow and barrel. I could not make the the indention on the bottom of the bottle. The bottle is 7 inches tall and 5 inches wide. The first picture has Wm. H. Harrison. The 2nd pic. Had a log cabin with a plow and barrel. Thank you for your time.
Sincerely,
Leslie
---
Midwest Antique Fruit Jar & Bottle Club News

Dear Midwest Antique Fruit Jar & Bottle Club members & select guests,
The February issue of the Glass Chatter newsletter is now available for downloading (file size is 3 MB).
Best Regards,
Joe Coulson, Secretary/Editor
---
National Beer Question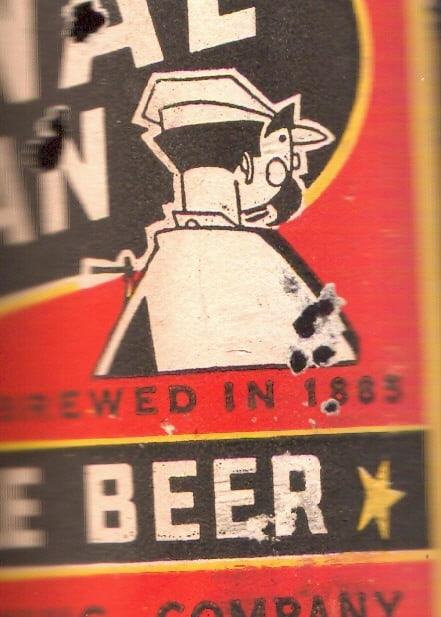 Dear Sir,
Here is an image of a beer bottle label. The beer is "National Bohemian Pale Beer" and I cannot find any information on this item. Phil Grillo suggested I contact you for a source that offers more information on this label? Thank you
Charlie Hall
[PRG] Charlie: I sure hope you went to the Baltimore Bottle Show this pas weekend. right in your back yard.
---
New example of a Weis Bros Knickerbocker Stomach Bitters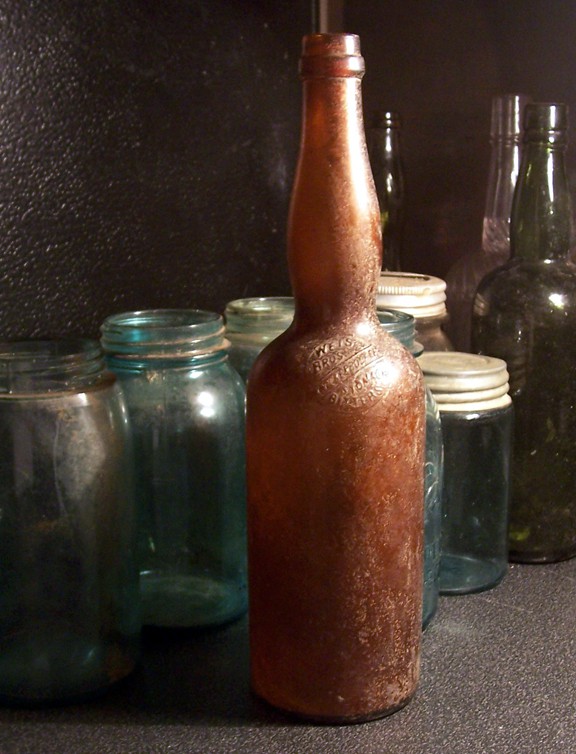 My mom recenly passed and I remember her telling me about a bottle she had found and she thought it was worth some money. Attached are photos of the bottle. Can you tell me anything about it. Thank you,
Nia
[PRG] Nia, I did a post on this bottle yesterday to help you out.
Read: Lady's Leg Series – Weis Bros Knickerbocker Stomach Bitters
---
Udolpho Wolfe's Aromatic Schnapps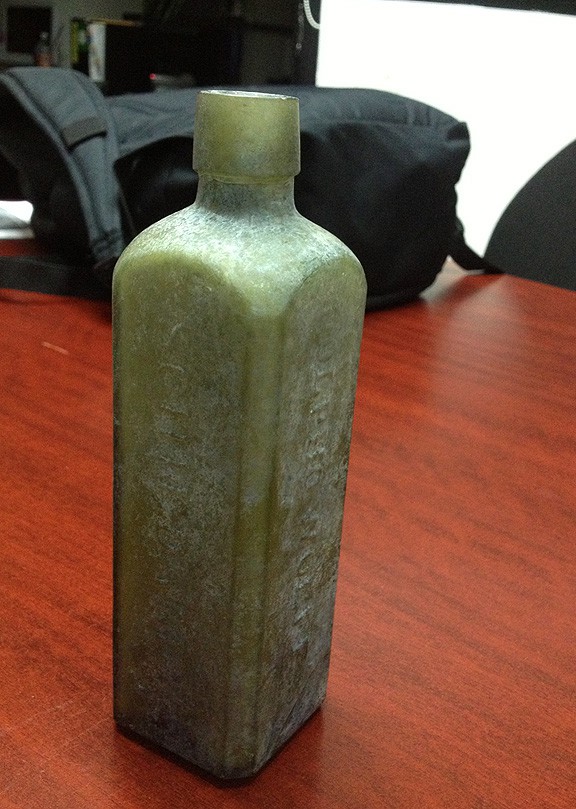 Hi, I found this bottle in one of our oldest properties, and think maybe u can tell me more about the bottle, looks very nice.. I live in Merida, Yucatán, Mexico. Thanks in advance and looking forward for some information. Regards.
Jorge
[PRG] Looks like a nice find. You probable saw some great examples on the site. Some may want to have the bottle cleaned. I like yours as is. According to Tom Doligale, "this is a common pint made in the millions. These are always whittled and should have a circle on the bottom. Value is not much at about 25 dollars."
Read: Tom Doligale and his Udolpho Wolfe's Aromatic Schnapps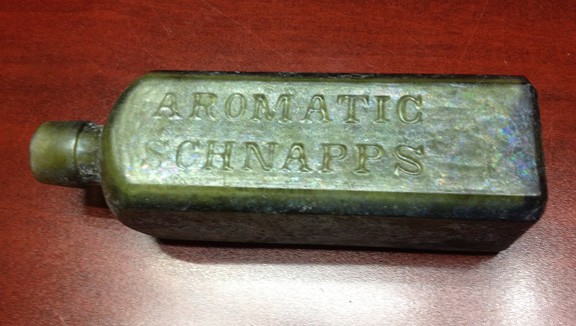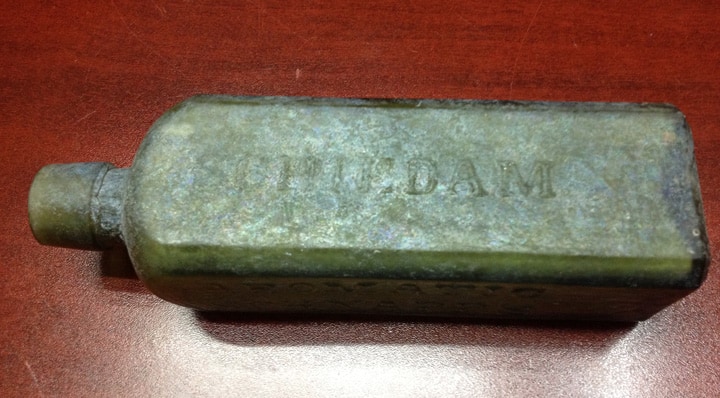 ---
Boston Indian Medical Institute
Ferdinand – I'm preparing a blog post based around a great 1860 letter that I have from the Boston Indian Medical Institute. In looking at the founder Dr. Reuben Greene's book, "Indianopathy," (1859), he mentions that they have an "Indian Restorative Bitters," of their preparation. From my research I know that there is also a well-known Pierce's bitters by the same name, and from Massachusetts. Do you think Greene was selling Pierce's bitters or are you aware of a Greene's (or Boston Med Inst) bitters by the same name? None of the Pierce advertisements I've seen mention Greene or the Institute at all. I can send you pics of the Boston Med Inst letters or pamphlet if that would help. Many Thanks. Hope you had a great time in Baltimore. All My Best, Jim Schmidt
---
Coca Bitters Found in Mass.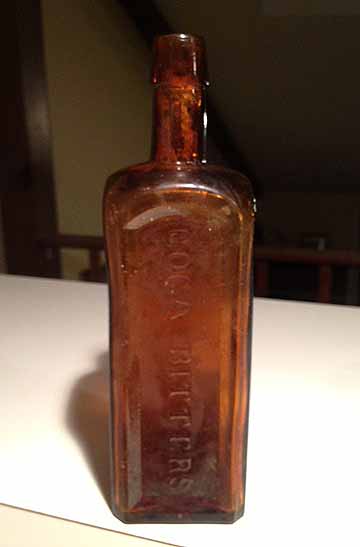 Hello Ferdinand, I just discovered the web site while searching for info on a bottle
I dug up today in Duxbury, Ma. It is the identical one shown on the site that was
referred to as rare and was found in Hamden, Conn. in July 1973. Is this so, the Coca
Bitters Bottle I found is a big deal?
[PRG] Chris I just did a post on the bottle called The Mysterious Coca Bitters – New York
Read More: Cocamoke Bitter Co. – Hartford, Conn.
---
Sulphur Bitters Question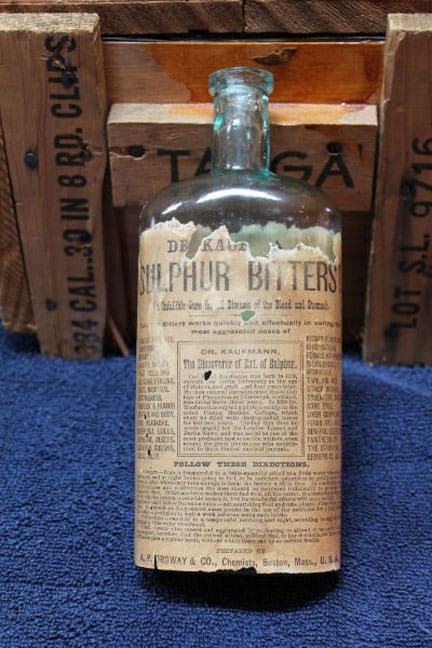 Hello Ferd, I dont think you are much into labeled and I dont think most have a lot of value but wanted one more opinion.
Without the name at top and unembossed I told the guy $20 but he thinks $200…
I dug some decent stuff last week, Need to put something together to send you but a million other things to do..
Thanks,
James (Campiglia) OuthousePatrol.com
---
Fly Trap Question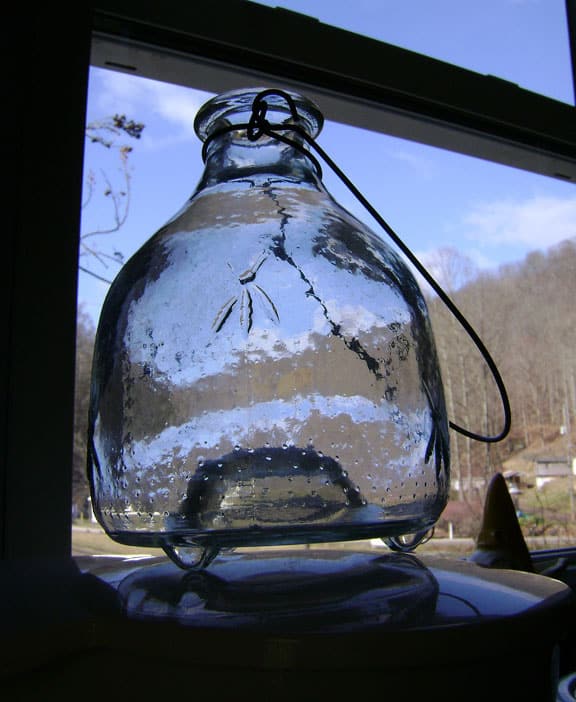 Hi Elizabeth, I have had a fly catcher for a very long time and didn't know what it was until I saw some on TV recently. I have visited local antique shops and looked on the internet to see if I can find out more about it. I have attached a picture but you can't really see some of the details on it. There's no identifying stamp on it, but there's a tiny, tiny dotting pattern on it in addition to the bug you can see. Can you tell my anything about this piece?
Janie
Read More: World's Largest Collection of Hanging Glass Fly Traps on eBay
---
Ferro China Quinine Bitters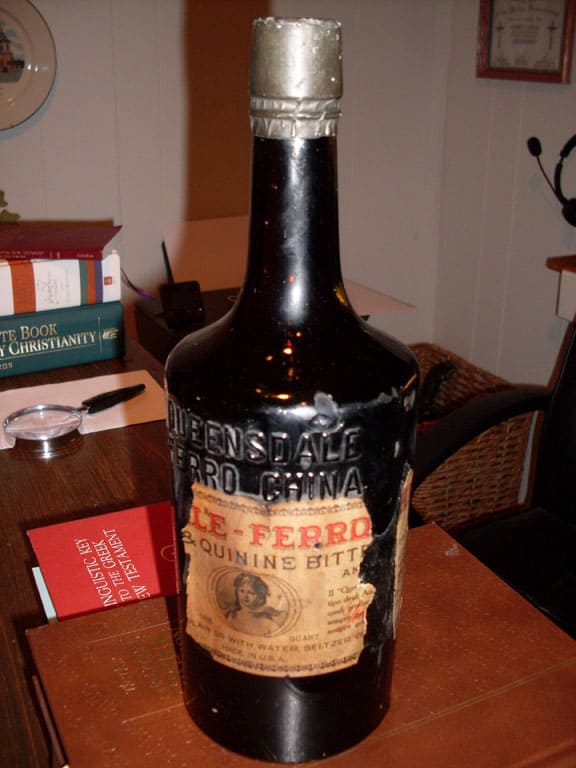 Mr. Meyer, I have an old bottle of Quinine Bitters my father had at his house. I found it in cleaning out for mom to move. It is a large brown bottle with a partial label. It is unopened and still has the lead seal on top and is full of the bitters. I am sending a picture along with this to you. Perhaps you can tell me something of this and the date. Thank you,
Jeff – Texas
---
Looking for Bottles from Saratoga and Los Gatos, California Area

Hello,
Thank you for reading this email. Please feel free to pass it along to the right folks.
I am looking for bottles from Saratoga and Los Gatos, California.
They will be on permanent display in our new heritage retail food store, Wildwood Market in the village of Saratoga. I believe that it is good to keep the history alive, and this is a great way to do that. They will be placed in a custom built and secure case.
These bottles would include, Pacific Congress Springs, Azule Seltzer Springs, and others I probably do not even know about. Also, there may be other items from the area that would be of interest such as old posters, wooden cases, etc.
Thank you in advance for your consideration and recommendations.
Very best regards. Frank Dutro
Cell: 408-533-3124
P.S. If you're interested in Wildwood Market, you can see everything at: Wildwood Market on facebook
---
Leather Canteen Bottle Question?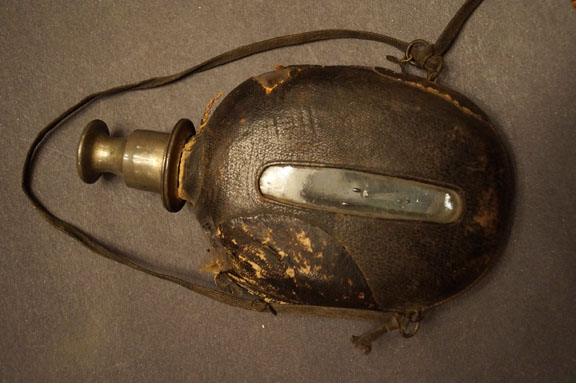 Greetings,
I purchased and interesting item the other day and was trying to research it when I came across your wonderful site. I was hoping you might know what this container is or maybe who I can contact to find out more information about it. The bottle is wrapped in leather with either a pewter or silver spout. The glass looks to be hand blown with bubbles visible in the sight glass area. No markings. It has four attachments. One is loose and shown in the picture.
Any help that you can provide would be appreciated.
Thank you!! – Travis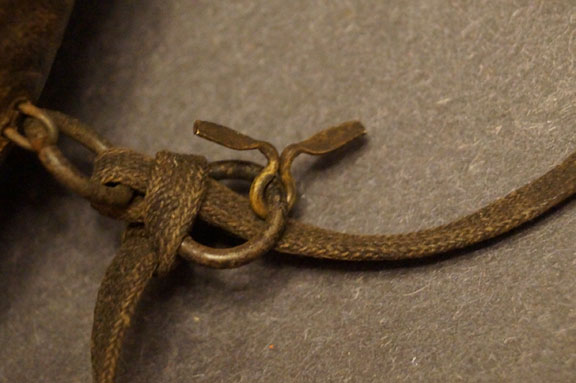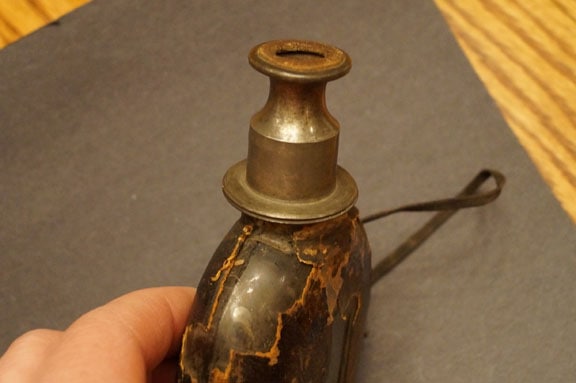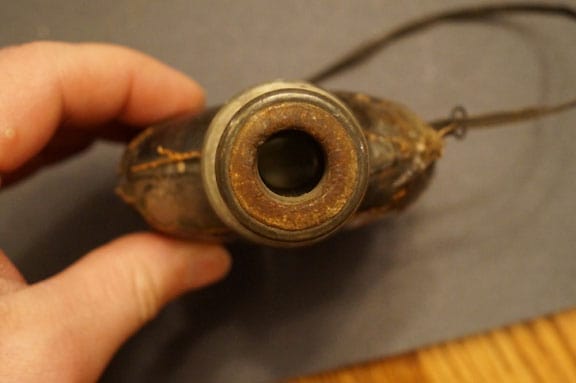 Read More: Historical Canteens – Canteen Figural Bottles
---
Bottle Question Korea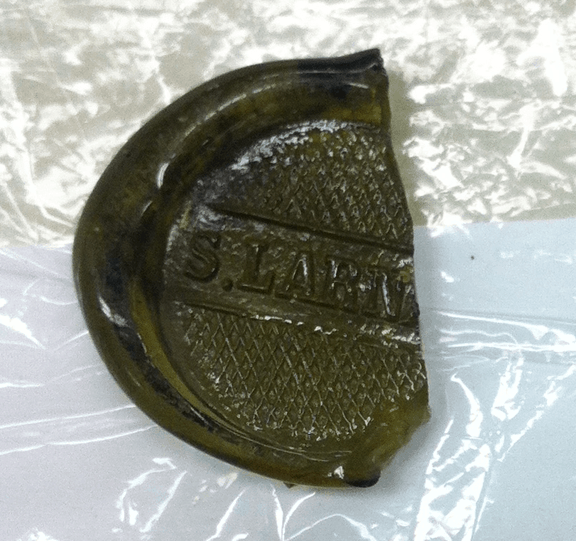 Dear Mr. Meyer,
Hello! My name is Woo, WonTek, a college student from Korea. Recently, I have been working on archaeology project with 19th century bottles. For this matter, I have a applied bottle seal that is *Green glass wine bottle seal – cross hatched background (1 π" diameter) "S. LARN[A/]"* However, I cannot find any exact information regarding this specimen. Please have a look at attached picture and give me some suggestions.
Sincerely yours, Wontek
---