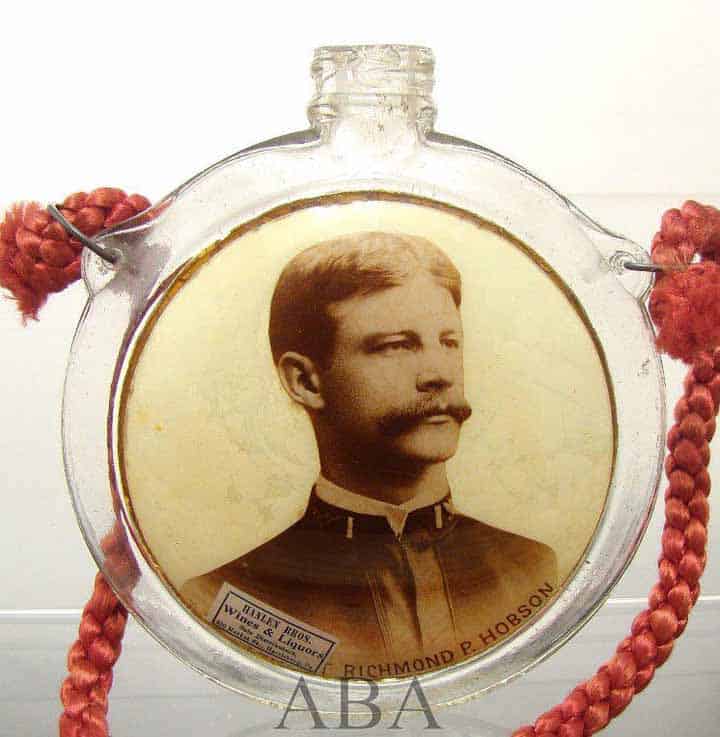 Richmond P. Hobson
Label Under Glass Flask

Jeff Wichmann had a nice assortment of Label Under Glass flasks and bottles in his recent American Bottle Auctions | Auction 57 that closed this past Sunday evening. It was very nice to get a report from Dennis Humphrey (Northport, Alabama) of his successful win of the Richmond P. Hobson flask. Dennis adds in a recent communication:
Just bought this historical flask off the American Bottle Auction web site. A small label under glass flask with a picture of a famous Naval officer.
Richmond P. Hobson was born in Greensboro, Alabama in 1870. He is famous for his volunteer encounter in the conflict in Cuba trying to sink the collier Merrimac in the entrance to the harbor of Santiago, Cuba. He and eight other volunteers steamed the ship under toward the entrance of the harbor under heavy fire from the Spanish war ships on the night of June 3, 1898. The steering gear was damaged by fire and she sank without obstructing the channel and he and the crew were captured.
After the Battle of Santiago De Cuba, Hobson and his men were released. He later was awarded the Medal of Honor, something unheard of, as an officer by President Franklin D. Roosevelt on April 29, 1933. He was elected to the Alabama House Of Representatives in 1906 and served from 1907 to 1915. By a special Act of Congress in 1934 he was advanced to the rank of Rear Admiral on the retired list. Hobson died on March 16, 1937 and is buried at Arlington Cemetery. A great Alabamian by all accounts if you ask me.
Dennis Humphrey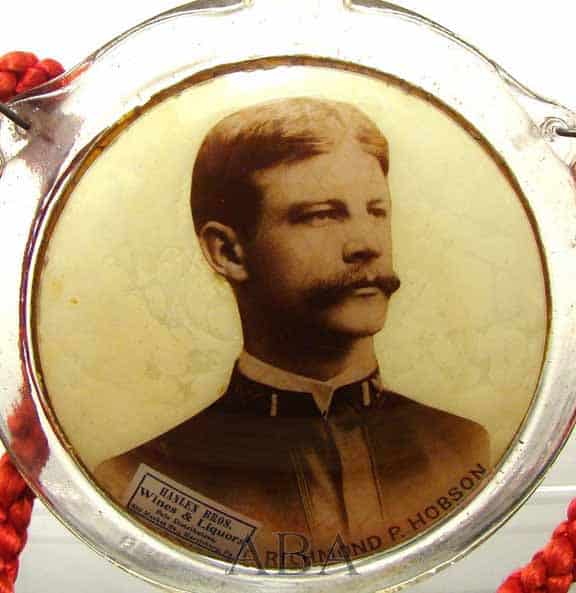 American Bottle Auctions wrote the following in their description:
HANLEN BROS. WINES & LIQUORS Sole Distributors 330 MARKET STREET HARRISBURG, PA w/ U.S. on reverse. Label over Richmond Hobson. Label under glass. 5 inches high. Apparently Hanlen placed a label over a stock photograph of an army lieutenant. There is a chip on the threading which was hidden by a cap that did not fit. The condition of the label under glass is as nice as it comes. Possibly another cap and you've got something here. At any rate, the most important part is perfect. No grade on flask, however label is perfect. SEE VIDEO
Additional Auction Examples