RED CLOUD BITTERS
TAYLOR & WRIGHT – CHICAGO
The ebay listing read, "RED CLOUD BITTERS" "bottle old !!! BEAUTIFUL". "TAYLOR & WRIGHT CHICAGO" and "Hi, Here is a beautiful and RARE bottle !! I can not find any chips or nicks on this bottle. There is a spot that looks like a nick on the bottom but it is just an air bubble, you can see this in the picture. Any questions please ask. Thanks for looking and have a GREAT day !!!"
"Hi, Here is a beautiful and RARE bottle!!"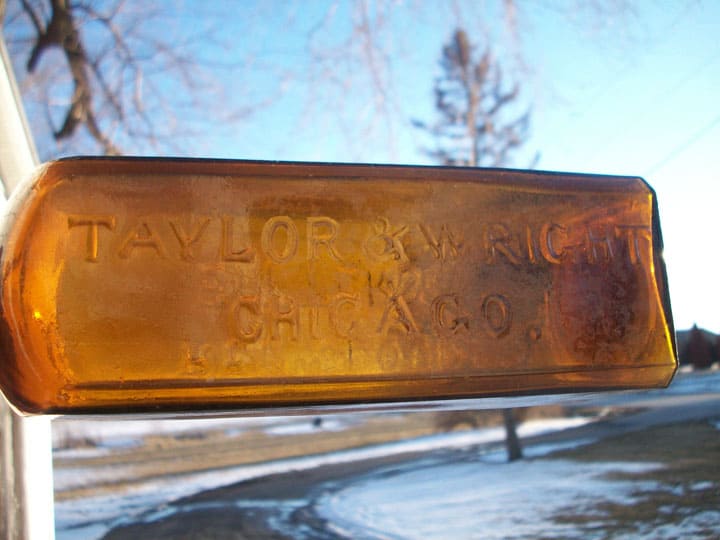 Simple enough of a listing. Here is an 'Indian' bottle that I am unfamiliar with even though I possess a few other Chicago 'Indian' bitters such as "Red Jacket Bitters". I am making an assumption here as I believe 'Red Cloud" refers to the famous Sioux war leader.
Are any of the Chicago 'Indians' related or is it just a coincidence? With names like Taylor, Wright, Vowinkle, Theller, Bennett, Pieters, Monheimer, Schwab and McQuaid embossed on various bottles, there must be a link. Well it is high time to find out.
Time to Find Out about the Chicago 'Indian' Bitters Bottles
Jeff Burkhardt (Froggy) tipped me off initially to this extremely rare Chicago square that closed on Saturday, 09 March 2013 on ebay for $1,175 with 29 bids. I think I remember seeing it on ebay too but I was just 'covered-up' with unwinding and returning to Houston after a ten day trip. What a great bottle though the pictures were less than desirable (see below). The seller (hemirules1, Chenoa, Illinois) did post some exterior 'sunlight' shots (see above)  that were much more exciting. Just goes to show you that these squares need light to make them dance.
Update: Mark Warne just notified me that about a year or so ago another Red Cloud Bitters sold on ebay. Dark amber. It went for $825 and I was the underbidder.
There is a real renaissance with the bitters square collectors and you are seeing some strong prices.
There is a real renaissance with the bitters square collectors and you are seeing some strong prices. I have picked up a few killers lately myself and someone (or someones plural) has been snapping them up quite regularly on ebay and at the auction houses. Since I have been 'cherry picking' squares for years, it is great to see the wonderful appeal of bitters squares growing. I am so fired up about this. The Western bitters group has loved their squares since day one so it is nice to see this appeal spread to the rest of the country.
Red Cloud was a war leader and a chief of the Oglala Lakota (Sioux).
Who is Red Cloud?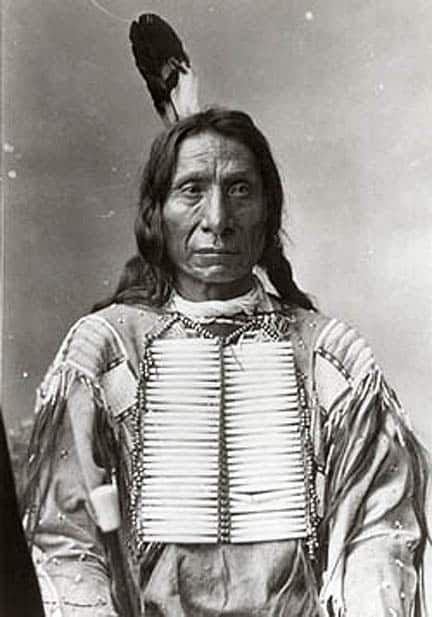 Red Cloud (Lakota: Maȟpíya Lúta), (1822 – December 10, 1909) was a war leader and a chief of the Oglala Lakota (Sioux). He led as a chief from 1868 to 1909. One of the most capable Native American opponents the United States Army faced, he led a successful campaign in 1866–1868 known as Red Cloud's War over control of the Powder River Country in northeastern Wyoming and southern Montana.
After signing the Treaty of Fort Laramie (1868), he led his people in the important transition to reservation life. Some of his US opponents mistakenly thought of him as overall chief of the Sioux. The large tribe had several major divisions and was highly decentralized. Bands among the Oglala and other divisions operated independently, even though some individual leaders such as Red Cloud were renowned as warriors and highly respected as leaders. [Wikipedia]
Grabbing my Carlyn Ring and W.C. Ham Bitters Bottles book as I left the house today, I see there are two listings for Red Cloud Bitters in the original book:
R 16  RED CLOUD BITTERS (pictured above)
RED / CLOUD / BITTERS // f // TAYLOR & WRIGHT / CHICAGO // f //
9 1/2 x 2 3/4 (7 1/2) 3/8
Square, Amber, LTC, Extremely rare
R 17  RED CLOUD BITTERS (pictured below)
RED CLOUD BITTERS // f // VOWINKLE & THELLER // f //  // b // A&DHC
9 1/2 x 2 3/4 (7 1/2) 3/8
Square, Amber, LTC, Applied mouth, Very rare
Sometimes trying to answer a question just leads to more questions. Here are my additional questions after laying out this post.
Who is "Taylor & Wright" in Chicago? There is a Wright & Taylor distiller in Louisville. Doubt a connection.
Are the R 16 & R 17 Red Cloud Bitters related. I would think so.
Are Red Cloud and Red Jacket Bitters related? Probably not. Stay tuned.
Does the R16 Red Cloud Bitters have an applied top?
Which bottle is earlier?
Who is Vowinkle & Theller"? Theller is mentioned in some type of lawsuit. Hostetter's name pops up.
What does A&DHC mean? It is embossed on other old Chicago soda bottles. It also shows up on Pittsburgh sodas on Tod von Mechow's web site. Tod says Chambers, Alexander & David H. From Glass Bottle Marks. A. & D. H. C. ………Alexander & David H. Chambers, Pittsburgh, Pennsylvania (1843-c.1889). This was one of the most prolific glass companies in Pittsburgh during the mid-to-late 1800s. Huge quantities of bottles, flasks, and fruit jars were made, as well as window glass. Many local, regional, and nationally distributed sodas, mineral waters, beers, bitters, tonics, and other types of products were packaged in bottles made by A&DHC. Most commonly, bottles with this mark usually seem to date from the 1870s and 1880s, but the mark was probably in use at least from around the start of the Civil War, perhaps a bit earlier.
Theller is a New York bitters name. I have the lady's leg. Was there a New York – Chicago connection with the bottles made in Pittsburgh? Say Taylor & Wright pushed the product in Chicago and Vowinkle & Theller in New York?