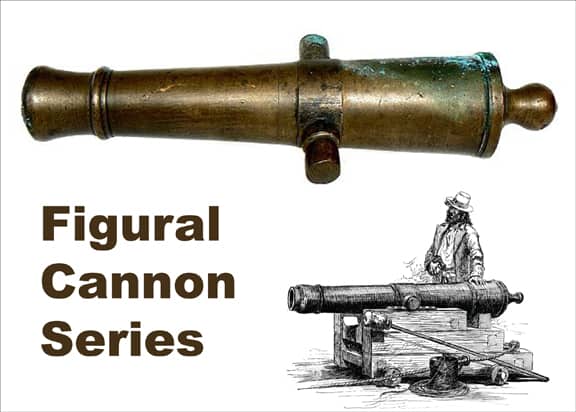 A. M. Bininger & Co. Figural Cannon
13 March 2012 (R•070512)

Here is the 2nd post in the Figural Cannon Barrel series I started yesterday with a post on the G.T. GAYEN / ALTONA cannon (read: Figural Cannon Bottles – J T GAYEN / ALTONA).
* Amended 05 July 2012 with labeled examples from the Aprill Collection
Now we will look at the popular A.M. BININGER cannon which is similar in form but a much different mold. This cannon barrel figural is also slightly shorter at 12 3/4″ +/- than the 14″ tall J.T. GAYEN / ALTONA. The Bininger cannon, usually if not always, has a sheared mouth compared to the gorgeous blob top applied mouth on the J.T. GAYEN cannon barrel (see comparison picture).
I have also posted a label reading "Bininger's Great Gun Bourbon, A.M. Bininger & Co., N.Y." from the Library of Congress though I can not prove this label was affixed to the bottle. It certainly makes sense. Let's see what you all say in your comments. I would really like to see a labeled example of any of these figural cannon barrels. Update: Label is correct, see below.
"There is an absolutely incredible example on display at the Corning Museum of Glass in Corning, New York: it has a full label (I believe very similar to the one you show from the Library of Congress, except that the Corning Museum label says, I think, "Great Gun Gin") and the bottle rests on an original metal stand, shaped like the bottom part of a wheeled, civil-war era cannon. Thus, the bottle and stand make up to be a very realistic-looking cannon, with the label displayed on top and the "barrel" pointing up at a 45 degree angle. I assume that this would have been a display for stores that sold the product during the 1860s."  
Mike Dickman
Update from Mike Dickman "Attached is a photograph I located on the Corning Museum of Glass website of their Bininger cannon bottle and its original metal display stand.  Apparently (according to the caption) the label indicates that the product is "Great Gun Bourbon" just like the label in the Library of Congress. I think I've also heard of a "Great Gun Gin" label on the same bottle."
I can tell you, they both look great sitting next to each other in one of my rooms. Two soldiers dominating a bottle shelf row. The A,M. Bininger cannon barrel bottle specifics are as follows:
Figural Cannon, A.M. BININGER & CO. / 19 BROAD ST. / N.Y., American, circa 1860
---
Now when I hear the name Bininger in glass, I think of three names rather quickly and that is Don Keating, Jack Pelletier and Bob Ferraro. Each is a passionate collector and historian in this area. Read: The History and Mystery of the Bininger Family and The Search For Their Tombstones by Melanie Zoller and Don Keating from a previous Antique Bottle and Glass Collector article.