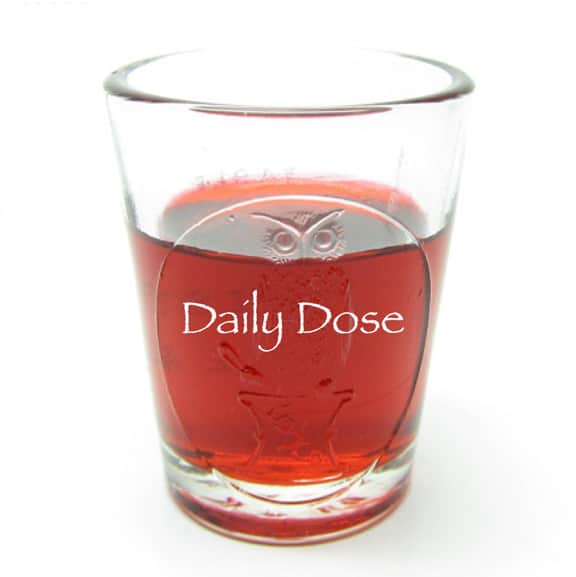 August   2 0 1 3
Some ramblings and thoughts…
Saturday, 31 August 2013
Last day of another hot dry month. The local news last night said Houston, which is typically semi-tropic, is 5 feet +/- under rain level since Hurricane Ike. Galveston is 8 feet+/ deficient.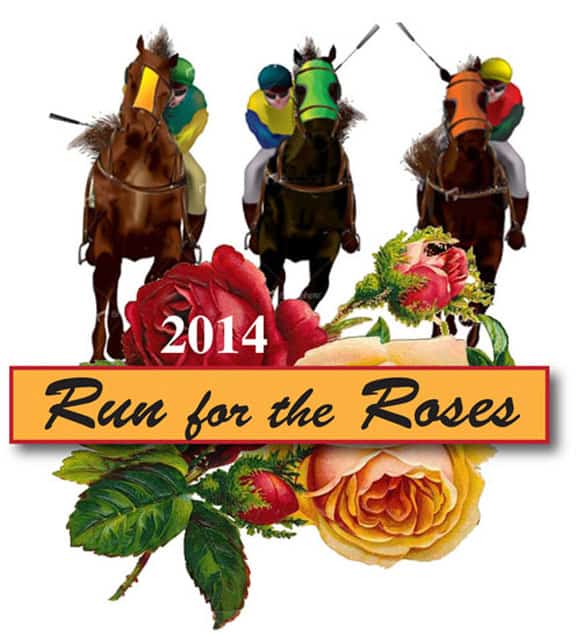 Submitted the above art to the FOHBC Lexington National committee. Win, Place and Show awards will be given for each bottle category. If you remember we had the Shootout at the 2012 Reno Expo and the Bottle Battle at the 2013 Manchester National. We will also have a themed, judged event on coolest hat.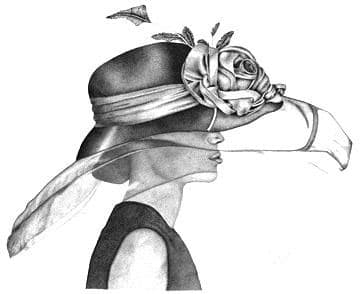 "Run For The Roses" Bottle Competition
The "Run for The Roses" bottle compitition will be held at the Hyatt Regency on Friday, August 1st after the Banquet. There will be three categories. Each category will have three judges. The categories are:
Midwestern Swirl Decanters
Historical Scroll Flasks
Wax Sealer Jars
Security will be provided.
For additional information contact: Jamie Houdeshell, phone: 419.722.3184, e-mail jhbottle@hotmail.com.
Friday, 30 August 2013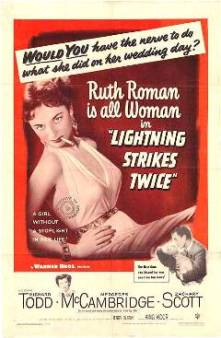 Finally got the two unlisted GERMAN ARMY BITTERS (lightning strikes twice) posts up. One for the German Army Bitters from Ironton, Ohio and the second for the Dr. Nauman's German Army Bitters.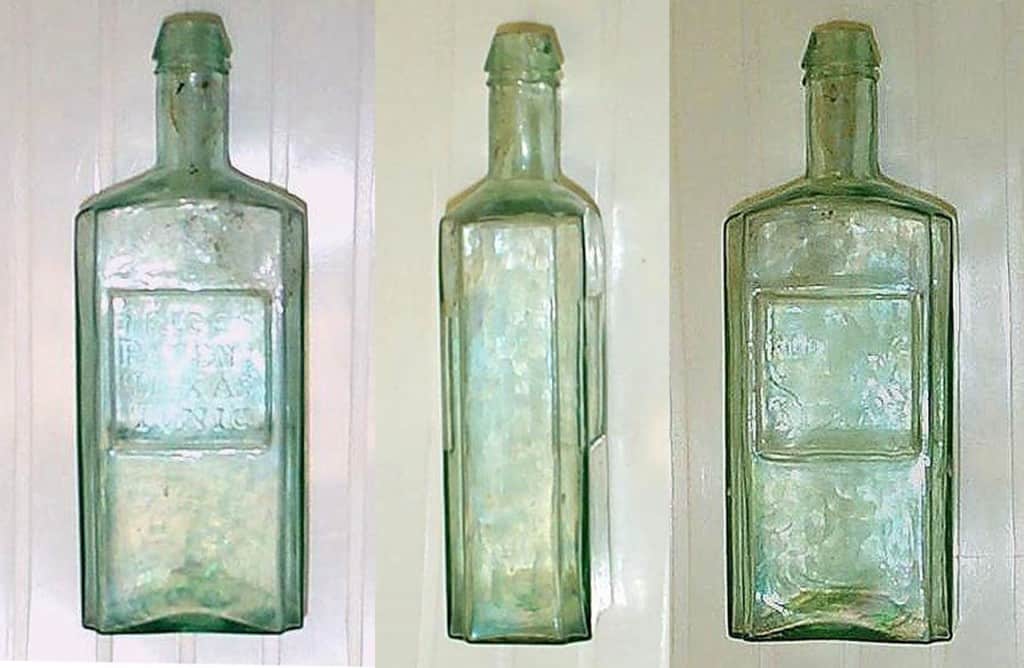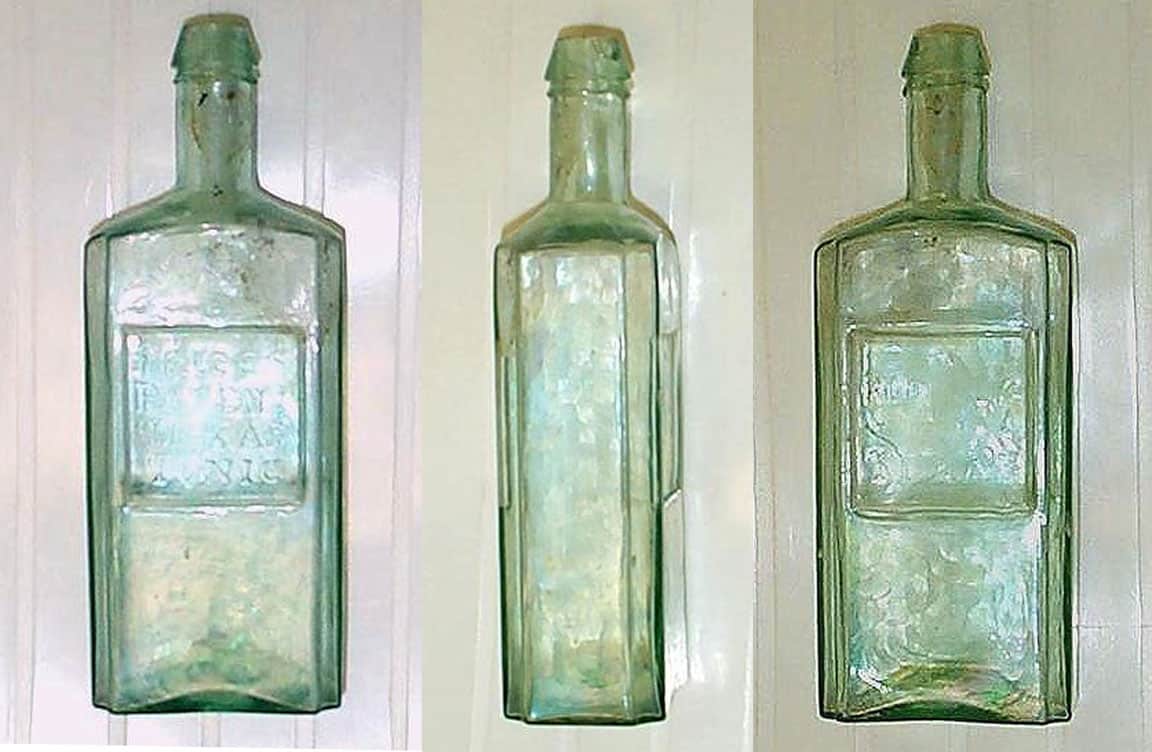 The Price's Patent Texas Tonic post was updated with new material from James Viguerie. THIS IS CRAZY. Getting in material for a Foote's Texas Tonic Bitters and a Prindle's Texas Tonic Bitters from James.
Tommy Mitchiner Death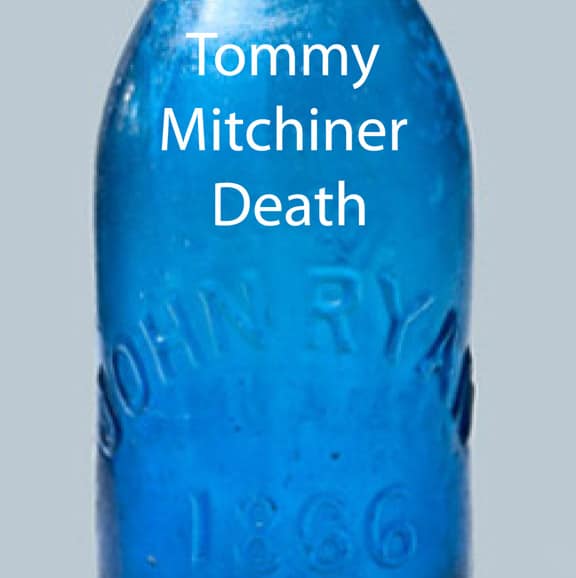 Ferd,
Just wanted to let everyone know about the death of long time collector, digger, and friend, Tommy Mitchiner. I don't know the details but he had been sick for several years but always bounced back.
Tommy was one of the pioneer diggers (he started 50 years ago or longer) in the south especially the Savannah area. Over the years he collected many different categories. Years ago he had a run of Kelly's that were outstanding. He also had as fine a collection of John Ryan's as has ever been assembled. He loved the John Ryan's so much that is what he named his son, John Ryan Mitchiner.
Over the last few years he concentrated on Georgia Hutchinson sodas. He had
hundreds different ones.
Tommy was one of the nicest people I have ever met. The hobby lost another great one.
Thanks
Jack (Hewitt)
Read: Rare Hutchinson's enthuse Georgia collector
Thursday, 29 August 2013
Looks like we may have a name(s) for the scammers. Read about Steven Dujardin on growing SCAM post.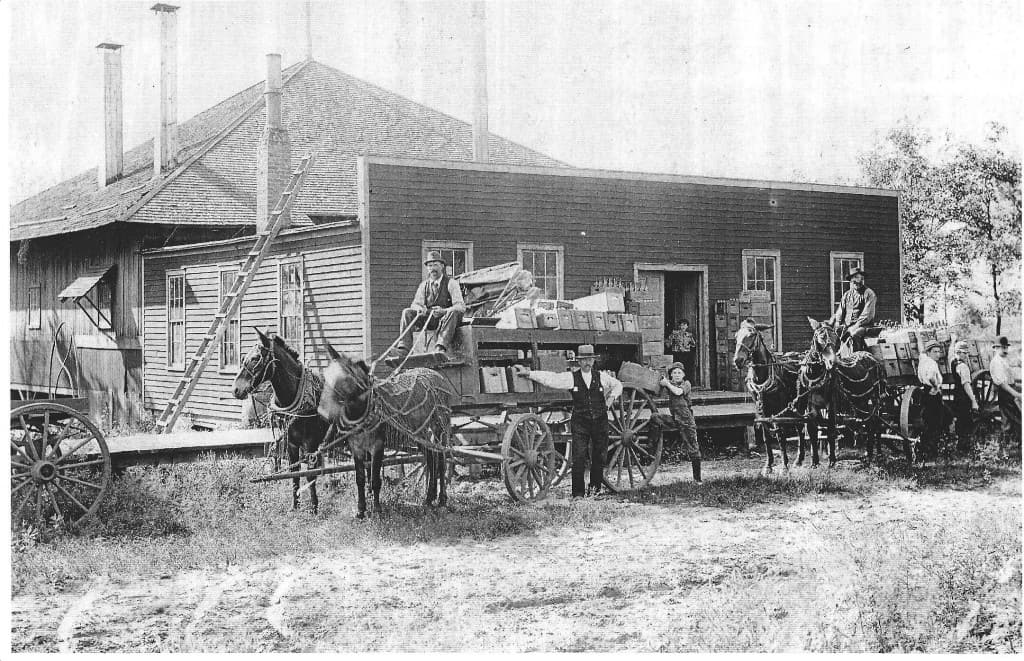 Like this wagon picture. The original Mayer Bottling Plant. Charles Mayer is standing in front of wagon with hat and vest on. The wagon to the right appears to be driven by Joseph Drackert. He owned the Drackert delivery, hauling and storage company in Hammond and delivered the bottles for Charles. The two young boys are probably Charles' sons. ** (Hammond Brewing Co. Indiana)
Read More: How we Transported our Goods, Beer and Liquor Back Then
Wednesday, 28 August 2013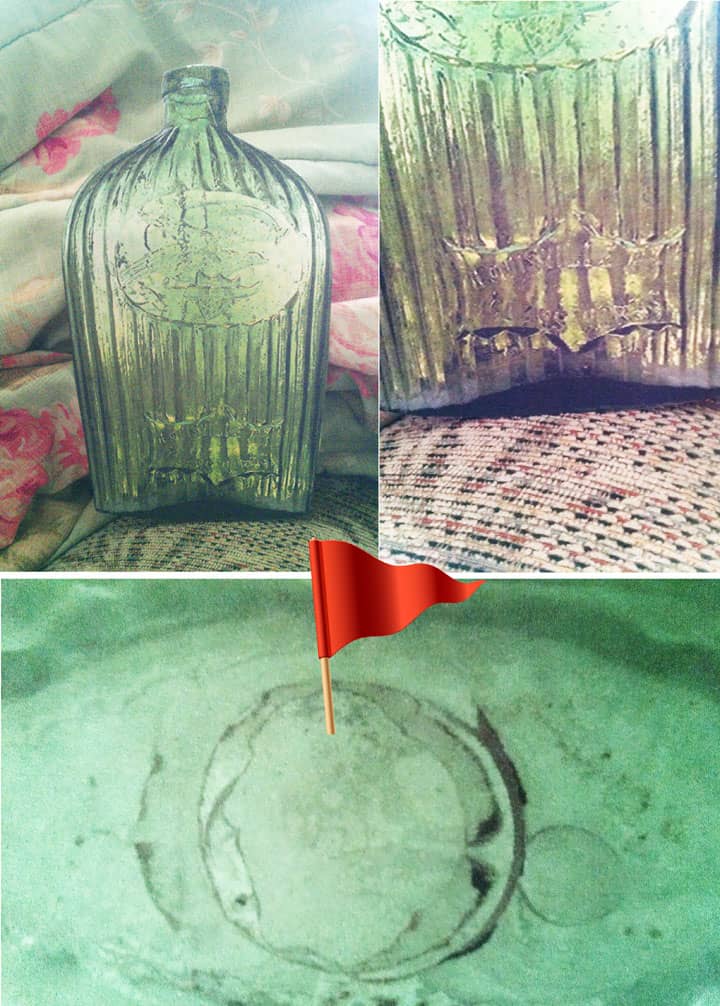 Make SURE you keep up with the daily UPDATES to the SCAM log.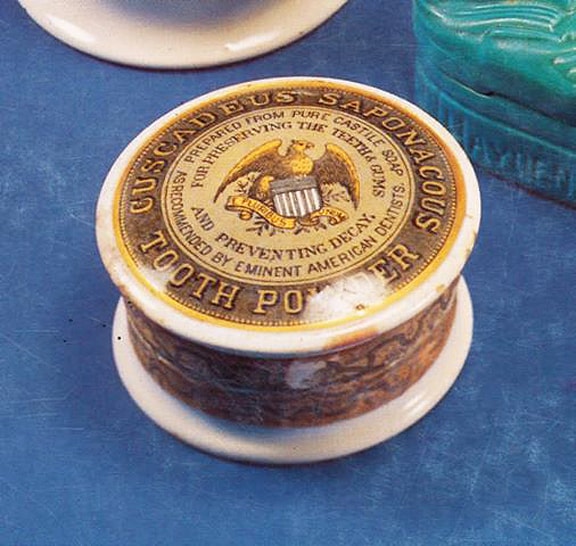 Lot 821 in the 1990 Swanson sale. Terrific eagle print, lovely gold band and most of the side seal. Not a US lid but made for this market. Just a wonderful thing! – Greg Dean
Tuesday, 27 August 2013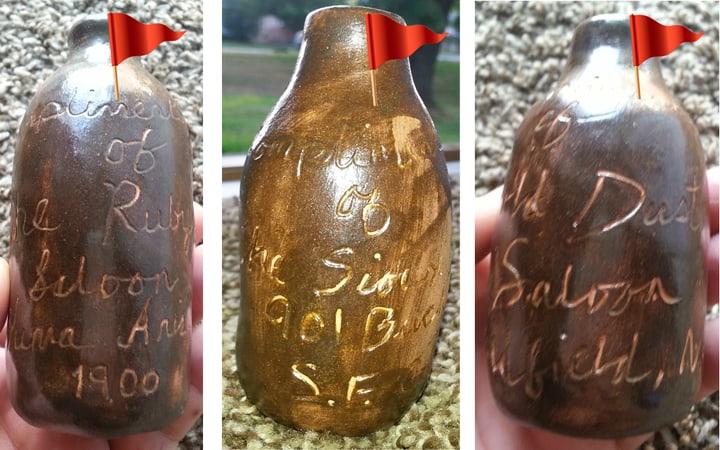 Another SCAM coming out of the same locale as the other recent scams. Thanks to Bruce at Western Whiskey Tool Top Gazette for spotting. Added to Scam catalog post. This person is very resourceful in the variety of scam techniques.
Yet another unlisted bitters surfacing. That being a Humboldt's German Bitters from Chicago. Stay tuned.
Monday, 26 August 2013
Back to school today for the junior pops. Certainly a sign that the summer is coming to a close. Maybe some rain at Peach Ridge this morning which we desperately need.
Found out last week that United Airlines, which has a major hub in Houston, has stopped direct flights into Reno. How am I going to get Coco to Downieville. Have a flight reserved into Sac now. Thought about taking one of Elizabeth's horses!
What's this I'm hearing about three Alex Von Humboldts found in or near Downieville?
Great new incoming material from James Viguerie regarding Morning Call Bitters.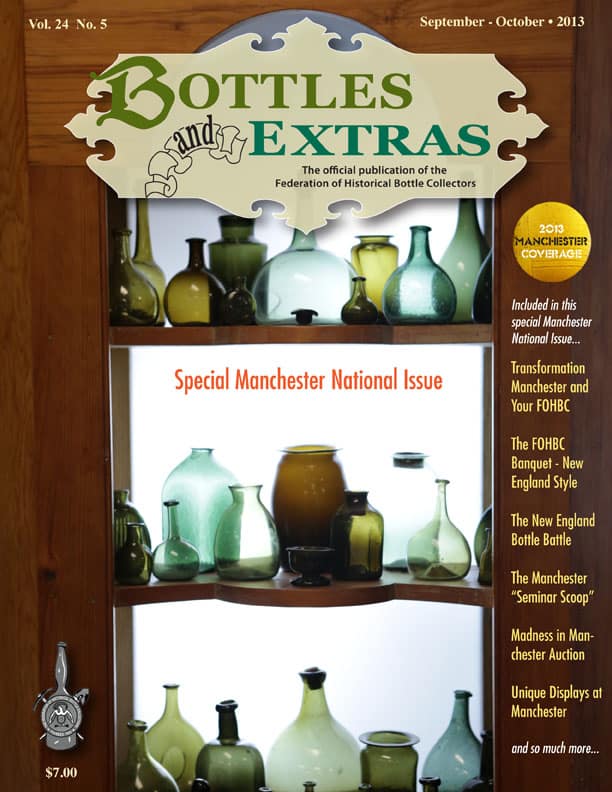 Hearing that the first readers and Fed members are getting their copy of the Sep Oct issue of Bottles and Extras. Totally dedicated to the Manchester National. I hope you enjoy.
Sunday, 25 August 2013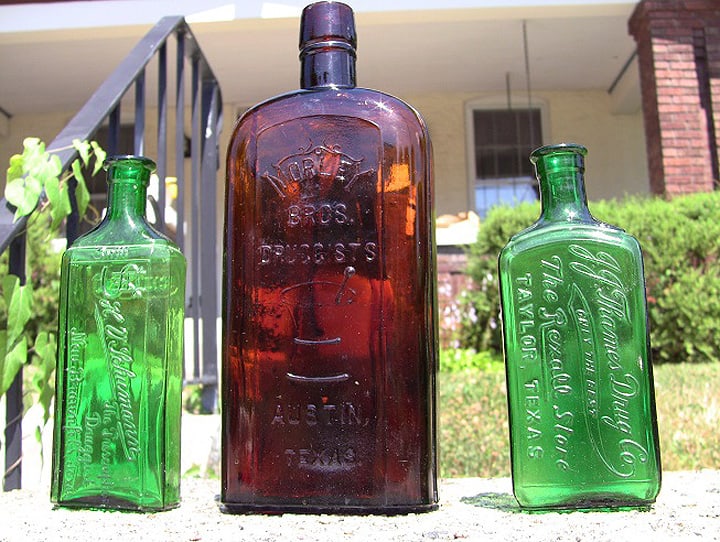 Quiet here early Sunday morning. Dogs are all up and on my first cup of ground French Roast. Made a connection and getting in lots of good material from James Viguerie in a broad spectrum ranging from a Horse Shoe Bitters comment (read comment at bottom of post), info regardig two rare Southern medicines (read: Two rare and early 'Southern' Bottles) and Texas Druggists (see above picture).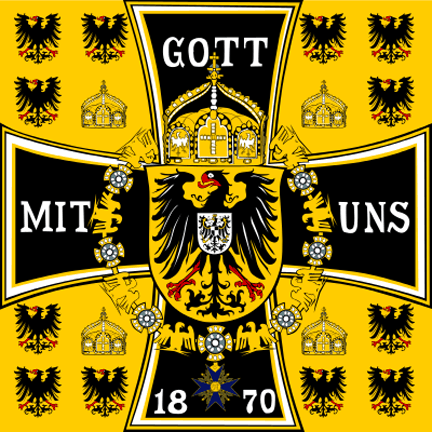 Also, if you can believe it, finishing up posts on two unlisted bitters, both with a similar name! I'll give you a hint with the above flag, coat of arms and seal.
Friday, 23 August 2013
Working out of Peach Ridge today. Elizabeth and Adriana just left for a 3-day horse event outside of Fort Worth. Two of the junior pops (my grandkids) are here with me…and six dogs and a cat.

How many of you were contacted by the scammer yesterday with the fake image? Looks like two versions were circulating.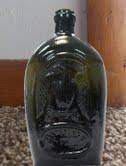 Hi Ferdinand, Just wanted to let you and the collecting community know that the Pittsburgh double eagle picture was swiped from my website. www.antiquebottlesales.com. It can be found under the "sold items" at the bottom of the flask category on my page. Thanks,
Matt Lacy
Liking this Oxygenated Bitters package on ebay. Ex: Greer bottle and handbill. Just love those aqua pontiled bitters.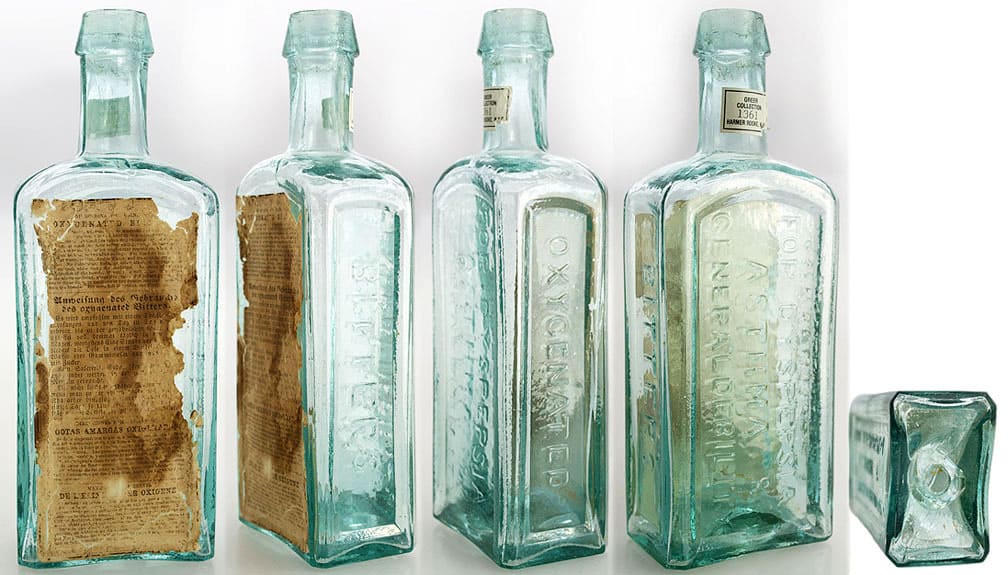 Passing of Ronald Rasnake of Ft Pierce Florida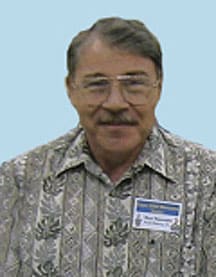 It is with great sadness in my heart that I have to report to you all the passing of my Honorary Brother, Mr. Ronald Rasnake of Ft Pierce Florida. He and I were very close friends for over 40 years. He is another long time Deland M-T Bottle Club member, a longtime FOHBC member and the holder of the largest Pictorial Case Gin Collection Archive in the world. My deapest Sypathy goes out to his lovely wife Sue and their children. I just found out a few minutes ago from his close friend in Ft Pierce and I just got off the phone with his wife Sue. Ron died of a sudden heart attack on August 16th and was laid to rest yesterday. My Brother you are another Antique Bottle Colelcting ICON that will be missed by many a collector around the world. I for one will sorely miss you. The fun times and jokes and bottle finding stories we used to share. Please pass on to all whom you know in the bottle collecting community that we have lost another great bottle collector and dear friend. Thank You.
Dwight A. Pettit Jr., SMSgt, USAF (Ret)
President Deland Florida M-T Bottle Club
http://www.legacy.com/obituaries/tcpalm/obituary.aspx?pid=166523735#fbLoggedOut
Thursday, 22 August 2013
Bitters News: Gary Beatty (North Port, Florida) scored twice on ebay recently with a Morning Call Bitters and a Home Bitters.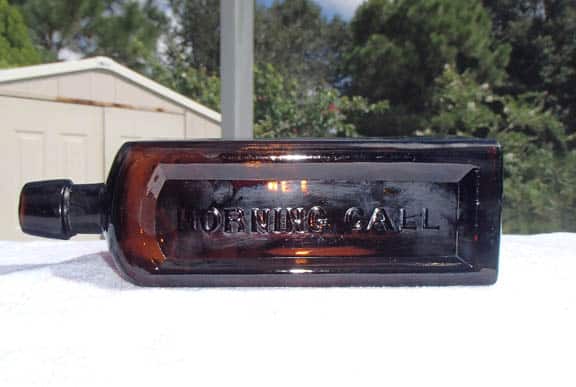 Hi Ferd, I got a Morning Call Bitters off eBay 'Buy It Now'. 35 people were watching it so I had to make a decision fast. It is medium to dark amber. Not as pretty as yours but no damage. Probably a couple days on my tumbler just to fine tune it. It has not been dug? (who knows for sure?) But no scrapes or scratches. It is still pretty rare is it not? And was it from Cincinnati or St. Louis?  Best regards, Gary
Ferd, here is the Morning Call. It does not need a tumble. I cleaned it with Ka Boom! You can put it on the PeachRidge if you want. I paid $700, did I over pay? Is it a Cincinnati or St. Louis Bottle. Best Regards, Gary
Gary's XR bitters is NOT the same bottle as my unlisted Morning Call Bitters. I will be developing a post here on the Morning Calls. Gary also picked up a nice looking Home Bitters from St. Louis for $45. Also chasing info on a Home Bitters cylinder.
Got a phone message about a Brooklyn Bitters showing up at a recent bottle show. Haven't tracked that one down yet. Not even familiar with the bottle. Still need to make a connection for information on a the Winfrees Bitters, W 135, 136 and 137. An example is pictured under 15 August of this month.

Hi Ferd, I just got a email from a guy yesterday about a Lange & Bernecker Eagle Bitters, It appears he stole the pictures from your website where you have them listed as the Meyer Collection. I looked at the pictures of the bottle and I knew it did not look right. I forwarded you a copy of it so you could see. Thanks, Theo (Adams)

They have taken my bottle pictures and dropped it in the friggin' chicken coupe!
Read: The XR Celebrated Eagle Bitters – St. Louis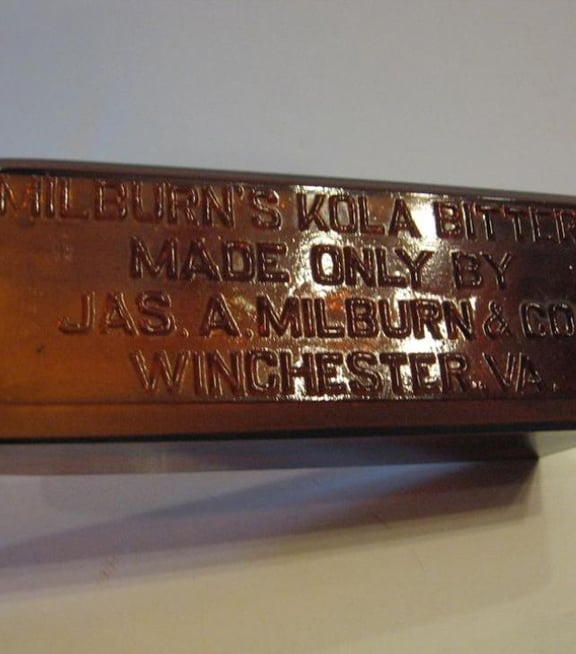 Also getting info in on a Milburn's Kola Bitters from Winchester, Virginia from Tom Leveille.
Wednesday, 21 August 2013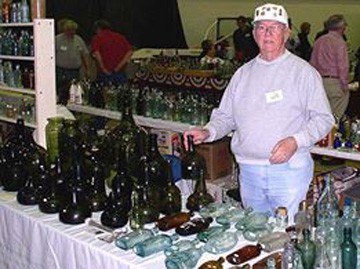 Sad day yesterday finding out about Carl Sturm passing. Carl was a fixture at bottle shows and was a long time Fed board member. RIP Carl. That is Carl at the 206 Balto Bottle Show above.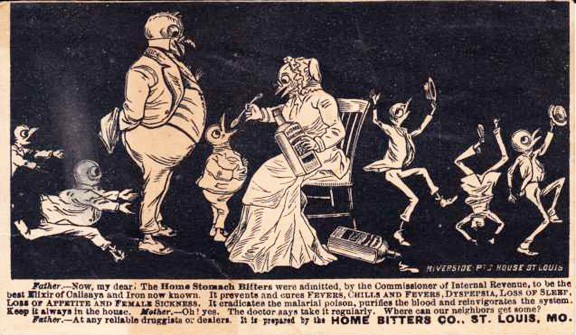 Joe Gourd, the bitters trade card king, sent in two pieces that were added to the The Home Bitters post. Need to stay more connected to Joe.
Texas meds, drugstore, bitters, and mineral waters on my mind of late. Tons of incoming material to review. How about that Texas Hutch display by David Cole?
Tuesday, 20 August 2013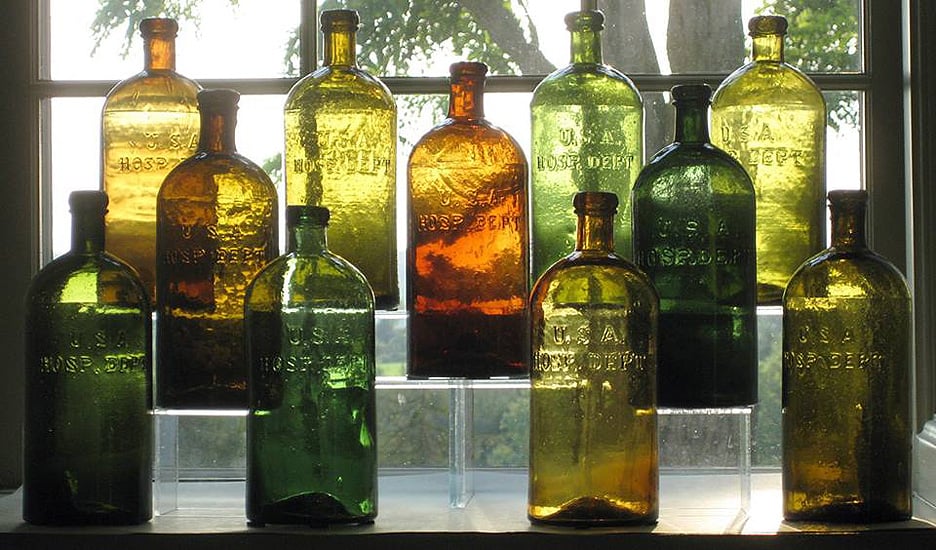 The best I have ever seen! – Jeff Noordsy
Look at this stunning group of USA HOSP DEPT bottles that Jeff and Holly Noordsy posted. Shut the door!
See more: Pictures at an Exhibition – Noordsy Gallery
Sunday, 18 August 2013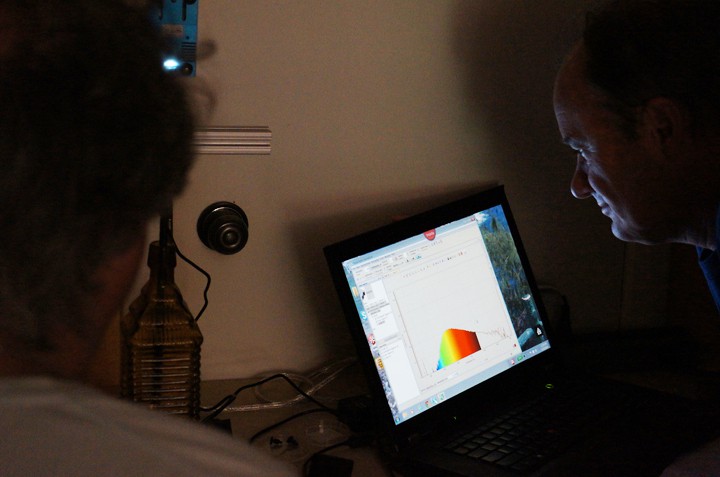 Michael and Alice Seeliger from Brooklyn, Wisconsin spent the night at Peach Ridge last night. Spent a good part of the day assisting Mike take exacting color measurements of my 6-log Drakes run and various other bottles. Need to evaluate all this information now. That is Mike on the right reading a color graph from a greenish Drakes in front of me on the left. We set up in a dark, back hallway to the laundry room as to not have any other natural light influence.
Friday, 16 August 2013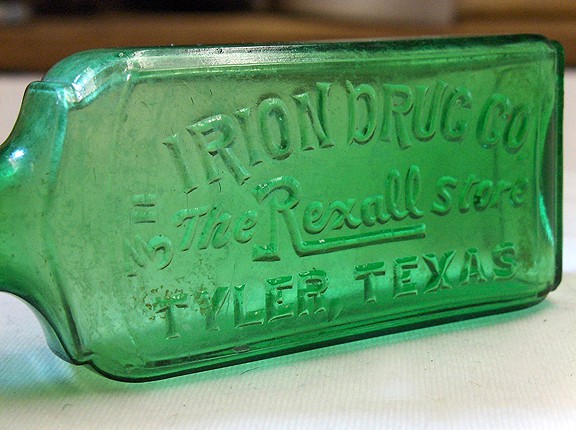 The Houston Bottle Show starts this afternoon with the action tomorrow. This show is starting to grow again and get some attention. I am specifically looking for elusive Texas bitters examples and material and Texas colored drugstore bottles. Picked up my first bottle on ebay back in July, that being the Irion Drug Store from Tyler, Texas.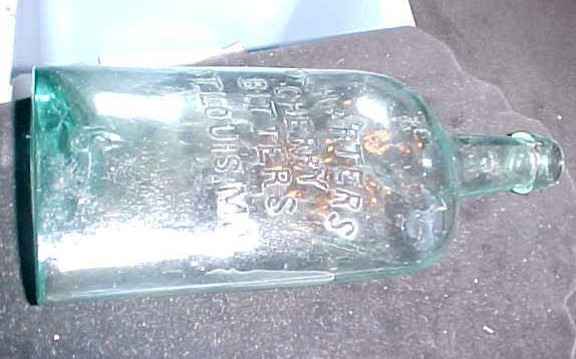 Picked up a Dr. Harter's Cherry Bitters from St. Louis on ebay yesterday. I have many Dr. Harter examples but not this baby. Looks a bit raw but apparently there are no problems.
My Texas bottle buddy, Brad Seigler tipped me off on an advertisement for Dansby's Cotton Patch Bitters from Terrell, Texas that was placed in a Clarksville, Texas newspaper in 1887. This is the first material I could get my digital hands on for this XR bitters. Never even seen a picture of the bottle. Read: Texas Bitters List

Thursday, 15 August 2013
Raining in Houston last night and this morning. First time in a month or so with this drought. Feels odd.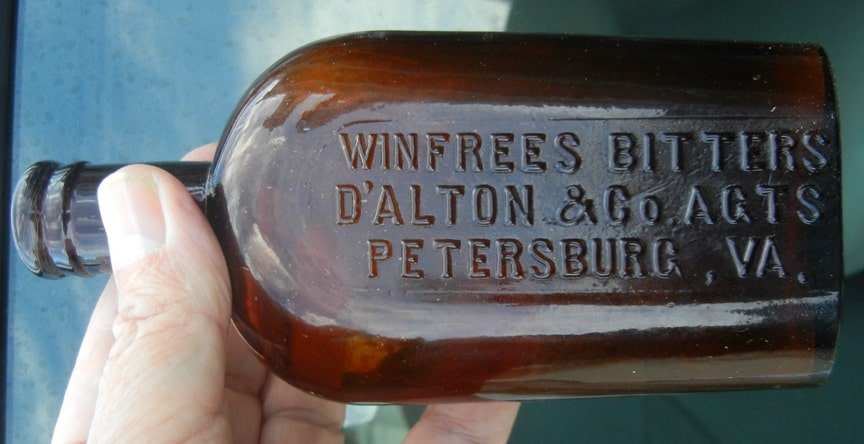 Yesterday was an odd day too with lots of incoming emails and calls on bottle and go withs. Much was put on PRG Mailbox. There was two separate communications on rare Virginia bitters bottles. One being a Burdwells Virginia Bitters from Richmond and the second on a Winfrees Bitters from Petersburg, VA. Stay tuned.
Wednesday, 14 August 2013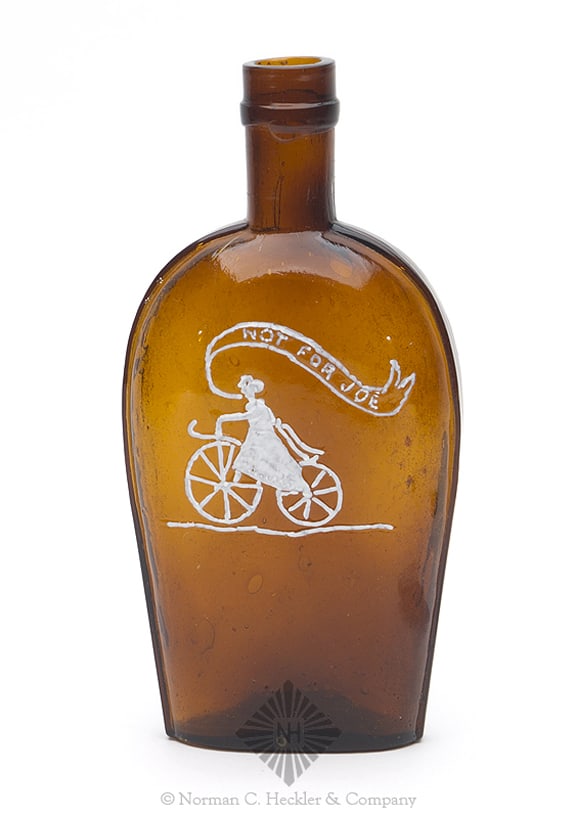 "half-pint, the only specimen known in this size. It turned up about three years ago and is in the collection of the author". We are happy to share that we will be offering this flask in our Premier Auction 106 which opens….." >> Revisit Post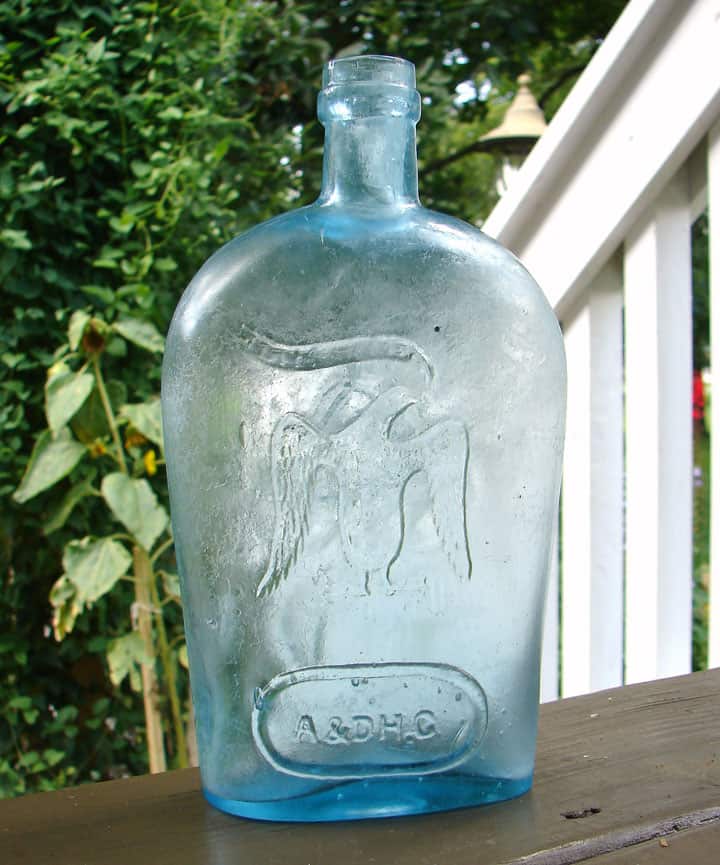 The Folksy, Girl on a Bicycle Historical Flask post updated again with two new pics from Cody.
Tuesday, 13 August 2013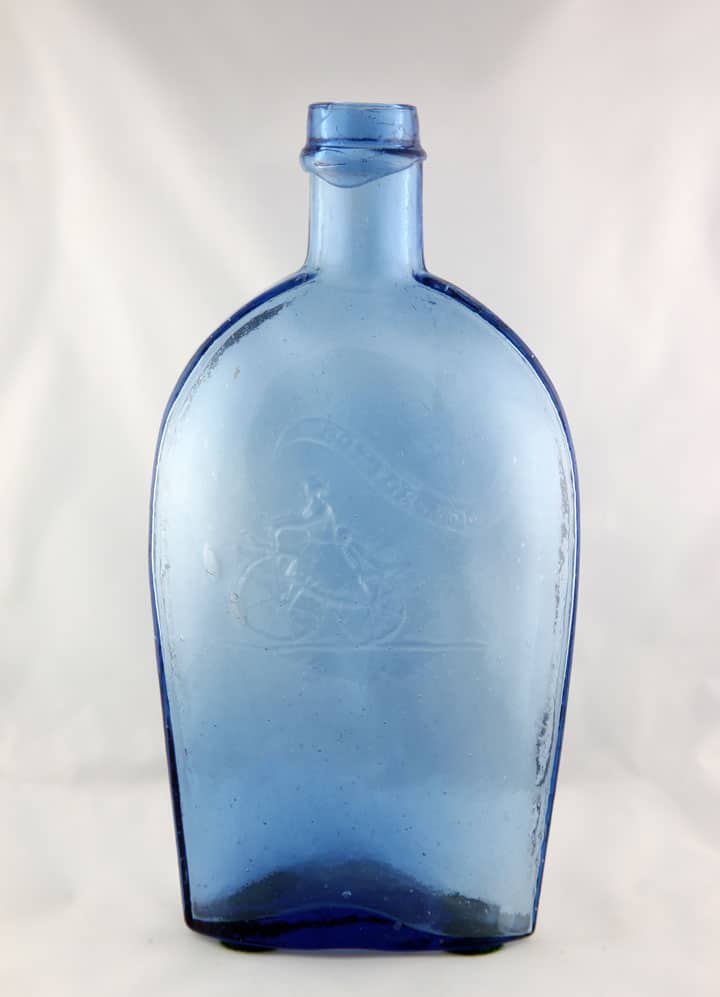 I like it when a post generates new material. In this case I am speaking of the The Folksy, Girl on a Bicycle Historical Flask post. Mark Vuono sends this killer pic of a pint in sapphire blue and David Whitten expands on the flask origins.
Latest on the American Life Bitters.
I keep the bottle in a safe deposit box, as soon as I get time to make it into town I will get it and try for better pics for you. I understand the scams you are talking about but rest assured I do have the bottle and this is legitimate. My mother has dementia and that alone is a full time job, plus I do have a regular job, so getting into town, which is 100 miles round trip, is not something I do anymore than I have to. It's just to difficult on Mom and I can't leave her alone and go that far away. I'll try for Wednesday or Thursdayof this week to get it for the pictures. I don't get much of a chance to get on this computer either so I'm sorry it has taken me so long to reply. Yes I have contacted others and have had offers to auction it off, one 'kind' gentleman offered me $20.00, I laughed and refused his offer without a second thought, guess he thought I was to stupid to know it's value. So the scams and rip offs go both ways.
Monday, 12 August 2013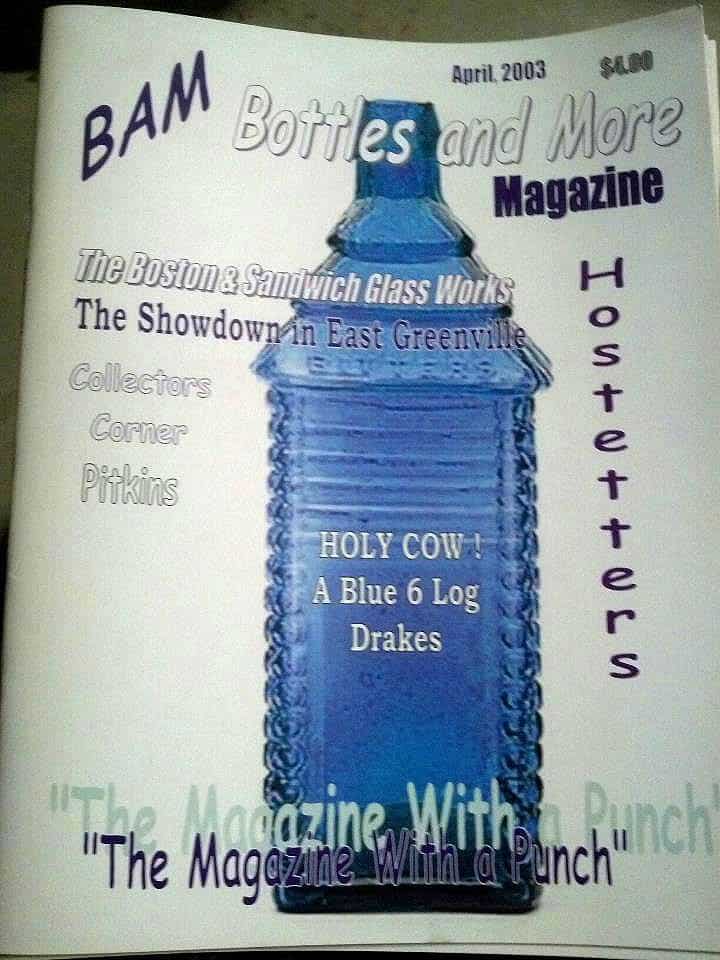 Remember BAM and this cover? Caused quite a stir. Finally picked up my XR Catawba Bitters – St. Louis square.
Saturday, 10 August 2013
Jerry Forbes and I were talking yesterday about hotel and rooming accomondations at far away bottle shows and the conversation turned to the amusing aspect of some dealers 'shacking' up in a $49 motel room to save money. Nothing wrong with that I guess, but these guys are dealing in some big money bottles. How bout' them Bears!

Did I miss any Bitters books? Check out the GI-89a Lafayette Masonic flask over at Mailbox Letters.
Friday, 09 August 2013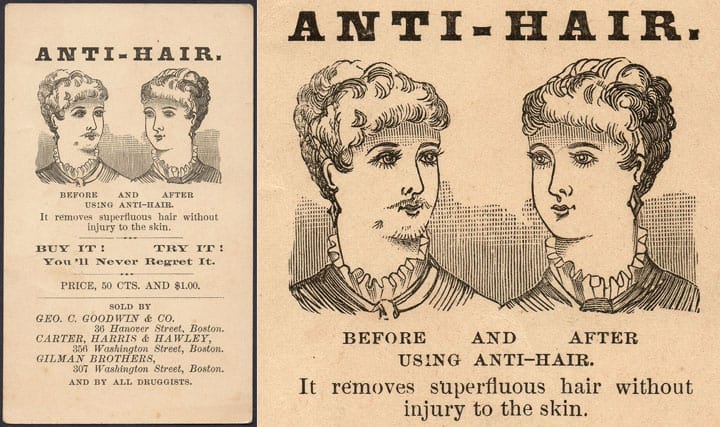 ANTI-HAIR. For you guys. A nice little present? In case your girlfriend or wife has a beard, mustache, hairy eyes or a wart on her cheek with an outcropping of hair. Makes kissing more pleasant, I think. You can really tell a difference!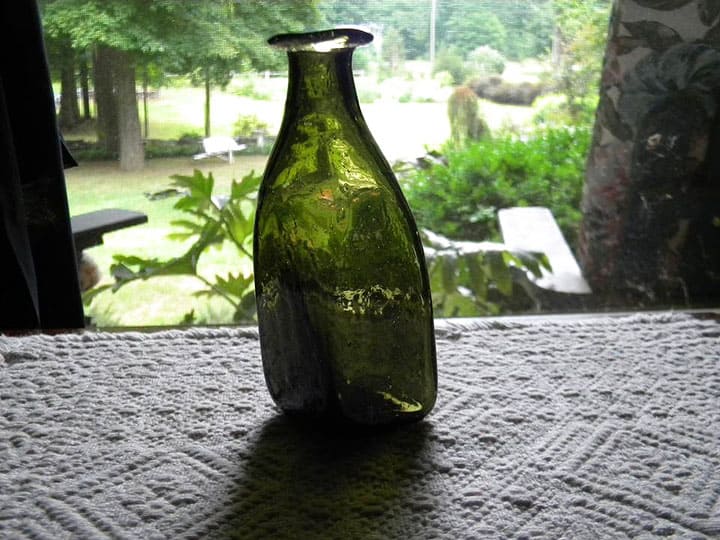 Tom Marshall posted this picture of his "Runner-Up" Utility Bottle in the Manchester Bottle Battle. Stunning example and picture.
Thursday, o8 August 2013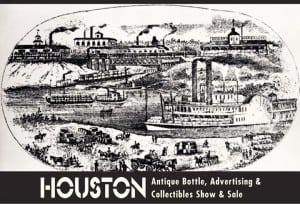 You may have seen my plug for the Houston Antique Bottle Show on the home page (see image on left). I used some old historical art representing early commerce in Houston. I felt like using the art below as it is 102 degrees here and we may go out and drink margaritas Friday night before the show. Whiskey too! Might be in poor taste huh?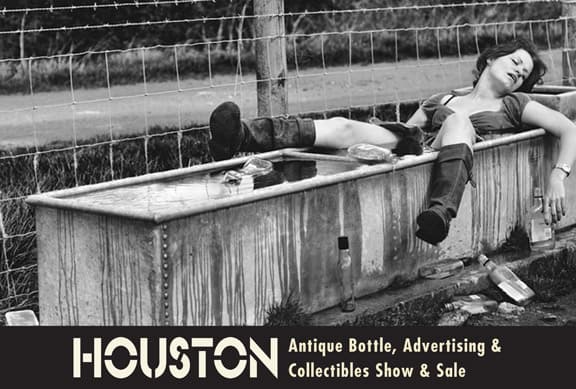 Wednesday, 07 August 2013
Please remember to keep an eye out on Mailbox Letters each month. Sometimes some interesting incoming material. I receive quite a few letters | emails regarding ancestry which is often interesting and fruitful.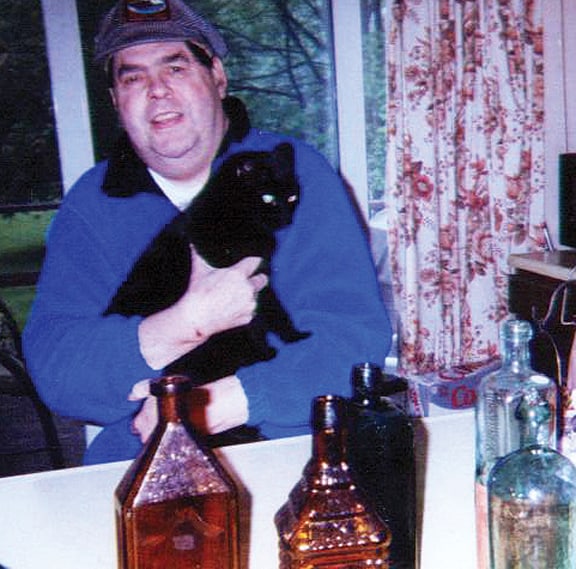 Just heard that we've lost another member of the bottle community. Mark Legare passed away 3 days after he attended and set up at the FOHBC National show in Manchester NH. Here's a link to his obituary where you can sign the guest book for the family. I was able to chat with Mark at Manchester and at Keene last year. He wanted so bad to have and article in Bottles and Extras but his pictures were so blurry and low res. We finally put an article in with his cat picture a few issues back.
http://www.neunfuneralhomes.com/memsol.cgi?user_id=1054547
Tuesday, 06 August 2013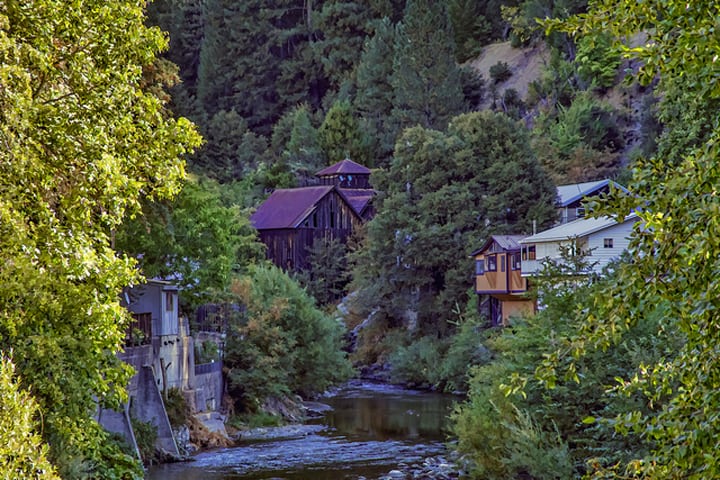 Downieville California in the beautiful Sierra Nevada Mountains on the Forks of the Yuba and Downie Rivers. As I sit here in my studio in downtown Houston, preparing to walk the dogs on the rush-hour congested morning streets, I look at the above picture of Downieville and I sigh with relief. I hope I can find a way to go to this bottle show next month. One of my absolute favorites. More Info
Monday, 05 August 2013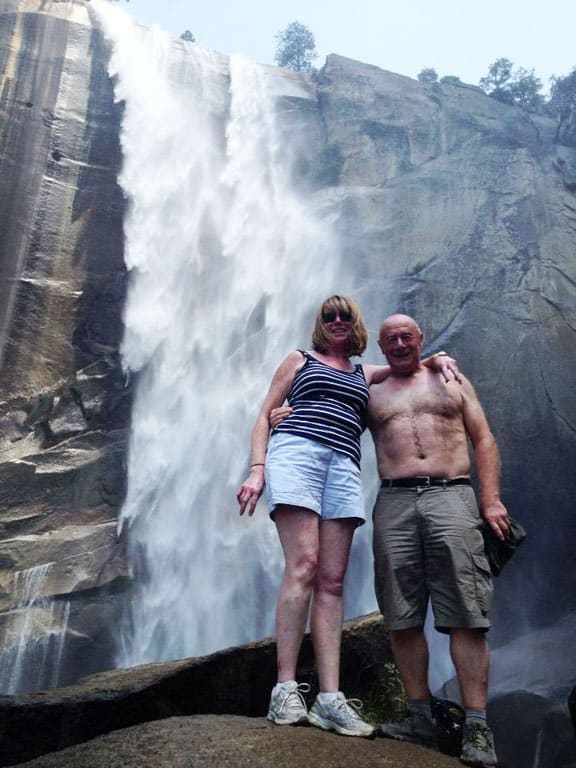 Hi there Ferdinand
Back from our 'tour of the US' ……. flew San Fran to New York, New York to London – home Friday morning.
BIG thank you all round, & congrats on the Manchester Expo – always impressed with what/how you do things over there (interesting contrast to UK in many ways).
The award! Well, as I said "my mum would have been sooooooo proud!" Still highly 'chuffed' to have received such, alongside so many distinguished collectors, most I have met. It will take pride of place in the office.
Is there any chance of a higher res image of the attached jpeg – Englands Antiques Trade Gazette want to use it for this weeks edition?
Secretary Clare and magazine editor Guy Burch kept much of what was going on a closely guarded secret – unsure whether to congratulate them, or murder them!
Spent some time trawling thro' your images on Peachridge site – great spread. How could I get hold of some of the photographers images from the show – possibility of a disc (will gladly refund cost of posting).
All the best for now.
Alan Blakeman
BBR
Yosemite was just greeeeeeat as ever!
Sunday, 04 August 2013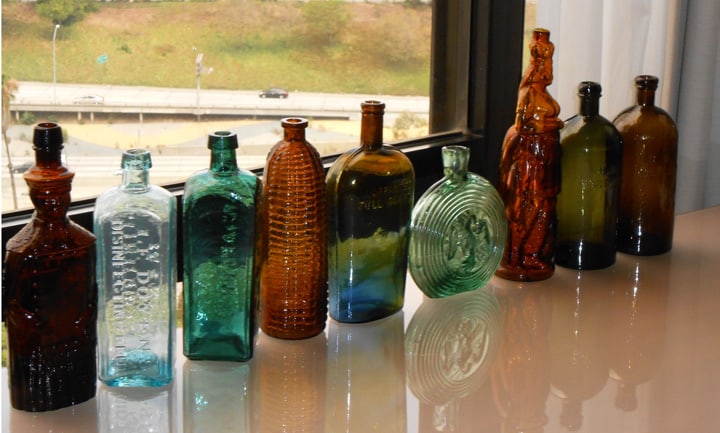 It seems that after the two big shows each year, that being the FOHBC National and the Baltimore Bottle Show, I usually get a picture from Jerry Forbes with some of his takes from the show. This year the Manchester National was no different. Jerry scored BIG. Read: Jerry Forbes Does it Again
Here is another picture of that Concentric Ring Eagle historical flask.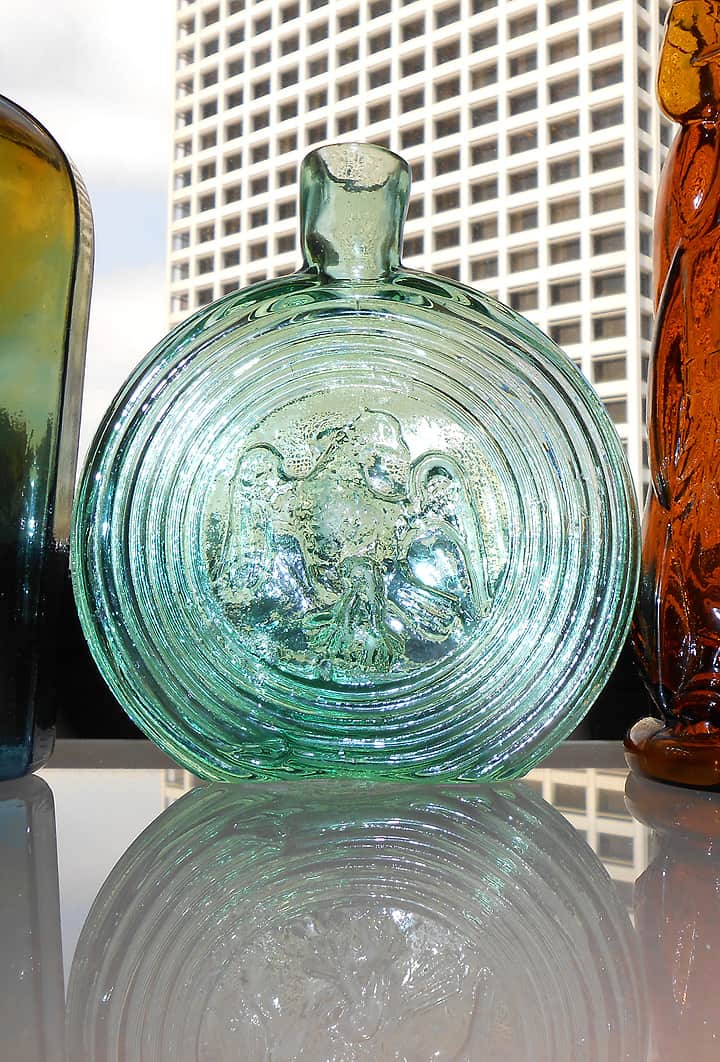 Saturday, 03 August 2013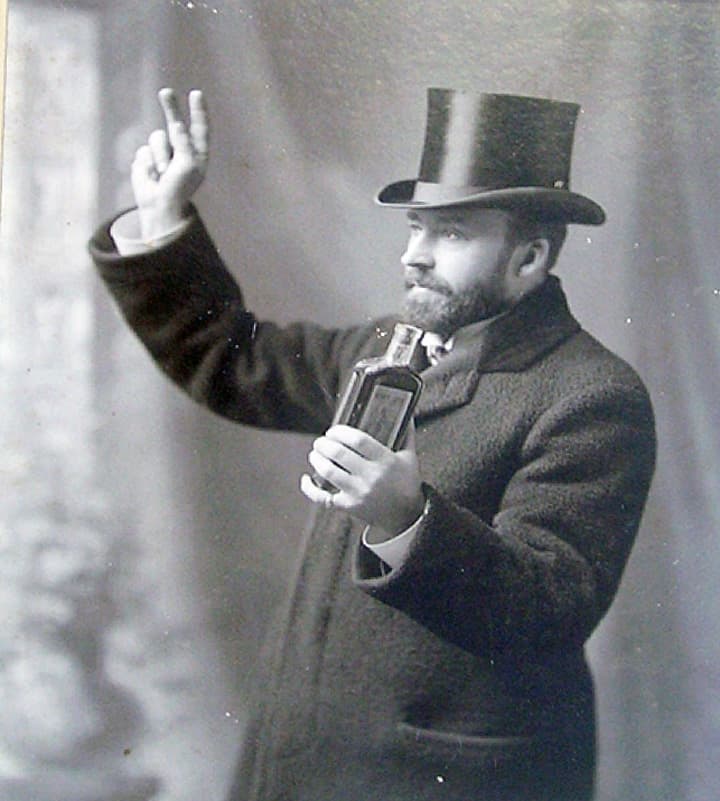 Wyoming Cordial post updated with incredible new material from Mark Yates. What did you all think of that striated flask that Jerry picked up at Manchester? Reminded me of the Swirls, Whirls, Twists & Twirls display at the Reno Expo.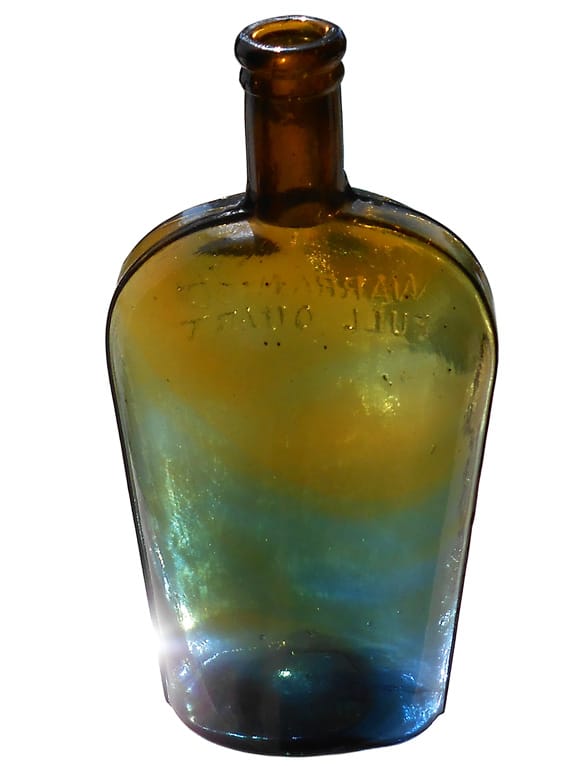 Friday, 02 August 2013
Just added these two babies to the Bitters Spotting (and more) at Manchester post.
Can you believe it? I still have not unpacked my boxes and bottles from Manchester. Hopefully, this weekend.

Nice to see that Jeff Wichmann has moved. Pictures above from his moving announcement. I liked his old shop and the neighborhood. Hopefully I can see the new location soon.
Thursday, 01 August 2013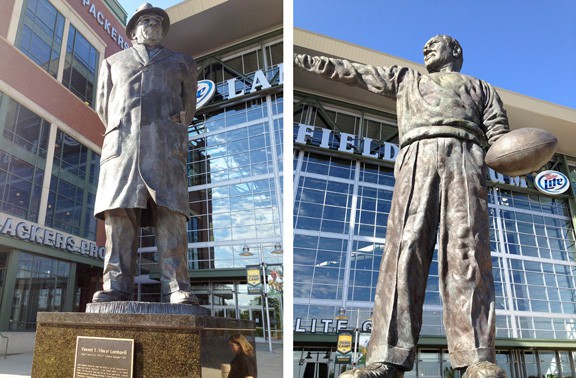 I find myself in Green Bay, Wisconsin today for business. In the 50s temperature-wise this morning. Was near 100 degrees when I left Houston yesterday. Had to stop and say hello to two legends and send the pics to my grandson Nicholas. He wanted an Aaron Rodgers jersey too. There were actually "cheese heads" with RV's in the stadium parking lot having a tailgate gathering at 8:30 am.