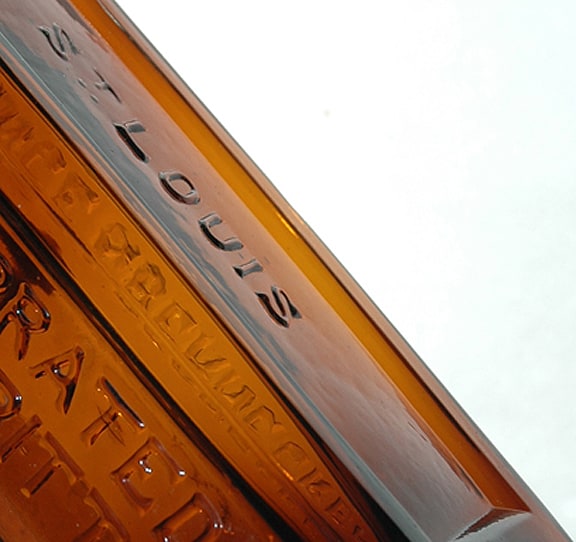 CELEBRATED EAGLE BITTERS
LANGE & BERNECKER
ST LOUIS
(Julius Lange, Christian Knull and John L. Bernecker)
02 July 2013

A really nice square; the Celebrated Eagle Bitters, closed on American Bottle Auctions | Auction 58 (see video) this past Sunday evening. It sold for a song considering how extremely rare the bottle is. The Carlyn Ring and W.C. Ham listing in Bitters Bottles is as follows:
C 94

 CELEBRATED EAGLE BITTERS, Circa 1860's
CELEBRATED / EAGLE BITTERS // LANGE & BERNECKER // sp // ST LOUIS //
9 x 2 3/4 (6 3/4)
Square, Amber and Olive, LTC, 4 sp,
Extremely rare
The sale reminded me of my example so I pulled up my pictures for comparison (both examples are below). This prompted a search for information on Lange & Bernecker.
1864 – 1875 – LANGE & BERNECKER, St. Louis, MO. 1865-1873, 193 North Main (1865), 202 North Main (1866), 713 North Main (1867), 615 North Second (1870-1873)
1867 & 1868 St. Louis City Directories – Lange & Bernecker (Julius Lange, Christian Knull and John L.Bernecker), manufacturer Eagle bitters, rectifiers and dealers in wines and liquors. 713 N. Main
1872 Advertisement Dubuque Herald – Mentions Celebrated Eagle Bourbon
1873 Houston Daily Mercury – "Around Austin, a day or two ago, who should we meet upon the Avenue but Capt. R. H. Toms of that sterling liquor house Lange & Bernecker, No. 615 North Second Street, St. Louis, Mo." … (see below) Mentions Celebrated Eagle Bourbon and Eagle Bitters.
1885 – The industries of Saint Louis: her advantages, resources, facilities, and commercial relations as a center of trade and manufacture; (1885)
THE EXCELSIOR DISTILLING CO.
J. L, Bernecker, President; H. Dahman, Vice-President; L. F. Engel, Secretary; Re-distillers, Rectifiers for the trade and Wholesale Liquor Dealers; 615 North Second Street.
This house was founded in 1864 by J. L. Bernecker, and became, by incorporation, the
successor to that gentleman's firm in 1S76. The company has a capital stock of $50,000,
which sum gives a fair idea of what its business is.
The Excelsior Company does an exclusively city jobbing business, and sells almost
altogether for cash, asking for itself no credit whatever. Twenty-one years honorable and
liberal transactions have grounded it well in the confidence and esteem of the trade here-
abouts.