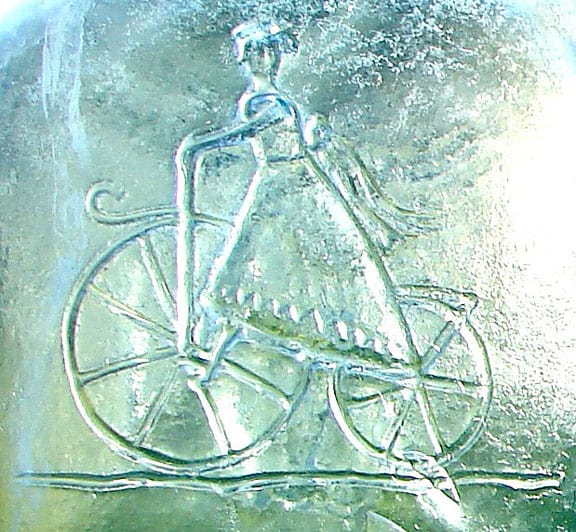 The Folksy Girl on a Bicycle Historical Flask
[Updated 14 August 2013]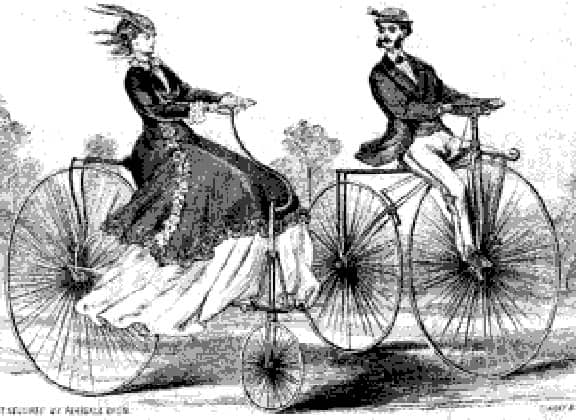 I am very fond of Folk art and especially enjoy seeing art and illustrations on antique bottles like the Travellers Bitters and Pikes Peak Flasks. Yesterday, I was really intrigued by the "girl on a bicycle" strap-sided historical flask image that Cody Zelany included as one of his pictures of recent finds. Cody commented:

Lastly, I have to credit this one to my dad. While in Pennsylvania, we stopped at an old church converted to an antique shop. As I walked in, I knew in my heart that there was probably nothing to be found, as it was mostly crafts and things that don't interest us. As I walked ahead my dad asked to see something in a case, and I figured it was most likely a piece of advertising or maybe a fruit jar of some sorts. As I turned around in his hands was a flask. As he handed it over to me I was instantly interested. Turns out it was a GXIII-3 Woman on Bicycle / Eagle. To me this is what the hobby is about, great glass and great memories".
Read: Patience Paying Off – Three Amazing Finds
I wanted to see if any other examples were nested online and found a wonderful example previously sold by Jeff and Holly Noordsy and an example sold by Norman C. Heckler (above). The Noordsy description of the flask including front and back pictures are represented below.

GIRL ON BICYCLE – EAGLE / "A & DHC," (McK# GXIII-3), brilliant aquamarine, smooth base, pint, applied mouth with ring, mint. Blown at the A & DH Chambers Glass House, Pittsburgh, PA, C. 1870, scarce.
This folky flask was produced shortly after the Civil War and it's as fine an example as we've had the pleasure of offering. Obviously inspired by the advent of bicycling as a "sport" the piece offers the finest possible mold detailing and pleasing overall glass crudity.
Jeff and Holly Noordsy
When I posted Cody's pictures yesterday, I wondered about the bicycle meaning and posted the question on PRG Facebook. Dana Charlton-Zarro responded with the following: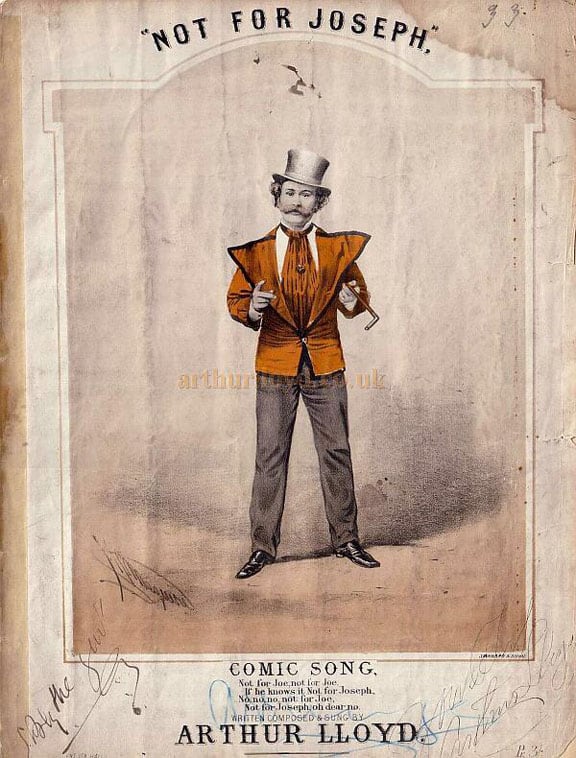 The Girl on the Bike flask is a varient of the "Not for Joe" flask, named for a song from England. BTW, it is a strap-sided flask. This is the story of the Not for Joe Flask. Read: Arthur Lloyd's song 'Not For Joseph'
American Bottles and Flasks and Their Ancestry by Helen McKearin and Kenneth Wilson lists three flasks which use the high-wheeler bicycle as part of their embossed decoration. They are listed as numbers GXIII-1, 2, and 3. All three are pint flasks. GXIII-1 has a small picture of a girl riding a high-wheeler. Above her head is a banner which says, "NOT FOR JOE." The reverse of this flask is blank. I believe there is an amber variant and at least two in pale green with all others being aqua in the GXIII-1 flask. 
J. Carl Sturm
I was also able to find a wonderful article by past FOHBC Board Member, J. Carl Sturm called The High Wheeler Bicycle as Used on Bottles. This really was fascinating to read and helped answer many of my questions. Next I was led to a neat book called Glasshouses and Glass Manufacturers of the Pittsburgh Region: 1795 – 1910 by Jay Hawkins. There was a reference to the GXIII-3 flask and the A. D. & H. C. embossing (see b/w images above).
UPDATE: 13 August, 4:00 pm CST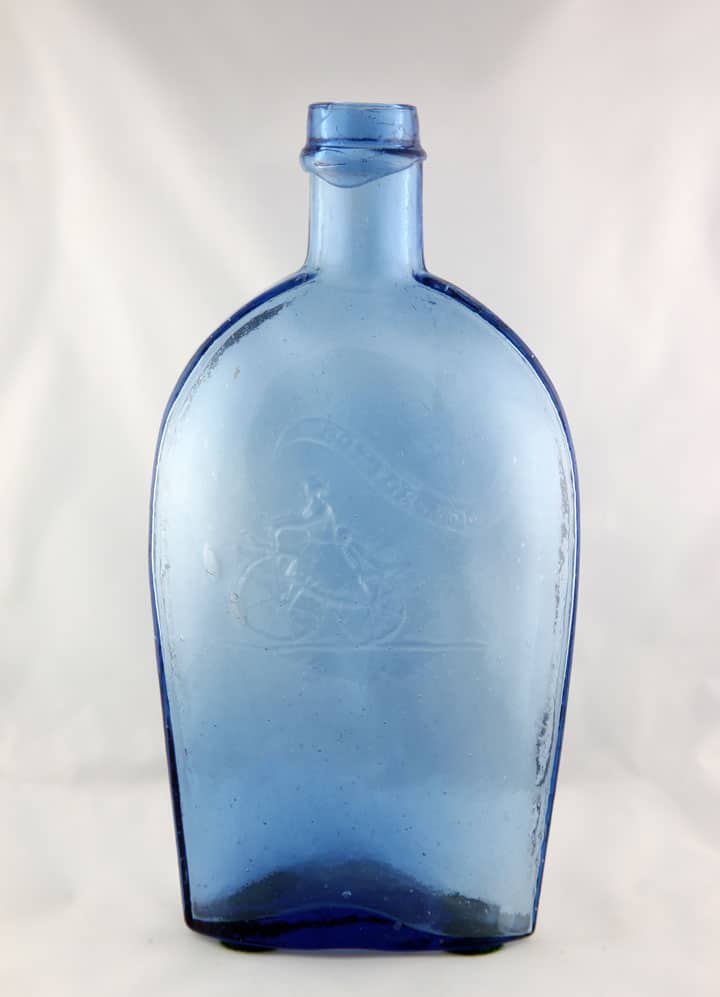 Hi Ferd,
Enjoyed your article on The Not for Joe flask. In reading the article, I noticed that amber and several light green examples are the only colors known. Just want to bring to your reader's attention that there is also a sapphire blue one (GXIII-2). Keep up the good work!
Mark Vuono
UPDATE: 14 August 2013, 9:15 am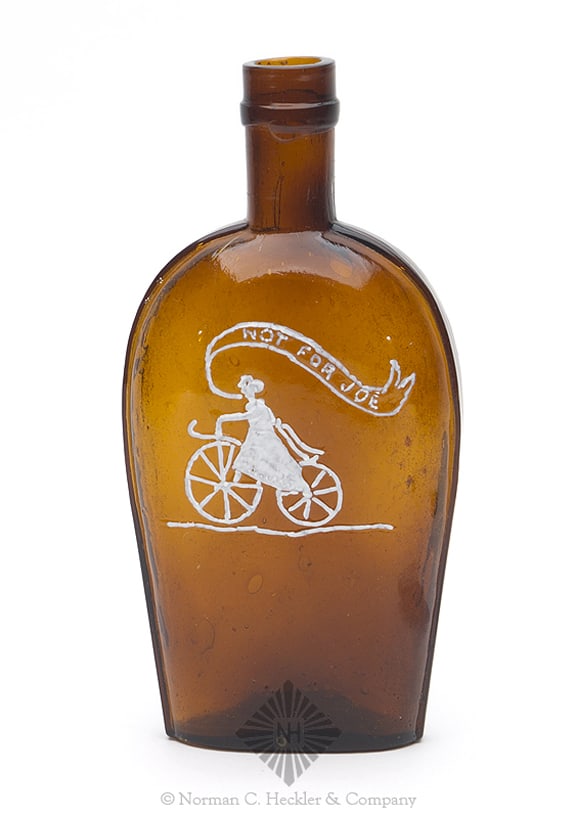 Good Morning Ferdinand,
Yesterday while on Peachridge Glass, we saw your article about The Folksy, Girl on a Bicycle Historical Flask. You referenced the article The High Wheeler Bicycle as Used on Bottles by J. Carl Sturm in which he mentions: "The amber flask pictured [Figure 7] is a half-pint, the only specimen known in this size. It turned up about three years ago and is in the collection of the author". We are happy to share that we will be offering this flask in our Premier Auction 106 which opens on November 4th. I've attached a photograph (see above), and the description is below.
20. "Not For Joe" And Girl On A Bicycle Pictorial Flask, America, 1860-1870. Amber, applied square collared mouth – smooth base, half pint; (some interior residue).
Unlisted but similar to GXIII-2 Currently the only known example. Fine condition. Carl Sturm collection. $3,000-6,000
Thanks for the informative (and entertaining) background information about these flasks. Kind Regards,
Nicole (Puhlick) – Norman C. Heckler & Company
UPDATE: 13 August, 4:10 pm CST
Hello Ferdinand!
Thanks for posting the article about the "Girl riding bike" flasks. There is no way to absolutely prove this, but I think the chances are high that at least one (or possibly both) of the flasks without the A & D HC marking, are products of the old Louisville Glass Works, probably sometime in the late 1860s or the 1870s.
Reason: (I will copy and paste an edited portion of the text from my article about Louisville Glass Works from the Bottles and Extras, 2005): According to an article published in the COMMONER & GLASSWORKER issue of May 30, 1903 (discovered by Hemingray Glass Company researcher Bob Stahr, who kindly copied it for me), the Louisville Glass Works produced a wide variety of popular flasks and other bottles of the period during which it was in business. Information for the article seems to rely on testimony supplied by an elderly glassblower once employed at the Louisville Glass Works (although the exact period of time being referred to is not stated). Items reportedly produced include versions of the Pike's Peak flasks, the Clasped Hands/Shield flasks, the "Not for Joe" flasks with the picture of a girl on a bicycle in amber glass, "log cabin bitters bottles" with "1862" blown in the glass" (presumably St. Drakes Bitters bottles), and several others. Since some of these flasks (especially the Pike's Peaks) are found in dozens of mold variants, it would be difficult or impossible to know at this late date which exact molds were used at Louisville. An exception may be the "Not for Joe" flasks. There are only three known variants, and one is marked with "A.& D.H.C.," a Pittsburgh glasshouse. The other two are unidentified and are certainly likely to be products of the Louisville Glass Works.
David Whitten

Anyway, a cool embossing and bottle, and the story behind it.
Cody's Flask