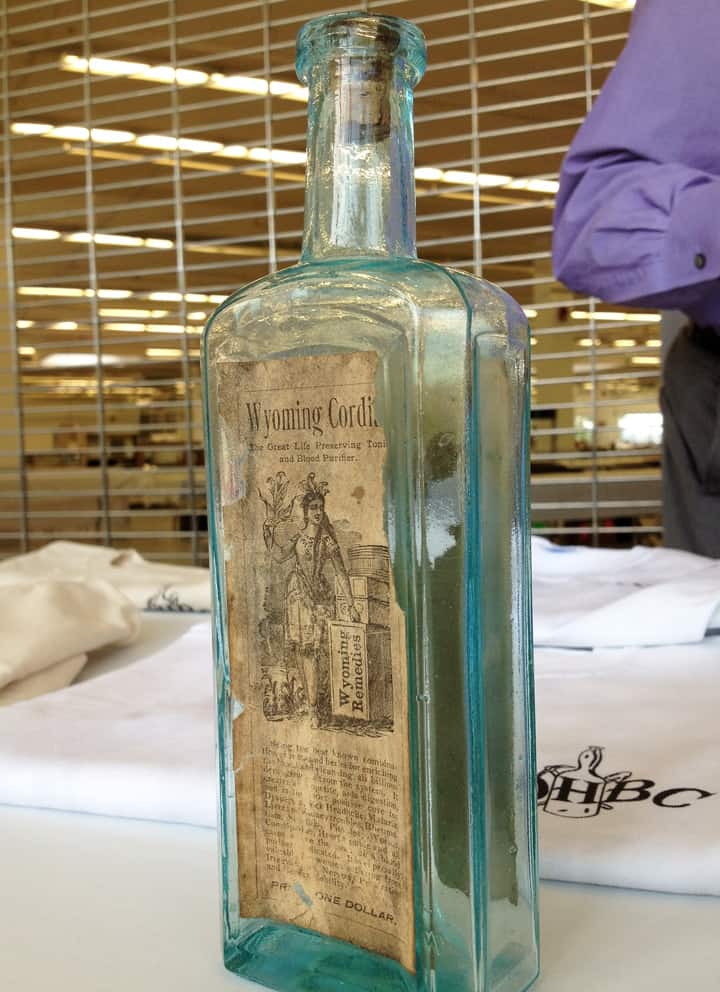 Wyoming Cordial – Wyoming Remedies
The Great Life Preserving Tonic and Blood Purifier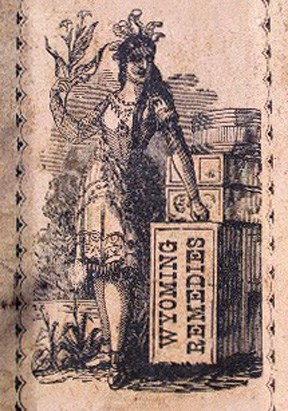 C. H. Nearing and Mr. Wakefield of Homer, were in the place Monday selling patent medicines, salves, etc.

Here is another bottle that a person at the Manchester National wanted me to photograph. My apologies, as I misplaced the name and my memory of the gentleman who prized this bottle. As a scroll through my show shots, I thought I would spent some special time looking at the Wyoming Cordial prepared only by C. H. Nearing, Homer, NY. No, not a western bottle, just a western name.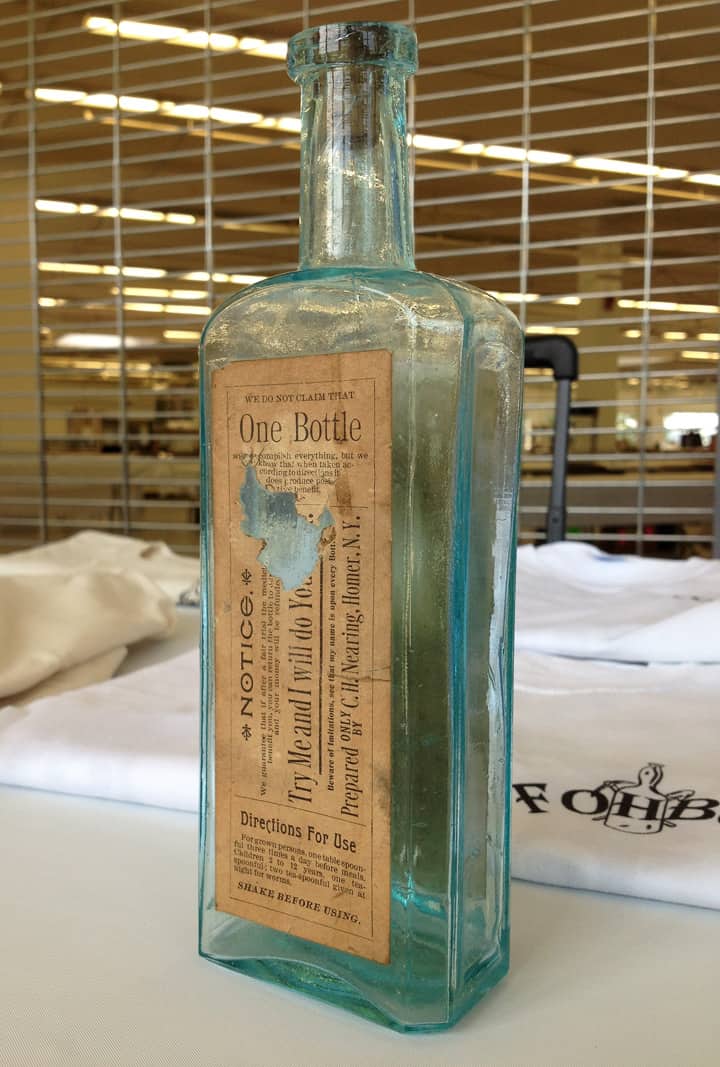 A quick search online shows a wonderful example previously sold by Jeff and Holly Noordsy. Apparently the bottle is rare though these are two different examples. The label and graphics are truly spectacular.
What little I could find is positioned below. The four advertisement clippings below were provided by Brian Wolff. Much to my surprise and pleasure, Mark Yates provided a motherlode of material for Homer Nearing. Please read further below.
A Cyclone
The Wyoming Medicines are Sweeping Over Fulton Co., Like a Cyclone. The Sale of Wyoming Cordial in This City Already Exceeds That of Any Other Remedy.
HORTON WHO?
by Mark Yates
I first learned about Horton Nearing about 4 years ago when I met Sylvia. I was following a lead someone gave me about a rare spring water bottle and arranged to meet Sylvia at her home in Pompey. What a wonderful surprise it was! Sylvia lives in the original house on the her family homestead, one of the original 100 acre land grants known as the Military Tract given to veterans after the Revolutionary War. The house is furnished with heirloom treasures handed down over the 200 years; however the real treasure is Sylvia. She was the Pompey historian for many, many years and her knowledge of local history is legendary. She shared with me her family history, gave me research ideas and the time just flew by.
Obviously, the subject of bottles soon came up and that brings us to Horton Nearing. Horton was a medicine man "back in the day" prior to the Pure Food and Drug Act of 1906 which nearly killed the patent medicine industry. Not much is known about Horton, but I will share what little there is. He was born in 1852 and grew up on the family property in Pompey and died in 1918. He was Sylvia's grandmother's brother on the father's side. He had a wicked, mischievous sense of humor and was well loved and known as an "honest" medicine man in an era of unscrupulous con men. He may have been a carpenter for a while and it is not known if he went to college to learn medicine or chemistry.
Sylvia does have his ledger (see picture below) which has many handwritten notes and recipes for different medicines from the 1890s. His medicines were put up in rectangular bottles with ornate paper labels. Unfortunately, label only bottles do not survive the test of time well and only a few examples are known. One of the bottles was on ebay several years ago that had beautiful depiction of an Indian princess and advertised WYOMING CORDIAL which was bottled in Homer, NY. He also made WYOMING CATARRH CURE and WYOMING COUGH SYRUP
I read a letter from Horton written in 1892 while he was visiting in Pittston, PA describing his fascination with the beauty and history of the Wyoming Valley and the story of the great Indian massacre of settlers there in 1778. This apparently had a profound effect on him and most likely led to his decision to name his medicines. Sylvia still has a scrap book with some of these original labels and coupons as well as some wonderful photos showing a very dapper, bearded man with a top hat holding a bottle of the Wyoming Cordial. These photos were the originals used to advertise the medicine. Sylvia clearly enjoyed telling me about Horton, and in dramatic fashion she saved the best for last… She brought out to show me his mortar and pestle used to mix the medicine as well as the wonderful top hat Horton was wearing when he posed for the photos over 110 years ago. It almost felt as if he was there in the room with us.
Since meeting with Sylvia, I did some searching and learned that he lived in Cortland during the late 1880s and in East Aurora in 1916 and found newspaper ads for his Wyoming Cordial in central NY papers from 1893 to 1904, but none after that. Perhaps the Pure Food and Drug Act ruined his business after all.