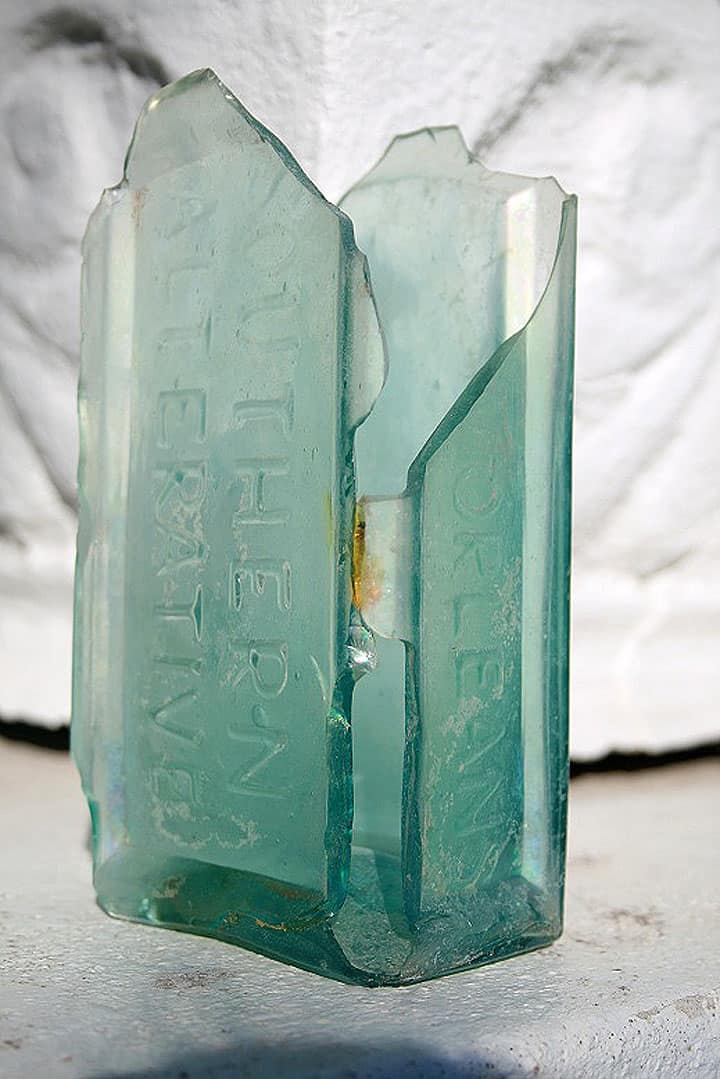 Two rare

'Southern'

Bottles
Southern Alterative 

|

New Orleans
Southern Tonic

| 

Matagorda

24 August 2013

I received the above picture of a good piece of a Southern Alterative | New Orleans bottle (could be a word or two missing) and the below advertisement for Southern Tonic from Matagorda, Texas from James Viguerie who is conducting some related research. The advertisement mentions Horton & Clements in Matagorda in 1837. Wow, that's fairly old for this bottle considering Texas was a Republic at that time. It would still be eight years until Statehood was granted on December 29, 1845. Kind of reminds me of the Price's Patent Texas Tonic.
These are both MAJOR teasers that I put out here for further research and comments. Let's help James out.
Checking in with Texas medicine authority Brad Seigler on this bottle, Brad says "I have seen a whole one in the past sell for big money, but as far as I know they 100% new Orleans bottles."
The topic e-mail read:
I am attaching a newspaper ad for a "Southern Tonic" sold by Horton & Clements in Matagorda, Republic of Texas in 1837 (Matagorda Bulletin – Sept 27 1837). It was probably a paper label only medicine. I am also adding a picture of a broken open pontiled bottle I am doing research on. The only embossing I can make out is SOUTHERN ALTERATIVE / NEW ORLEANS / ??. Have you ever heard of it?
James (Viguerie)
Albert Clinton Horton (September 4, 1798 – September 1, 1865) was a Texan politician, and the first Lieutenant Governor of Texas.
It was really interesting checking up on Horton & Clements. Here we are talking about Albert Clinton Horton and Abner Lee Clements. The history with Horton specifically is astounding.
Albert Clinton Horton
[Wikipedia] Albert Clinton Horton (September 4, 1798 – September 1, 1865) was a Texan politician, and the first Lieutenant Governor of Texas.
Horton was born on September 4, 1798 in Hancock County, Georgia to William and Mary Thomas Horton. William Horton died when Albert was young. His mother married Colonel Samuel Dent; they moved to Alabama in 1823. In 1829 Albert married Eliza Holliday. He was a representative in the Alabama House of Representatives from 1829-1830, and 1833-1834. He represented Greensboro district.
Albert Horton moved to Texas in April 1835. He was a supporter of the Texas Revolution. In 1835 he went back to Alabama to recruit volunteers for the Texas army. Horton served as colonel of a cavalry unit during the revolution. In early March 1836, his company joined James Fannin's command in south Texas. He was sent by Fannin to gather carts and oxen at Victoria, Texas. Horton's scouts located Col. Juan Morales nearing Goliad with the Jiménez and San Luis battalions on March 17. The next day Horton was busy skirmishing with General José de Urrea's advance forces. On March 19, he was sent to examine the crossing of Coleto Creek. Upon hearing artillery fire, he returned to find that Fannin and his troops had been surrounded and possibly overrun, Horton and his men after assessing the situation turned and retreated towards Victoria, where reinforcements were expected to be located – an action that would shadow his political career. He served in the Texas Revolution until May 1, 1836.
After the Republic of Texas was founded in 1836, Horton was elected to the Congress of the Republic of Texas. He was a Senator in the First and Second congresses of the Republic of Texas from 1836–38. He represented Matagorda, Jackson, and Victoria counties. He wasn't successful in his bid for the vice presidency of the Republic of Texas in 1838. He was appointed by the Republic of Texas Congress to select a location for the capital of Texas in January 1839. He was as a delegate to the Convention of 1845. In 1842, Horton would again serve as a military officer when he was recruited to serve as a captain against the invasion of Ráfael Vásquez on March 7.
After Texas became a U.S. state in December 1845, Horton became its first Lieutenant Governor. He was declared the first Lieutenant Governor of Texas on May 1, 1846. Texas governor James Pinckney Henderson was absent from governor's office to command Texas troops during the Mexican–American War. Horton served as governor pro tem from May 19, 1846 to November 13, 1846. After he left the lieutenant governor's office, he retired to private life. He attended the Democratic National Convention in Charleston, South Carolina in 1860 and the state Secession Congress in 1861. Before the American Civil War, he owned over 150 slaves, and was considered as one of the richest men in the state of Texas, but after the Civil war, he lost most of his fortune. He was an original member of the board of trustees that founded Baylor University.
He died on September 1, 1865 in Matagorda, and was buried in Matagorda Cemetery located on South Gulf Road.