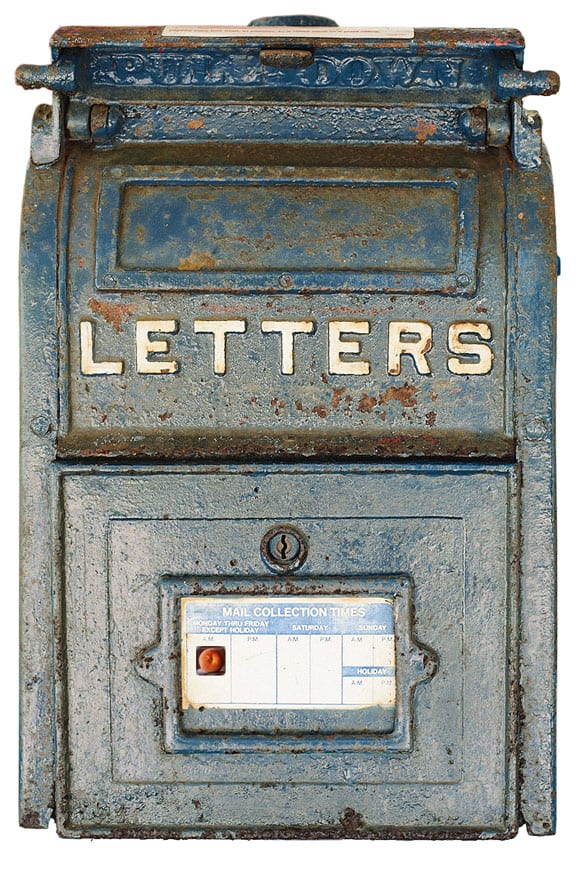 Please feel free to send any antique bottle or glass questions to ferdinand@peachridgeglass.com. The information will be posted if relevant or of interest to the readers. I will try to answer or wait for another reader to respond. Quality images are very important. Thanks! If you want to see previous questions,go to "Mailbox Letters" in "Categories" on the right column of each page.
---
Perky – Pet (embossed hummingbird) Since 1958
Hi Ferdinand. Hope you and your family are doing well. My wife and I were at Lowes Home Improvement Store. While walking down a aisle at the store, out of the corner of my eye, I spotted what looked like a bright red up-side-down Warner's Cure bottle. After making a sharp bee-line turn and heading toward the bottle, this is what I found. Pics attached. A brand new bottle that is embossed Perky – Pet (embossed hummingbird) Since 1958 / Lititz, Pa. The price was $17.99 My wife had to have it to hang in our wooded area.
Frank (Wicker)  www.bottlepickers.com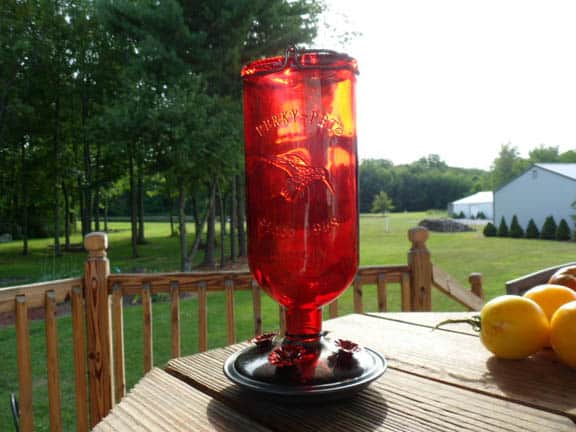 ---
Irish Ginger Beer and Stone Stout Bottle Book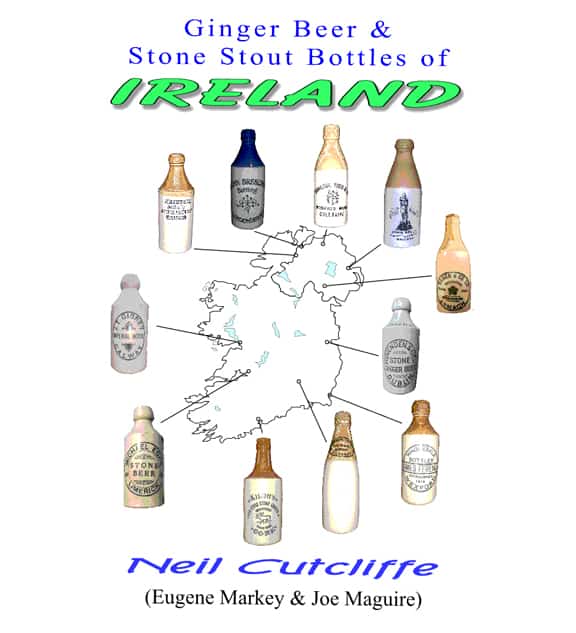 Greetings everyone, Just a quick update on the Irish Ginger Beer and Stone Stout Bottle Book. The last eighteen months have been somewhat of a trial with negotiations with NAMA to photograph bottles within their possession (which incidentally were to prove fruitless), the ill health of my good friend and joint editor Eugene Markey and a thousand and one other challenges. However the deadline for material has arrived and the final curtain on photographs and information regarding new bottles will descend on the last day of September. So please would any outstanding offers of photos of new bottles be followed up and the necessary information forwarded to me as a matter of urgency. Thanking you all for the help and support previously given.
Sincerely, Neil Cutcliffe
Mossley Rectory 558 Doagh Road, Newtownabbey
email: rathdunebottles@hotmail.co.uk
Tel 028 90 832726
Website: Irish Ginger Beer and Stone Stout Bottles
---
Unembossed Imperial Levee Find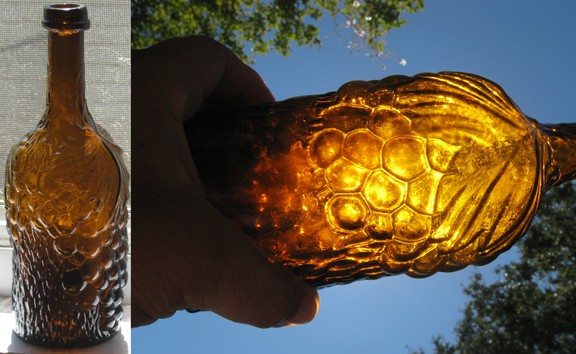 Hi Ferd, I'm hoping that you can help me a little bit. I came across this bottle at a local yard sale here in Sacramento. Unfortunately, it's not green, blue, or even embossed. If I'm correct in my research, this appears to be an un-embossed version of the Imperial Levee bottle. The bottle is free from any nicks, chips, or cracks – and appears to be an iron pontil as well. If it is an Imperial Levee bottle, what would be a reasonable value to expect out of a bottle like this? Thank you in advance for any help/information you can give me.
Kevin Korper
PRG: Great find Kevin! Always a favorite. You could get between $2,200 and $3,000, maybe a bit more if the bottle really sang.
Read: James Noyes – Hollywood, Mississippi & the Imperial Levee
---
Warrock Confectioner – Jacksonville, Florida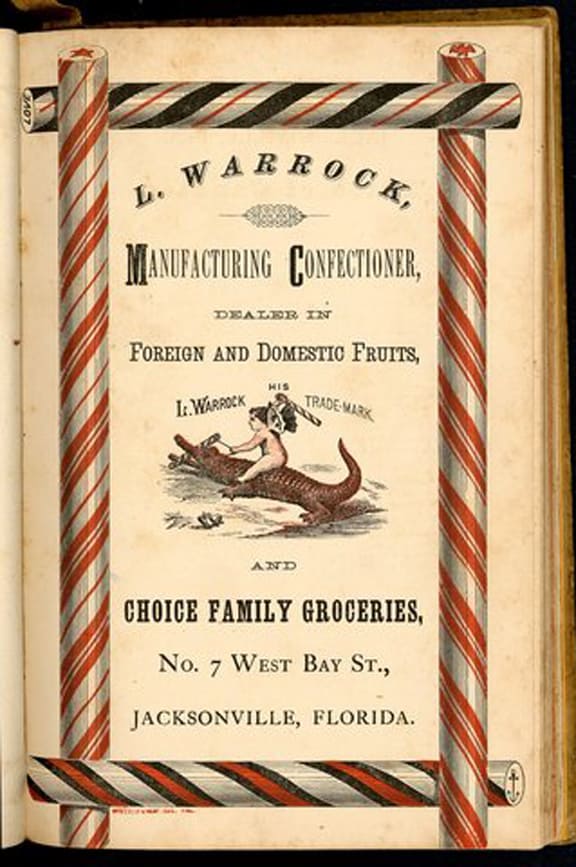 Doing some research and ran across this advertisement. I know you are a graphics man.
1879 Jacksonville City Directory. Pretty cool, didn't see any Bitters related items. – Bobby (Hinely)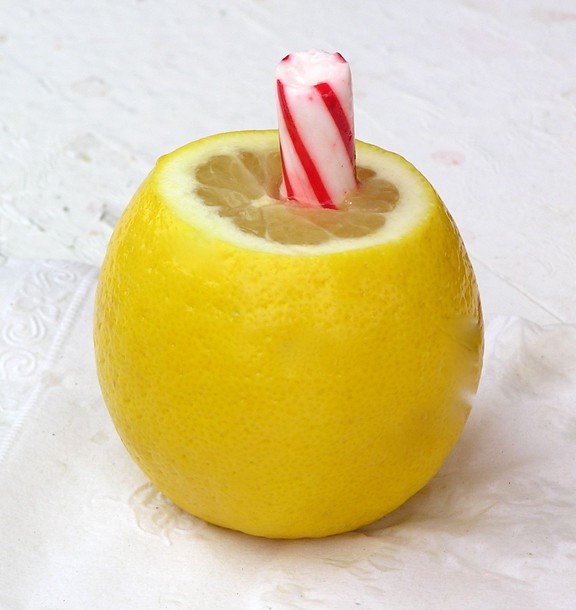 PRG: Bobby: You are right. This is pretty cool. The peppermint or candy cane sticks reminded me of getting a cut lemon and half a stick of peppermint at fairs and carnivals in Baltimore as a child. The peppermint stick would be inserted in the lemon like a straw and you would suck the lemon juice. My wife though I was nuts when I mentioned this memory to her this morning. In Texas you ask for big Dill Pickles before movies. I think that is weird. She tried that on the east coast at a theatre and they looked at her like she was a Martian. Nice to see you at Manchester.
F
---
Veterinary Clinic Bottles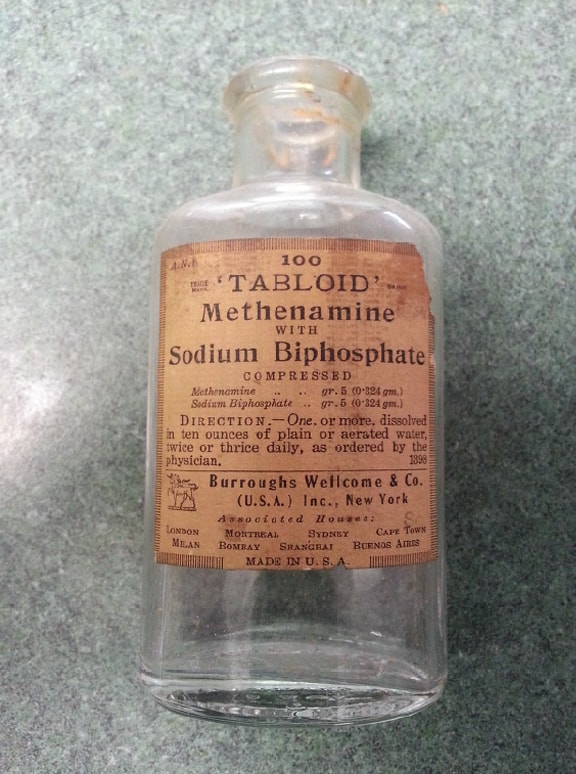 My wife worked for a veterinary clinic and acquired a set of various bottles. I was wondering if you thought anyone at the Houston Bottle Show may be
interested in taking these of her hands. You know many folks and we were just asking.
Peter Marshall
---
Baby Feeder Question
Hi. Found you on the internet. Could you tell Me about this baby bottle? Made by Evans Eclipse, Made in England. My Parents came from Ireland. I believe My Mom said it was hers when she was kid. I'm in Missouri now. Thanks! – Phil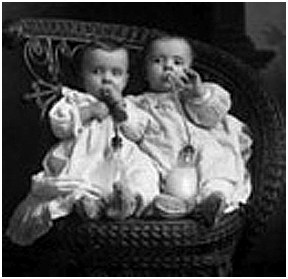 PRG: Suggest you pursue question or visit website of American Collectors of Infant Feeders (ACIF)
---
Boy Holding Clock Figural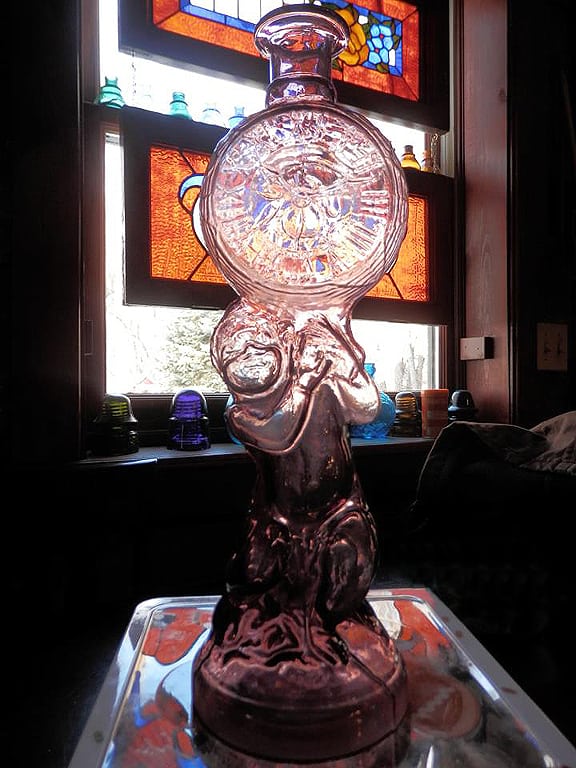 I have been searching for 50 years for any information on my glass bottle my
daughter found it for me on your site. It is the boy holding the clock on his
shoulder. What can you yell me about it? I Am so thrilled to find you. Sue
---
Restoration of the WWII Destroyer HMS Cavalier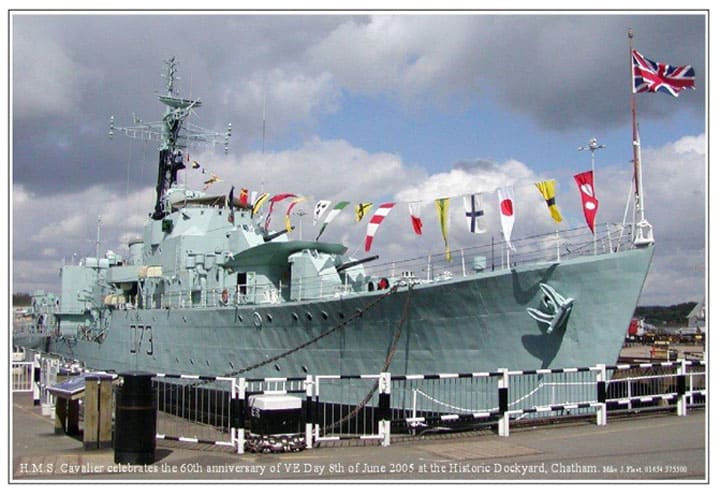 Hallo, I am one of the several Ships Volunteers working on the restoration of the Memorial and Historic WWII Destroyer HMS Cavalier in the Historic Dockyard at Chatham.
I have taken on the job of restocking the Naffi shop onboard with appropriate items 0f the 1960'70's era. I am thinking in particular of the Quix Ink, Black or Blue Black. This ink was so significant to us for we all wrote many letters home with our Parker pens and Quix ink while well away from our loved ones. I wonder if you can find a source of donors of those famous rectangular squat bottles, or even a good small advertisement showing them. I have many shelves to fill and hopefully look forward to a succsesful response while appreciating your help.
Mike J. Fleet.
---
N. K. Brown's Iron & Quinine Bitters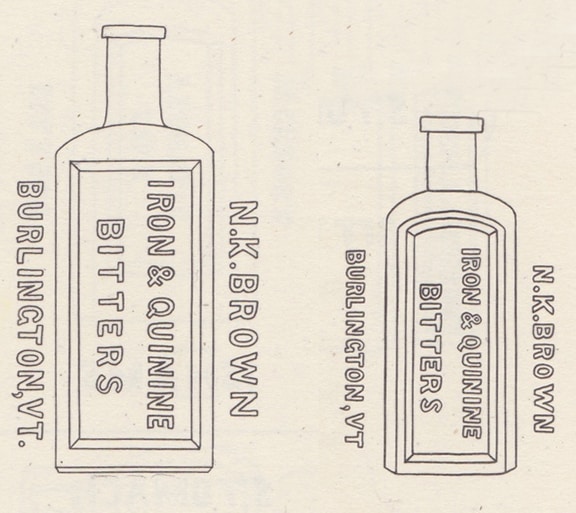 Dear Ferdinand,
I happened across your site while looking for images of either or both of the bitters mentioned in the letter written by Robert B. Watkins of Kernersville, NC, which you have on your site. I grew up in Kernersville and in the last few years have written two local history books with a friend of mine.
Read: N. K. Brown's Iron & Quinine Bitters – Burlington, Vermont
We have just completed a third book and it has a story in it about this same Robert B. Watkins called "A Hot-Headed Druggist." I would very much like to find an image or two of these Bitters to illustrate this story in the book, but have been unable to find one that seems to have no copyright issue attached to it. I thought you might have a suggestion for me.
By the way, I lived in Maryland from 1967-1987 and attended law school at the U. of Maryland School of Law in Baltimore and later became a member of the Maryland bar. I am retired now and living in NC again.
Any thoughts would be greatly appreciated. I should add you have a great website and can see why people get so interested in collecting bottles and such.
Michael L. "Mike" Marshall
PRG: No problem to use any pictures with a caption Meyer Collection.
---
All Laxative Stomach Bitters Question?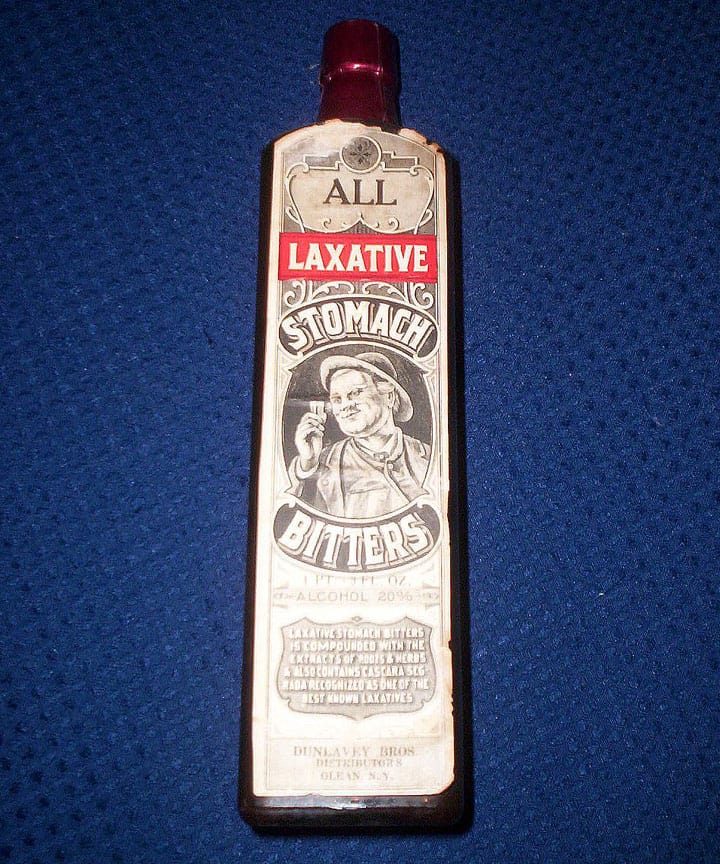 Greetings!! Was hoping you could help me figure out what to do with
this bottle (see attached pics). It is full and the seal is intact. The
label is in nice shape but loose in a couple places. Tried to sell it
on E-Bay but they wouldn't take it because of the alcohol content and
someone else said to pour it out and sell the bottle but I hate to ruin
the authenticity of the piece. Help! What do I do? Thanks for your help!
Skip Ellis
Bradenton, FL
Skip: This is a later bottle as far as what I collect. I certainly would not empty the bottle.
---
Augauer Bitters Wanted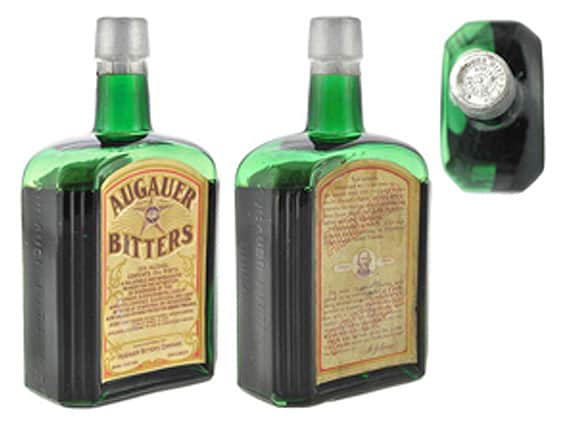 Hello, Mr. Meyer. I read with interest your article about Augauer Bitters. If you happen to know of anything else for sale, I would be interested, although my funds are limited. Augustin Gauer was my g-g-g-grandfather, and I'm looking for some items for my mom. Thanks!
Janet Payne Beck
Read: Augauer Bitters and the Gauer Family – Chicago
Janet: Please watch ebay and I will also keep my eye out for an example. They are not pricey.
---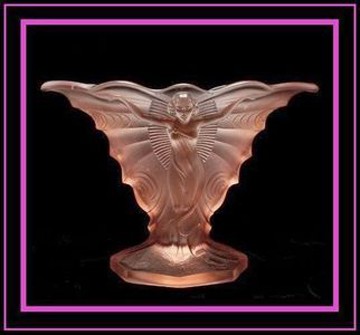 Dear Ferdinand & Elizabeth,
I am currently producing an editorial of glass making history, which is envisaged to be published in USA. My own expertise of glass spans 45+ years and I am consulted by many due to my knowledge. I would like to include American glass within my editorial, and my current research has led me to your site.
With your permission I kindly ask to include one of your a photographs and its attribution for the perusal of the publishers, which may or may not be used, however full credit and acknowledgment to yourselves would be included if used. Please get back to me at your convenience.
Best regards
Colin Boone
www.rubylane.com/shop/classyglassantiques
---
Hundreds of Quality Jars
I have hundreds of quality jars that belong to my mother that I am wishing to sell to a collector or dealer in one lot. I am in Owensboro Kentucky. Please pass the word and let me know if anyone is interested. I have pictures I can forward. Thanks
Allen Lake
---
Not a common sense type Inkwell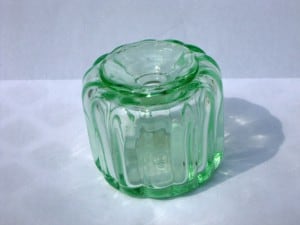 Mr. Meyer:
I recently found your website. I've only been collecting inkwells, mostly common sense-types, for about six months. A week ago I purchased one because it caught my eye. It's not a common sense type. In fact, I was unable to match it with anything on the internet. That is, until I found your website. The inkwell I found – see attached – looks a lot like one pictured on your site as C-1173.
The inkwell I have is light green with 14 ribs and it measures 2 inches high by 2 1/8 inches in diameter. I'm bringing it to your attention because you seem to have a passion for all things glass. Any insights you can provide will be greatly appreciated. Frank E Wiedmann
NOTE: Gray mark on the inside of the base is actually a dead spider which came with the inkwell.
---
Subject: William James Moxham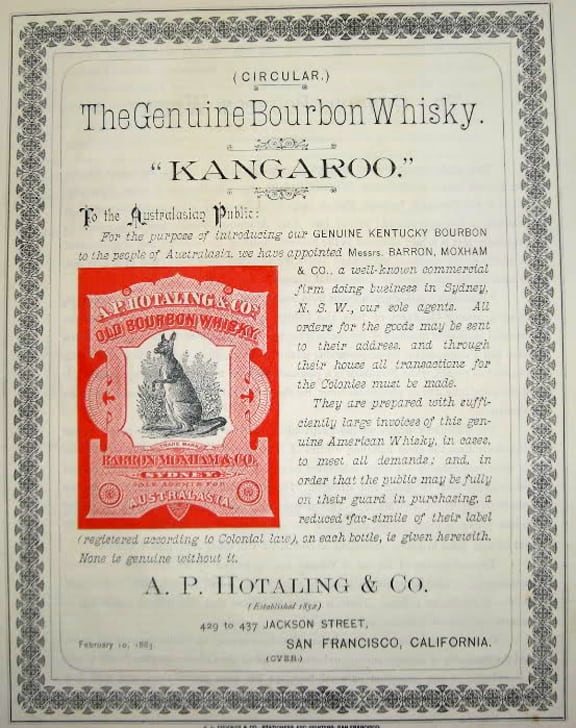 Dear Sir,
I came across a posting of Barron Moxham Whiskey Label that read as quoted below on your website, headed Mail Box February 2013. It was as shown as being signed by a Jane Melbourne. Moxham is a very unusual name and I thought I knew of all his descendants. I am William Moxham's Great Grandson and it is fascinating to think that there is a Jane in Melbourne of that line. There is a Jane Moxham in Sydney but she is unwell and I doubt she is doing anything about the family tree often passing on to me material which the Sydney Jane says I might do more with the she.
Can you please tell me what you can about how I can contact this Jane in Melbourne. If you feel that there are privacy issues which need to be respected can you please pass onto the Melbourne Jane my email address and ask her to contact me telling her I too have been researching William both in Australia and his British Naval Records.
Can I please thank you in anticipation of your forth coming help and in thanking you I acknowledge that passing on information like this is not your primary interests.
Dr Kenneth E Moxham
Adelaide Australia
Read: Advertising pieces provided by Michael Dolcini
---
Chevalier Angelo M F Gianelli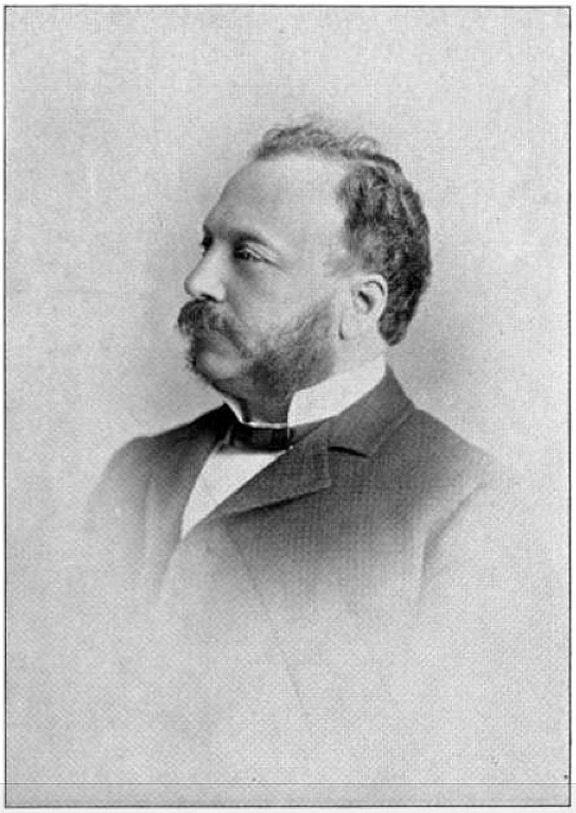 Dear Mr. Meyer,
I am a great great granddaughter of Chevalier Angelo M F Gianelli. I read your wonderful web page about his bitters and their bottles (read: Royal Italian Bitters by A.M.F. Gianelli – Montreal), and his life. Until now I only had info regarding his activities as Italian consul to Canada. So it was fascinating to hear about his restaurant, his cure for rheumatism etc. I am writing not only to thank you for this invaluable information but also to ask if you might have come across any information as to his wife's name, especially her birth name. I am researching the family tree and it would be a huge help if you happen to have any information you can direct me to about her.
Much appreciated, Lesley Forrester
Stirling, Ontario, Canada
PRG: I am coming up with Fanny Catherine Compain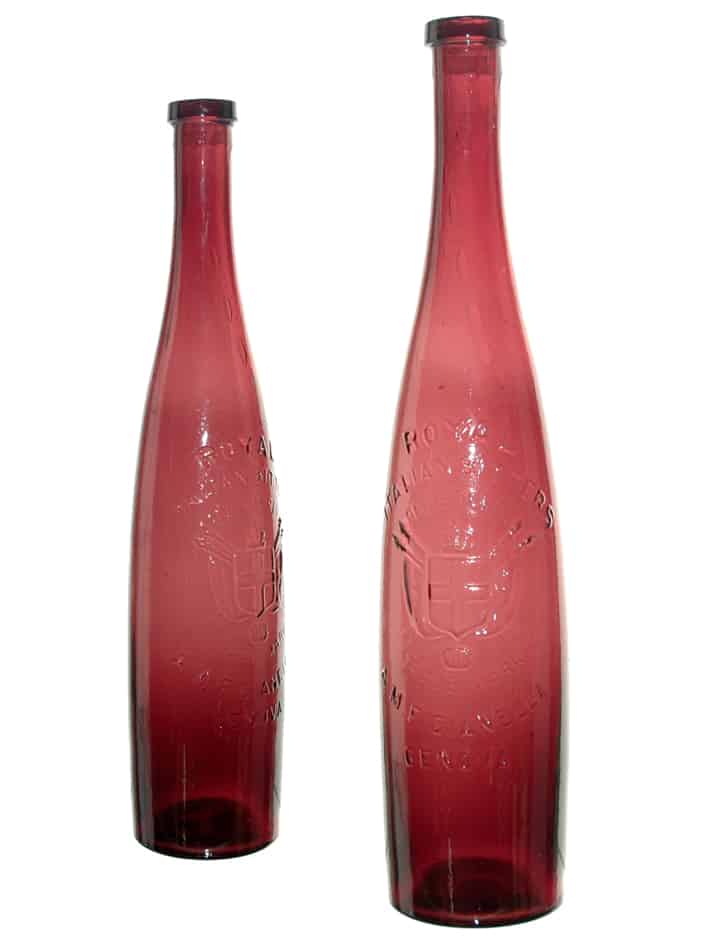 More….
Dear Mr. Meyer,
My name is Deborah Gianelli and Angelo M. F. Gianelli was my great-grandfather. Of all of AMF's children, my grandfather, Charles A. Gianelli was the only one to leave Canada and become a citizen of the U.S. I grew up in New York and now live in New Jersey (and work in NYC).
I believe you have been in touch with my "cousin," Lesley Forrester. She and I spoke for some time yesterday (for the first time), and she told me about the beautiful bottles that still exist from the business AMF had in Canada. Despite having an amazing scrapbook belonging to my grandfather that contains quite a bit of information about his father, I never knew about this business. My father told many stories about his family, but I did not know that AMF was a businessman in Canada before becoming the Italian Consul General.
The bottles and their history intrigue me, as I'm sure you can understand. Are any of them still for sale? I just thought I'd inquire. My father, Alfred Gianelli, was born in 1900 and was 52 when I was born. I have no American Gianelli relatives (whom I knew) still living. I do not know the Canadian relatives at all. So I have been on sort of a mission to connect some of the dots and know more about my heritage.
Thank you for any information you can provide about these exquisite bottles.
Best regards,
Deborah (Deborah Gay Gianelli)
PRG: Deborah: How interesting and fun it must be to learn more about AMFG. His bottles are tough to find and usually break the $1,500 mark in good condition. I paid over $1,500 for mine (pictured above) in 2005. I will keep my eye out. If you have any more support info, maybe you could send a digital copy my way. F
---
Fraser Canyon Find

Hello Ferdinand, My name is Jill and I am currently working with a field school that was doing some research in the Fraser Canyon, British Columbia, Canada. We stumbled upon a broken glass bottle and are trying to identify it. Since we only have a portion of the bottle this has proven to be very difficult. It is an aqua, rectangular bottle, with an open pontil on the base. There is embossing on both the side and what we assume to be the front of the bottle. I have attached three photos of the bottle. If you are able to help us identify the bottle that would be greatly appreciated.
Thank you in advance, Jill
---