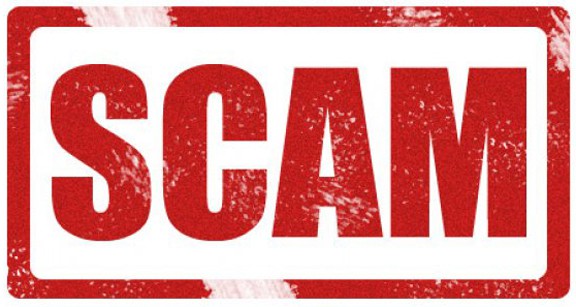 The latest bottle Scams with Velma Craft or Anicia Benson or Reginald Offutt etc.
26 August 2013 (Updated 28 August 2013)
*** See Update Steven Dujardin below ***
---
I've been reading the various scam reports and here's what happened to me.
I received a phone call from a Chris Stevens, who said he lived in Covington, KY, and said he found me online that I bought bottles. He said he had a Anna pottery pig, and a Harrison flask. I declined and said since he lived in Kentucky, that I was looking for Louisville flasks. Without hesitation, he said a friend had one. His name was James Lamb who lived nearby. James and I talked and he was to send pictures. When he did, they were taken right out of Glass Works recent auction of the green quart GII-35.
Next time we talked I asked why he sent me those pictures, he said his flask was just like that one. I told him I wanted to see a picture of the flask he had for sale not the one in the GWA auction. Later he sent pictures of the same flask but the background was a blanket with a printed pattern on it. Since the flask was transparent it showed the same background as the GWA flask.
He wanted me to send money. I wanted my representative to meet him and look over the flask and he would pay for it, providing it was acceptable. He tried every way to not do that including, saying that he did that before and he got robbed and they took his flask, that his father was in the hospital and might not make it and he didn't have time. I told him my rep could meet him in a safe place, like the police station where they would have metal detectors to make sure that neither party had weapons. He just kept saying send the money and we will overnight the flask. I stood my ground and said when things quieted down for him to let me know and we could set up a meeting.
I never heard back from them since then.
So here's my advice: let these people know you have a person in their area that can come over and check out the item for sale. And then just listen to the excuses they roll out, if they bother to get back to you on it.
Richard
---

I thought I would try to keep a 'running' list of internet antique bottle scams that have been plagueing our hobby of late. There are more, I just need to track down the images and stories. Please keep me abreast if you have any updates. Education and communication is power!
Education and communication is power!
By posting information online, it makes it easier for a potential target to search information and possibly be tipped off. These type of scams typically rely on a paypal account or you send money first for an item that is not real. Once Velma (or whovever) offers the item; you use PayPal and she sends a fake tracking number; and then never sends any merchandise because she obviously is only using pictures of things she has chosen on the internet.
Some of the names that have been used this year are posted below. Of course these are aliases. It is thought that this is the same person. The url addresses, email addresses and phone numbers are being cross-referenced and the locale has been reduced to a certain area which is being watched.
---
Steven Dujardin | Alias List

Steven Dujardin

| Clarksville, Indiana | New Albany, Indiana
Jennifer Diefenderfer

 (partner)
Steven Lamb

 (partner)
Ripoff Report Complaint Review: Steven Dujardin & Jennifer Diefenderfer
Ripoff Report Complaint Review: Steven Dujardin
Ripoff Report Complaint Review: Steven Dujardin
Facebook: Steven Dujardin
Mugshots: Steven W. Dujardin, Jeffersonville, Indiana
Mylife: Steven Dujardin
Anicia Benson
Chris Sadler or James Lamb or Chris Stevens
Velma Craft
Poorman Collectibles (Craigslist)
Reginald Offutt 
kentuckycollectibles@gmail.com
kycollectibles12
502.440.0480
Jeffersonville, Indiana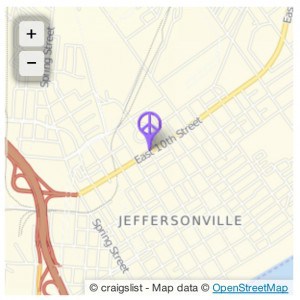 ---
William Henry Harrison Flask

Scam
This was an ebay scam that occurred in September 2012. It is thought that at least four persons were taken by this scam which used a seductive blue Photoshop color layered over an previous aqua example of the William Henry Harrison flask. Read: "there's a customer born every minute" – William Henry Harrison Flask Scam
Read More: More on the Harrison Campaign Historical Flask Scam
---
The Curtis Cordial Calisaya Stomach Bitters
Scam
Another doctored image of a Curtis Cordial Calisaya Stomach Bitters.  This one tugged at me as I wanted it to be true. A color that was unlisted, this too was a scam that occurred in February 2013. Read: Curtis Cordial Calisaya Stomach Bitters Fraud? What was important here, was that many of us were able to see how easy it is to change a bottle color in Photoshop. Notice the slang e-mail language that the trickster is using below. This was a bottle owned by Mark Warne that was used as scam bait.
"do you buy old bottles i found this bottle in my attic don't know if it has any value or if it worthless i looked on google for it but couldn't find it thanks it says Curtis Cordial Calisaya The Great Stomach Bitters"
Anicia Benson (Benson Collectibles) – February 2013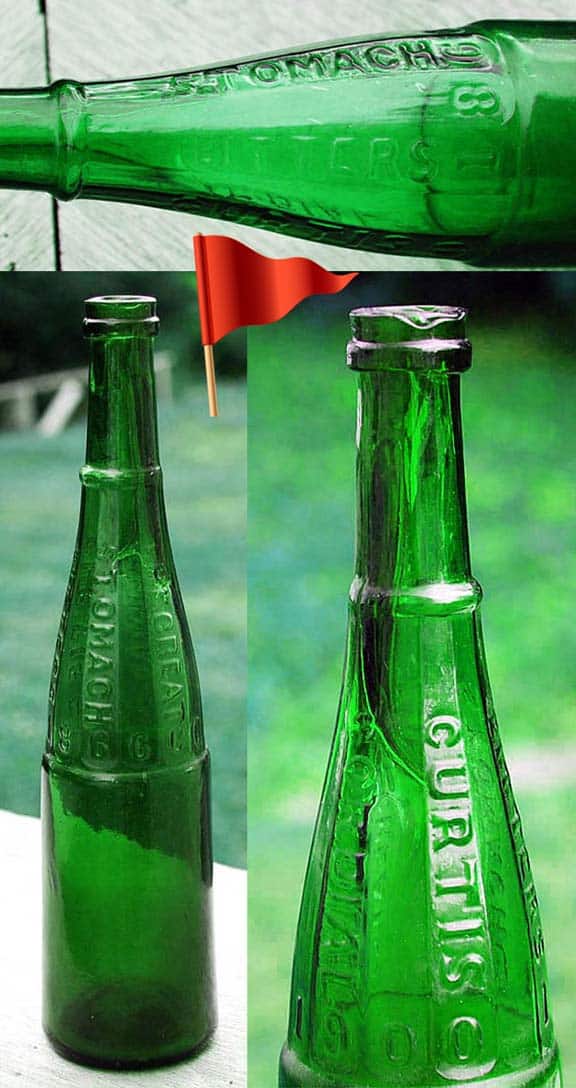 ---
Emerald Green OK Plantation 1840 

Scam
An obvious, too-good-to-be-true, doctored image of an OK Plantation 1840 bitters was shopped to numerous collectors throughout the United States during a multi-day period in mid June 2013. All emails came from a Velma Craft. Each email offered a different scenario on how the bottle was found. Read some of them below the images.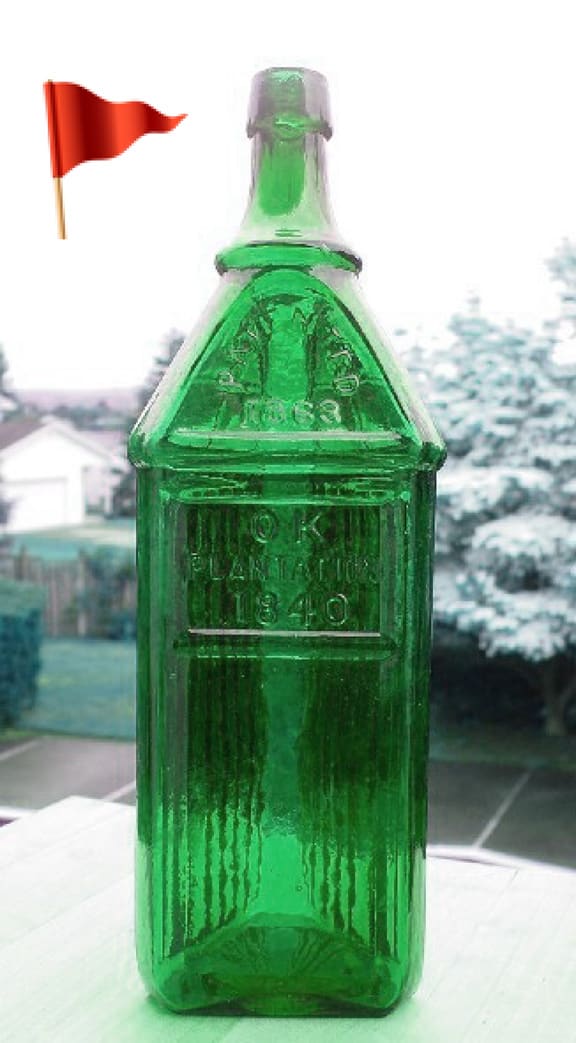 [To Ferdinand Meyer] I PURCHASED THIS FROM A CONSTRUCTION WORKER OVER THE WEEKEND WHO SAID HE WAS TEARING DOWN A HOUSE AND FOUND IT DOES IT HAVE ANY VALUE AND DO U KNOW WHERE I COULD SELL IT – Velma Craft
[To Ed Gray] I recently acquired this at auction does it have any value? and do u know anyone interested in it – Velma Craft
[To Dale Mlasko] I PICKED THIS UP OVER THE WEEKEND TRYING TO FIND OUT ABOUT IT DOES IT HAVE ANY VALUE AND IF SO WHERE COULD I SELL IT THANKS!!!!!!!!!!!!!!! – Velma Craft
[To Steve Ketcham] PICKED THIS UP OVER THE WEEKEND I DONT KNOW ALOT ABOUT BOTTLES IS THIS A COMMON ONE AND DOES IT HAVE ANY VALUE AND IF SO DO U KNOW ANYONE INTERESTED IN IT – Velma Craft
---
The funny green George Washington Flask
Yet another Velma Craft endeavor to push an altered George Washingtom historical flask. This time the picture used an inside background where the flask was set in the picture and colored.
GREETINGS,
I Just found this bottle in a old house that i'm restoring in the crawl space. DOES it have any value and if so do u know anyone that would be interested in buying it thanks!!!
Velma Craft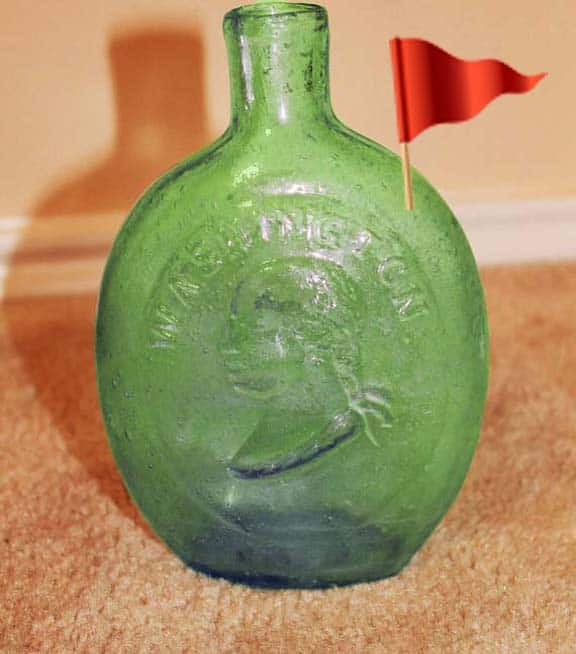 ---
Lange & Bernecker Eagle Bitters

Scam
No false coloring here on this scam that occurred last week. This is actually one of my bottles that was lifted from the Peachridge Glass web site and positioned on the background. Look how poor the photoshop crop job is on the upper left corner.
I just got a email from a guy yesterday about a Lange & Bernecker Eagle Bitters, It appears he stole the pictures from your website where you have them listed as the Meyer Collection. I looked at the pictures of the bottle and I knew it did not look right. I forwarded you a copy of it so you could see. Thanks…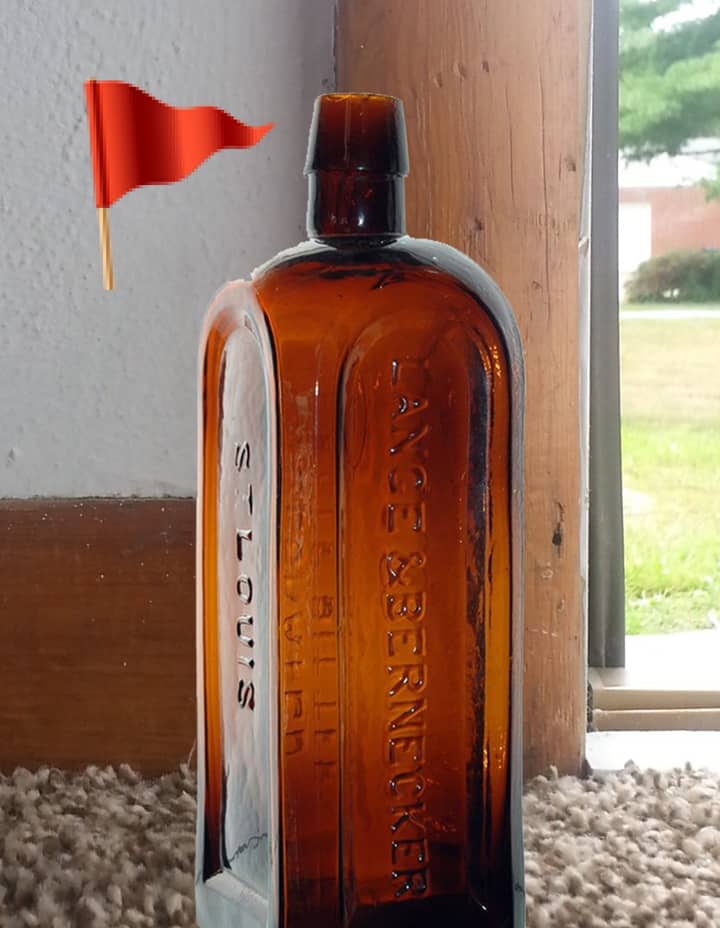 ---

Pittsburgh Double Eagle Flask
Scam
This scam occurred at the same time as the Lange & Bernecker Eagle Bitters scam above. Same background. Some clipping of someone's else's image and transferring it into a new setting.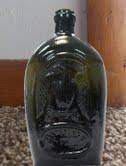 Hi Ferdinand, Just wanted to let you and the collecting community know that the Pittsburgh double eagle picture was swiped from my website. www.antiquebottlesales.com. It can be found under the "sold items" at the bottom of the flask category on my page. Thanks,
Matt Lacy
---
P. W. Seaton / Louisville, Ky. umbrella (ink)

Scam
[From Lucy Faulkner] Scam alert: We just got an email with a picture of a J. P. W. Seaton / Louisville, Ky. umbrella (ink) asking if it was worth anything and if we knew anyone who would want it. She supposely found it in an attic! Something didn't look right, so I checked several websites. The picture was copied directly from Antique Bottles (Reggie's site). I asked for more pictures. We will see what happens.
---

Mini Stoneware Scratch Jug
Scam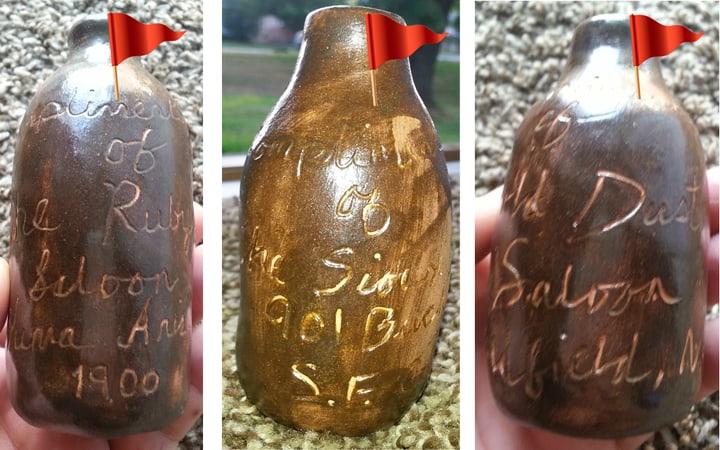 On ebay today, 27 August 2013 – Hello, You are bidding on a Nice Compliments Of The Ruby Saloon Yuma Ariz 1900 Mini Stoneware Scratch Jug,It Has No Chips,Cracks, Or Repairs.I acquired this collection from my grandfather and don't know anything about them so i am selling with NO GUARANTEES!!!!!!!!.
Looks like the same writing on the same jug. Same background as Lange & Bernecker Eagle Bitters Scam (see above).  kentuckycollectibles@gmail.com and kycollectibles12.
I have seen hundreds of mini jugs, and NEVER seen that form. Terrible fakes. Also the glaze is wrong, and the font is too similar. The snake just is just terrible.
BS – Texas
---