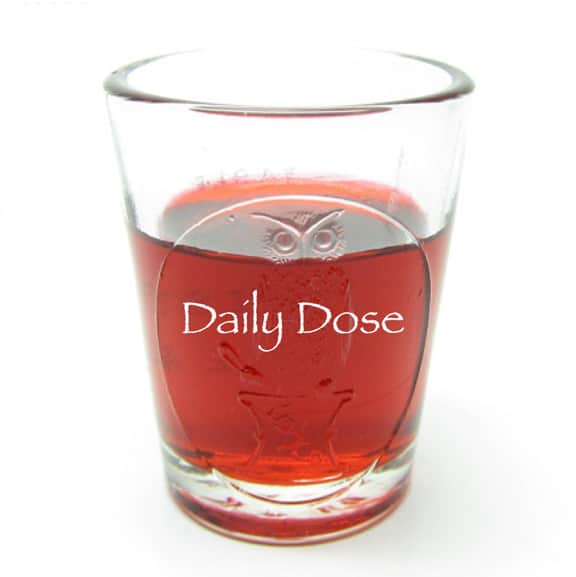 J u n e   2 0 1 3
Some ramblings and thoughts.
Sunday, 30 June 2013
Been offline for a few days. A few words of wisdom. You can take this to the bank.
"DO NOT SPILL CEREAL ON YOUR LAPTOP."
I am now a citron Drake's down in cash with a new Macbook and lots of other stuff I wanted. I'm happy though. Just poorer.
Thursday, 27 June 2013
Velma Craft Scams Still Occurring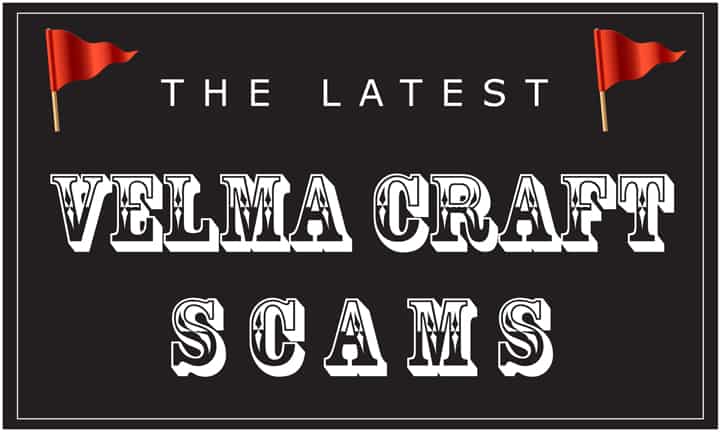 FYI:
You may want to warn your members or readers an additional warning regarding one Alias Velma Craft. She has now branched out into the token world and is doing the same type of scams using a paypal account. She offers items; uses paypal; sends a fake tracking number; and then never sends any merchandise because she obviously is only using pictures of things she has chosen on the internet. The screen name she is using is velvel76@aol.com. Just got burned by her and have reported her to aol and filed a police report on her. She may also have an accomplice named Chris Sadler email poormancollectibles@gmail.com doing the same thing. Just thought I would give you a head's up.
Regards,
Tom Rhodes
Wednesday, 26 June 2013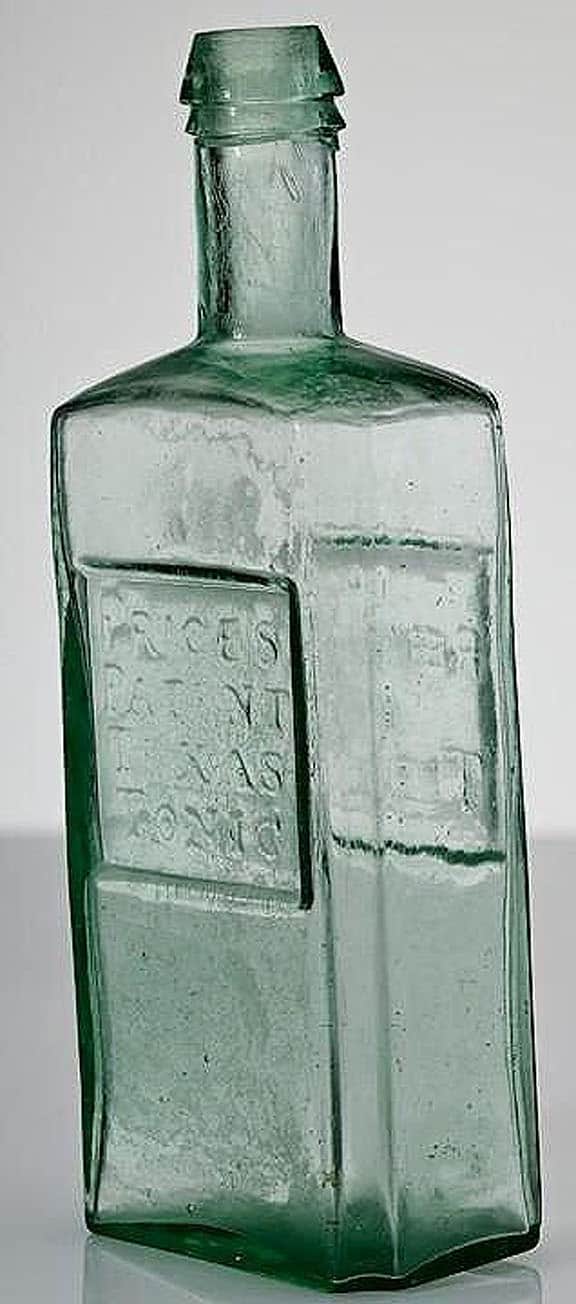 Getting in a gold mine of information on old Texas bottles. Sorting thru it now. Look for posts on the Cat and Dog Hospital bottle, Prices Patent Texas Tonic (Medicine or Bitters as the ads say), Simmons American Heppattic Bitters, Crow's Alligator Oil, Heidelberg Phosphine Bitters, Texas Blood Purifier Bitters, Stresau Bitters and more.
Monday, 24 June 2013
Off to Motor City, Motown or Detroit here shortly. Another Monday. Reminder that the Glass Works Auction 98 closes tonight.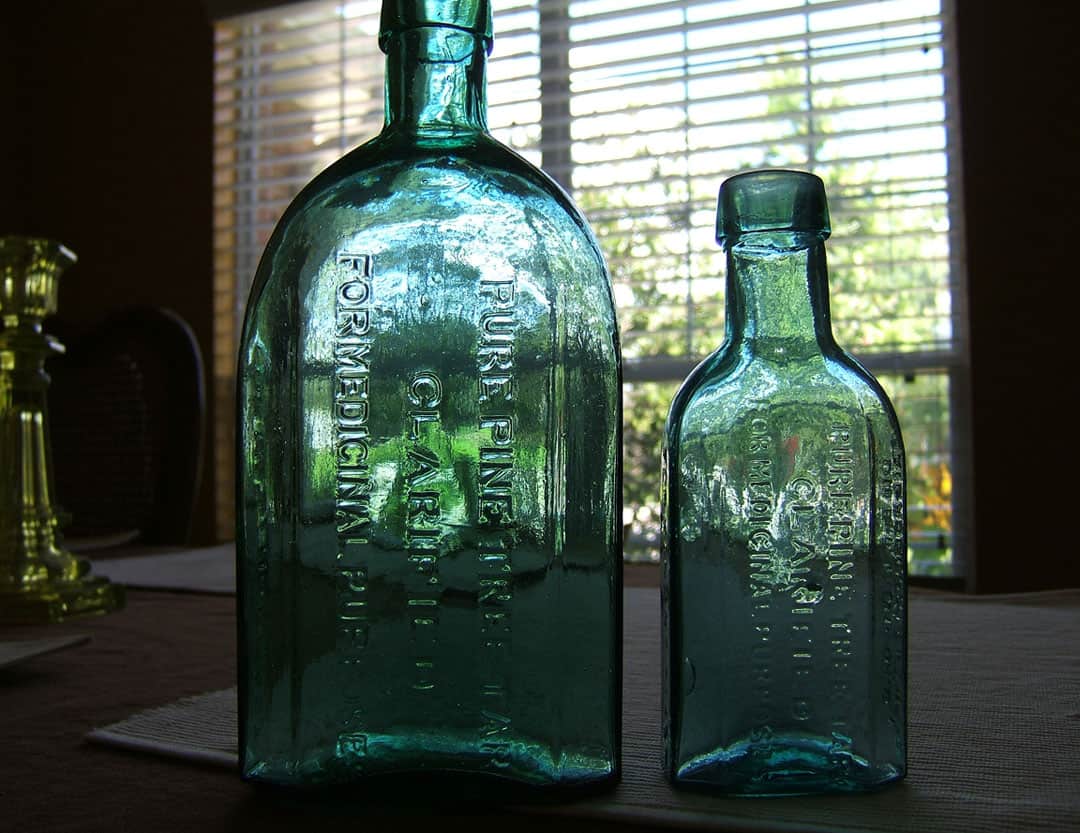 Larry Marshall send in more Wishart's Pine Tree Tar Cordial pictures and collateral from his collection. Post updated.
Hope to post the FOHBC 2013 Antique Bottle Show Seminar schedule sometime later today.
Sunday, 23 June 2013
Super hot here in Houston. We need some rain. Going to cook a few steaks outside here in a little while. Watching this SLOOP – STAR, (GX-8), flask at Glass Works Auction 98 "Summer Sizzler". Closes tomorrow night.
SLOOP – STAR, (GX-8), Bridgeton Glass Works, Bridgeton, New Jersey, ca. 1825 – 1840, deep sapphire blue half-pint, tubular open pontil, sheared and tooled lip. A tiny potstone just below the sheared lip has a 1/8" cooling fissure in it, otherwise perfect. Thought to be one of only three known examples and the first one to be offered for sale since the Blaske auction in 1983. Boldly embossed and with only very slight wear. According to one of the very few who have seen all three, this one has the deepest color.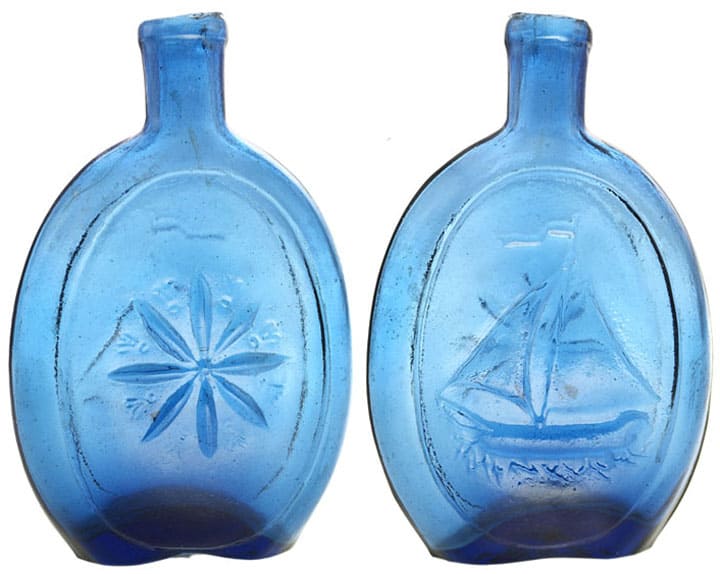 Friday, 21 June 2013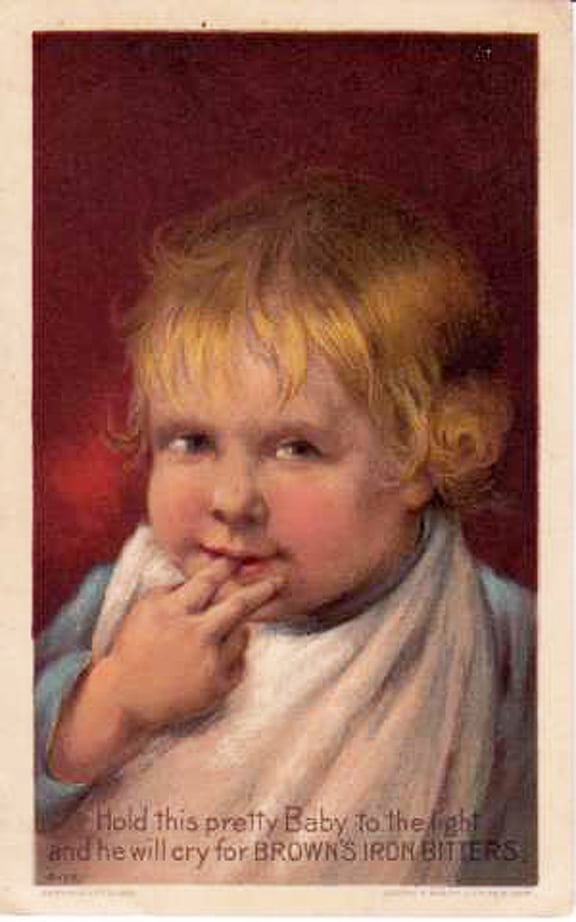 Really like some of these tough-to-find Bitters trade cards that Joe Gourd submitted. Many I have not seen before.
Wednesday, 19 June 2013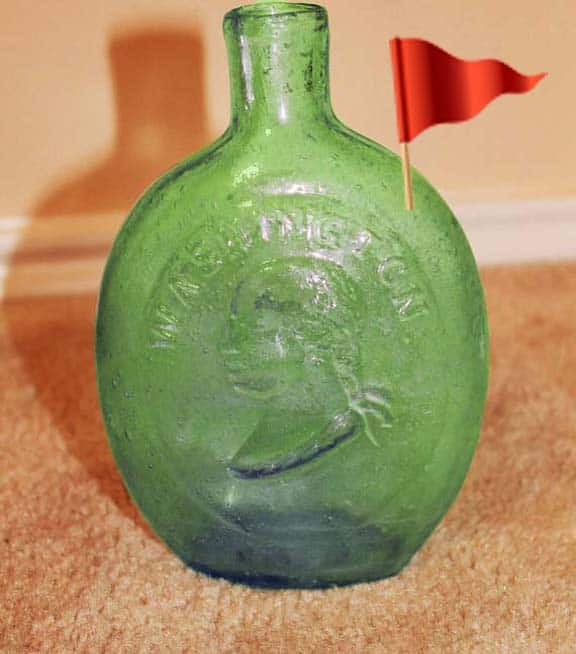 Seems like Velma Craft (obvious alias) is still at it with the e-mail bottle scams. Watch out for Umbrella Inks, a green OK Plantation and now this green flask being offered for sale. The photoshop work is quite messy but I still worry about someone getting hooked. Make no mistake, this is a scam on a national level. Received from Greg Bair:
GREETINGS,
I Just found this bottle in a old house that i'm restoring in the crawl space. DOES it have any value and if so do u know anyone that would be interested in buying it thanks!!!
Velma Craft
Subject: Color change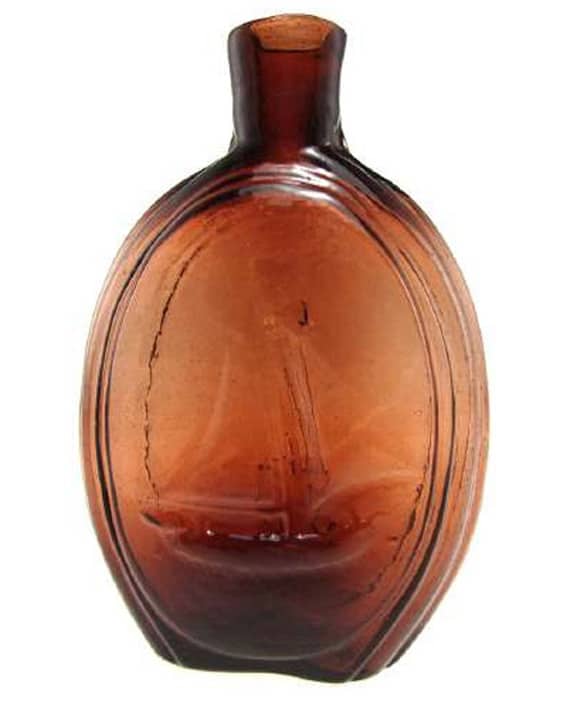 The Seeliger Theory
I propose an idea that may or may not be true. I believe that possibly the color bottles like puce etc. did not exist when they were originally made. They may have been normal amber glass and contained various amounts of Manganese, Selenium and other elements that were present in the glass manufacture.
Through the years these elements have undergone changes most notably the purple from Manganese that we are aware of. When bottles are radiated today we see some unusual colors.
I believe that possibly the manganese present in amber glass has undergone a purple-ing that makes the amber color a purplish tint which we see as puce? Could other bottles change colors over time? I know that window glass cuts down most of the ultraviolet light and the purple color change is slow, but cut glass left on a table in a sunlight room for 50 years get a hazy color.
I wonder if all the unusual colors are brought about because bottles are sitting in cases exposed to small amounts of ultraviolet light and other wavelengths of energy; that is messing with the outer shell of electrons in the transition elements.
This may be an unusual idea and may be treason or at least sedition to the bottle world but I wonder if the radiating some collectors do to enhance color is just speeding up the process?
Since I have been studying color I am finding unusual activity in the colors that we don't see with the naked eye. I have yet to do some real tests on unusual colors but this could be something we could see in one of my wavelength graphs.
Your thoughts on this would be appreciated
Michael Seeliger
Read: Color Measurement – Latest from Michael Seeliger
Read: What is Puce or 'Pooce' as some call it?
Monday, 17 June 2013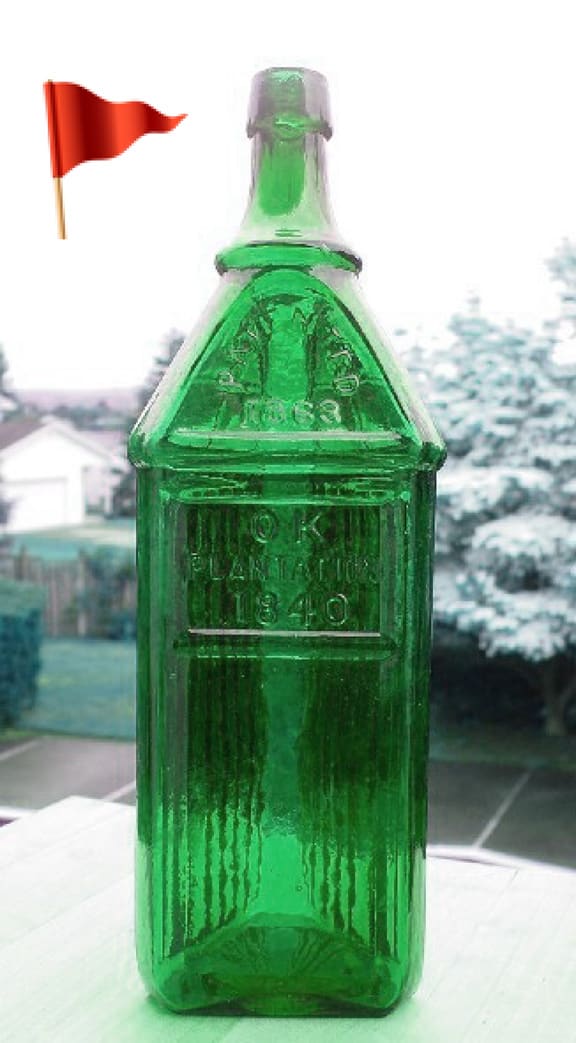 Lots of scams circulating today. Here is the green OK Plantation (swiped from ebay)…
[To Ferdinand Meyer] I PURCHASED THIS FROM A CONSTRUCTION WORKER OVER THE WEEKEND WHO SAID HE WAS TEARING DOWN A HOUSE AND FOUND IT DOES IT HAVE ANY VALUE AND DO U KNOW WHERE I COULD SELL IT
Velma Craft
[To Ed Gray] I recently acquired this at auction does it have any value? and do u know anyone interested in it
Velma Craft
[To Dale Mlasko] I PICKED THIS UP OVER THE WEEKEND TRYING TO FIND OUT ABOUT IT DOES IT HAVE ANY VALUE AND IF SO WHERE COULD I SELL IT THANKS!!!!!!!!!!!!!!!
Velma Craft
[To Steve Ketcham] PICKED THIS UP OVER THE WEEKEND I DONT KNOW ALOT ABOUT BOTTLES IS THIS A COMMON ONE AND DOES IT HAVE ANY VALUE AND IF SO DO U KNOW ANYONE INTERESTED IN IT
Velma Craft
[From Lucy Faulkner] Scam alert: We just got an email with a picture of a J. P. W. Seaton / Louisville, Ky. umbrella asking if it was worth anything and if we knew anyone who would want it. She supposely found it in an attic! Something didn't look right, so I checked several websites. The picture was copied directly from Antique Bottles (Reggie's site). I asked for more pictures. We will see what happens. Same Velma Craft
Sunday, 16 June 2013
Such a fun day. Rushed one of my dogs (Sadie) to the 24-hour vet for emergency treatment as she had gotten in an altercation with a raccoon yesterday. As Elizabeth is out of town at a horse event, I left the other five dogs here. Well we have two younger new additions and they ate the TV remote and broke a Doyle's Hop bitters. Like I said, a fun day.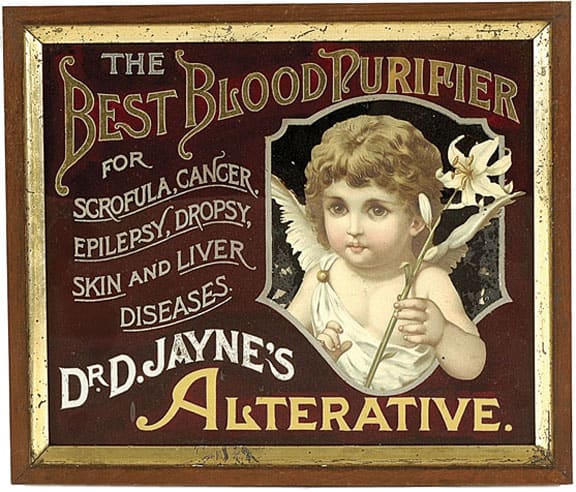 Just finished and dispatched a post on Dr. D. Jayne's Family Medicines. Just absolutely love the graphics that were part of his marketing machine.
Saturday, 15 June 2013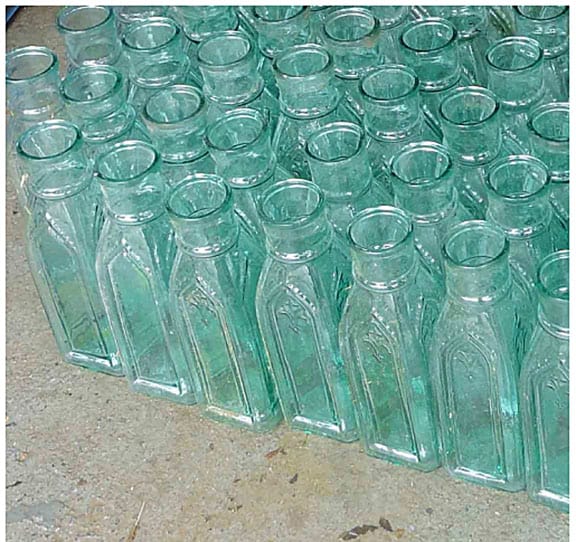 Lots of people freakin' about this repo business. I can understand that but we need to be sane. As I responded to a collector friend this morning:
Repros have been around for thousands of years. Just in the last century there have been tons of repros that are even collectible such as Clevenger, Wheaton, EG Booz, Suffolk Life Preserver Pigs etc. We need to address this on a number of fronts:
Study the Situation

Educate Ourselves

Inform or collector population

Mark the Repros (deboss on base)

Buy from Reputation

Know the Provenance
The FOHBC also discussed this the other night on our monthly cc. I would not overreact or cause yourself too much stress.
Ferd;
The consensus seem to be that:
1) the seller is having these made either one at a time or in small quantities
2) he must be selling them at or near cost.
Check out the attached photo (pickles at the top of today's post). I found it buried in the Dog River / Sekela website. There's profit to be had in volume…
Bruce Silva
Friday, 14 June 2013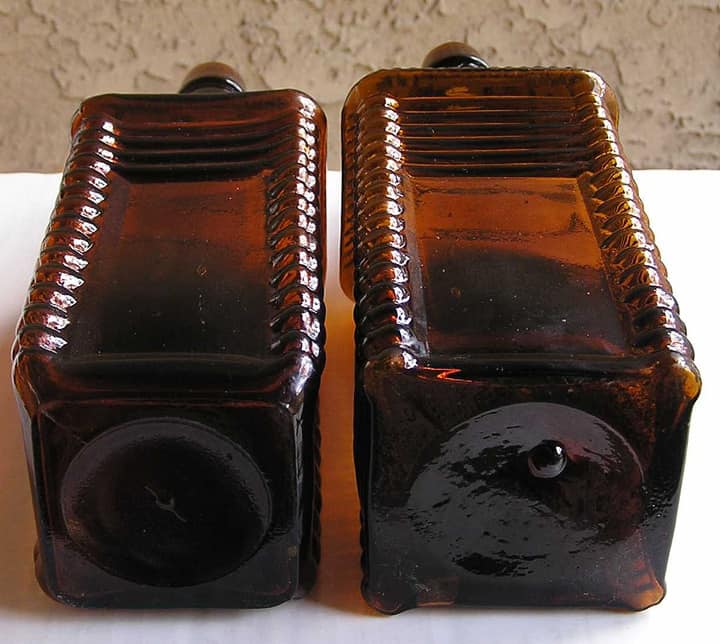 Had a FED Board meeting conference call last night. One of the topics was reproductions. As I thought, there is not much we can do as far as stopping a person from reproducing a bottle but we should encourage a mark, such as a debossing (not embossing) to distinguish the reproduction from the original. If the original intent is not fraud and is being noted and sold as a reproduction, this is legit. As long as we have an original desirable item, there will be a person who wants to reproduce it. Of course it is the scammer and next generation(s) buyer that we should be concerned about.
Read: Will the real Drake's Please Stand Up?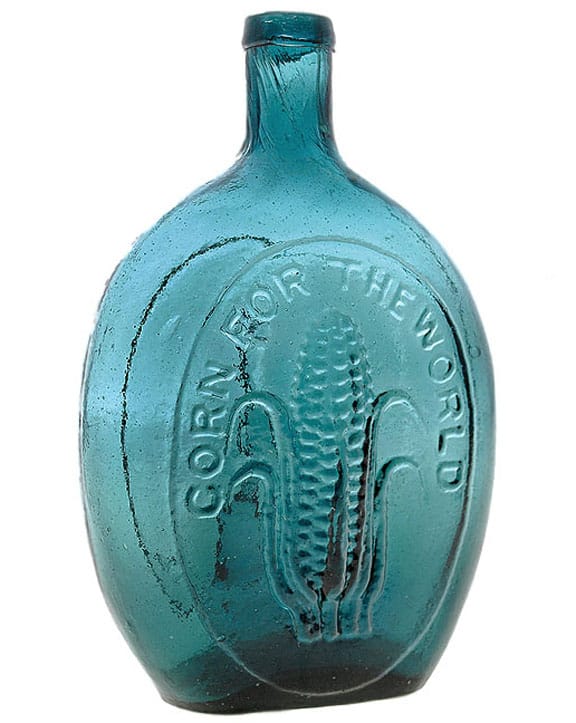 Corn for the World Historical Flasks post updated with two flasks from the Glass Works Auctions | Auction #98.
Wednesday, 12 June 2013

I really like locating, cleaning up and studying art used in various advertising pieces for the bottles we collect. Here are three pieces related to the Lippman Brothers. Read: Lippman's Great German Bitters – Savannah, Georgia
Tuesday, 11 June 2013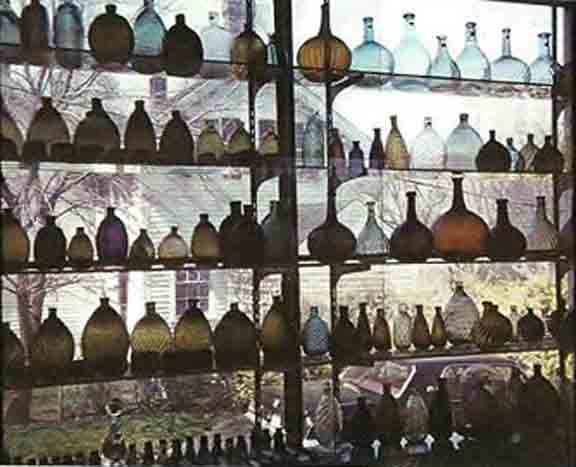 Dana Charlton-Zarro posted this picture of one of Charlie Gardner's windows. "Miniscule part of another great collection: one window of Charlie Gardner's upstairs bottle room, 1969."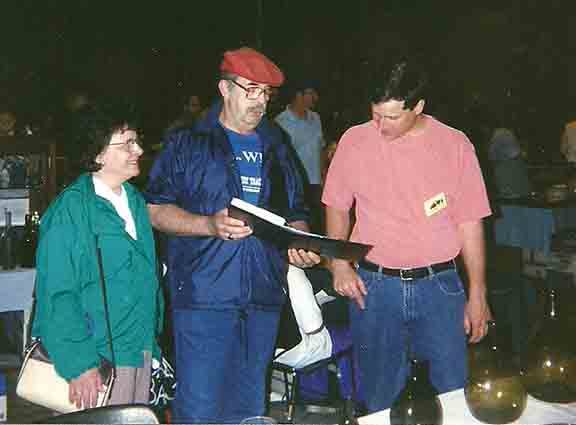 Down Memory Lane, 1997 at the Keene (or Saratoga?) Show: Shirley & Kris Kernozicky showing a photo from Joe's photo album to Norm Heckler, Jr. – Dana Charlton-Zarro
Monday, 10 June 2013
Bennet's Celebrated Stomach Bitters post updated with the following information from Eric McGuire.
The firm of Chenery, Souther & Co. was dissolved in San Francisco on August 1, 1874. Joseph N. Souther then became the sole remaining partner. Richard Chenery had a long and notable career in San Francisco, being an early pioneer. He arrived in San Francisco on the Brig Acadian on August 14, 1849. Chenery was born in Montague, Franklin County, MA in 1817 and became one of the many who rushed for California gold. His wife was the daughter of the former governor of Maine, William G. Crosby.
By 1852 he became a successful business man and was an Alderman of the City of Sacramento, California. Offered the job of Mayor, he declined. He was, however, elected Treasurer. He soon became the head of a number of successful businesses in San Francisco and in 1861 he was one of the mounted guards who escorted President Lincoln to the Capitol at the time of his inauguration. Shortly thereafter, Chenery was appointed U.S. Naval Agent for the Port of San Francisco. When his term ended in 1865 Chenery entered into partnership with Joseph N. Souther as a wholesale liquor dealer. After terminating that partnership in 1874 he invested heavily in mining but returned to the East Coast in 1880, where he remained until his death in Belfast, Maine, on July 27, 1890. Much more can be said of Chenery, but this is the short version.
Dog River Glass Company Reproductions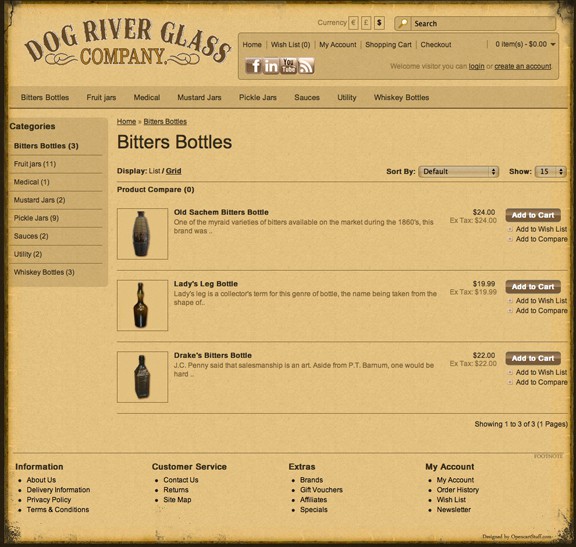 Looking to serve the collector, museum and living history market, we embarked on a line of mouth blown reproductions that were heretofore unavailable. Using traditional techniques and hand mixed glass, our products reflect the continuation of a trade that is disappearing from the scene. Visit Website. Thanks to Jim Bender for sending Link.
Read: Repros. A legitimate place in the hobby?
N.J. (New Jersey) Sekela (same fellow) – N.J. Sekela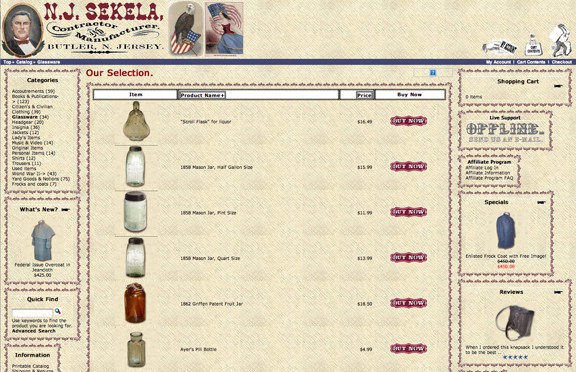 Hey Ferd,
Here's a few quick photos of some current repros made by this guy 8 or 9 years ago. I feel bad for new collectors out there.
Jim (Bender)
It's Clevenger back from the Grave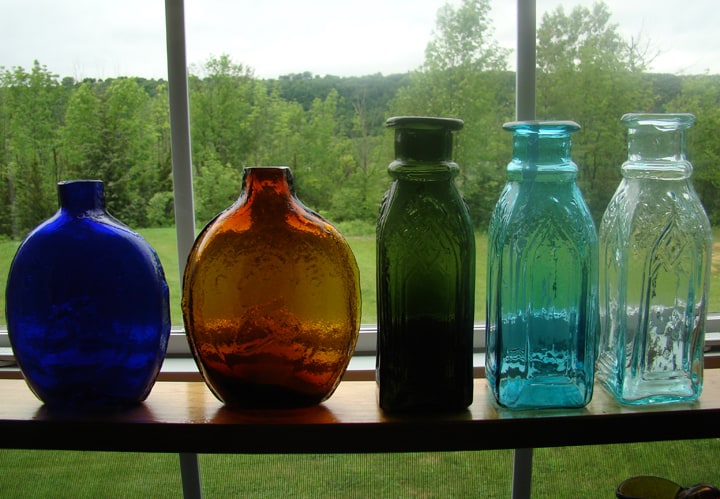 Saturday, 08 June 2013

Red Flag alert for Drake's Plantation Bitters and other important bottles.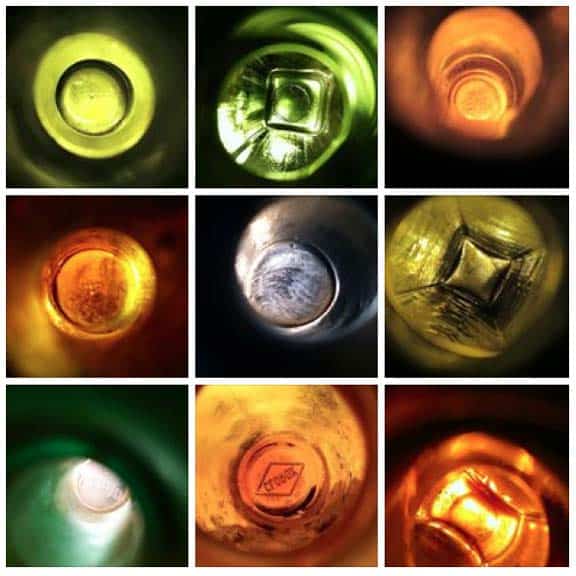 "Take a trip with me into the worm hole"
Just love this grid from Jason Rinehart "Take a trip with me into the worm hole" 😉 Hope everyone having a great night…..
Friday, 07 June 2013
Looking for pictures and info on the following to accompany Bennet's Celebrated Stomach Bitters post. Would like to develop a timeline for Henry W. Bennet, Joseph N. Souther and (Blank) Chenery.
B 74  BENNET'S WILD CHERRY STOMACH BITTERS
BENNET'S ( au ) / WILD CHERRY / STOMACH BITTERS  ( ad ) // f // CHENERY,  SOUTHER & CO. ( au ) /  SOLE AGENTS / SAN FRANCISCO, CAL. ( ad ) // f //
9 x 3 (6 5/8) 3/8
Square, Amber, LTCR, Applied mouth, Very rare
Lettering reads base to shoulder on brand name panel, Reverse reads shoulder to base as is usual.
Thursday, 06 June 2013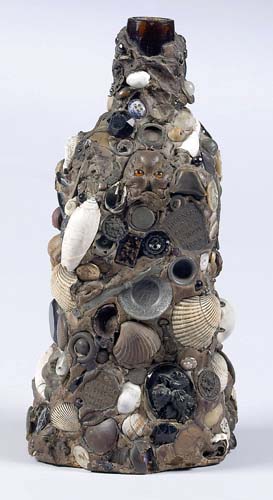 Rumor has it that a Memory Bottle (see example above) has been found in the form of a Drake's Plantation Bitters. When a piece of the plaster was removed, a 'pinkish' Drakes was observed. Stay tuned.
Had some fun looking at some of my Bitters trade cars with children along with other examples in my archives. Read: Young Children in Antique Trade Card Advertising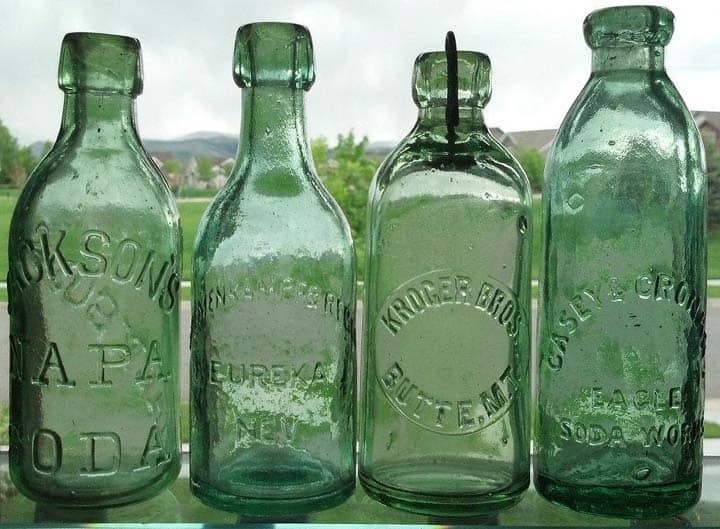 Hello Ferd,
Our Butte Montana bottle show went great. 10 more early birds than last year and close to the same attendance on Sat. and it was busy for awhile. The newspaper came in and interviewed some dealers.
Many bottles for free appraisals but nothing great that I saw but a lady says she has a GREEN Dr Fish bitters. Someone is going to go check on it, youll probably hear about it. The raffle went well and we made a little money and I won a purple insulator for my collection.
I picked up a green Jacksons Napa Soda here to add to my collection. The Kroger is the apple green one we dug last week and cleaned up nearly mint but has a lip chip. The Eureka Nevada soda only a handful known. The Casey & Cronan Eagle soda gravitating is probably rare too.
The club dig on Sunday at a ghost town was rained out about an hour into digging. Found 2 big outhouses but hardly anything but marbles. About a dozen enthusiastic diggers showed up but we didnt get to hang out long due to the rain and ice storm. Its a real tough town always some weather situation. I will find the good bottles as they are there just takes patience and many days work with shovels and track hoe! How fortunate we are that the owner has let us dig around. Now we find he has an outhouse on another piece of property. 14 by 5 feet or so! Maybe a 4 seater! Big tree roots to carefully deal with but we will get to this soon I hope.
Keep up the great work!
James (Campiglia)
Tuesday, 04 June 2013
Rattled of four posts yesyerday. Lots of incoming material and questions. Watching the great examples of a Lippman's Great German Bitters and a Bennett's Celebrated Stomach Bitters on ebay.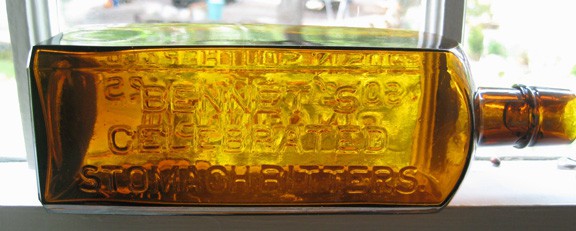 Nice e-mail from my talented bottle friend John Akers…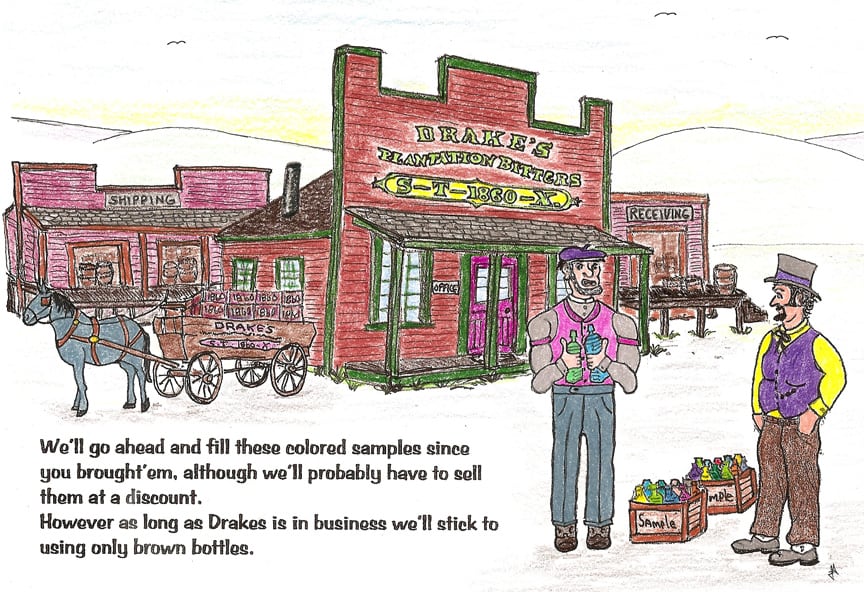 Ferd,
I've attached a cartoon you may want to use sometime. It's not really funny but it gives the bottle collector pause for thought on how things may have happened in days gone by.
I actually drew this one just for you as I know you love Drakes. They are also my favorite as a green Drakes is second on my wish just under a Hartley's Peruvian from Muncie.
I really wanted to have this one ready for your birthday but I'm having trouble drawing these days. While I'll only be sixty two next month and am in excellent health it seems arthritis has decided to settle in my thumb joints of all places. Can't hold a pencil for very long.
Any way, I hope you get a kick out of the cartoon and want you to know I think you are doing a great job as FOHBC president.
Good health my friend!
John
See more of Johns work: Meet John Akers – A Collector and his Cartoons
Monday, 03 June 2013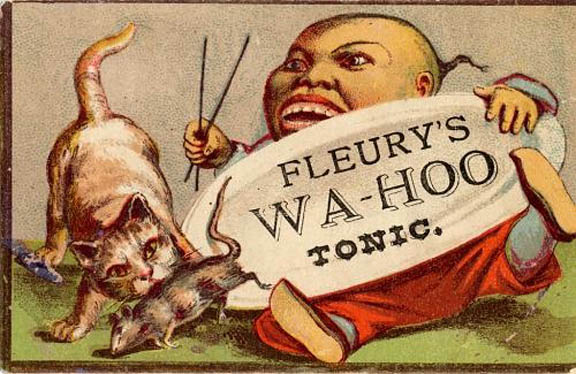 Mean Oriental Midget, chopsticks, a rat, and a cat eating a rat…great way to promote your product I suppose. I wouldn't have thought it.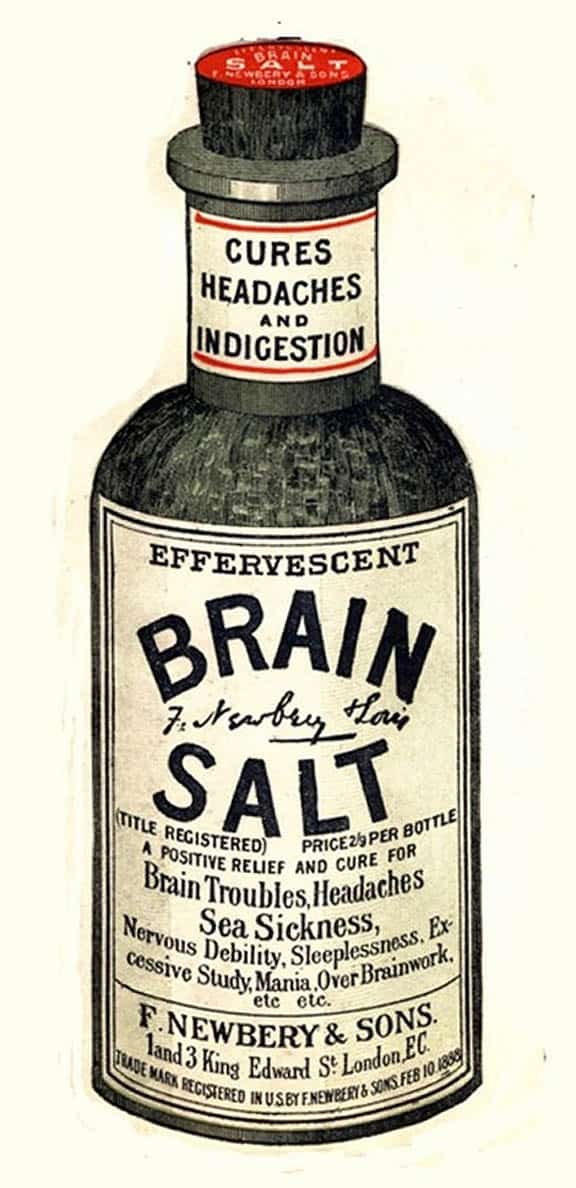 Anybody need any Brain Salt today?
Sunday, 02 June 2013
Same storms passing over Peachridge now. Holding off my dog run. Had a good 1 1/2 River run with the dogs (Cooper, Sadie, Coco, Remy) yesterday. Remy (short) for Remington is our newest. Elizabeth saved her a few weeks ago when she saw some A-hole toss her out a window out in the stix and ditch it. She's a good pup.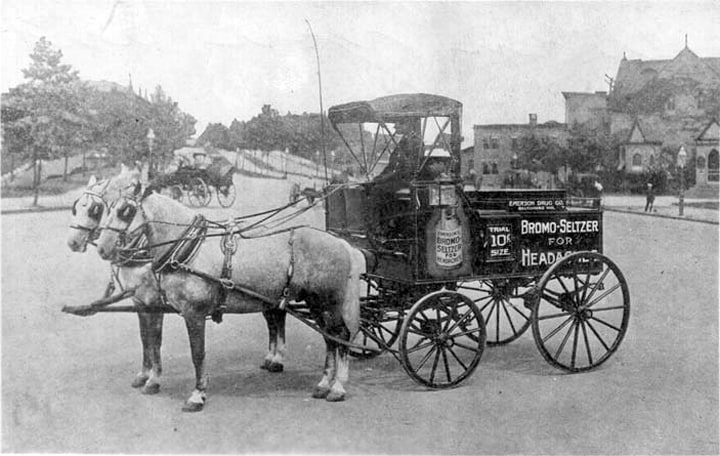 Love this old Bromo Seltzer photograph.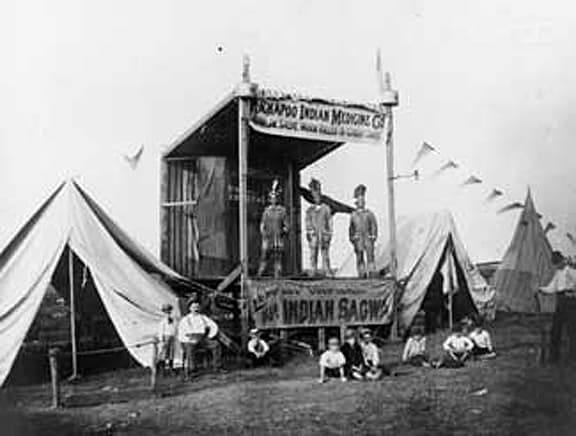 Look at this cool 1892 photograph of the Kickapoo Indian Medicine Company, taken at Henry Clay Village (Tower Road and West 19th Street in Wilmington, Delaware) by photographer Pierre Gentieu.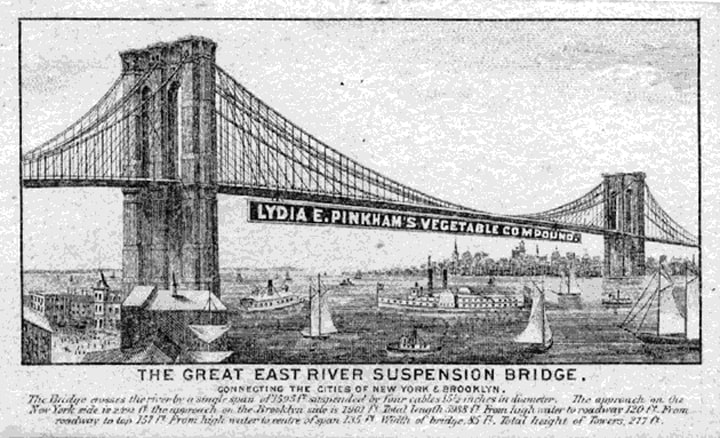 One of the larger advertisements for a medicine that I have ever seen. Lydia E. Pinkham's Vegetable Compound.
Saturday, 01 June 2013
Back on the saddle again. Behind with bottle work.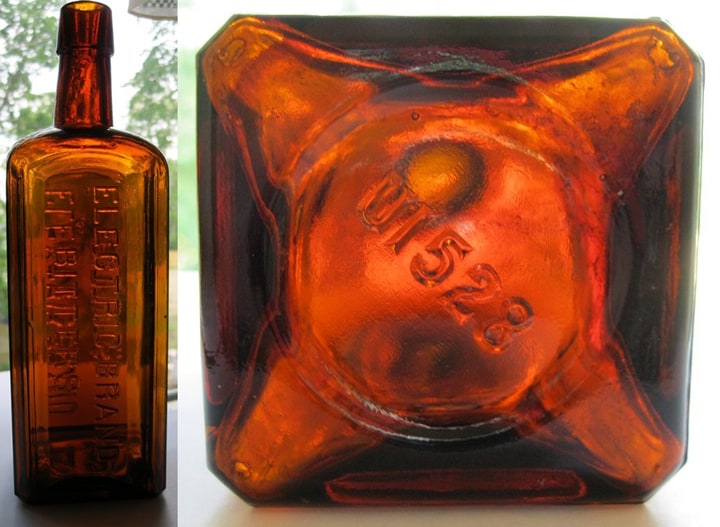 Electric Bitters post updated with an example of an E 33.5 ELECTRIC BRAND BITTERS. This is a later bottle, similar to E.30. Bottle sited by Bill Ham on ebay.
ABCR Auction 12 just ended Australian Eastern Standard Time.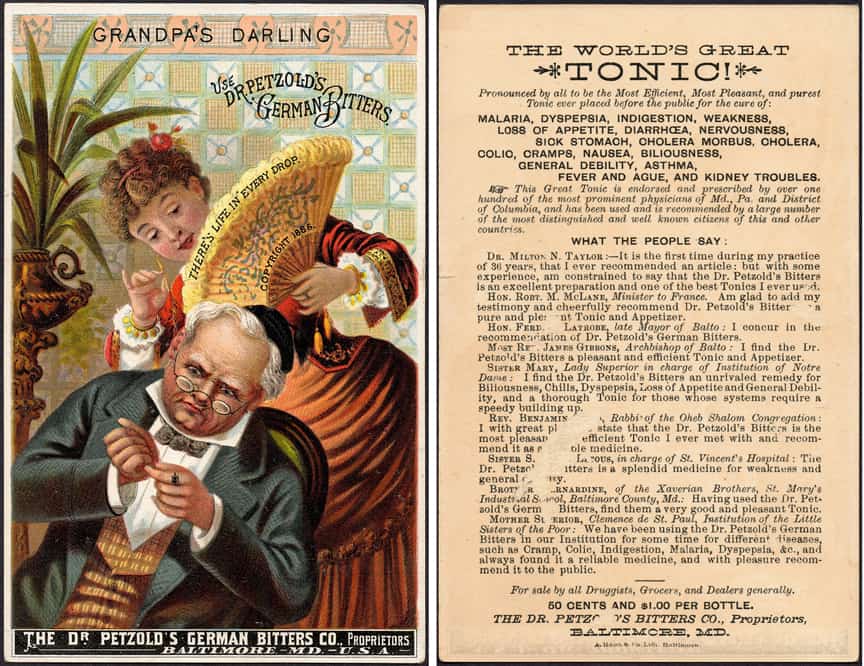 Trade card for Dr. Petzold's on ebay. Haven't seen this one. Added to existing post.