F. Stresau – A Texas Bitters (Courtney, Texas)
18 January 2012 (R•012415)
Correspondence in from Texas medicine collector Brad Seigler from Justin, Texas. Brad has been helping me track down information on elusive Texas bitters brands.
F. STRESAU – COURTNEY, TEXAS
Here is the only Texas bitters I own. It is not embossed as such, but it has been proven to have contained a bitters. The bottle has been in some rough ground/water, but it is all there. The top is very crude, and the embossing font is nice also.
I got permission for you to use the pics of the color run of Courtney's. Mine is a bit different from any of his, and looks to be earlier. The way I know they held bitters was a labeled bottled turned up at the Houston show a long time ago. Bill Agee owned the color group before they made it into my friend Dale's hands. Bill researched the company heavily, but only passed the knowledge on verbally. I wish he would have taken better notes on the company.
[Update 25 June 2013]
The post on Stresau Texas bitters from Brad Siegler was incorrect. I bought the aqua bottle from Bill Agee and he had bought it from the Peggy Bryant collection in Houston. The yellow Stresau bottle I had bought at the Houston Bottle Show several years ago. The other two amber Stresau bottles, one I had bought at he Houston Show, and the other off Ebay.
I sold all four to Dale Sparkman in Luling, Texas several years ago. I have lot more pics of the Stresau bottles if you would like to have. I have several pics of other Texas bitters bottles. I also several pics and ads of the Republic of Texas bottle.
Doyle Bailey
Baytown, Texas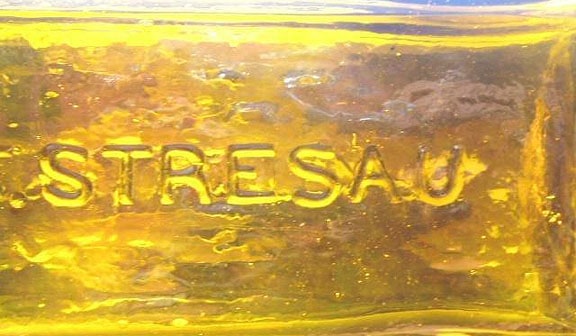 This really got me excited because I do not possess any Texas bitters nor have I seen one. You see, Texas bitters are as rare as hens teeth. I prompted Brad for some more information and received two (2) more pictures (below). The information is severely lacking so I started looking online myself with searches for Courtney, Texas and the name Stresau (see below). So far I found a Fritz Stresau and a Gustav Stresau. Maybe the G & F embossed on some of the bottles. Looks like there was also a Stresau (Fritz  & Hermann) and Mann listed in Dallas in 1886-1887. They were produce and commerce merchants.
The new listing by Bill Ham for the forthcoming Bitters Bottles Supplement 2:
S 211.7 L

. . . Stresau Bitters
F. STRESAU // f // COURTNEY. TEXAS // f //
G & F STRESAU // f // COURTNEY, TEXAS //
8 ½ x  2 ½ (6 ½) 1/4
Square, Aqua, Yellow, and Amber, LTC, Applied mouth
COURTNEY, TEXAS (Grimes County). Courtney is on the Southern Pacific Railroad at the western end of Farm Road 2 in extreme southwestern Grimes County. It was established about 1860 when the Houston and Texas Central Railway extended a line south of Navasota through the vicinity of Red Gully Creek. The site was first settled by slaveholding Anglo-American immigrants in the early 1820s. Local tradition has it that Stephen F. Austin colonist Jared E. Groce acquired the tract on which the town was later founded for the price of a riding pony and a bolt of cloth. On his plantation, known as Groce's Retreat, Groce built a cotton gin and a sawmill, but a community did not develop among the local cotton farmers until the railroad built into the area. In 1860 a post office was opened there; W. J. Calloway, the operator of a general merchandise store, was the postmaster. The settlement was named in honor of Courtney Ann Fulton Groce, wife of J. E. Groce's son, Leonard Waller Groce. The Houston and Texas Central Railway constructed a large freight platform, a depot, and a telegraph office in the town, which quickly became a shipping center for cotton and other agricultural produce. The Courtney Male and Female School was in operation from 1869 to 1870. In 1871 the Mount Zion Missionary Baptist Church was organized by the Reverend Prince Kiel. A two-story Grange hall stood nearby during the 1870s. In 1885 the community's population was an estimated 200. Around 1900 Courtney had a blacksmith shop, a gristmill, a cottonseed oil mill, two cotton gins, three general stores, and a number of churches and schools. A new two-story brick schoolhouse was erected in 1913. By 1936 the community's population had increased to an estimated 250. Courtney's population declined after World War II, and by 1949 the town had an estimated fifty residents and two businesses. In 1990 and again in 2000 the population of Courtney was estimated at fifty-five.
BIBLIOGRAPHY:
Lester G. Bugbee, "The Old Three Hundred: A List of Settlers in Austin's First Colony," Quarterly of the Texas State Historical Association 1 (October 1897). Grimes County Historical Commission, History of Grimes County, Land of Heritage and Progress (Dallas: Taylor, 1982).
Charles Christopher Jackson
Courtney, Texas Images