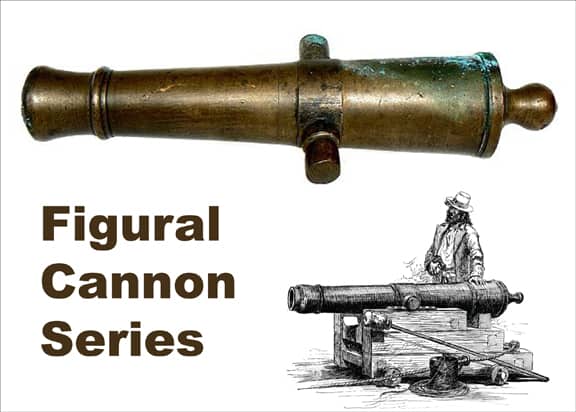 "the Buchanan Cannons"
16 August 2012
Buchanan's Malt Whiskey
Buchanan Sour Mash Whiskey
Buchanan's Extract of Sugar Corn
---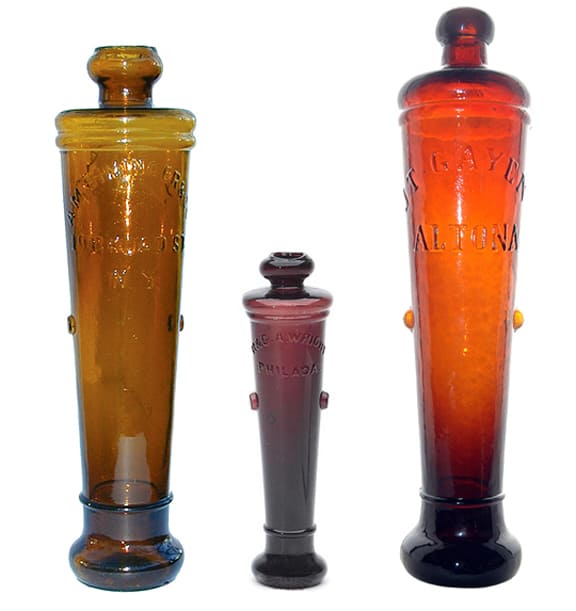 In late June of this year, I felt like I was wrapping up the Figural Cannon Series (see bottom of page) with the R.G.A. Wright Great Gun Cologne. At this time, I had set aside an image from Charles Aprill (see below) of his "Buchanan Cannons", hoping that I might get some more information and imagery from other sources for a final post to wrap the series up. Well this information did not come and what I do have is in short supply. It is my hope, by creating this post, that more examples and information might be forthcoming for inclusion. I have only seen one example in person and that was within figural collector, Bob Ferraro's collection in Nevada.
"the Buchanan Cannons"
There are three "Buchanan Cannon" variants represented in the picture below according to Charles. The cannon shape is dissimilar from the cannons pictured at the top of this post (left to right: 1. Bininger, 2. R.G.A. Wright, 3. J.T. Gayen) in that they are broader and shorter, almost 'squatty' in form. The Aprill cannons are embossed as follows:
BUCHANAN'S / ABSOLUTELY PURE / MALT / WHISKEY
 (embossed rearing stags alongside a shield BUCHANAN / DISTILLED (in a long ribbon beneath the shield, HAND MADE SOUR MASH WHISKEY
BUCHANAN'S / EXTRACT / OF / SUGAR CORN
Incoming…
Ferdinand,
I strongly suspect that these cannon bottles are related to James Buchanan, the Canadian/English whiskey guy. The attached ad, from The Toronto Daily Mail of August 7, 1889, is probably the same product. Your description of the hearaldic coat of arms on the sour mash version of the bottle sounds very much like the British royal coat of arms, except there should be a rampant lion on the left side of the shield. Also, the horse on the right is nearly always depicted as a unicorn.
Eric McGuire

Excited new material related to the press sheet image above added on 19 August 2012. Read: Buchanan Brass Printing Plate – Figural Cannon Series
Searching the internet reveals the following information for two primary James Buchanan's that may be related to the bottle. James Buchanan (Buchanan #1) was a well known liquor merchant associated with many whiskey names and brands.
It is quite possible that the "Buchanan Cannon's" predate this information related to the liquor merchant and the Buchanan name is related to our 15th president, James Buchanan (Buchanan #2). Does anyone know the answer? Is there yet another Buchanan? I would highly suspect, that the Buchanan embossed on the bottles is related to our president, James Buchanan, because of the time period and the Civil War.
Update 19 August 2012: New information from two sources, confirm that the Buchanan Cannons were a product of James Buchanan Co.

James Buchanan #1 (the liquor merchant)
James Buchanan, born in Canada but son of Scottish immigrants, returned to the United Kingdom shortly after he was born and he was brought up in Larne. He joined a Glasgow shipping firm as an office boy when he was fourteen or fifteen, and was later promoted to be a clerk. In 1868 he joined his brother in the grain business until 1879, when he moved to London as an agent for a company in the whisky trade. He realised that there was an untapped market in England for bottled Scotch whisky and set about producing his own, the Buchanan Blend. He went into business on his own in 1884 as James Buchanan & Co.
In 1898, James Buchanan was given the Royal Warrant to supply the Royal Household with Buchanan's Whisky to Queen Victoria and the Prince of Wales.
The company joined Distillers Company in 1925. Distillers was acquired by Guinness in 1986, and Guinness merged with Grand Metropolitan to form Diageo in 1997. [from Wikipedia]
and more:
James Buchanan Company is a scotch whisky "merchant"- a company that purchases and blends lots of scotch whisky to make their own signature blend labels. The company is named for James Buchanan (actually Canadian born returning back across the Atlantic and settling in London) who founded the company in 1884 and today markets a number of scotch labels. The company purchased a number of distilleries before itself becoming part of different conglomerates.
The Buchanan Red Seal scotch is their ultra-premium offering aged 21 years. It is said that it is a recreation of the 1901 version that James Buchanan himself created to celebrate the coronation of King Edward VII–hence, the red seal.

James Buchanan #2 (our 15th president)
James Buchanan, Jr. (April 23, 1791 – June 1, 1868) was the 15th President of the United States (1857–1861). He is the only president from Pennsylvania and the only president who remained a lifelong bachelor. His niece Harriet Lane played the role of lady of the house.
Buchanan (often called Buck-anan by his contemporaries was a popular and experienced state politician and a successful attorney before his presidency. He represented Pennsylvania in the U.S. House of Representatives and later the Senate and served as Minister to Russia under President Andrew Jackson. He was also Secretary of State under President James K. Polk. After he turned down an offer for an appointment to the Supreme Court, President Franklin Pierce appointed him Minister to the United Kingdom, in which capacity he helped draft the controversial Ostend Manifesto.
Buchanan was nominated in the 1856 election. Throughout most of Franklin Pierce's term he was stationed in London as a Minister to the Court of St. James's and therefore was not caught up in the crossfire of sectional politics that dominated the country. Buchanan was viewed by many as a compromise between the two sides of the slavery question. His subsequent election victory took place in a three-man race with John C. Frémont and Millard Fillmore. As President, he was often called a "doughface", a Northerner with Southern sympathies, who battled with Stephen A. Douglas for the control of the Democratic Party. Buchanan's efforts to maintain peace between the North and the South alienated both sides, and the Southern states declared their secession in the prologue to the American Civil War. Buchanan's view of record was that secession was illegal, but that going to war to stop it was also illegal. Buchanan, first and foremost an attorney, was noted for his mantra, "I acknowledge no master but the law."
When he left office, popular opinion had turned against him, and the Democratic Party had split in two. Buchanan had once aspired to a presidency that would rank in history with that of George Washington. However, his inability to impose peace on sharply divided partisans on the brink of the Civil War has led to his consistent ranking by historians as one of the worst Presidents. Buchanan biographer Philip Klein puts these rankings into context: "Buchanan assumed leadership … when an unprecedented wave of angry passion was sweeping over the nation. That he held the hostile sections in check during these revolutionary times was in itself a remarkable achievement. His weaknesses in the stormy years of his presidency were magnified by enraged partisans of the North and South. His many talents, which in a quieter era might have gained for him a place among the great presidents, were quickly overshadowed by the cataclysmic events of civil war and by the towering Abraham Lincoln." Buchanan was the last president born in the 18th century. [from Wikipedia]
---
Read Further: R. & G. A. Wright – Great Gun Cologne
Read Further: General Scotts Artillery Bitters – The Ultimate Cannon Barrel Figural
Read Further: Tobias Barto and his Great Gun Bitters – Reading, PA
Read Further: Figural Cannon Bottles – J T GAYEN / ALTONA
Read Further: A. M. Bininger & Co. Figural Cannon
Read Further: Sol Frank's Panacea Bitters – Great Form
Read Further: Thad Waterman "Warsaw" Stomach Bitters – Figural Cannon Barrel, Lighthouse or House Roof?
Read Further: Brown's Castilian Bitters – Transitional Cannon Barrel Figural
Read Further: Castilian Bitters – Brown & Embree Proprietors – New York