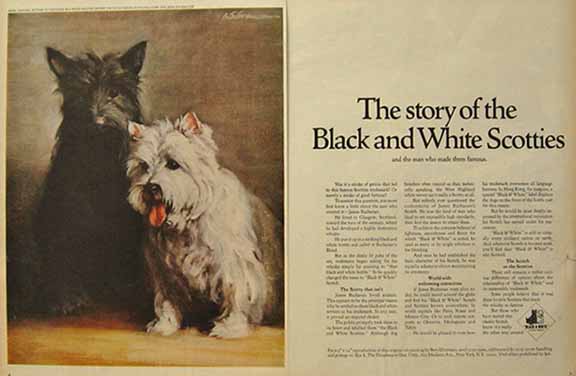 Yesterday I was writing and posting pictures of figural Buchanan cannon bottles (read: "the Buchanan Cannons"). During my research to determine the source of the Buchanan name I was led to the James Buchanan Company which is a scotch whisky "merchant"- a company that purchases and blends lots of scotch whisky to make their own signature blend labels. The company was named for James Buchanan who was Canadian born and returned back across the Atlantic and settled in London. He founded the company in 1884. Today the James Buchanan Company markets a number of scotch labels.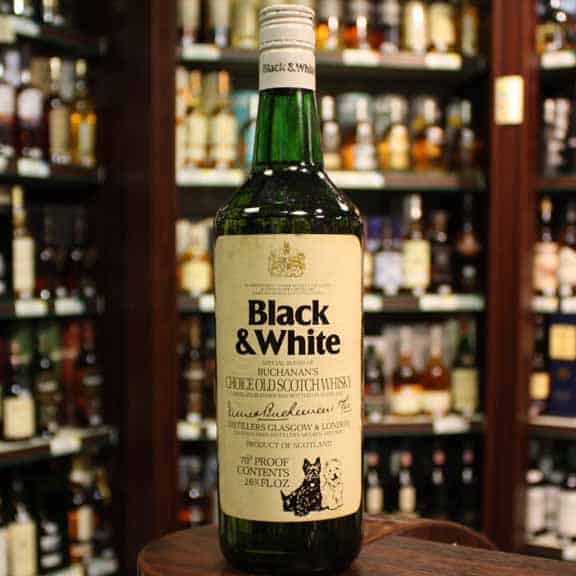 When I started looking at 20th century Buchanan products, I was reminded that this is the same Buchanan that produced the Black & White label scotch whisky. Always a favorite of mine and Elizabeth's because they used a black and white Scottish Terrier as mascots on their brand logo. Over the years I have collected various labels, post cards, paper weights and other items with the Black & White logo.
You see, when I was a child growing up in Towson, Maryland, we had a neighbor who had a little Scottie. His name was McDuff. I still remember playing with him all the time as this little fellow had so much energy and was so cute and distinguished looking at the same time. As some of you know may know, terriers have great personalities.
Flash forward to the early nineties when I was settled in Houston. My first dog, guess, was a Scottish Terrier named McGee. My second dog and a playmate for McGee was Mia, a West Highland White Terrier. These two dogs are pictured with my wife Elizabeth below. I believe this picture was taken sometime around 1993. I miss these two dogs though we have many pictures framed sitting in our office and at home as they were part of our family.
Today, as I sit in my studio office in downtown Houston, we are surrounded by eight dogs of various shapes and sizes (see FMG Dog Pack). Three are Scottish Terriers (Macintosh aka Mac, Murphy and Maggie).
For fun, I put together some of the great Buchanan Black & White scotch whisky advertising.