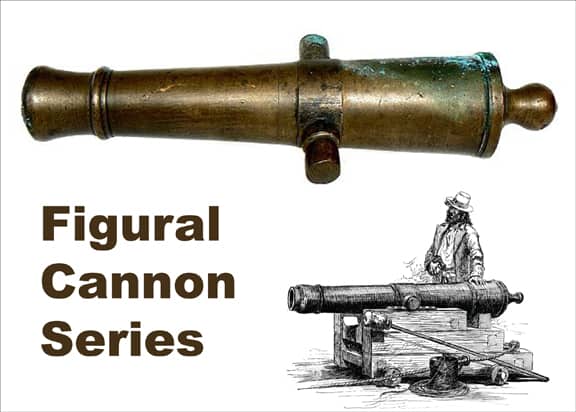 ---

R. & G. A. Wright – Great Gun Cologne
22 June 2012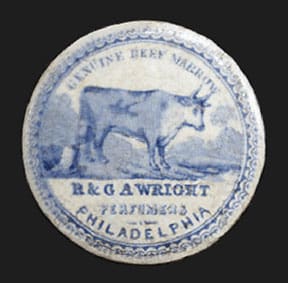 The latest addition to the figural cannon series was a tough one as this figural bottle is extremely rare and pictures difficult to come by. I saw my first example of a R. &. G. A. WRIGHT at the Norman C. Heckler– Thomas McCandless Collection auction preview (read: "R & G. A. Wright / Philada" Miniature Figural Bottle) this past October (pictured below) at the Heckler 12th Annual Columbus Day Weekend Event in Woodstock Valley, Connecticut. This was the smaller plum amethyst example that was described as follows in the Heckler McCandless auction catalog (pictured below):
"R. & G. A. WRIGHT / PHILADA." Miniature Figural Bottle, America, 1860 – 1880. In the form of a cannon barrel, plum amethyst, tooled mouth – smooth base, ht. 6 7/8 inches. Great condition. Only one other example, that being the blue barrel in the Dr. Charles Aprill collection. Ex Gordon Bass collection auction, 1971.
Well…Charles and Jane Aprill were kind enough to provide some more pictures and information on how they obtained this bottle and the cobalt blue example (pictured below). They also added a comment and picture of the smaller, plum amethyst and cobalt blue rarities :
"This is the first time this pair has been together in half a century"
On Nov 4th, 5th and 6th, 1971, Skinner's in Bolton Mass. held a "Premier Bottle Collection Public Auction". The collection of Mr. Gordon Bass of Upper Montclair, N.J. was large. The catalog lists 1330 items.
Item # 935 "Cannon, 8″, R & GA WRIGHT, PHILA., amethyst" was taken by Tom McCandless for $400.
Item #1071 "R. & G.A. Wright, Phila., sm. cannon barrel, blue" was pictured in the black and white catalog.
The story is that an Atlanta dealer, Rick Meyer, was speeding to the auction, was stopped and arrested. His one "phone call" was to the auction house. His bid of $500 won the blue cannon.
We were young collectors and did not know of this "big time" auction, but soon heard about it.
I obtained the blue cannon in 1974 from Mr. Meyer. I coveted the amethyst cannon after seeing it at McCandless's home. I offered money, trades and the moon, but Tom and Marion loved the bottle.
I sort of liked the figural cannons and really needed the small "purple one". Tom was older than me, I often told him that. He passed and it came to a Heckler Auction. I believe Tom would have liked the sale. I'm sure he was "watching".
Jane and I were lucky enough to win the Amethyst cannon, and now the two are happily joined once again after 41 years. It joins a group of 18 figural cannons.
---
Read Further: General Scotts Artillery Bitters – The Ultimate Cannon Barrel Figural
Read Further: Tobias Barto and his Great Gun Bitters – Reading, PA
Read Further: Figural Cannon Bottles – J T GAYEN / ALTONA
Read Further: A. M. Bininger & Co. Figural Cannon
Read Further: Sol Frank's Panacea Bitters – Great Form
Read Further: Thad Waterman "Warsaw" Stomach Bitters – Figural Cannon Barrel, Lighthouse or House Roof?
Read Further: Brown's Castilian Bitters – Transitional Cannon Barrel Figural
Read Further: Castilian Bitters – Brown & Embree Proprietors – New York