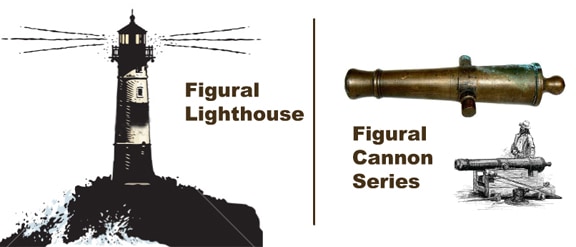 ---
Sol Frank's Panacea Bitters – Great Form
23 March 2012 (R•110614)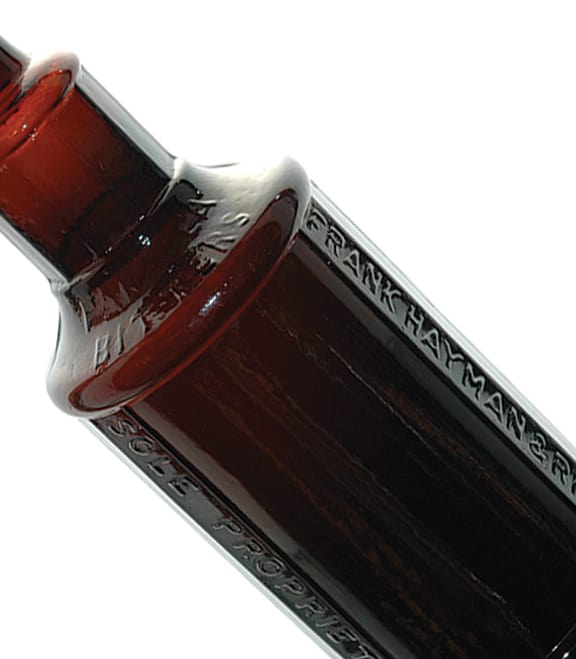 The next bottle in the 'transitional' Figural Cannon Barrel (or lighthouse) Series is the Sol Frank's Panacea Bitters and is grouped and displayed in my collection with my other 'Barrel' forms. Carlyn Ring and W.C. Ham in Bitters Bottles say 'Lighthouse' as far as the bottle form. I can accept this because of the embossed vertical lines on the flared shoulder which seems reminiscent of windows. Again, no advertising, patent drawing or label to substantiate the form.
This is a great bottle. My example is a wonderful dark cheery amber color with nice bottle character. I have provided a few pictures below and with a comparison bottle in a lighter amber that appeared on Ed and Kathy Gray's website GreatAntiqueBottles.com.
The Carlyn Ring and W.C. Ham listing in Bitters Bottles is as follows:
F 79

 SOL FRANK'S PANACEA BITTERS, Circa 1875 – 1885
// s // SOL FRANK'S // PANACEA / BITTERS //
// f // f // f // FRANK HAYMAN & RHINE // c // SOLE PROPRIETORS // f / f //
NEW YORK // c // f // f // f //
10 1/4 x 3 5/8 (5 5/8)
Lighthouse, Round, Amber, LTCR, Applied mouth, Rare
Read Further: Thad Waterman "Warsaw" Stomach Bitters – Figural Cannon Barrel, Lighthouse or House Roof?
Read Further: Brown's Castilian Bitters – Transitional Cannon Barrel Figural
Read Further: Castilian Bitters – Brown & Embree Proprietors – New York